1. Aequeorea, Rio de Janeiro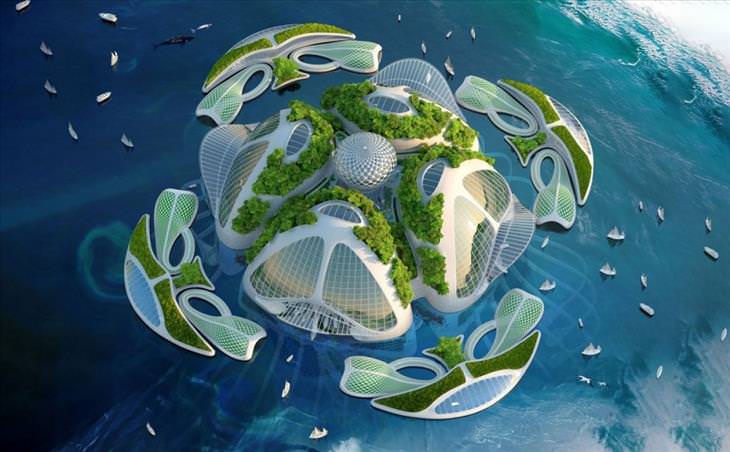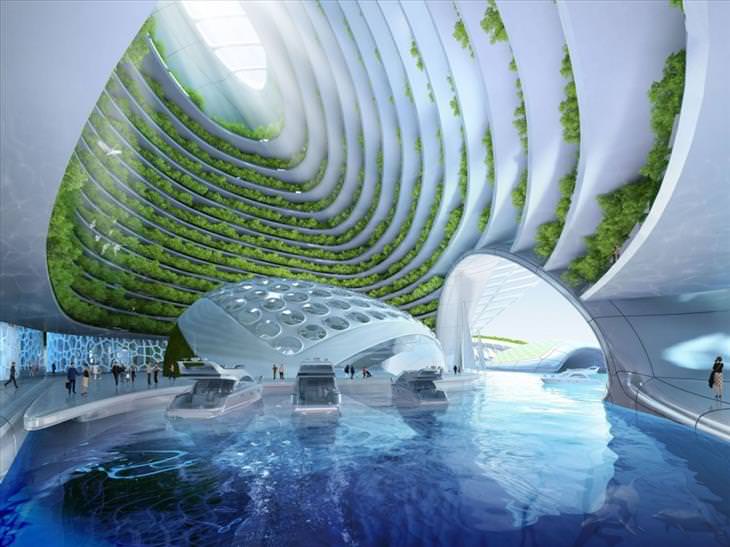 Although this project is set to be built off the coast of Rio de Janeiro, the vision actually belongs to a Belgian architect named Vincent Callebaut. A series of floating skyscrapers are proposed to be built next to each other to resemble a city on the water. Their designs are self-sustaining, which means that they'll recycle marine resources to provide their inhabitants with electricity, food and water. That's without mentioning the stunning views and sunsets that will be on offer.
2. Cobra Towers, Kuwait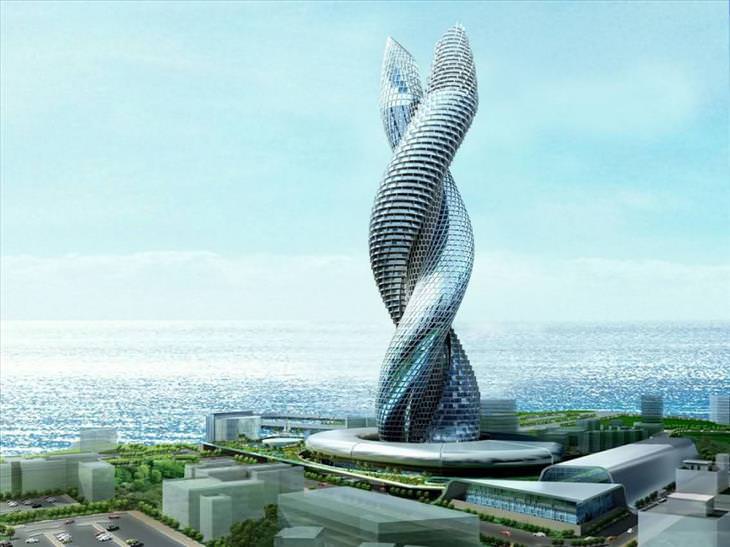 Resembling the double helix shape of DNA, this skyscraper will stand some 3,280 feet (1 kilometer) tall if the project is ever undertaken and reaches completion. Perhaps unsurprisingly, it has caused a great stir on the internet due its astronomically ambitious nature. One of the problems that designers face is the fact that the skyscraper's proposed shapes won't allow for conventional elevators to be employed. A pneumatic tube design has been touted in order to get around the problem.
3. Bio- Pyramid, Cairo, Egypt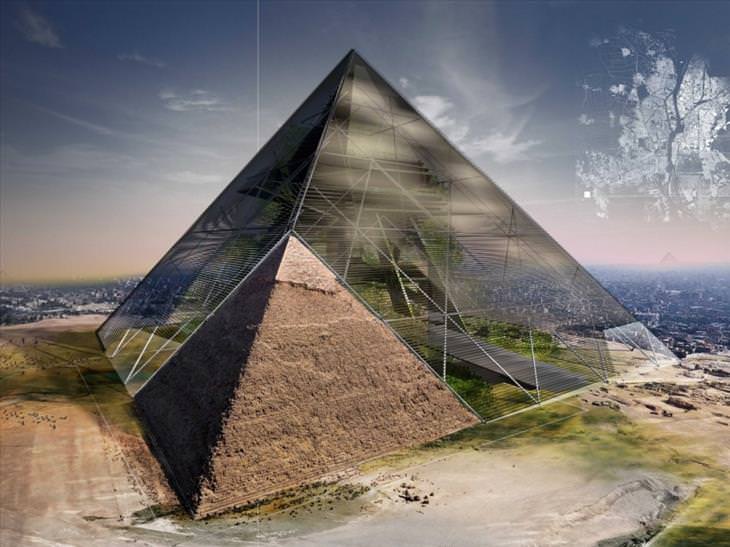 Desertification is one of the biggest environmental problems facing the world today. This design, created by a team of US architects, is aimed at preventing the desertification of Cairo. They will also encompass the ancient pyramids that lie in the area to protect them from further erosion. The design incorporates a living, breathing biosphere that will be teeming with plant life.
4. Cloud Capture, South Korea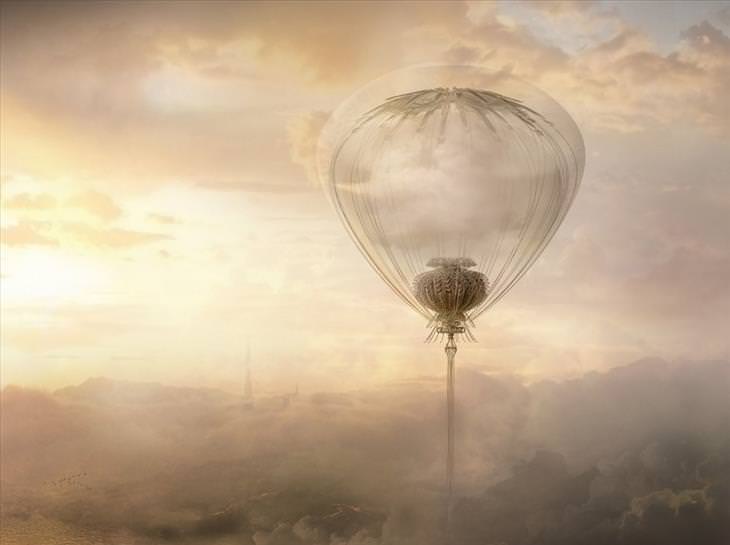 This revolutionary idea from a team of South Korean architects involves balloon-shaped contraptions literally capturing clouds and transporting them to desert regions for the sake of bringing moisture to them. Not only will this help with desertification issues – it has also been designed to boost agricultural production in bad harvest regions.
5. Ecorium, South Korea
This 33,000-hectare complex design was created by the South Korea National Ecological Institute, and was conceived as a world center for ecological research. If constructed, the wedge-shaped greenhouses proposed in the design would include changeable internal conditions that can be influenced by the state of the external environment, allowing them to save energy.
6. Dragonfly Skyscraper, New York
Another wild vision of aforementioned Belgian architect, Vincent Callebaut, is proposed for construction on New York City's Roosevelt Island. It's actually a 2,296-foot tall (700-meter) vertical farm that will contain recreational areas, greenhouses, and dairy and meat farms. Although it boasts impressive environmental credentials, New Yorkers don't seem to be very keen on the project, therefore its fate currently hangs in the balance.
7. Dawang Mountain Resort, China
This resort, which looks like a space station straight out of a sci-fi movie, is currently nearing completion in mountainous region of China. It's set to include a ledge, ski resort, ice rink, waterpark and hanging gardens, to name but a few of its features. It's set to start operating by the end of this year. Is this the clearest indication yet that the future is already with us?
8. Nomad: Skyscrapers on Mars
A particularly imaginative architect has proposed that a series of skyscrapers should be placed on Mars to double up as residences for would-be human colonists of the red planet, as well as terraforming devices. Terraforming is the process of manipulating geological conditions and the climate in a given area to make it more habitable or suitable for a certain purposes. The Nomad skyscrapers are designed to pump greenhouses gases into Mars' atmosphere, which would ultimately trap heat into the planet's atmosphere and result in it warming up sufficiently for human habitation.
9. Underwater Hotel, location tbc
A group of architects from 103 International have been bold enough to come up with the idea to create an entire hotel underwater. The approximately 800,000 square-foot design is constructed so that every window within the hotel will look out into the depths, inclusive of all the rooms, restaurants and the entertainment complex. If staying literally underwater isn't for you, then the there's a part of the design that sits at sea level.​
10. City in the Sky, London
A UK-based architect named Tsvetan Toshkov has proposed a series of Lotus-shaped complexes to be built towering over the current London skyline. Parks and recreation areas will sit atop the complexes, allowing residents of the metropolis to get away from the hustle and bustle of the city and relax in nature.