Luckily, I came upon these 5 great food ideas, which are just perfect for using overripe bananas. These recipes will perk up your breakfast, and give you plenty of yummy desserts to choose from. And the best thing is that they contain no added sugar!
Overripe bananas are a great thing to have around the house. When they ripen, the starch transforms into sugar. That extra sweetness makes the banana the perfect healthy substitute for granulated sugar, improving your favorite desserts and breakfasts as a result. Seeing as the bananas tend to be wonderfully moist when overripe, you don't need any added fats and oils. Amazing!
Frozen bananas do a wonderful job of making perfectly sweet, thick, and healthy smoothies. For the best smoothies you've ever had, peel those sad-looking bananas and slice them into round disks. Then, place them in zip-top bags and freeze.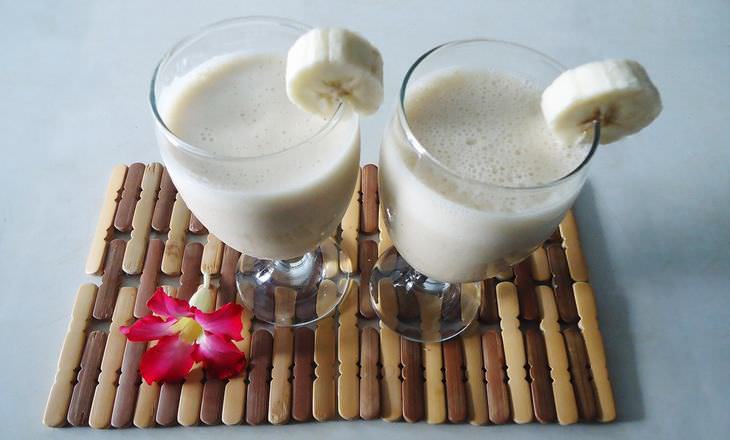 Banana smoothie recipe (serves 1)
Ingredients
• 1/2 cup cold-brew coffee (or chilled regular coffee)
• 1/2 cup unsweetened almond milk
• 1 frozen banana
• 2 tbsp. natural peanut butter
• 1 tsp. cinnamon
• Ice, for added texture

Optional
• dollop whipped canned coconut milk
Directions
1. Excluding the coconut milk, mix all the ingredients into a blender. Puree the mixture until smooth. As you require, add ice to make greater consistency and pour into a glass.
2. After rinsing the blender, pour in the coconut milk and blend for half a minute or so. Put a spoonful of the coconut milk on top of your drink. Store the rest in a refrigerated mason jar.
Banana bread is truly a wonder. It has a little sweetness, and is so moist that it's just like eating a delicious sponge! The amazing thing to know here is that under-ripe fruits don't make good breads or cakes. So, a banana that's past its best is perfect for the job. For an added bonus, add some blueberries to the mix.
Banana bread recipe
Ingredients
• 2 ripe bananas, mashed
• 1/3 cup Greek yogurt
• 1/3 cup melted butter
• 1 egg
• 1 teaspoon vanilla extract
• 1 teaspoon baking soda
• Pinch of salt
• 1 and 1/2 cups all-purpose flour
• 1/2 cup blueberries

Optional
• 1/2 cup walnuts, chopped
Directions
1. First, preheat your oven to 350°F.
2. In a big bowl, use a spoon or a fork to mix up your mashed bananas with melted butter and Greek yogurt.
3. Then, pour the vanilla and egg into the mixture. Sprinkle the baking soda onto the mixture with the salt. Mix well.
4. Finally, add the flour. You needn't over-mix here - just enough to get the ingredients blended. All the lumpiness will resolve itself.
5. You can add some optional walnuts and blueberries, making sure to combine them evenly.
6. Take a 4x8" loaf pan and butter it up. Then, line it with parchment paper on the bottom and butter this too. This will prevent the cake from sticking. Then, pour the batter over the paper into the pan.
7. Bake for one hour. Take it out of the oven to cool aside on a rack. Remove from the pan and serve.
I bet you didn't realize that you can make the best cookies without any flour and sugar! Two-ingredient cookies only require rolled oats with mashed bananas. Once baked, you'll have crunchy and sweet cookies that you'll find very hard to stop munching on. But because you've used healthy oats and bananas, you won't mind overindulging.
Two-ingredient cookies (makes 20-24 cookies)
Ingredients
• 2 overripe bananas
• 1 cup rolled oats
Directions
1. Preheat your oven to a temperature of 350
°
F. Then line your baking tray with parchment.
2. In a bowl, mash the bananas and mix the oats in together. Mix them until they are evenly combined.
3. Spoon this batter into tablespoon-sized cookies and place onto the tray. Cook until they are golden brown. This should take around 15 minutes.
4. Take them out from the oven and set aside to cool for half an hour.
The easiest thing in the world is to blend frozen bananas for a delicious ice-cream. This ice-cream won't do anything negative to your health at all. Instead you'll be enjoying the full, rich benefits that bananas promise, without the harmful sugar. But if you want to add something extra to your blend, there is nothing stopping you. You could try adding some nut-butter, flavored protein powders, or even chocolate, which complements the banana so wonderfully.
Frozen banana ice-cream (Serves 6)
Ingredients
• 1 oz dark chocolate, chopped
• 1 can (14 oz) unsweetened coconut milk
• 2 tbsp. cocoa powder
• 2 frozen bananas

Directions
1. Using a microwaveable bowl, microwave the chocolate for around twenty seconds until soft.
2. Add the ingredients into a high-speed blender. Blend on the high setting for between 40 and 60 seconds. Stop when the mixture is smooth.
3. Now pour the mix into a stainless steel or glass container, and place in the freezer overnight (or between four and six hours).
Amazingly, you don't even need flour for pancakes. A perfect mix of bananas, eggs, coconut and lemon zest combine to make a breakfast fit for a king.
Flourless blueberry pancakes (serves 4)
Ingredients
• 1 bag (12 oz) frozen blueberries
• 2 tbsp. fresh lemon juice
• 3 bananas
• 3 lg eggs
• ½ cup unsweetened dried coconut flakes
• 1 tsp. lemon zest
• ½ tsp. baking powder
• ¼ tsp. kosher salt
• 2 tsp. coconut oil

Directions
1. Bring the blueberries and lemon juice to the boil in a saucepan over a medium-high heat.
2. Then lower the temperature and wait for the berries to become tender, as the mix thickens somewhat. This may take about 10 minutes. Remove from the heat and put aside.
3. In a blender, mix the bananas, eggs, lemon zest, baking powder, salt and coconut. Finish when smooth.
4. Pour a teaspoon of oil in a skillet and put on a medium-high temperature. Add ¼ cup of the batter into the pan, cooking until the bottom is browned, and the tops have set. This should take 3 minutes.
5. Then flip it over. Cook for a further 2 minutes. Repeat with the rest of the batter until it's finished.
6. Serve immediately.
Hint: they taste delicious with warm blueberry compote (pictured).