1. The Parthenon, Athens, Greece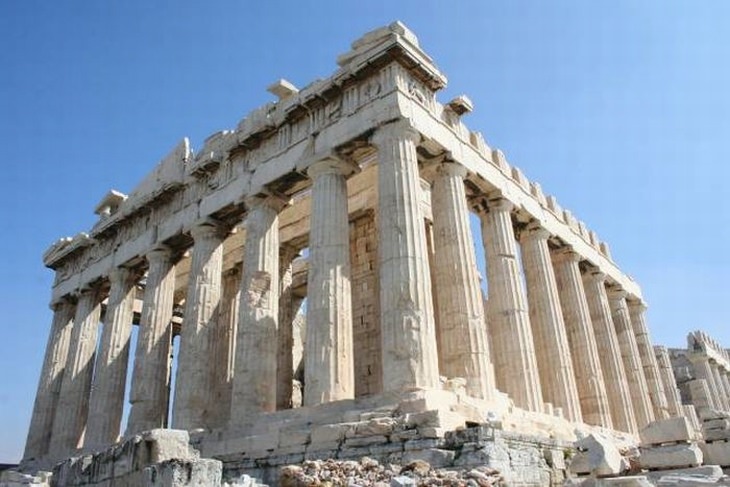 The Parthenon is famous for its quintessential, beautiful architectural form recognizable the world over. The massive columns employ a technique called entasis, which is a slight curvature in the columns themselves. This is because the Ancient Greeks wished to ensure that they didn't look spindly or skinny when viewed from a distance. Furthermore, the Parthenon is located atop the Acropolis, an ancient citadel of great historical significance.
2. National Congress Building, Brasilia, Brazil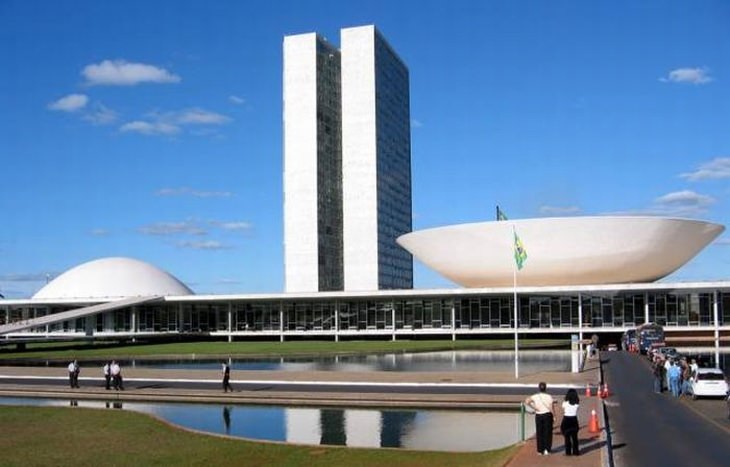 This is the building in which the National Congress of Brazil gathers. Together with the simple, bold shapes that make up the building, its actual setting is just as impressive. Brasilia, the Brazilian capital, was conceived as a planned city, laid out in the Corbusian architectural style. This means that buildings are laid out in the shape of an airplane - housing blocks line the "wings", while the "fuselage", or "body", is filled with embassies, government buildings and cultural institutions.
3.

São Paulo Museum of Art, São Paulo, Brazil.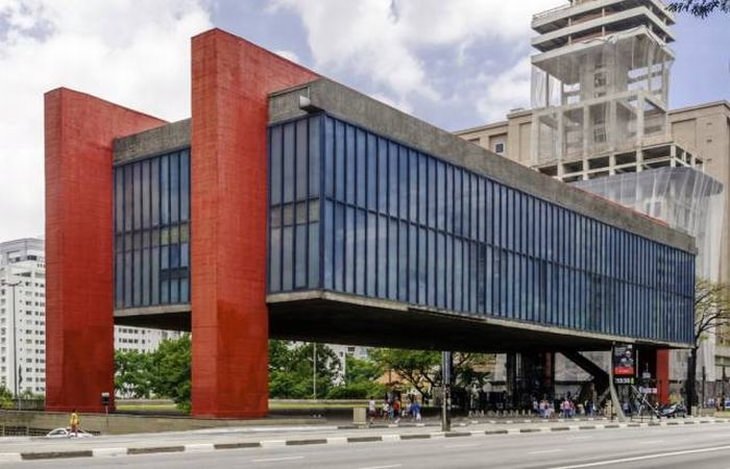 The Sao Paolo Art Museum was designed back in 1968, and it's an incredibly daring design. Fashioned out of concrete and class, it appears to float above the ground below it. In fact, the entire structure is hung from two beams, barely touching the columns on its sides (orange, pictured). The museum underwent extensive restoration work over a five-year period between 1996 and 2001.
4. Forbidden City Temple, Beijing, China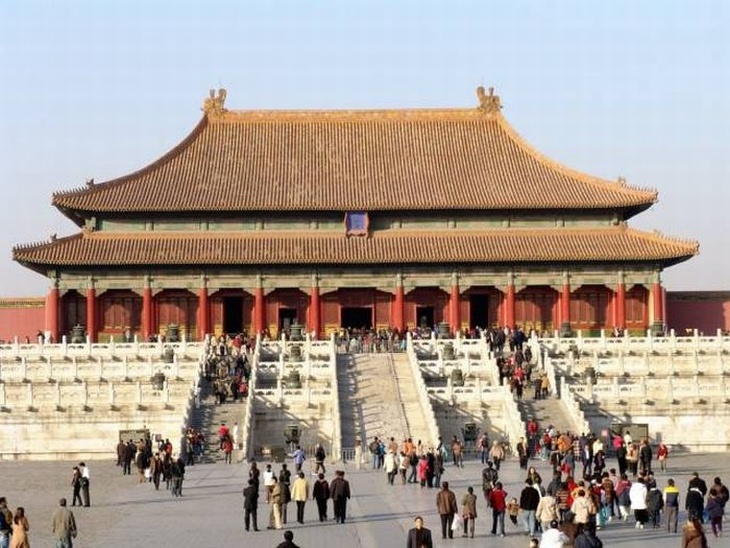 It is said that architecture is meant to last beyond one's lifetime, and that a building is a living time capsule of a culture. Not many buildings capture this in a better way than the temple in Beijing's Forbidden City. In addition to its incredible scale, it has impressive longevity in its design. Furthermore, the structure itself is complex, however all the forms used are simple and elegant.
5. Innovation, Science & Technology Building, Lakeland, Florida, USA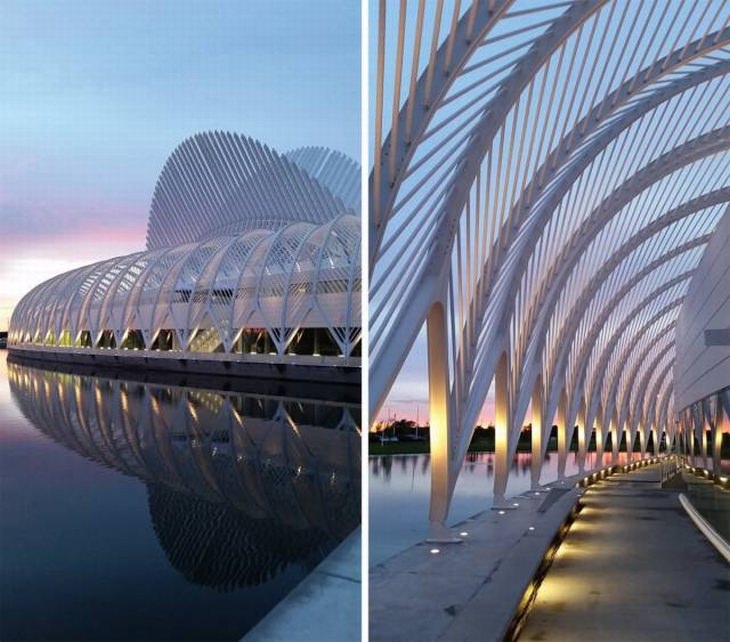 Covering no less than 162,000 square feet, this building was designed by Spanish architect Dr. Santiago Calatrava. It houses numerous classrooms, innovation laboratories, auditoriums and other meeting rooms. Incorporated into its beautiful symmetry are 94 robotic louvers on its roof, which move to accommodate changing sunlight patterns.
6. Hubertus House, Amsterdam, The Netherlands
This building's playful exterior tells only one side of its story. Hubertus House is known for taking in unmarried mothers who had nowhere else to go. Architects highlighted this building due to its contemporary design fashioned out of steel, concrete and glass, which still manages to pay respect to the more traditional buildings that are in its immediate vicinity.
7. Empire State Building, New York City, New York, USA
This building is a world icon. It is probably the most recognizable Art Deco building in the world, and a New York City landmark. It held the record for the world's tallest building for almost 40 years, and back when it was first constructed, revered by the residents of the city for its antenna, which brought better reception to millions of people that resided nearby.
8. Church of the Light, Osaka, Japan
This unusual church is notable for its ability to embody monolithic presence while being spacious and very simple in form. It manages to harness the effects of light as the sun moves through the sky during the day. Its juxtaposed heavy forms and wide, open spaces are said to create a very unique and magical experience for all who visit it.
9. Enterprise Center, Norwich, East Anglia, UK
Although appearing quite unremarkable at first glance, this building is notable for its seamless mixture of great architecture and sustainable design. What's more is that it's part of a campus of university buildings that were designed to push architectural boundaries as far they could go when they were completed some 25 years ago.
10. Kimbell Art Museum, Fort Worth, Texas, USA
This modernist masterpiece, now over 40 years old, belies its true age. It was the building that redefined how museums and art galleries used natural daylight to illuminate their interiors. Composed of 16 parallel vaults that are each 100 feet (30.6 m) long, the building resembles a series of very elegant aircraft hangars laid side by side.
11. Fallingwater, Mill Run, Pennsylvania, USA
This breathtaking country home was once the weekend retreat of Edgar J. Kaufmann, the owner of Kaufmann's Department Store. It was donated to the state of Pennsylvania by his son in 1964, and now attracts 120,000 visitors each year. It is notable for the rigid planes of its cantilevered balconies, as well as its almost-seamless integration into its stunning natural surroundings.
12. Barnes Foundation Museum, Philadelphia, Pennsylvania, USA
This building, which opened in 2012 in order to host the Barnes Foundation's art collection (said to be worth in the region of $25 billion), was at the center of much controversy following years of the Foundation's finances dwindling. With that being said, the building emerged as a testament to its architects. It is said to deeply inspire any architect who is lucky enough to behold it.
13. Notre Dame du Haut, Ronchamp, France
This chapel was designed by Franco-Swiss architect, Le Corbusier, and is considered one of the most important examples of 20th-Century religious architecture anywhere in the world. It pays respect to its past, while innovatively looking to the future at the same time.
14. Bibliothèque Sainte-Geneviève, Paris, France
Featuring a gray stone classical exterior, this building was completed in 1850, and the set the tone for what a library space should be like for all that were to follow. The cavernous interior features two wrought iron barrel vaults and windows throughout to let the maximum amount of light shine through.
15. Sheats Goldstein Residence, Los Angeles, California, USA
In addition to achieving movie fame after appearing in the 1998 hit, the Big Lebowski, this beautiful Beverly Hills home stands out as a shining example of American Organic Architecture. It was conceived as an extension of the natural environment that surrounds it, and has an indoors-outdoors feel throughout thanks to its extensive use of glass and concrete.
16. TWA Flight Center, Jamaica, New York City, New York, USA
Although this building is more than 50 years old, people who walk through it say it feels as if it was just built recently. It was actually the original terminal design at JFK airport, but it has since been replaced by a newer terminal building. It currently lies unused, however plans are afoot to turn it into a hotel by 2018.