Protein and dessert are not often associated with one another, given that most baked goods are lacking in protein status. While there is no denying that savory dishes top the protein-packed list, some sweet recipes suffice just as well. But, why add protein to your dessert? A meal high in protein makes you feel fuller longer, reducing cravings as well as the chance of overeating. These three recipes will enable you to have your cake and eat your protein too:
1. Protein Rich Cheesecake
When compared to other cheesecakes, this one is pretty low in calories (1 serving is just 198 calories) - and it's incredibly easy to make too!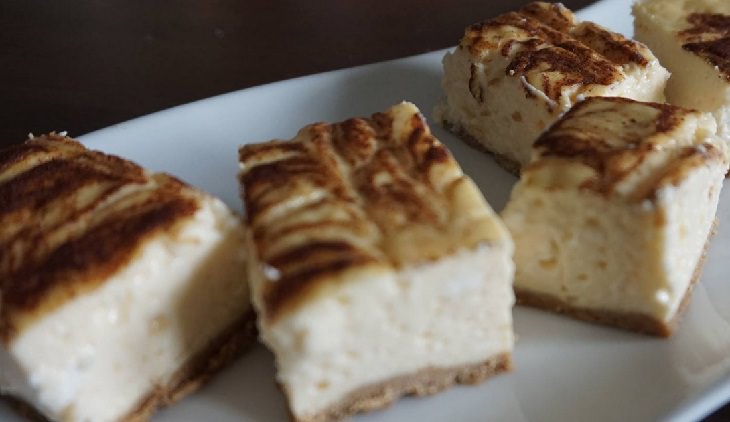 Ingredients (makes 8 large square servings)
Crust:
3-4 graham cracker sheets

2 tbs melted coconut oil

1 tbs almond milk

Optional: 1 tbs sugar-free syrup
Cheesecake Filling:
8 oz light cream cheese (room temperature)

Greek yogurt (fat free) 12 oz

2 eggs

2 egg whites

2 scoops whey protein

1-3 tbs sweetener of your choice
Directions:
1. Preheat the oven to 250°F. Meanwhile, blend all the liquid/soft ingredients together. In a separate bowl, combine all the dry ingredients. Combine the wet and dry ingredients together and set the cheesecake filling ingredients aside.
2. To prepare the crust, blend the crackers together. Note that if you want your crust to be thicker, you can use more crackers. Mix the crackers with the coconut oil, almond milk and syrup if using.
3. Add parchment paper into a baking dish and lay out the crust, flattening it out with your hands. Pour the cheesecake filling over the crust.
4. As an optional topping, you can add a cinnamon swirl mix which is made out of 1/4 cup of zero calories syrup and 1 teaspoon cinnamon combined together and swirled on top.
5. Bake the cheesecake for 30 minutes at 250°F and then bake for a further 45 minutes at 220°F. Let the cheesecake cool completely in the fridge for a couple of hours or overnight to set before cutting it up and serving.
2. Tiramisu Protein Pancakes
This recipe is low carb and low fat and - having made it on this list - is packed with protein (26 grams per serving!)
Ingredients (Serves 4-5)
Pancakes:
2 scoops mocha flavored Vega Sport Protein Powder

Psyllium husks* 4 tbs (or 8 tbs Ground Flax Seeds)

4 cups almond milk

2 tsp rum extract

2 cups flour

4 tbs cacao

1 tbs instant espresso powder

4 tsp baking powder
Cream:
3 cups plain (soy or coconut) yogurt

2 tsp *extract stevia

Non-stick spray

Additional toppings (optional):

Sugar free chocolate syrup

Strawberries
*Can be purchased from a health shop or well stocked supermarket.
Directions
1. Combine the psyllium husks, almond milk and rum extract in a small bowl. Then whisk together and set aside for several minutes - the mixture should thicken up and become slightly gelatinous.
2. Combine the dry ingredients (the protein powder, fllour, cacao, espresso, baking powder) together in a medium sized bowl. Using a spoon mix in the wet mixture ensuring that you do not over mix. The mixture should be thick. If it's too dry add a little more almond milk.
3. On medium-low flame heat a small pan. Coat with non-stick spray and add the pancake batter 1/3 a cup at a time. Cover the pan with a lid and cook for several minutes - the sides of the pancake should firm up. Once they do, flip and cook for several more minutes. Repeat the process with the remaining batter.
4. Whip the yogurt and stevia sweetner together (alternatively, you can use sweetened vanilla yogurt). Top the pancakes with a dollop of yogurt on each one and add additional chocolate syrup and strawberries if desired.
3. Protein Pumpkin Pie Pudding
Even if you're not a fan of pumpkin, this dessert is heavenly. And it is surprisingly healthy too - this dessert is low in carbs, high in protein and high in fiber!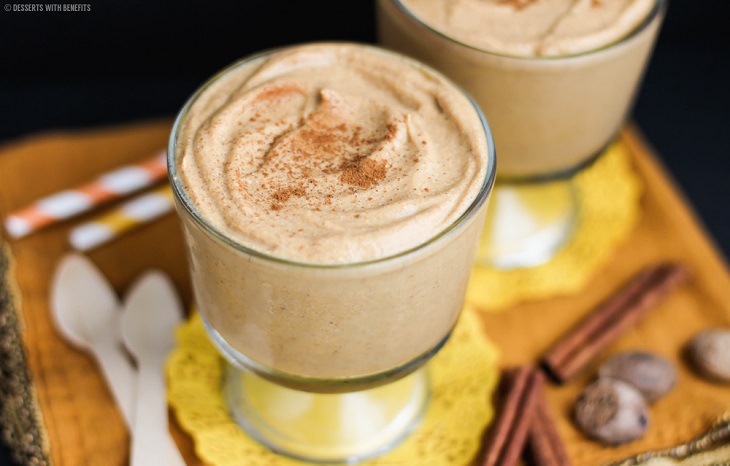 Ingredients (Serves 4 to 5 cups)
1, 16oz container firm tofu, drained

2 cups 100% pure pumpkin puree, (canned 495g)

1/4 cup unsweetened vanilla almond milk

2 tbs roasted Almond Butter

Extract stevia

2 tsp English toffee-flavor

2 tsp maple flavor

2 tsp ground cinnamon

1/2-1 tsp pumpkin pie spice (to taste)

1/4 tsp salt
Directions:
Drain the tofu and press the block between paper towels, removing as much water as possible. Place in a high speed blender and add the rest of the ingredients, blending until completely smooth and even. Scoop into serving bowls, cover and refrigerate overnight before serving.