You've grilled some delicious chicken breast, seared a yummy steak, or chopped up ingredients for a salad. While these foods are good enough to eat on their own, if cooked right, one of the best way to sass them up is with a sauce. Here are 5 delicious sauces, which you're going to want to save and try:
1. Brown-Butter, Caper-Raisin Sauce
Recipe source - photo by Mitchell Feinberg
The brown butter in this sauce gives it a deep, nutty flavor. Though it may sound complicated, it is pretty easy to make.
Use it: Drizzled over roasted vegetables, seared scallops, or chicken paillard.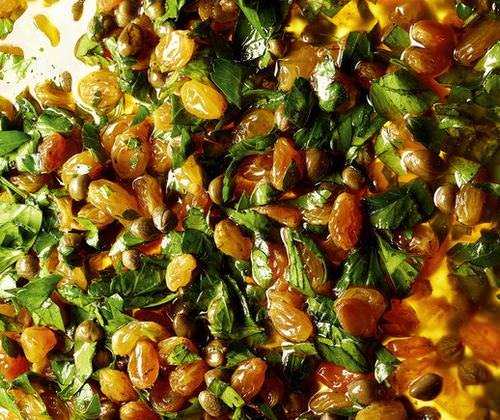 Ingredients (Makes 1/2 cup)
1½ ounces (3 tbsp.) unsalted butter

1⅓ cups sherry vinegar

1 teaspoon granulated sugar

½ teaspoon kosher salt

⅓ cup golden raisins

3 tablespoons extra-virgin olive oil

2 tablespoons capers

½ cup roughly chopped fresh flat-leaf parsley

¼ teaspoon black pepper
Directions
1. Melt the butter in a small skillet over medium heat, stirring occasionally until the foam subsides and the butter turns golden brown. This should roughly take about six minutes. Pour the butter into a small bowl, discarding the dark brown milk solids at the bottom of the skillet.
2. In a clean skillet, stir the vinegar, sugar and salt over a medium-high heat. Stir constantly until the sugar dissolves - for about two minutes. Pour over the raisins and let stand for 10 minutes. Drain, keeping one tablespoon of the vinegar mix aside.
3. Return the brown butter to the skillet, stir in the oil and the reserved vinegar. Heat over medium-high for about 30 seconds, then remove from the heat and stir in the raisins, capers, parsley and pepper. Serve warm or at room temperature.
2. Sweet Chili Sauce
Recipe source
If you can handle the heat of a full-on chili sauce, here's a spicy, yet sweet sauce you should try.
Use it: Delicious over shrimp. Perfect way to spice up some chicken.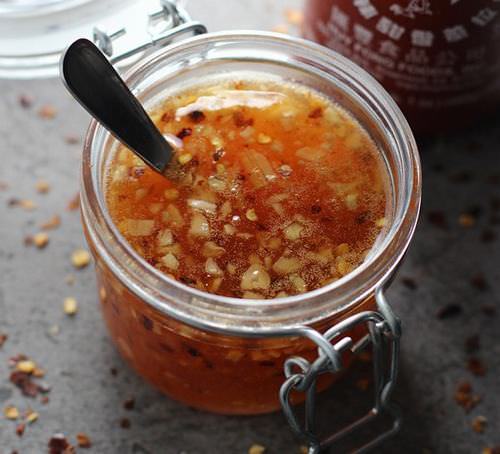 Ingredients:
½ cup sugar

¼ cup rice vinegar

¼ cup water + 2 tablespoons water

1 ½ tablespoons garlic, minced

½ teaspoon crushed red pepper flakes

½ teaspoon sriracha

1½ tablespoons flour

½ teaspoon salt
Directions:
1. Combine the sugar, rice vinegar and 1/4 cup water in a small saucepan. Bring the ingredients to a boil then reduce to a simmer. Add the garlic, red pepper flakes and sriracha.
2. Whisk the flour and two tablespoons of water together. Slowly whisk in the sugar and the vinegar, then bring to a boil again and reduce to a simmer until the sauce has thickened. This should take about five to seven minutes. Let cool before serving.
3. Chimichurri
Recipe source
This garlic, Argentinean sauce is heavenly. It also super easy to put together.
Use it: Best served over grilled chicken or steak.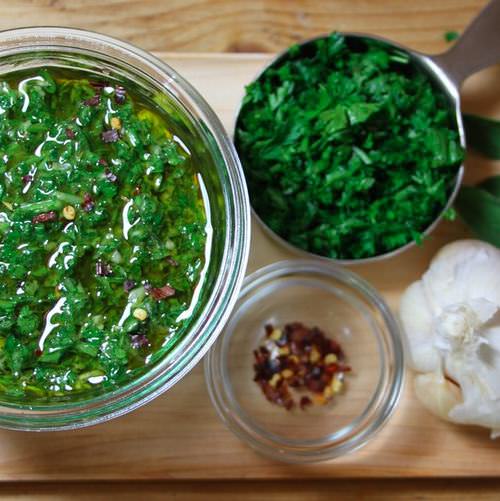 Ingredients:
3 cups flat-leaf parsley leaves (from about three bunches), very finely chopped

6 garlic cloves, very finely chopped

1½ teaspoons finely chopped fresh oregano leaves

¼ cup distilled white vinegar

2 teaspoons kosher salt

1 teaspoon freshly ground black pepper

¾ teaspoon dried red pepper flakes

1 bay leaf

¾ cup extra-virgin olive oil
Directions:
1. In an airtight container (medium size) combine the parsley, garlic, oregano, vinegar, salt, black pepper, bay leaf and red pepper flakes. Stir in the olive oil and refrigerate the sauce overnight.
4. Creamy Chipotle Sauce
Recipe source
This sauce is excellent on its own or as a dipping sauce, but it also works well in sandwiches.
Use it: To spice up sandwiches, salads, chicken wraps or as a dip.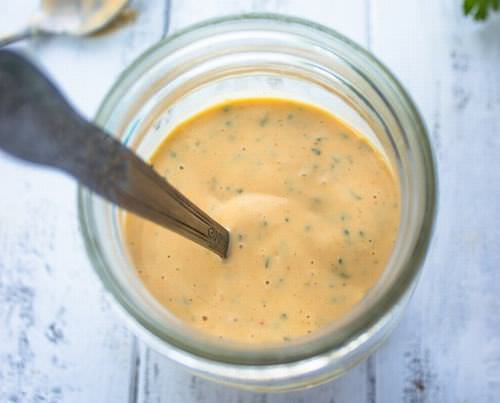 Ingredients
Directions
1. Place all the ingredients in a blender or a food processor and puree until smooth. This should take about two to three minutes. The mixture should be nice and creamy.
2. Pour the sauce into a jar or a small bowl. The sauce will keep in the fridge for up to four weeks.
5. Creamy Sun-Dried Tomato Pesto
Recipe source
This delicious sun-dried tomato pesto recipe can be prepped and plated in less than 30 minutes.
Use it: Serve this delicious sauce over a plate of pasta.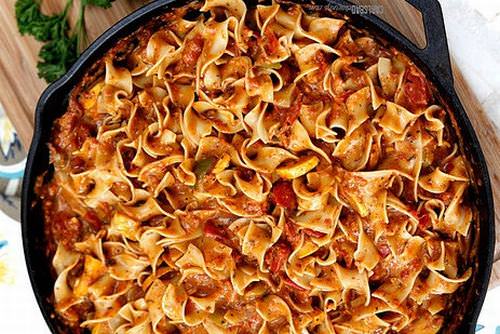 Ingredients
Sun-Dried Tomato Pesto
1 cup sun-dried tomatoes, drained of oil

1 cup fresh basil leaves

1/4 cup fresh parsley

4 garlic cloves, peeled

1 shallot, peeled

1/4 cup pine nuts

1 tablespoon tomato paste

1/2 teaspoon red pepper flakes

1/2 teaspoon oregano

1 1/2 teaspoons salt

1/4 teaspoon pepper

1 tablespoon flour
Creamy Sauce
1 tablespoon olive oil

1 squash, sliced and quartered

1 green bell pepper, chopped

1 cup chicken broth

½ cup heavy cream mixed with 2 tablespoons cornstarch

1 cup milk

1 14.5 oz fire roasted garlic diced tomatoes

1 tablespoon balsamic vinegar

1 tablespoon sugar
Directions
1. Add the sun-dried tomato pesto ingredients to a food processor and blend well. Meanwhile, in a skillet, heat 1 tablespoon oil over medium heat. Saute for four minutes. Add the bell pepper and the squash and saute for a further minute.
2. Add the chicken broth to the mix then stir in heavy cream mixed with cornstarch, milk, fire roasted tomatoes, balsamic vinegar and sugar. Bring the sauce to a boil then simmer until the sauce has thickened and the vegetables are tender.
3. Combine with pasta and add additional milk to reach desired consistency if you wish. Add extra sauce.