10. Cool your nerves with water
If you're feeling a bit anxious, splash cold water on your face. This is a terrific way to calm yourself down. If you hold your breath at the same time, it can be even more effective. This triggers an old mammalian reflex: Your body thinks you're diving into cold water. Your body will then want to economize on oxygen as it senses there will be a shortage. This encourages you to take deeper breaths and relaxes the nervous system.
11. Distract yourself from needing to go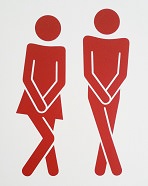 If you suddenly find yourself needing to urinate and you're far from a bathroom, here's a clever distraction to holding it in longer. Redirect your thoughts to something more consuming. Experts at Baylor College of Medicine recommend thinking of something that turns you on or makes you fantasize. This will distract your brain from your bladder until you can find a toilet, without any unfortunate accidents.
12. Unstitch your side when running
It's common to feel a burning pain on the right side of your stomach when you run or overexert yourself. This pain stems from your liver, which is located below your ribcage. This comes from a movement pattern many people follow while running. If you exhale when your right foot hits the ground, you apply downward pressure on your liver, creating a stitch when it jerks your diaphragm, one of the biggest breathing muscles. Prevent getting a stitch by paying attention to the movement of your feet. Make an effort to exhale when your left foot hits the ground.
13. Swallow tablets effortlessly
Many people struggle with downing pills and, to add insult to injury, many medications come in large capsules, causing much stress and discomfort. A lot of people will put their heads back to swallow pills. This doesn't help. For better success take a sip of water, tilt your head forward and then swallow the tablet. The pill goes down easier when floating in water.
14. Breathe longer underwater
This trick to breathing underwater is to deceive your brain into thinking there is more oxygen in your system than you actually have. The urge to breathe comes from a buildup of carbon dioxide in the blood, and not a lack of oxygen. You can do this by hyperventilating. If you take a few short, quick breaths before you dive in, you can enjoy being underwater for at least 10 seconds longer.