When it comes to watching our waistline we often shy away from anything that is remotely fattening. So, while we may depict a salad to be healthy, we'll most likely refrain from adding some salad dressing. But, according to a Purdue University study, fat is what helps us absorb nutrients from vegetables. The study found that participants who absorbed the most nutrients (carotene, luteune and lycopene) from salads actually add a full-fat dressing to their meals. Meanwhile, participants who ate undressed greens, tomatoes and carrots, absorbed zero carotene and lycopene.
On this note, however, store-bought dressing is not your healthiest option. These contain high processed oils, such as corn, soybean and canola oil, are usually made with genetically modified ingredients, and usually contain unwanted additives (including artificial colors, stabilizers, thickeners and emulsifiers). So your healthiest option would be to create your own vinaigrette or creamy dressing at home. The infographics below explain how best to do so. Let's take a look:
Click on the images to view them in a larger size.
1. DIY Vinaigrette
The base of a typical dressing consists of an oil, vinegar or lemon juice, a salty ingredient, an emulsifier and some flavoring. The chart below gives you a variety of ingredients that you can use:

2. Formula: Basic Vinaigrette
Once you have selected your ingredients, here's how to go about combining them all together:

3. DIY Creamy Dressing
Rather than a vinaigrette, you can opt for something a little heavier. The chart below explains how you can go about preparing a creamy dressing: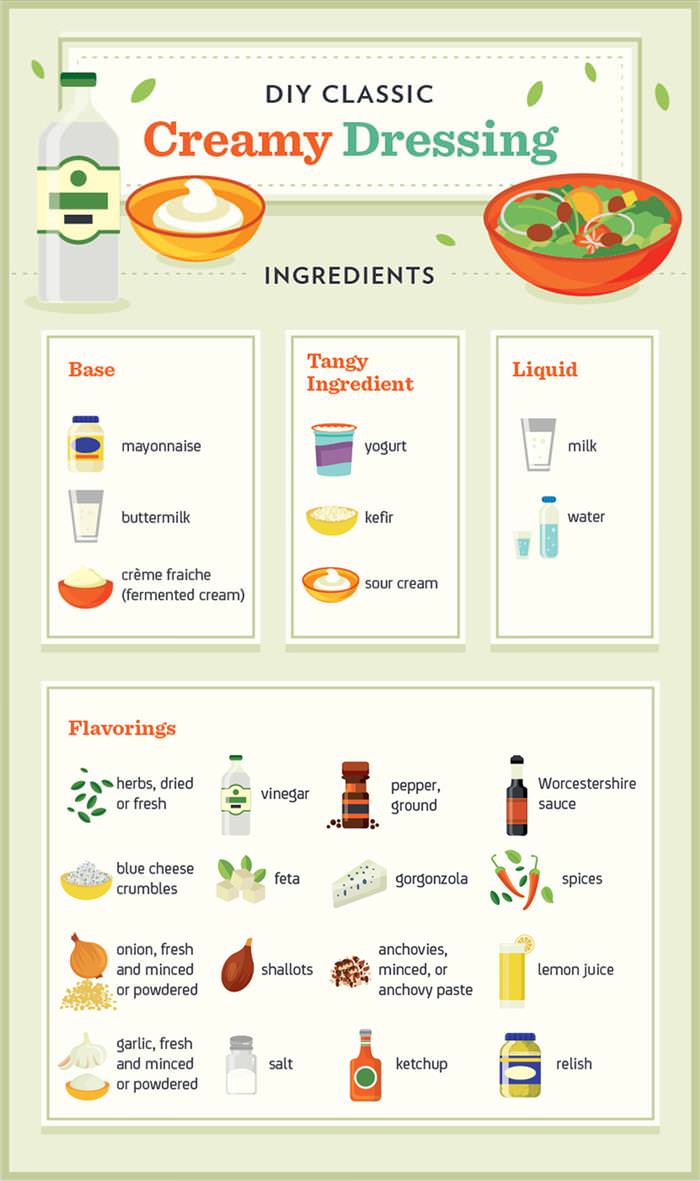 4. Formula: Creamy Dressing
And here's how to go about combining your ingredients together: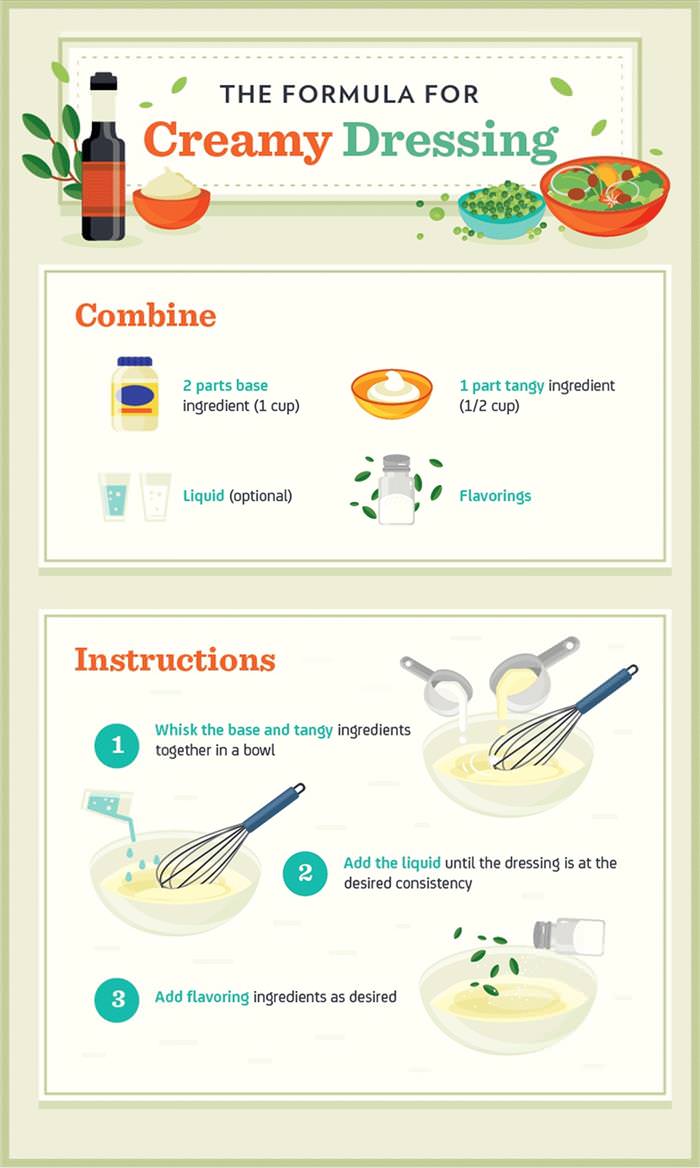 /
5. Favorite Creamy Dressing Combinations
This chart takes a look at some classic creamy dressing recipes we all know and love: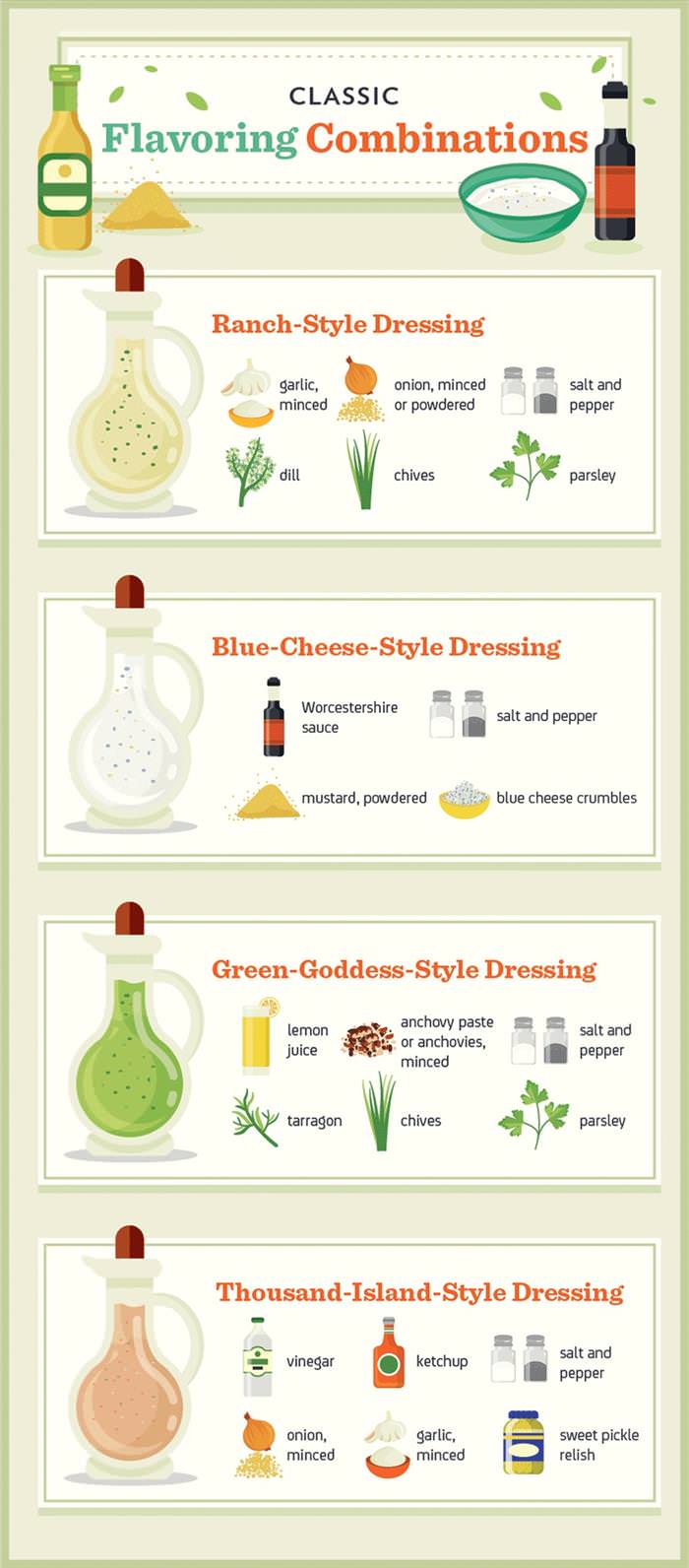 Source: fix.com