America's most historic homes have an incredible story to tell. Let's take a look at the country's most recognizable homes. From gilded age mansions to humble farmsteads, these are the nation's most beloved historic homes in each of the country's 50 states.
1. Alabama: Gaineswood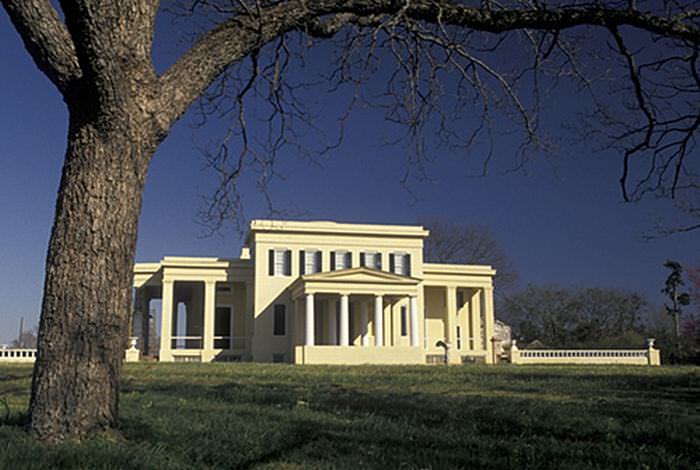 img: flickr.com
This spectacular home started out as a modest cabin. The owner, General Nathan Bryan Whitfield, expanded the property in the years between 1843 and 1861, making it one of Alabama's most spectacular Greek Revival homes.
2. Alaska: Russian Bishop's House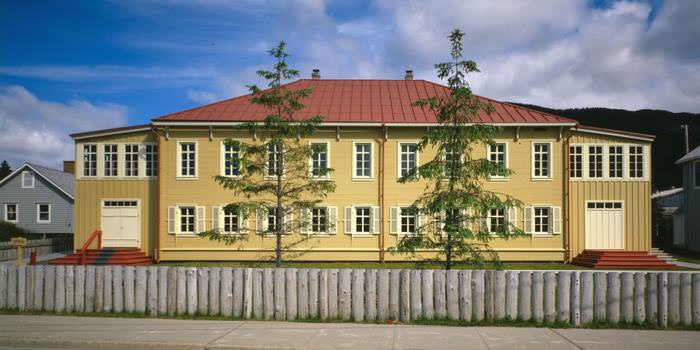 img: Library of Congress, via Wikimedia Commons, source
Imperial Russia played a big role in the development of Alaska. However, few buildings have survived in the state. The above photo shows the Russian Bishop's House, completed in 1842.
3. Arizona: The Wrigley Mansion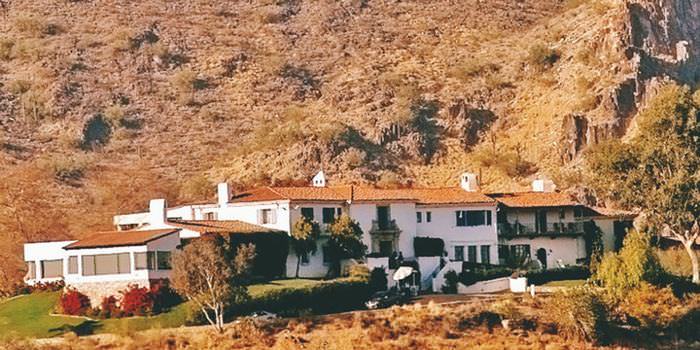 img: Wrigley Mansion Club, source
Chewing gum magnate, William Wrigley Jr., began building his Spanish colonial-style mansion in 1929. Unfortunately he died shortly after its completion. Today, tour packages of the home keep his spirit alive.
4. Arkansas: Johnny Cash's Childhood Home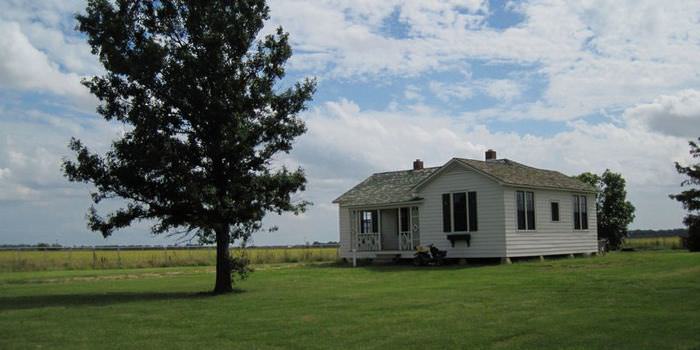 img: Thomas Machnitzki, via Wikimedia Commons, source
Johnny Cash came from humble roots. His childhood home formed part of Dyess Colony - a project that was established to provide shelter and income for 500 poor farming families. This home was recently restored and furnished to what it would have looked like back in the 1930s, when his family first lived there.
5. California: San Francisco's Painted Ladies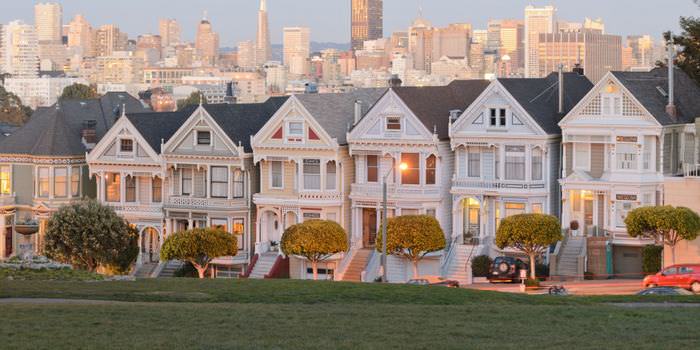 img: King of Hearts, via Wikimedia Commons, source
This is probably the most photographed streetscape in California. This famous street was constructed by a single developer between 1892 and 1896. The seven sisters, however, may only be admired from the outside as the homes are all privately owned.
6. Colorado: The Molly Brown House
img: flickr.com
This home was the residence of one of history's most illustrious women, Margaret Brown (who became especially well known because she survived the 1912 sinking of the RMS Titanic, after the crew returned to the capsize site to look for survivors). The house perfectly showcases the wonderful architecture of the Victorian era.
7. Connecticut: Mark Twain House
img: flickr.com
The house was home to author Samuel Clemens (Mark Twain) and his wife Olivia in the years between 1874 and 1891, during which he published The Adventures of Tom Sawyer and other works.
8. Delaware: Nemours
img: flickr.com
This state is practically synonymous with the DuPont family. Their legacy lives on in a handful of spectacular mansions. Built on 300 acres, this 102-room country estate's landscape design is based on the gardens of Versailles.
9. Florida: Ernest Hemingway Home
img: flickr.com
American novelist, Ernest Hemingway, lived in this 1851 Spanish Colonial-style house with his wife from 1931 to 1940. Hemingway restored the home to its former glory (it had fallen into despair by the time he came to purchase it) making it one of America's most beloved homes.
10. Georgia: The Mercer Williams House
img: flickr.com
This house was initially designed for songwriter Johnny Mercer during the time of the Civil War. The historic home was purchased and later restored by antiques dealer Jim Williams in 1969. In 1994, the house became one of Georgia's must-see tourist attractions after the publication of Midnight in the Garden of Good and Evil, which loosely chronicled the real-life trial of Williams, after he was accused of murdering Danny Hansford in the home's study.
11. Hawaii: Shangri-La
img: flickr.com
American heiress Doris Duke and her husband fell in love with the local culture in Hawaii and purchased a 4.9 acre plot of land on the Honolulu waterfront . They commissioned the construction of a home that would showcase her new-found interest in Islamic art and architecture. Today, Shangri-La is a museum showcasing the expansive collection of Middle Eastern artwork that Duke collected throughout her lifetime.
12. Idaho: The Standrod Mansion
img: Library of Congress
This grand home is built in Chateauesque style. Unlike others in the vicinity it was built using local sandstone. According to locals, the ghosts of the original occupants still roam the premises.
13. Illinois: Frank Lloyd Wright Home and Studio
img: flickr.com
This state was Frank Lloyd Wright's playground. The Prairie-style home is inspired by the low, flat lines of the landscape. This look was invented right here in Frank Lloyd Wright's studio, which operated out of the home he built for himself in 1889 at the age of 22.
14. Indiana: Grouseland
img: Nyttend, via Wikimedia Commons, source
This Indiana home was constructed in 1804. Initially it was the residence of William Henry Harrison - the 9th President of the United States.
15. The American Gothic House
img: flickr.com
A road trip to Eldon, Iowa must include a stop in front of the home illustrated in Grant Wood's notorious painting, American Gothic.
16. Kansas: Amelia Earhart's Birthplace
img: Slowthrop, via Wikimedia Commons, source
Famous female aviator, Amelia Earhart, spent more time living in this Gothic Revival cottage in Atchison than anywhere else.
17. Kentucky: Ashland
img: flickr.com
US Senator, Henry Clay, lived here for 40 years. The property is now open to guided tours, whereby you may visit the house or the grounds, which are open free of charge, year round.
18. Louisiana: Oak Alley Plantation
img: flickr.com
As depicted in the photograph, this estate is best known for the quarter-mile alley of 300-year-old live oak trees.
19. Maine: Olsen House
img: flickr.com
The Olsen House became famous after it was depicted in Andrew Wyeth's 1948 painting, Christina's World.
20. Maryland: The Star-Spangled Flag House
img: Kudzuvine, via Wikimedia Commons, source
While it may appear unassuming from the outside, this Baltimore house, played a big role in American history. It served as the home and workplace of Mary Pickersgill, who sewed the flag that Francis Scott Key saw flying over Fort McHenry, inspiring him to write the country's national anthem.
21. Massachusetts: The House of the Seven Gables
img: flickr.com
This home is one of the country's oldest surviving homes - it dates back to 1668!
22. Minnesota: Glensheen
img: wikipedia.org
This majestic 39-room mansion overlooks Lake Superior. It became famous for the 1977 double murder of heiress Elisabeth Manning Congdon and her night nurse. Two years later, the house was donated to the University of Minnesota as a historic house museum.
23. Michigan: The Henry Ford Estate
img: flickr.com
This home is set on 1,300 acres. It was the Fords' home from 1915 until 1950.
24. Mississippi: Longwood Plantation
img: flickr.com
Mississippi's Longwood Plantation is possibly America's largest octagonal house.
25. Missouri: Vaile Mansion
img: flickr.com
This house has been called "the most princely house and the most comfortable home in the entire west" by the Kansas City Times.
26. Montana: Moss Mansion
img: Courtesy of the Moss Mansion, source
This rustic mansion was built in 1903 for wealthy business mogul, Oreston Boyd Moss. The mansion has been filmed in a number of period films.
27. Nebraska: Buffalo Bill's Home
img: Smallbones, via Wikimedia Commons, source
Four years after debuting his famous Wild West Show, Buffalo Bill used his earnings to construct this pretty Victorian home on a portion of the 4000 acres he owns.
28. Nevada: Mackay Mansion
img: flicker.com
This 1860 Italianate-style home is believed to be haunted, with years of reported paranormal activity.
29. New Hampshire: The Robert Frost Farm
img: flickr.com
Many of Robert Frost's poems are said to epitomize life in New England. In fact, he attributed many of them to memories of the years between 1900 and 1911, when he lived on this farm.
30. New Jersey: Drumthwacket
img: Courtesy of the Drumthwacket Foundation, source
This incredible property is located in Princeton. The mansion was built for governor Charles S. Olden in 1834. While it may be grand, no governor has lived in the home since 2004.
31. New Mexico: Georgia O'Keeffe Home
img: flickr.com
Many of Georgia O'Keeffe's famous paintings were inspired by the time she spent at her home and studio, during what she described to be a "peaceful and simple life". Not much has changed about the space since 1984. It is now under the management of the Georgia O'Keeffe Foundation.
32. New York: Oheka Castle
img: Courtesy of Oheka Castle Hotel & Estate, source
Oheka Castle is perhaps the most well-preserved of the lavish estates in the region. It is the second-largest private residence ever built in America. The home is also believed to have served as an inspiration in F. Scott Fitzgerald's The Great Gatsby. The venue has now become popular for weddings.
33. North Carolina: The Biltmore Estates
img: flickr.com
This 250-room Chateau-style estate in Asheville is the largest private residence ever built in America. The property consists of 35 bedrooms, 43 bathrooms, 65 fireplaces, a bowling alley and a 10,000 volume library.
34. North Dakota: Maltese Cross Cabin
img: Podruznik, via Wikimedia Commons, source
For many years in the 1880s, Theodore Roosevelt split his time between New York and this cabin, located on Chimney Butte Ranch in Medora. During his time here, he often embarked on wilderness activities.
35. Ohio: A Christmas Story House
img: flickr.com
This home was purchased on eBay by a lifelong fan of the film, a Christmas Story. Since purchasing the home, the owner has restored the home to its movie-like appearance, maintaining it as a museum today.
36. Oklahoma: Will Roger's Birthplace Ranch
img: Courtesy of Will Rogers Memorial Museums, source
This house, where famous showman Will Rogers was born, is a relatively rare surviving example of early frontier architecture in the region.
37. Oregon: The Pittock Mansion
img: Cacophony, via Wikimedia Commons, source
This home belonged to Oregon Trail pioneers, Georgiana and Henry Pittock. They didn't reside in the home for long (just 4 to 5 years). Nevertheless, the couple was hugely influential in the development of the city .
38. Pennsylvania: Fallingwater
img: wikipedia.org
America's most famous 20th Century architect, Frank Lloyd Wright, designed this weekend retreat for the wealthy Kaufmann family (owners of Kaufmann's Department Store in Pittsburgh and Western Pennsylvania). The home was designed to be in total harmony with its picturesque, natural surroundings.
39. Rhode Island: The Breakers
img: flickr.com
This Italian Renaissance-inspired summer home is one of the many opulent mansions that can be seen along Cliff Walk (Newport's Gold Coast).
40. South Carolina: The Big Chill House
img: Library of Congress, Wikimedia Commons, source
This private home served as the primary setting for the '80s classic, The Big Chill. This stunning home features some spectacular interior plasterwork.
41. South Dakota: Laura Ingalls Wilder's House
img: Colin.Faulkingham, via Wikimedia Commons, source
American writer Laura Ingalls Wilder reminisced about childhood memories spent in this "little house on the Prairie" in some of her most famous works.
42. Tenessee: Graceland
img: wikipedia.org
More than 600,000 visitors walk through the famous gates of Graceland each year. The former cattle farm became the iconic estate of Elvis Presley after he purchased it in 1957.
43. Texas: Bishop's Palace
img: flickr.com
Built for attorney Walter Gresham, the home contains a fireplace that is lined in pure silver. It also withstood the Great Storm of 1900, yet remained virtually untouched. Nevertheless, it is said that Gresham's ghost returns to inspect the building whenever a storm is brewing.
44. Utah: The Beehive House
img: flickr.com
Referred to as the Beehive House, the house is named so due to the beehive-shaped sculpture that lies on top of it. It is one of the two official residences of Brigham Young, an early leader of the Church of Jesus Christ of the Latter-Day Saints (The Mormons).
45. Vermont: Hildene
This Georgian Revival-style mansion belongs to the only child (the only one of four sons who survived into adulthood) of Abraham and Mary Todd Lincoln, Robert. The mansion is set atop a hill in the village of Manchester. Descendants of the family continued to live there until 1975.
46. Virginia: Mount Vernon
img: Martin Falbisoner, via Wikimedia Commons, source
This home is undoubtedly one of the most iconic homes in America - belonging to George and Martha Washington. Initially the home started off as a small farmhouse built by George's father. Washington then expanded the property over the years, developing it into the home we see today.
47. Washington: Manresa Castle
img: flickr.com
In 1892, this stunning residence was built as a private home for Charles Eisenbeis, the city's first mayor.
48. West Virginia: Pearl S. Buck's Birthplace
img: flickr.com
Winning author of The Good Earth, Pearl S. Buck, was born in this residence in 1892. At the time, her parents were on leave from missionary work in China.
49. Wisconsin: The Pabst Mansion
img: flickr.com
The Pabst mansion originated from fancy roots. It was built by famous beer baron, Captain Fredrick Pabst, for his family in 1890. In 1975, the residence was nearly bulldozed in order to build a parking lot in its place. However, the mansion was spared due to a public outcry and today it has become one of the state's most successful house museums.
50. Wyoming: Trail End
img: Irenewyo, via Wikimedia Commons, source
This stunning Flemish Revival-style mansion belonged to John Benjamin Kendrick. Despite having built the home for his family in Sheridan, he hardly spent much time here. He became governor one year after its completion in 1913. Consequently, the 'Castle on the Hill' became the family's home. Today, visitors can tour the home's lavish interiors, which have only changed slightly over the course of a century.