Household cleaning
---
5. Clean windows without leaving streaks: Since cornstarch is a natural abrasive, it can help clean windows and mirrors without leaving any messy streaks. I recommend adding a tablespoon of cornstarch to this homemade window cleaner:
In a spouted measuring cup, mix together 1 cup of white vinegar and 1 cup of water. Add 1/4 cup of lemon juice and a few drops of essential oil. Pour this mixture in a spray bottle. After you use the solution to clean the windows and mirrors, wipe with a paper towel. Your windows will become completely transparent.
6. Grease-free carpets: If you have stains on your carpet, pour cornstarch over the greased areas. Let it set in for 20 minutes and then vacuum. The fine powder will absorb the grease.
7. Polish silver: Instead of buying expensive and strong-smelling silver cleaners, use a mix of cornstarch and water to make your silverware shine like new.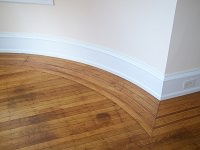 8. No more squeaky floors: Cornstarch can stop the awful noises caused by cracked floors. Sprinkle the floor with cornstarch and then sweep. The powder will work itself into the nooks and cracks, ridding you of any squeaks or creaks.
9. Clean wooden furniture: Regular household cleaners can leave a residue that builds up over time. You can buff away any grease marks from your beloved wooden furniture or household items with cornstarch. Remove these stains by mixing equal parts water and cornstarch, and then rubbing them strongly on the wood.