What would you say if I told you that I have a divine flour, sugar, butter, egg and guilt-free brownie recipe for you to try?
You won't believe how deliciously fudgy the brownies actually turn out to be, just with these four simple ingredients. And surprisingly, they taste even better when they're cold!
After you chill them, they become very dense and fudge-like – not at all cake-like. They taste warmer, lighter and more cake-like when they're warmed up. You will also see how they won't taste overpowering or bitter, despite the fact they do not contain cocoa powder. Note that the flavor will depend highly on the type of chocolate you use.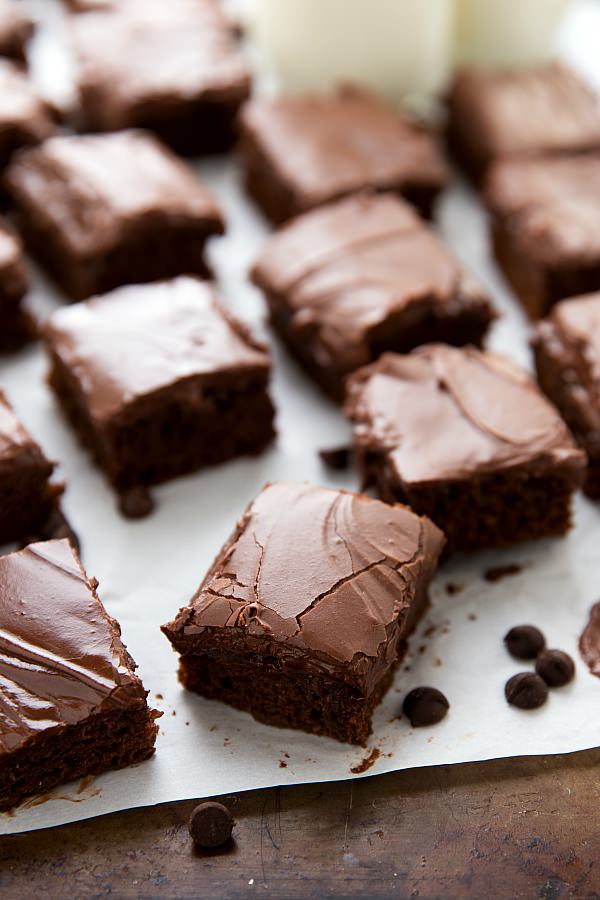 Preparation Time: 10 minutes
Cooking Time: 30 minutes
Serves: 8
Ingredients
For the Brownies
1 ½ cups chocolate chips (use chocolate of your choice, however 53% cacao dark chocolate is recommended)

¼ cup and 2 tablespoons coconut oil (use melted butter if you can't get hold of any)

1 cup vanilla Greek yogurt

½ tsp. salt

½ tsp. baking soda

½ cup coconut sugar

¾ cup oat flour (blended regular oats)
For the Optional Frosting
½ cup chocolate chips

2 tbsp. unsweetened vanilla almond milk (use another type of milk if you prefer)

2 tbsp. vanilla Greek yogurt

¾ to 1¼ cups powdered sugar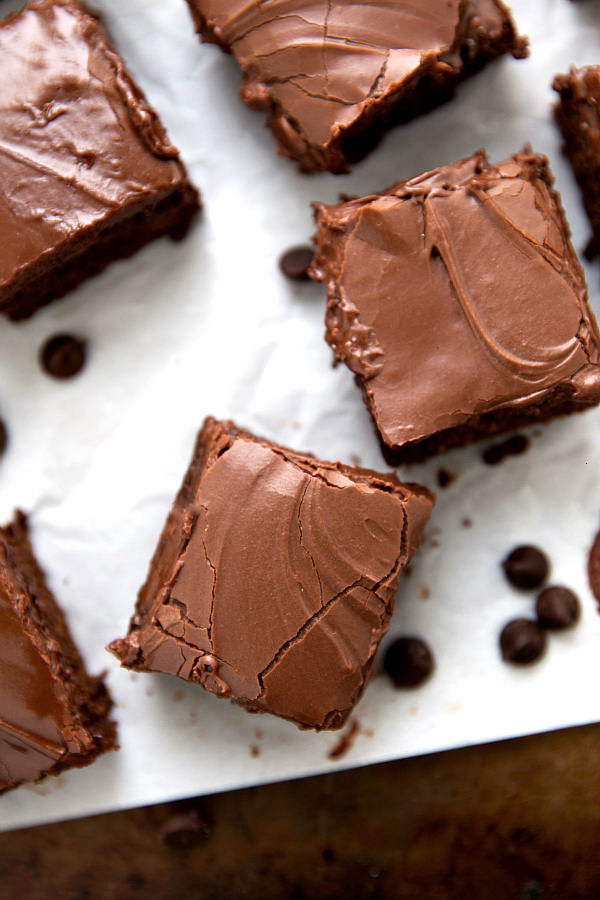 Instructions (Brownies)
Preheat the oven to 350°F. Line an 8x8 pan with foil or parchment paper. Spray with non-stick spray.

Place 1 cup of chocolate chips in a bowl.

Microwave the coconut oil (or butter) and measure it in its melted, hot state.

Pour the hot, melted coconut oil (or butter) over the chocolate and stir until completely melted.

Add in the Greek yogurt (make sure the yogurt you use is quite thick and not watery).

Stir in the vanilla, salt, baking soda and coconut sugar.

Put quick oats or old-fashioned oats in a blender or food processor. Blend or process until the oats resemble flour. Measure the amount of oat flour you have after processing or blending – not before.

Stir the oat flour into the mixture along with the remaining ½ cup chocolate chips.

Spread the mixture into the 8x8 pan you prepared earlier. Bake in the pre-heated oven for 28-32 minutes, or until a fork comes out clean when inserted.

Note that it is better to under-bake the brownies slightly rather than over-baking.

Remove from the oven and allow to cool completely
Instructions (Optional Frosting)
Combine the chocolate chips and milk in a microwave-safe bowl. Microwave the mixture in 15-second bursts, stirring for 15 seconds between each burst. Repeat this until the chocolate is completely melted.

Stir in the Greek yogurt and whisk in the powdered sugar.

Start with ¾ cup of sugar. Add more as needed. Keep in mind that the frosting will thicken up after cooling.

Place the frosting in an airtight container in the refrigerator for at least 30 minutes.

Cover the brownies with the frosting.

Remove the brownies using the overhang of the foil or parchment paper. Cut into pieces and serve.
May also interest you:
Notes
These brownies taste like brownie fudge after being chilled overnight. Try refrigerating for 6-8 hours before serving.

If you want to eat them warm, microwave them for just a few seconds.

You can store the brownies in an airtight container in the refrigerator for up to three days.

The frosting doesn't freeze very well, but this can be helped if you freeze the brownies after wrapping them individually.

The best Greek yogurt for the recipe is a vanilla-flavored, low-fat variety.
Content and Image Source: Chelsea's Messy Apron