Nothing beats the wonderment you experience when you make your own little discoveries about nature and the world. Without a doubt, nature is truly surprising. Just take a look at these fascinating photos and facts that will surely quench your curiosity about the world's strangest sights, including bizarre animals and places we bet you never heard of.
1. This octopus species, known as the grimpoteuthis lives in the deepest depths of the ocean. According to the BBC, 18 species of this kind of octopus have been discovered. It is also commonly called Dumbo Octopus - can you guess why?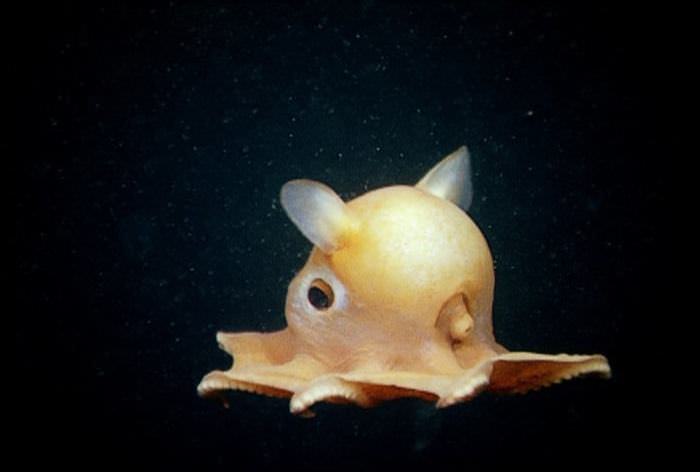 source
2. The sprouts coming out of this lava crack have nothing to do with lava or fire. They are actually flowers called red hot poker or torch lily.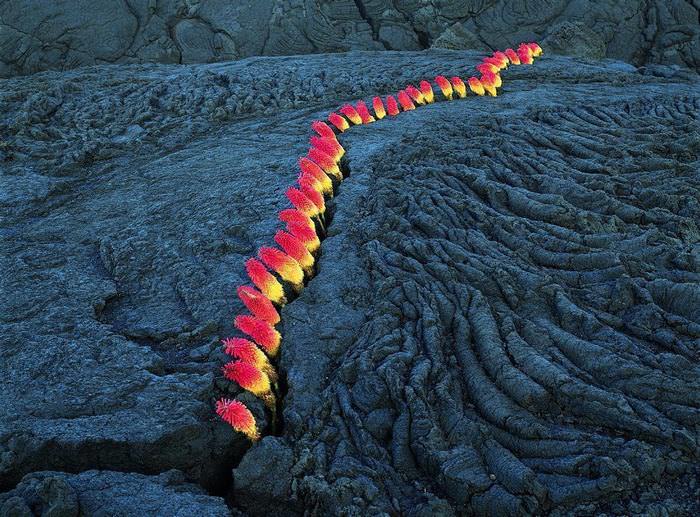 source
3. One of the marvels found in nature is undoubtedly the bird-of-paradise. Its green crown and blue-green breast steal the attention of many in the rainforests of New Guinea. However, despite its beauty, it's quite hard for this creature to find a mate - the number of females are especially low.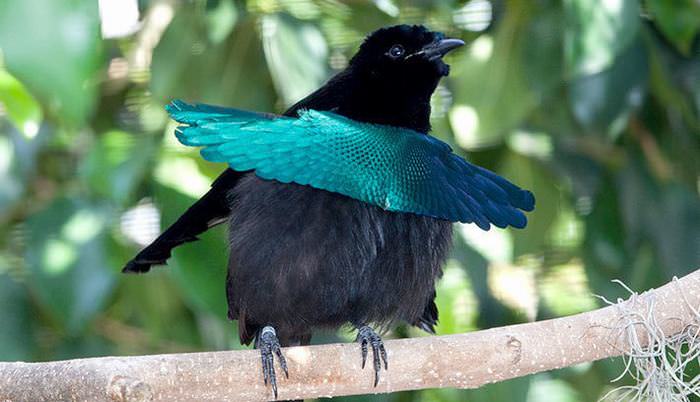 source
4. Did you know that cows have best friends? Known for being highly sociable, these animals can suffer from stress when they are separated from their buddy.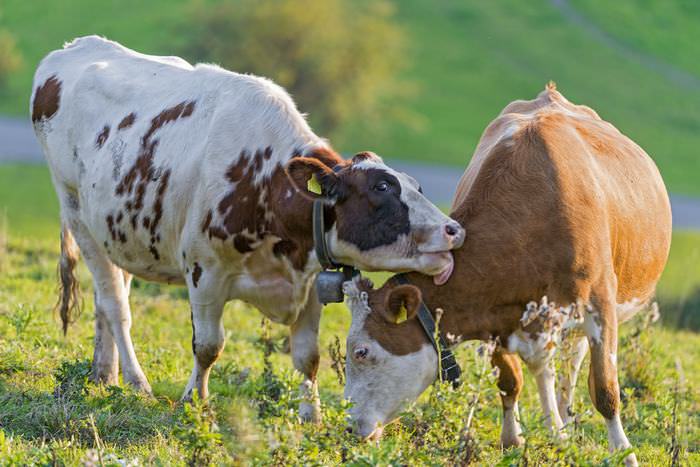 source
5. This tunnel is made entirely of ice. It is called the Blue Tunnel and it is found near the Schirmacher Oasis, Queen Maud Land, Antarctica. It has an unbelievable height of 5 meters, and goes on for a distance of 150 meters.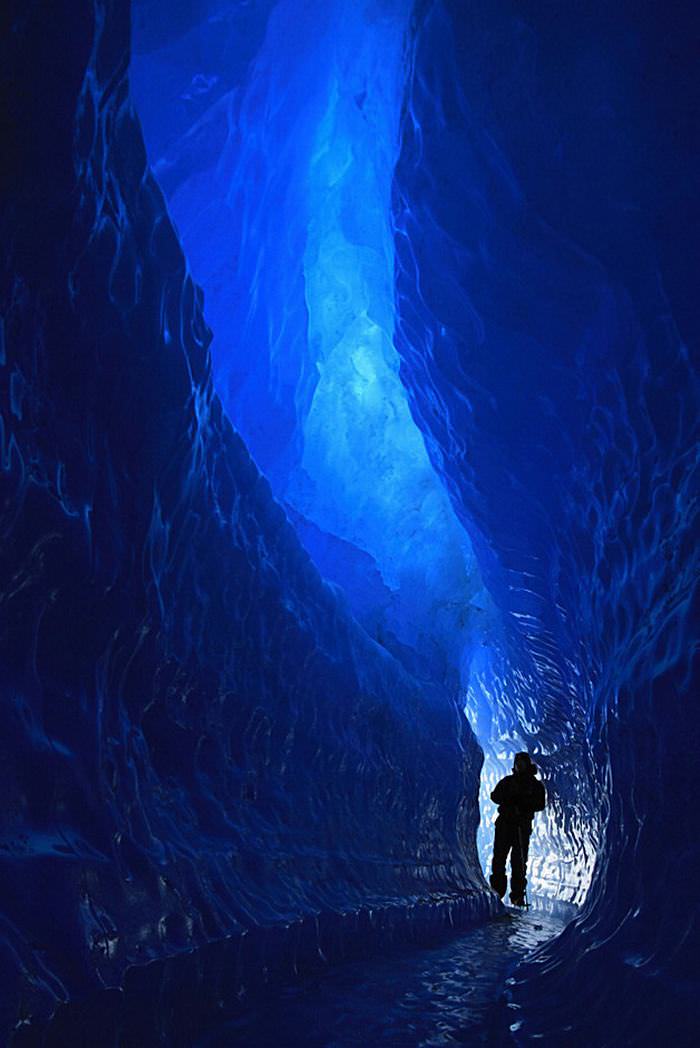 source
6. This odd-looking bird is the shoebill, also referred to as a whale-head and a shoe-billed stork. It is native to eastern Africa, and can grow up to a staggering 5 feet in height. Surprisingly, this animal has a rather long lifespan, which stretches to a maximum of 35 years!
source

7. In this heart-warming image, a cute Koala bear called Sam seems to be completely trusting of a firefighter who kindly offers it water, to help it recover from the Black Saturday bush-fires in Australia.

source
8. These tall ponderosa pine trees are some of the tallest natural "skyscrapers" in the Wall Street Trail, Bryce Canyon. This is the view you would see if you're standing in between these towering rocks, looking up towards the sky.
source
9. These odd-looking domestic ducks, with tufts of feathers at the back of their heads, are called Crested Ducks. Don't they remind you a bit of George Washington or Dr. Emmett Brown?
source

10. These wolves are called Maned wolves and they are found in the grasslands of South America. They have reddish-brown to golden-orange sides, a black mane, and long black legs. Whether they are fighting, or sharing some affection, in the photo below we can see the flawless beauty of these wild creatures.

source

11. Nowadays, selfies are a big thing. This man took it to a rather dangerous extreme by snapping a photo with one of the world's most majestic predators.

source

12. This aerial image of Botswana's Okavango Delta captures a mass of antelopes running across a floodplain. This location in Southern Africa is teeming with an incredible diversity of wildlife, including over 400 species of birds.

source

13. Did you know that ostriches' eyes are of an overwhelming size? They measure about 2 inches across, making them one of the largest pairs of eyes among all land animals. They even outsize their own brains!

source

14. Did you ever realize that hippos can open their mouths to an extraordinary extent? More or less as portrayed in the image below, these wild creatures can swing their mouth open to a surprising 150-degree angle - which is only a few degrees away from a straight line.

source

15. If you're not familiar with this sight, you're most likely not Brazilian. These strange red seeds are called urucum (bixa orellana), a typical addition to Brazilian dishes, used as a natural and flavorless food coloring alternative.
source

16. Just in case you're wondering, this really is a guitar-shaped forest. It was created by Pedro Ureta in respect to his wife, who enjoyed playing guitars. She lost her life to a brain aneurysm in 1977 when she was just 25. Although Pedro is now 70, nothing stops him from maintaining his project, which consists of over 7,000 cypress and eucalyptus trees.
source

17. This photograph features a man feeding a team of swans from a snowy ground, in Krakow, Poland. The way it is aligned and the black and white effect gives the image a beautiful contrast and a perfect balance.

source

18. This image shows Japan's Ashikaga Flower Park from below. The park offers a profusion of seasonal flowers, especially wisteria (featured in the picture), which attracts tourists all year round. One of the wisteria trees found in the park is over 140 years old, and is referred to as the "Great Miracle Wisteria".

source

19. This is what the Bahamas looks like from outer space. This archipelago consists of more than 700 islands, and although they cannot be spotted from such a distance, you can still see the striking blue waters that surround them.

source (NASA)

20. A truly big moment for these baby common goldeneye, or sea ducks, taking off for their first ever flight. By nature, these little ducklings leave their nest after just 24 to 36 hours of hatching. Isn't it a spectacular sight?

source