Have you ever dreamed about living in one of the world's most extravagant homes? I know I have. The way of life of the world's wealthiest 1% is truly like something out of a parallel universe when compared to my very average existence. These are the 12 most expensive, extravagant and opulent homes in the entire world - home to Russian oligarchs, billionaire American tech entrepreneurs and investors, Indian steel and petrochemicals magnates, among others. Dive into the dream right here:
12. Hearst Home, Los Angeles, California, USA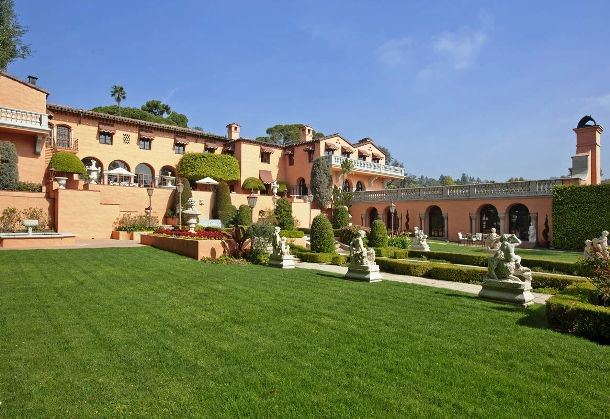 Source and image: www.bloomberg.com
This home was once owned by publisher William Randolph Hearst. Known as the Hearst Home, it was up for sale at $135 million in 2014. The property boasts no less than 28 bedrooms and 36 bathrooms, an art-deco nightclub, outdoor dining space for 400 people, an eight-car garage and two screening rooms. It has also appeared in two Hollywood movies, namely The Godfather and The Bodyguard.
11. 16 Kensington Palace Gardens, London, UK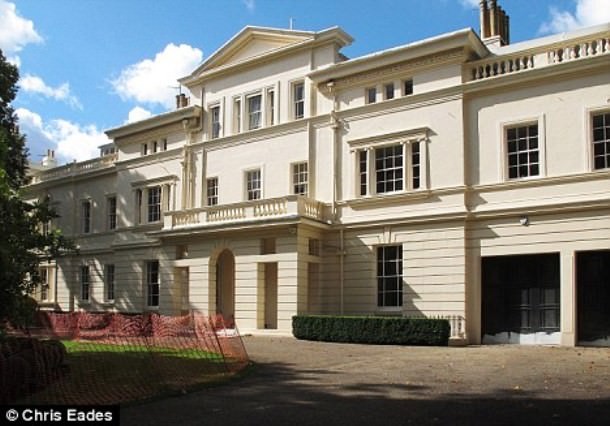 Source and image: www.bloomberg.com
Chelsea Football Club owner, Russian billionaire Roman Abramovich, purchased building 16 on one of the world's most expensive residential streets back in 2011. His home features a truly extraordinary subterranean extension, which houses a tennis court, health center and a private museum for his vintage Ferraris.
10. Updown Court, Windlesham, Surrey, UK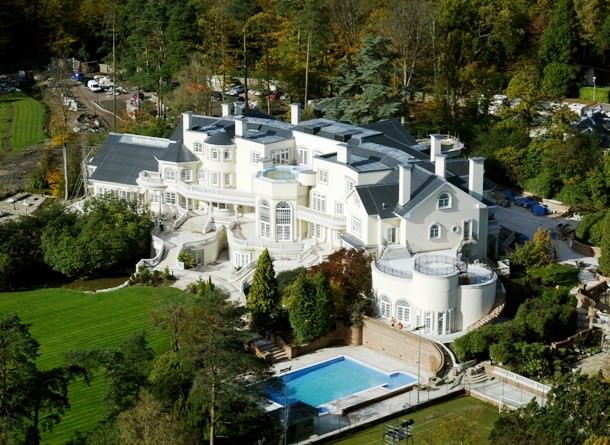 Source: en.wikipedia.org, image: www.dailymail.co.uk
Updown Court, in spite of its silly name, is a rather lavish Californian-style mansion located in Windlesham, Surrey. It was the most expensive private home in the world when it first came to market 10 years ago, listed at $138 million. It has 103 rooms and is set on 58 acres of landscaped gardens and private woodland. Sir Elton John and Queen guitarist Brian May live in the vicinity of the property.
9. The Manor, Los Angeles, California, USA
Source: en.wikipedia.org, image: dailycaller.com
This 56,500-square foot Holmby Hills home was originally constructed for legendary television producer Aaron Spelling back in 1988. It famously has three rooms specifically for "wrapping presents". It was sold to heiress Petra Stunt following Spelling's death, and she's believed to be looking to sell it for around $150 million.
8. The Pinnacle, Rocky Mountains, Montana, USA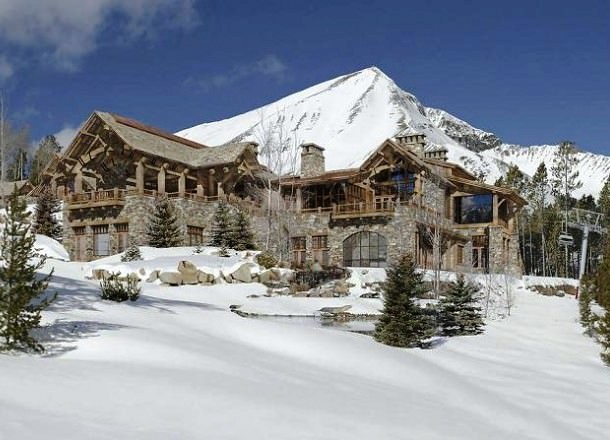 Source: en.wikipedia.org, image: dailycaller.com
This is a 53,000-square foot mountain resort located in the Rocky Mountains, Montana, USA. It is the largest and most expensive ski lodge in the Yellowstone Club, a private residential club, ski and golf resort that counts Bill Gates, Ben Affleck and Justin Timberlake as members. The Pinnacle is thought to be worth around $155 million.
7. Ellison Estate, Woodside, California, USA
Source and image: forbes.com
Oracle Corporation founder Larry Ellison began construction on his 23-acre, Japanese-style property back in 2004. It is located in Woodside, California, a small community of about 5,000 people that is home to the Silicon Valley elite. This home features 10 buildings, a man-made lake, a koi pond, tea house and bath house. It is worth around $200 million.
6. Park Place, Remenham, Berkshire, UK
Source and image: www.telegraph.co.uk
Set on 200 acres of parkland in the picturesque county of Berkshire, UK, this 30,000-square foot historic home is owned by the former President of the Bank of Moscow, Andrey Borodin. He paid no less than $219 million for the property, making it Britain's most expensive house. The property features the main house, three other houses, ten tenanted cottages, eight cottages in need of renovation, a gabled boathouse, stables, agricultural outbuildings and two golf courses.
5. One Hyde Park, London, UK
Source: www.theguardian.com, image: alux.com
A $221 million apartment anyone? This 25,000-square foot home, located in the One Hyde Park development in Knightsbridge, London, is actually two properties that have been joined into one by Ukraine's richest man, owner Rimat Akhmetov. Its walls are made of bulletproof glass.
4. 6 Kensington Palace Gardens, London, UK
Source: www.telegraph.co.uk, image: www.livemint.com
Yet another home along the world-famous Kensington Palace Gardens residential street in London, this home was purchased by Indian steel billionaire, Lakshmi Mittal, for $222 million back in 2008. For his money, Mittal received a furnished five-bedroom home with extensive servants' quarters and an art collection.
3. Fairfield, Sagaponack, New York, USA
Source: en.wikipedia.org, image: www.businessinsider.com
Located in Sagaponack, New York, USA, this is the most expensive private residence in America. Its main house alone is spread over 62,000 square feet, and has 29 bathrooms and 39 bedrooms. The dining room is 91 feet long and the garage has space for 100 cars. The home is owned by American investor and businessman, Ira Rennert, and it's estimated to be worth $248 million.
2. Villa Leopolda,

Villefranche-sur-Mer,

Côte

d'Azur

, France
Source: en.wikipedia.org, image: commons.wikimedia.org
Villa Leopolda is located along the glittering French Riviera that requires 50 gardeners to maintain its botanical gardens alone. It was built in 1931 and was once owned by the Italian Agnelli family, but now belongs to Lily Safra, the billionaire widow of a Lebanese-Brazilian businessman. It is said to be worth no less than $750 million due to its prime location on one of the most coveted coastlines on earth.
1. Antilia, Mumbai, India
Source and image: en.wikipedia.org
This is the word's first billion-dollar home. It is a skyscraper located in Mumbai, India, and is owned by India's richest man. Antilia is 27 stories high, requires a staff of 600 to maintain it, and is designed to survive a magnitude 8 earthquake. Topping off this most outlandish of homes are three helipads on its roof.
Content Source: List25