As a nature lover, I would absolutely love to live in a tree house - a long-held childhood dream. Amid the forest, with the earth below me and the bright, starry sky above me, I personally cannot think of a more inviting house to come home to, particularly after browsing through these stunning tree houses.
The 15 tree houses below are a far cry from the simple wooden structures we know - they have multiple floors, look rather comfy, and some even have glass and mirror elements. Number 7 (though not a home as such) looks especially intriguing, but I could certainly imagine myself owning a retreat tree house as seen in number 5. What about you? Which of the following designs is your favorite?
1. Three Story Tree House, British Colombia, Canada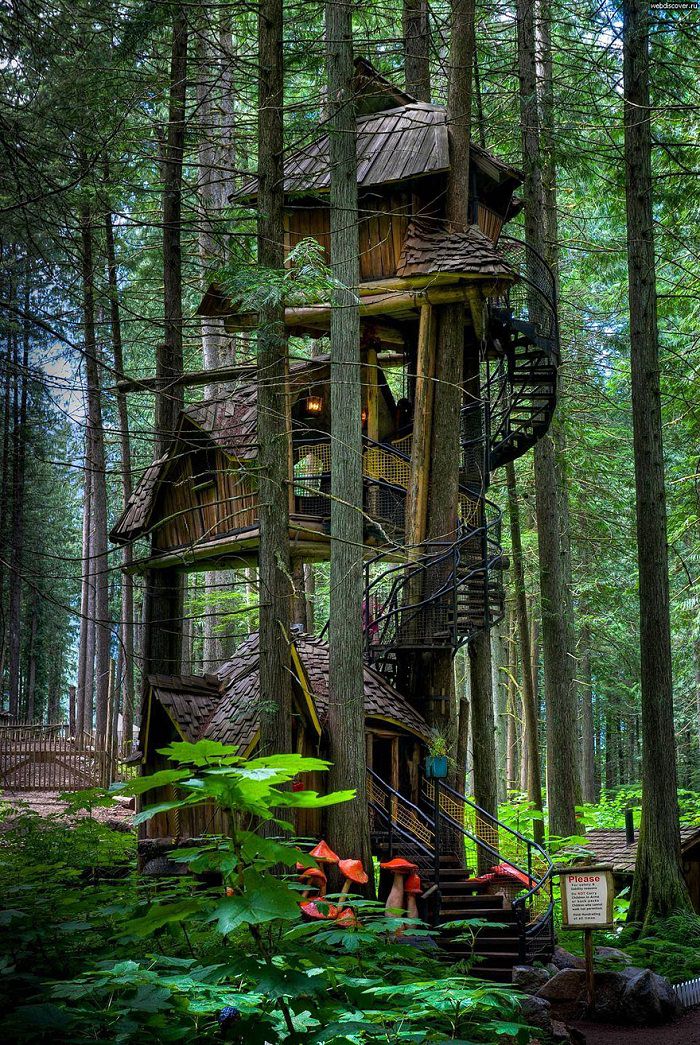 Why settle for one-story, when you could have three? This tree house is said to be the tallest in British Colombia, Canada and may be found somewhere near Revelstoke.
2. Mirror Tree House, Sweden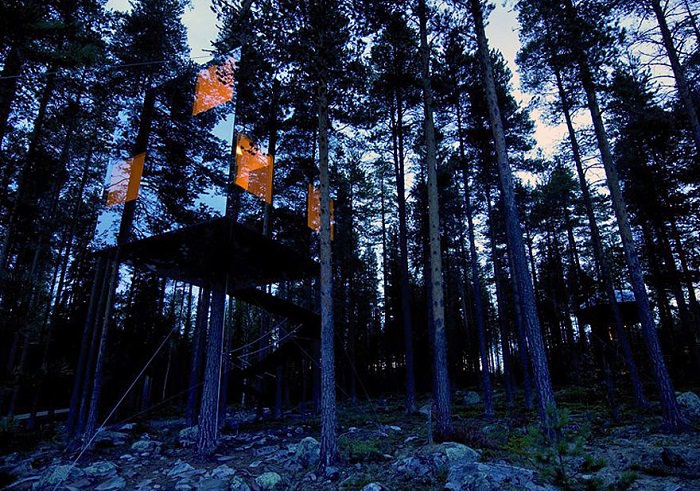 If you had to walk past this house, there is a good chance you may not see it - it is practically invisible. The Mirror House is part of the Tree Hotel project in the North of Sweden. (Designed by: Tham & Videgard)
3. The Bird's Nest Tree House, Sweden
Another creation by the team at Tree Hotel, this tree house looks like it could be somewhat confusing to birds. Though it may look like a massive nest from the outside, the house has a modern and high-standard room built inside. (Designed by: inredningsgruppen.se)
4. The HemLoft Tree House, Whistler, Canada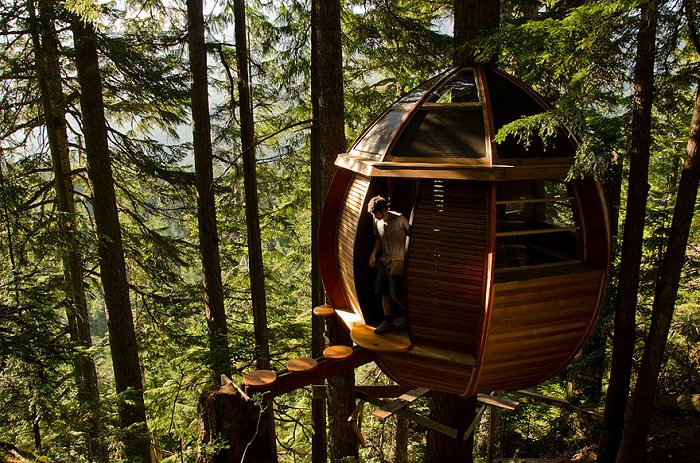 Software Developer Joel Allen, retired at age 26 to become a carpenter and fulfill his dream of 'building something cool'. Though an understatement, he created this stunning piece of art. He never thought his personal project would be featured in international design magazines.
5. Tree House in Muskoka, Ontario, Canada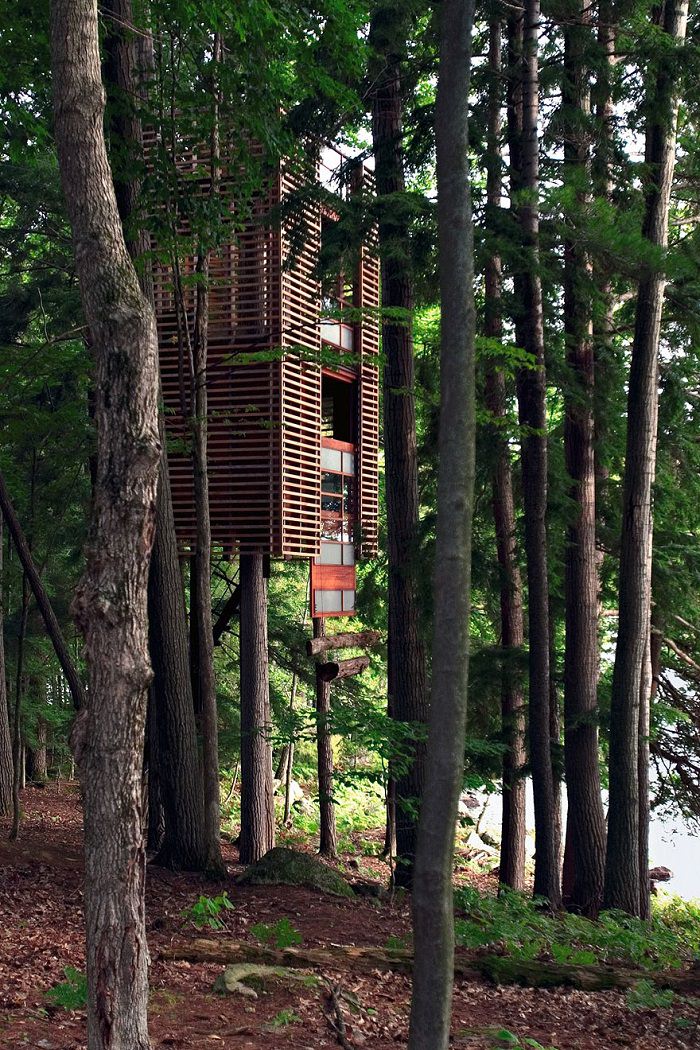 This tree house, designed by Lukasz Koz, is constructed around four trees over Lake Mukoka in Ontarion Canada. It floats in the air like a big Japanese lantern on stilts.
6. Minister's Tree House, Crossville, Tennesse, USA
This 100-foot-tall structure is said to be the tallest tree house in the world. It was built entirely out of reclaimed wood by Horace Burgess.
7. Yellow Tree House Restaurant, Auckland, New Zealand
For an amazing dining experience, few can top this incredible tree house. The restaurant appears to be organically wrapped around the tree and is able to host up to 18 guests at a time. (Designed by: Peter Eising & Lucy Gauntlett)
8. Tree House in Seattle, USA
This tree house feels as though you are literally stepping into a fairy tale, particularly given the rope bridge leading to its doorstep.
9. Tree House by Takashi Kobayahi, Japan
This tree house breaks down the feeling of separation that exists between humans and nature. (Designed by: Takashi Kobayashi)
10. O2 Tree House, USA
This tree house seeks to 'inspire humanity to reconsider how we can harmlessly co-exist with nature' by creating world-wide tree house communities. (Designed by: o2treehouse.com)
11. Tree House for Birds and People, Andu Momofulu Center, Japan
This modern tree house offers you the possibility to peek into the private life of birds. It is divided into two parts by a wall with little peep holes and allows people to see what the birds are doing on the other side of the wall. (Designed by: nendo)
12. Eco-friendly Finca Bellavista Tree House, Costa Rica
This tree house is part of a self-sustainable and eco-friendly Finca Bellavista tree house community in Costa Rica. The whole property of the community takes up more than 600 acres and is all connected by suspension bridges.
13. Plane Tree House, Costa Rica
Though not a standard tree house, the vintage Boeing 727 was originally bought for $2000, cost $4000 to move it and a further $24,000 to renovate it and turn it into this Executive Suite 727 tree house. An interesting feature of the interior is the jacuzzi located in the cockpit.
14. Teahouse Testu, Yamanashi, Japan
This tree house is a mix of both minimalism and fantasy, with the interior being a simple, modern room, but the exterior looking like it's been taken out of a page from a fairy tale.
15. UFO Tree House, Sweden
After building the Bird Nest tree house, the Swedish Tree Hotel decided to go in a totally different direction and built this UFO tree house.
img and information source: boredpanda.com