2. What is SPF?
SPF stands for Sun Protection Factor and is a measurement of sunburn protection from UVB rays. UVB rays are the rays that redden the skin and cause sunburn. The effectiveness of an SPF rating depends on how quickly your skin burns in the sun. What activities you do and the sun's intensity also play a role. For example if your skin burns 10 minutes after being in the sun and you've applied sunscreen with SPF 15, you can stay in the sun for 15 times longer. In other words 15 x 10, or 150 minutes.
3. Choose 15-50 SPF
The Environmental Working Group's guide to sunscreen recommends you choose an SPF between 15-50. An SPF higher than 50 is only marginally more effective. Numbers higher than 50 offer little additional protection and may have higher concentrations of irritating or even allergenic ingredients.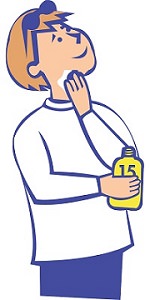 4. Reapplying is more important than the SPF number
Putting on sunscreen at the beginning of time spent outdoors is a good start, but it's only effective protection if the sunscreen is reapplied. People forget that the SPF only has a limited amount of time it can protect your skin. Because people often don't know how quickly their skin burns and can't figure out the number of minutes the SPF offers protection, experts recommend reapplying sunscreen after 2 hours.
Sunscreen also rubs off after being wet, towel drying or through sweating. If you're going to the beach or the pool, it's worthwhile applying a water resistant sunscreen.
5. Don't be afraid to apply generously
It's also recommended that you apply sunscreen 30 minutes before you go outside so that the active ingredients can be absorbed into the skin in time to work. It's also vital to apply the lotion liberally. You should be applying at least 1 ounce, (or 2 tablespoons). Studies have found that people rarely apply enough lotion to reach the SPF rating on the bottle.
6. Avoid sprays or powders
When buying sunscreen, choose lotion. Researchers have found powders are ineffective while using sprays is problematic because there are the concerns of inhaling the fumes and often, an inadequate amount of spray is applied.