1. Coconut milk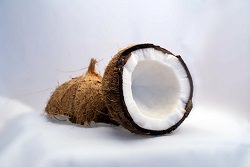 Coconut milk is a rich source of nutrients including vitamin E, potassium, and iron. Applying this liquid directly to the roots can help prevent hair breakage and accelerate hair growth. The antibacterial properties in this milk can also protect the scalp as it is a natural conditioner for both hair and skin. It's recommended that you leave this treatment in overnight.
2. Amla, Indian gooseberry
This fruit is well known for its high levels of vitamin C and is packed with antioxidants, which can prevent premature graying. The essential fatty acids in this fruit can also keep hair follicles strong. It is also purported to reverse graying hair. Applying a paste of dried amla with lime juice to the scalp will nourish your locks and make your hair extra lustrous. To make the paste mix 2 teaspoons of lime juice with 2 teaspoons of dried amla powder.
3. Scalp massage
Regularly treating your head to a massage is effective in keeping your hair healthy. A massage stimulates blood flow to the scalp and promotes hair growth. Combining a head massage with lukewarm oil can prevent hair loss and dandruff too.
There are a number of oils to try: coconut, jojoba, mustard, almond, lavender, olive, or sesame oil are all full of added nutrients. Jojoba oil is especially recommended because it replaces sebum to the scalp.
4. Neem, Indian lilac
Neem oil is extracted from the fruit of the Indian lilac tree. This treatment is effective because the tree is rich in antioxidants which counter free radicals. Neem is regenerative and contains fatty acids like linoleic, oleic, and stearic acids, which also condition the scalp and hair beautifully.
Neem is an astringent and can also treat itching, dandruff and head lice without chemicals. Neem oil has a bitter smell so it's recommended that you mix it with an aromatic essential oil like lavender, tea tree or orange. You can massage this mixture into your scalp and apply it to your locks too.