In which US state was Elvis Presley born?
Elvis Aaron Presley was born Jan. 8, 1935 in Tupelo, Mississippi.
Where did Elvis wed Priscilla Beaulieu?
The couple tied the knot on May 1, 1967 in Sin City.
Who gave him the nickname "Elvis the Pelvis?"
A June 1956 issue of Time gave him the nickname, referring to his moves on stage.
Which actor did Elvis allegedly copy his iconic hairstyle from?
The King was known to wear a pompadour in high school.
Which Elvis album spent the longest time atop the Billboard 200 chart?
The soundtrack record spent 20 weeks at No. 1 in 1961 - 1962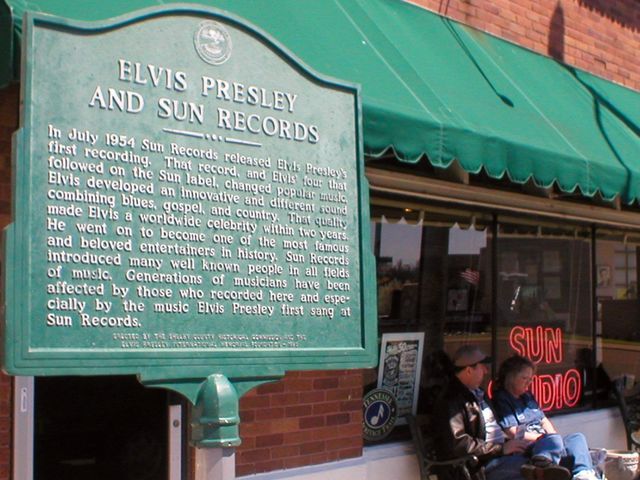 Along with Sun Records, to which label is Elvis most closely tied?
In 1955, Elvis' manager Colonel Tom Parker facilitated his switch from Sun to RCA Victor.
Which song closed The King's famous '68 Comeback television special?
He actually closed the so-called "black leather sit-down" shows with the song "Memories."
Which network posthumously aired the TV special 'Elvis in Concert' in 1977?
The CBS film documented what would be his final tour.
Which song was Elvis' first #1 on the US Billboard pop charts?
Not only was Heartbreak Hotel his first #1, but it also earned him his first gold record!
Which movie marked Elvis' final acting role?
This 1969 musical drama co-starred Mary Tyler Moore and Ed Asner
In an infamous 1970 memo to the FBI, which entertainer did Elvis NOT call a "negative influence to the youth of America?"
Elvis cited the Beatles, Jane Fonda and the Smothers Brothers as dangerous influences in the memo to J. Edgar Hoover.
What was Elvis' biggest selling hit?
By far Elvis' biggest hit, this ballad has sold over 25 million physical records worldwide.
Are You Lonesome Tonight?
In what year did Graceland open as a tourist attraction?
Admission was $5 when the house first opened to the public.
Elvis' well-known favorite sandwich consisted of peanut butter and which ingredient?
Another variation of the so-called 'Elvis Sandwich' also includes crispy bacon.
How many encores did Elvis usually give?
Instead of an encore, the lights would turn back on, and it would be announced that 'Elvis has left the building.'
What was Elvis' final number-one hit before his death?
The classic song topped the chart on Nov. 1, 1969
When did Elvis join the army?
Conscripted on March 24, 1958, Elvis was an extremely popular member of the army, and gave all of his pay to charity.
Which song did Elvis record shortly after divorcing Priscilla?
One of The King's most personal songs, Separate Ways expresses his emotions regarding his separation.