Pumpkins and squashes are some of the most versatile ingredients in the kitchen. They can go into soups, casseroles, risotto, lasagna, and even desserts. They can be the main dish, the appetizer, the side dish, served for breakfast, dinner, or snack. They have many nutritional values, specifically vitamins A, B6, C, and E, as well as magnesium, potassium, and manganese. Some varieties, like sugar pumpkins, acorn squash, and butternut squash are easily found in the grocery store. Other varieties, such as the spaghetti squash, buttercup squash, and red Kuri, demand a trip to the farmer's market. They are all a feast for the eyes.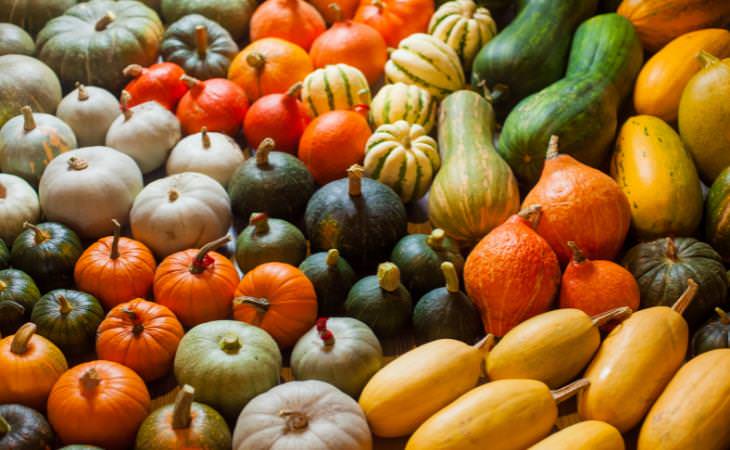 Kabocha Squash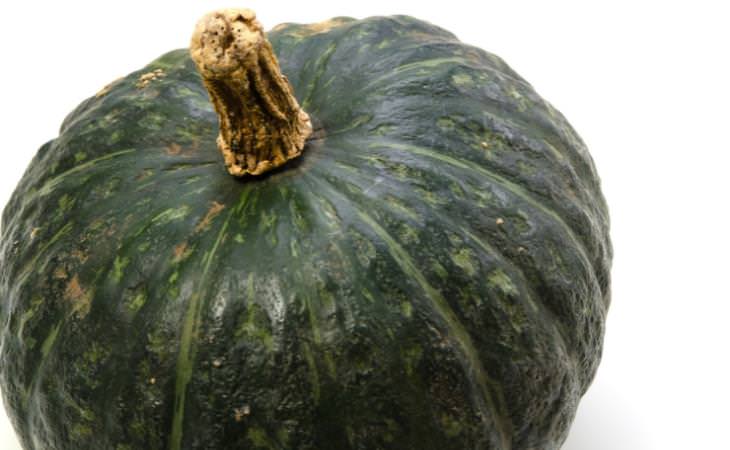 Kabocha is the Japanese word for squash. It has an earthy rich flavor with a touch of sweetness. Here's a recipe for a steam-cooked chicken with Kabocha:
Ingredients
1/2 tsp crushed red pepper flakes

1 cup Sake

2-inch piece ginger peeled and cut into thin matchsticks

8-ounce chicken breasts

Salt

1/4 small Kabocha or red Kuri squash, seeded and sliced

2 scallions, sliced on a diagonal, plus more for serving
Preparation
Pour 1 cup water into a pot. Stir in the

pepper flakes and the Sake and fit a steamer into the pot.

Spread the ginger sticks on the steamer and put the chicken on top. Season with salt. You can remove the skin but if you choose to keep it, make sure the skin side faces up. Add the squash and scallions on top.

Cover and steam over medium heat for no more than 20 minutes, until squash is tender and chicken is cooked. If needed, add more water, 1/4 cup at a time.

Remove the steaming basket and turn the heat up. Let the liquids boil for about 6 to 8 minutes. Serve and pour liquids over the dish.
Butternut Squash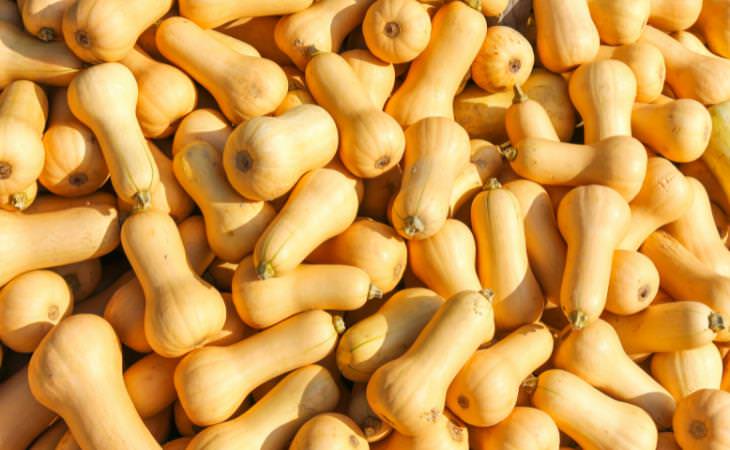 Its unique shape makes sure you'll recognize it miles away: the Butternut squash. To tackle this challenging shape, cut the slim neck from the bulbous bottom and handle them separately. We have a soup recipe for you, and a Lasagna recipe as well.
Ingredients
2 onions, thinly sliced

2 1/2 pounds Butternut squash, seeded, peeled, and chopped.

4 garlic cloves, chopped

1 pound spinach

Pepper, salt, olive oil, ground nutmeg

Lasagna sheets

4 oz mozzarella.

1/2 cup Parmesan

Sage to taste. Chop but leave 6 leaves for garnish.
For the sauce:
1 stick butter

1 cup flour

3 cups milk

3/4 cup Parmesan
Preparation
Preheat the oven to 400°F (200°C). Oil the baking dish, add the onion, squash, chopped sage, and garlic. Roast in the oven for 15 to 20 minutes until soft.

Now for the sauce. Melt the butter, add the flour and cook for 2 minutes. Gradually stir in the milk and Parmesan.

In a separate pan, fry the spinach with nutmeg, salt, and pepper. When the spinach has wilted, remove from heat. Once it's cooled down, squeeze out the water.

In salted boiling water, cook the lasagna sheets for 5 minutes. Now we can start layering! The first layer is the lasagna sheets, then the squash, the sauce, and on top of it the spinach. Top it all with some Parmesan and repeat until you've finished the ingredients.

If there's any sauce left, now is the time to pour it on the lasagna, and finish with a topping of mozzarella. Leave to bake in the oven for 25-30 minutes and garnish with some sage.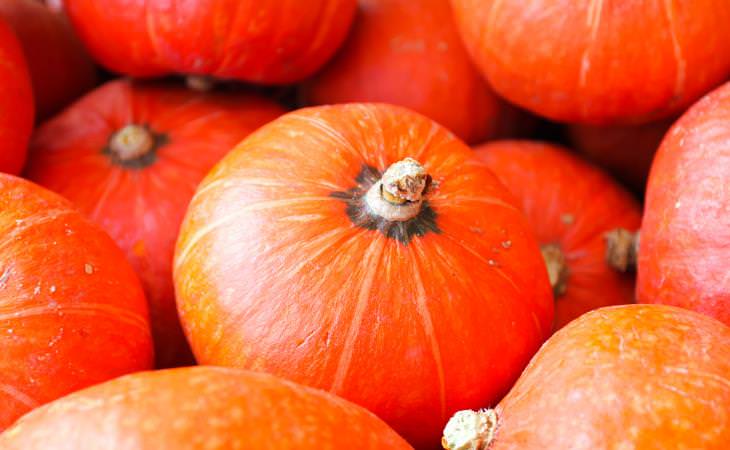 Sister to the green Kabocha squash that opened the list, the two are interchangeable. However, since the red sister is sweeter, we suggest using it for pies and saving the green one for savory dishes. Here's a recipe for a vegan Kabocha pie.
Carnival Squash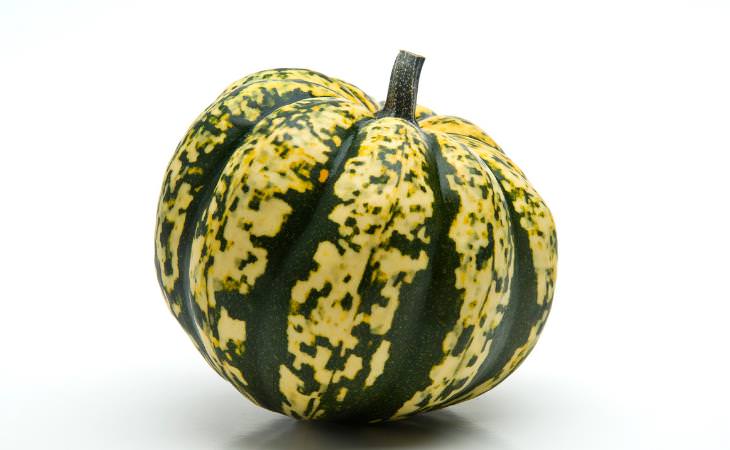 This squash is small and sweet. It is interchangeable with the Butternut and the Acorn squash. Enjoy this warm pancake breakfast on a cold day. It can serve as a main dish or side dish
Ingredients for 4 servings
1 chopped leek, minus the leaves

1 cup grated and peeled Carnival squash

1 egg

3/4 cup flour of your choice, we recommend chickpea

1/4 tsp baking powder

1/2 cup yogurt

1/4 cup chopped parsley

Olive oil

Pepper and salt
Preparation
Heat 2 tbs olive oil and fry the leek. Season with salt and pepper. When the leek starts to brown, add the squash and season some more. Once the vegetables soften, remove from heat and let it cool down.

Whisk the egg with flour, baking powder, 1 tbs olive oil, salt, pepper, and 1/2 cup water. Let sit for 5 minutes.

Mix the vegetables into the batter and pour the mix into a pan to make pancakes.
Sugar Pumpkin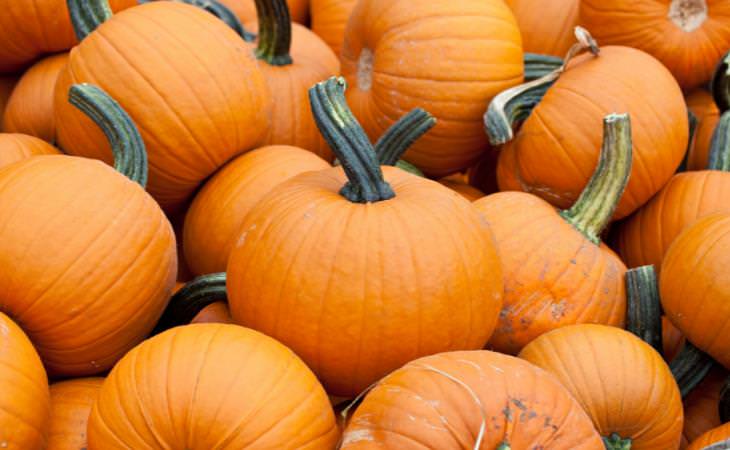 Or, you can simply peel, slice, and roast them for 30-45 minutes in an oven that was preheated to 400°F (200°C). Here are two recipes for seasonings:
Maple thyme seasoning
Mix 3 tbs into 1/3 cup maple syrup and add coconut oil to taste.
Honey rosemary seasoning
Mix 2 tbs chopped rosemary into 1/3 cup honey and add olive oil or melted butter to taste.
Source



Sweet Dumpling Squash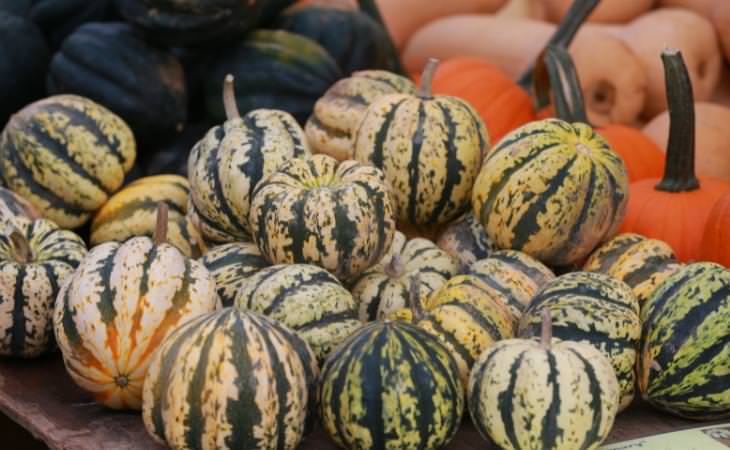 The taste is reminiscent of sweet potato and the size is perfect for stuffing. The skin is relatively thin so you don't have to peel it! A feast for the eyes. Take your pick from the 6 options in this post, and stuff your dumpling squash with your favorite stuffing. Make sure to preheat the oven to 400°F (200°C), and bake for 30-45 minutes. Alternatively, choose any recipe you like with sweet potatoes or pumpkins, and use the sweet dumpling pumpkin instead.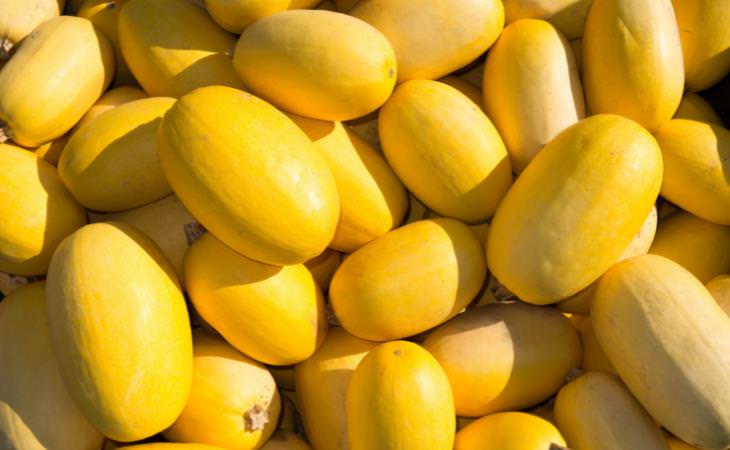 The famous pasta alternative. Enjoy a Vietnamese noodle bowl.
Ingredients:
1 spaghetti squash, seeded

1/4 cup fish sauce or soy sauce

1 tbs brown sugar

1 tbs ginger

2 garlic cloves, finely grated

1/2 cup lime juice

1 pound skirt steak

Optional: jalapeño, stemmed, seeded, finely chopped

Sesame oil

Salt

4 cups chopped lettuce heart

1 medium carrot, peeled, sliced into 3" matchsticks

Cucumber in long slices

1/2 cup bean sprouts

2 scallions, thinly sliced

1/4 cup cilantro leaves

1/4 cup roasted salted peanuts, coarsely chopped
Preparation
Preheat oven to 375°F (190°C). Season the squash halves with salt. Place cut side down on the prepared baking sheet. Bake for 45 minutes, and let cool.

Whisk the soy sauce with 1 tbs brown sugar, ginger, garlic, 2 tbs lime juice and 1/2 tsp salt. In a shallow dish, soak the steak in 3 tbs of the mixture for 30 minutes.

Add the jalapeño, sesame oil, and 6 tbs lime juice to the remaining soy sauce mixture.

Scrape out the spaghetti squash and throw away the shells. You'll be left with a pile of what looks like noodles! Mix those noodles with your sauce and add more salt if needed.

Pat the steak dry and fry for 3 minutes on each side. Cut into strips.

Mix all the remaining ingredients with the steak and squash noodles, and serve in a bowl.
Blue Hubbard Squash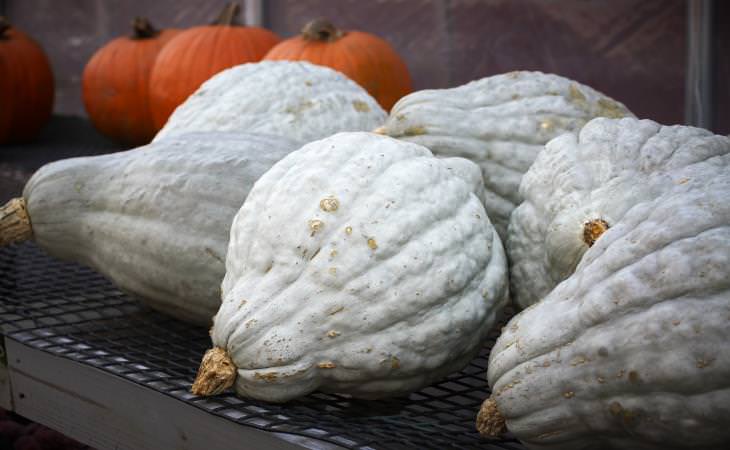 A lumpy little fella, you're likely to find them sold pre-cut. Underneath the grey skin is orange flesh just like any other squash. For this one, we have prepared a condiment recipe. Here's how to make squash dip:
Ingredients
Preparation
Heat oven to 400°F (200°C) and bake for about an hour, until the squash is tender. Let cool for 20 minutes.

Cut in half, discard the seeds and scrape out the flesh.

In a food processor, blend the flesh with tahini, lemon juice, garlic, salt, and oil. If you chose to use paprika, now is the time to add it as well. You can add more oil if the consistency isn't smooth enough.
Delicata Squash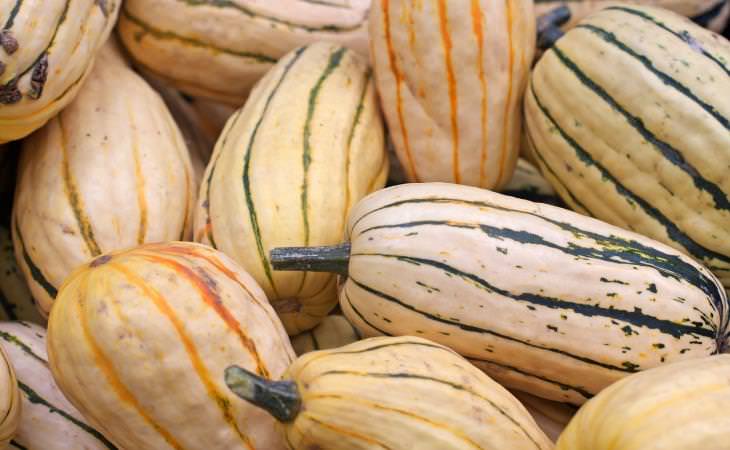 This variety is another feast for the eyes, so we bring you this dessert recipe that leaves the peel on. Here's how to make roasted Delicata with apples and pecans:
Ingredients:
1/2 stick salted butter

1 tsp sage

3/4 cup apricot jam

1/2 tsp pumpkin pie spice

3 pounds Delicata, seeded and cut in wedges

1/2 cup chopped pecans

2 medium-size green apples, peeled, cored, and cut into 1/2" wedges
Preparation
Heat oven to 400°F (200°C). Melt the butter with the jam and sage.

​

Toss the squash with half the butter mixture and bake for 40 minutes. Toss every 15 minutes.

In a pan, toast the pecans for a minute, add the apples and the rest of the butter mixture and cook for 5 more minutes.

Place the pecans and apples inside the squash and serve.




Source
Red Kuri Squash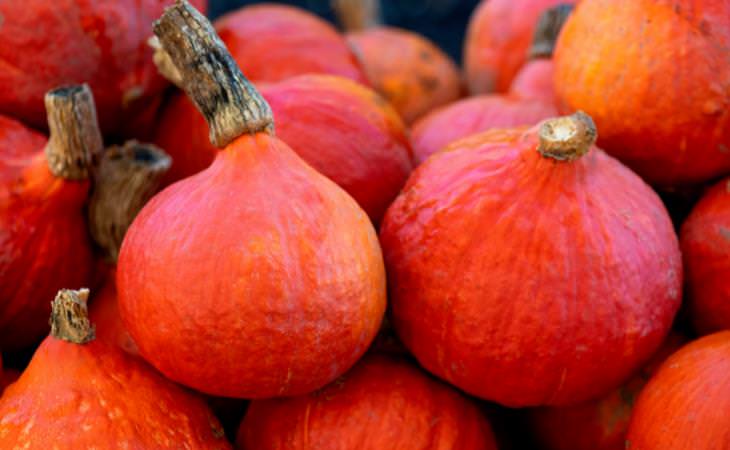 Another small variety that's easy to handle. Perfect for another stuffing! With a twist to the mac 'n cheese, here's a recipe for pasta stuffed pumpkins:
Ingredients:
6 small pumpkins (one for each serving)

Salt and pepper

A package of diced pancetta

1/2 sweet onion, diced

3 1/2 cups macaroni

10 oz spinach

3/4 cup grated Parmesan

1/4 pound grated Gruyère cheese

1 cup heavy cream
Preparation
Heat oven to 400°F (200°C). Remove pumpkin tops and save them for later. Scoop out the insides and season the remaining pumpkin with salt.

Cook the pancetta until crisp, and remove from heat. In the same pan, fry onion with some salt until soft.

Boil salted water. Cook macaroni until it is almost soft.

Mix all the ingredients and add salt and pepper if needed. Pour into pumpkins.

Bake for a minimum of 1 hour until you can easily puncture the pumpkin with a fork.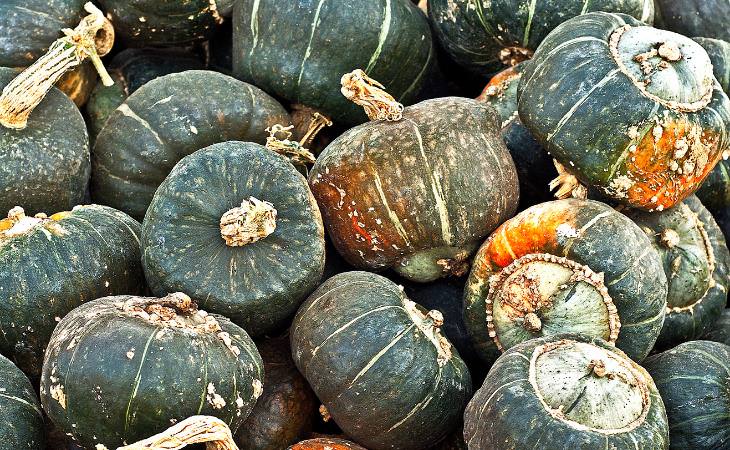 Another green-skinned pumpkin hiding orange insides! This one will smell like a fresh cucumber when you slice it. Did you know pumpkins are related to cucumbers? When cooked it will have a mild taste with a dense consistency. That's why we would suggest enjoying it on its own and complimenting it with a mild seasoning. Here's a simple quick recipe for roasted butternut squash:
Ingredients:
2 squashes, seeded and halved.

Melted butter, salt, pepper, and a pinch of sugar
Preparation:
Heat oven to 400°F (200°C). Mix the ingredients and drizzle over the squash. You can swap this seasoning with the seasonings offered for sugar pumpkin. Bake for 45 minutes.
Source
Acorn Squash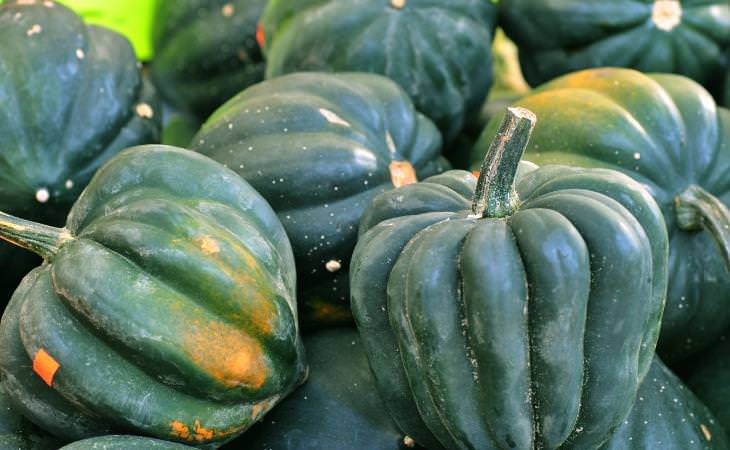 You'll easily find this squash in the grocery store. Choose one that has as few orange marks as possible as it is a sign of tough and fibrous flesh. Here's a main dish your guests will remember until the next holiday: steak with roasted acorn squash.
Ingredients:
12 oz boneless strip steak

Salt and pepper

1 cup Sprouted Red Lentils

2 tbs pesto

Feta cheese to taste

Coconut oil

Acorn squash

Coarsely chopped almonds for serving
Preparation:
Heat oven to 400°F (200°C) and bake the squash for 45 minutes.

Season steak and fry it for 9 minutes on each side. Remove from heat and let sit 15 minutes before slicing.

Toss lentils with pesto, salt, and pepper.

Serve the dish, topping the steak with almonds and Feta cheese.
All recipes are from Epicurious unless stated otherwise at the bottom of the recipe.