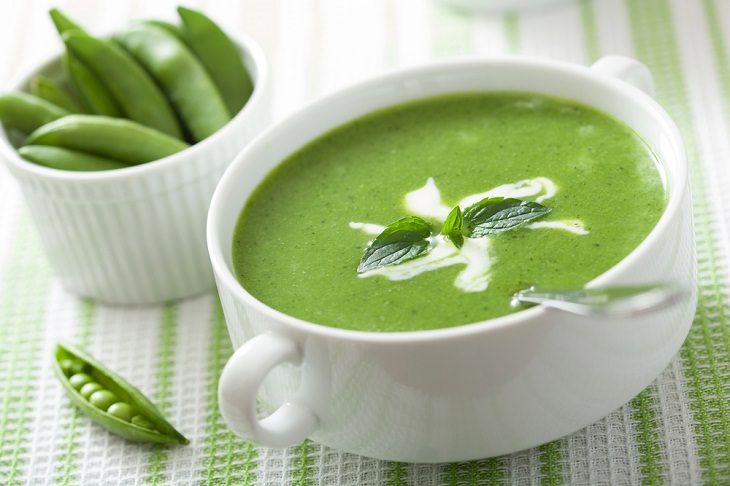 This is possibly the easiest soup you can make and needs only about 5 minutes of preparation time. It's simple and refreshing and the combination of fresh peas and mints blends wonderfully well to create a flavorful aroma.
* 5 cups/750g shelled fresh peas (or frozen peas)
* 800ml hot water
* 1 tbsp vegetable bouillon powder
* Handful of chopped fresh mint, to serve
* Cream, to serve
Method:
* Add the peas into a blender and pour the hot water over it. If the peas are frozen, leave them to defrost.
* Add the mint and the vegetable bouillon powder to the mix.
* Blend the ingredients thoroughly until you get a smooth mixture. Let it chill.
* Sprinkle some chopped mint on top. Add some cream too.
2. Chilled Tomato and Basil Soup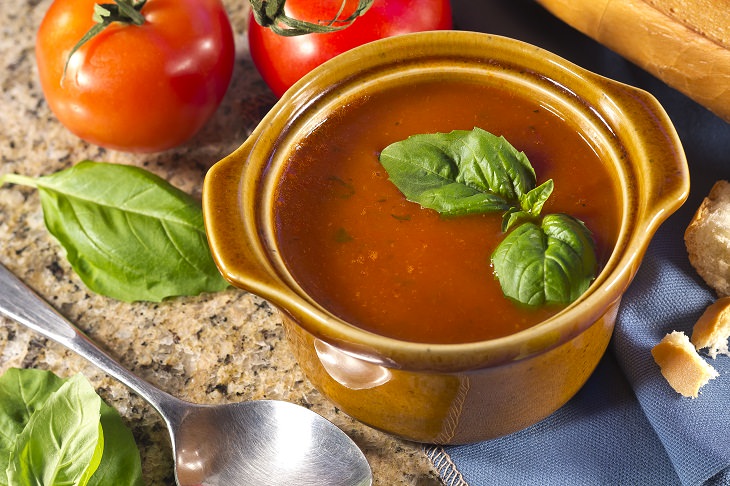 Here's another easy summer soup that's mainly based on tomatoes. It's a low-calorie, low-fat soup that can be made in just less than 10 minutes and leaves you with plenty of zesty goodness. What's more, it also offers plenty of vitamin C and vitamin A!
Ingredients:
* 1kg (2 pounds) tomatoes
* 1 bunch fresh basil (chopped)
* 2 cups vegetable broth
* 2 cloves garlic
* 2 tablespoons balsamic vinegar
* Salt (to taste)
* Freshly ground black pepper (to taste)
Method:
* Put all the ingredients in a blender and keep mixing until you get a smooth consistency.
* Pour the ingredients into a saucepan. Simmer over low heat for 10 minutes.
* Let it cool for a bit and place it in the refrigerator for 30 minutes to an hour.
* Add a tiny bit of Greek yogurt or some other non-dairy sour cream substitute for a bit more flavor.
Related: Fight Inflammation & Cancer with This Yummy Tomato Soup
3. Cold Watermelon Soup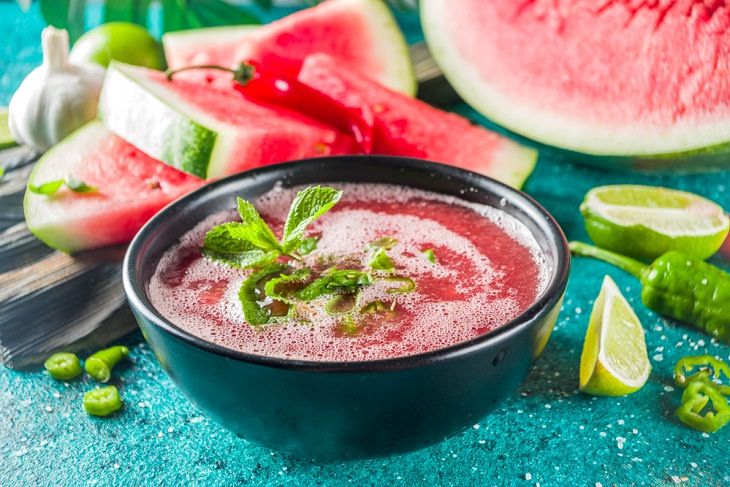 A cool soup made with fresh watermelon and mint would just hit the spot on a sultry day, wouldn't it? This fruity chilled soup will depend a lot on the sweetness of the watermelon so make sure you get the juiciest one before you begin the cooking process. Watermelons, apart from keeping you hydrated, also contain vitamin C, vitamin A, and many healthy plant compounds. So, this soup is a fast and easy way to enjoy fresh fruits and remain healthy during the summer months. Have it during lunch and you will feel light and fresh all day.
Ingredients:
* 4 cups cubed seeded watermelon
* 2 tablespoons lemon juice
* 1 tablespoon chopped fresh mint
* 1 to 2 cloves minced garlic
* 1 tablespoon honey
Method:
* Add the watermelon cubes, garlic, and lemon juice to a blender. Mix thoroughly until you get a smooth consistency.
* Pour the mixture into a bowl. Add the honey to sweeten the taste a little.
* Refrigerate 2 hours before serving.
4. Cool Cucumber Soup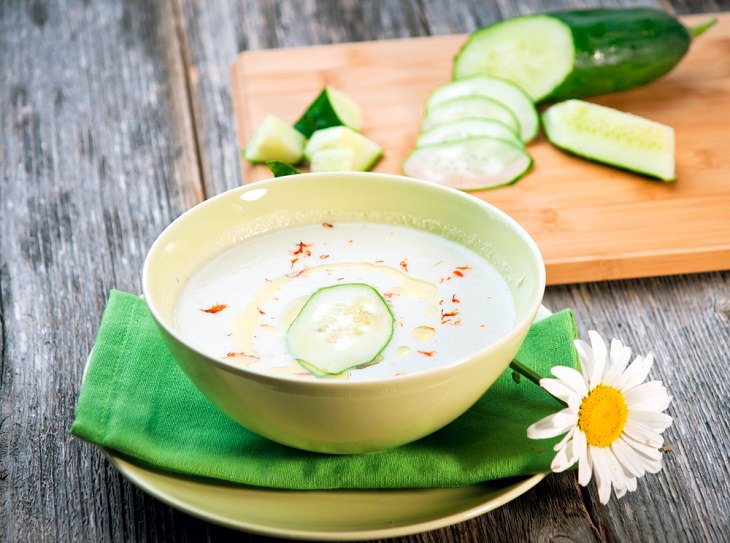 Cucumbers are one of the best foods you can have in summer. They are low in calories and contain magnesium, potassium, and vitamin K that can help in the proper functioning of the cardiovascular system. Moreover, cucumbers are composed of about 96% water and hence help promote hydration.
This simple cucumber soup is almost as good as a vegetable broth and you can have it for meals during the summer months with a slice of toasted bread and some cheese.
* 2 large cucumbers, peeled and thinly sliced
* ½ ripe avocado, chopped
* Juice of 1 lime
* Salt (to taste)
* 1 tablespoon avocado oil
* Place the cucumbers, avocado, and lime juice in a blender and mix them thoroughly. Make sure the mixture has a pouring consistency.
* Transfer to a bowl.
* Stir in 1 cup cold water and season with salt.
* Transfer to a bowl and refrigerate.
* Before serving, drizzle a few drops of avocado oil on top.
5. Asparagus Soup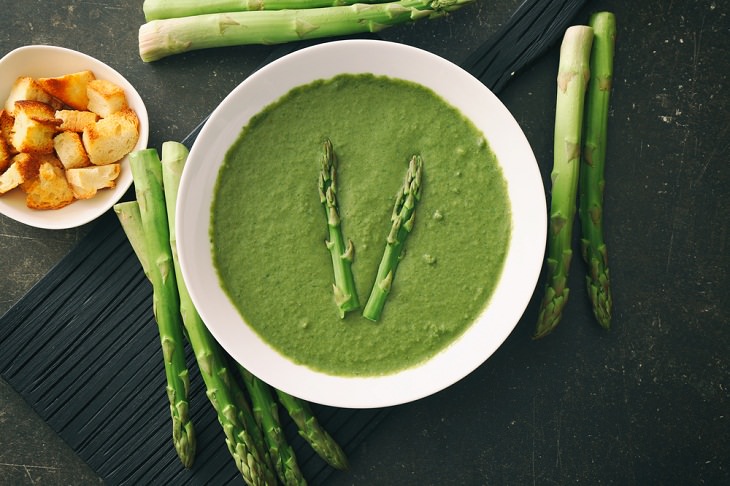 Asparagus is low in calories and is a terrific source of nutrients such as fiber, folate, and vitamins A, C, and K. Asparagus also helps in improving digestion and lowering blood pressure. The super-green and super-tasty asparagus soup is easy to make and can be enjoyed even by those who don't like eating this vegetable.
* 500g thin asparagus
* 2 tablespoons butter (or extra virgin olive oil)
* 1 onion, chopped
* 1 dash garlic powder
* 1 dash white pepper
* 1 cup 1% milk
Note: You can add herbs such as lemon balm bay leaf or thyme instead of peppers if you want to reduce the sodium content.
* Microwave the onions and butter on HIGH for 2 minutes in a microwave-safe bowl.
* Add asparagus, vegetable broth, garlic powder, and white pepper to the mix.
* Cover the bowl and microwave the ingredients on HIGH for 10 to 12 minutes.
* Now, pour the ingredients in a blender and mix until you it's thick and smooth.
* Pour the mixture into a microwave-safe dish. Stir in milk and microwave until heated.
* Let it cool. Refrigerate for an hour before serving.
6. Celery Soup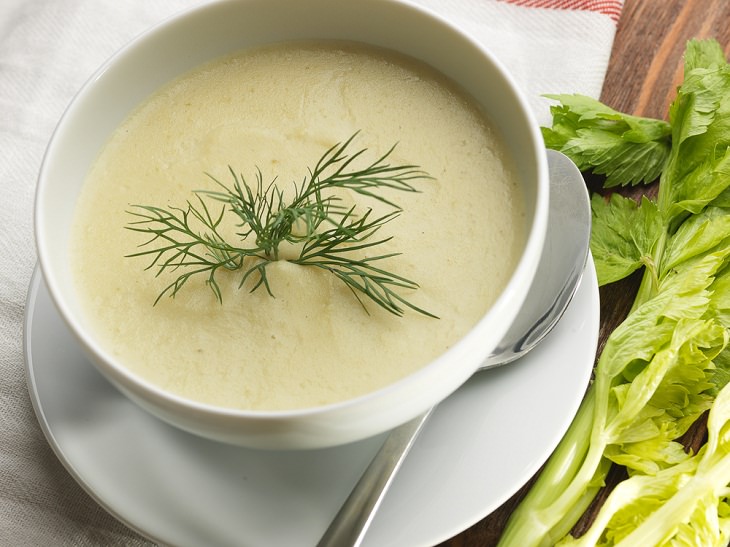 A celery soup may sound boring but it can serve as a low-calorie healthy and filling veggie lunch or supper. Have it with chunks of crusty bread and you will be wanting more every day.
* 300g celery, sliced. Make sure the tough strings are removed.
* 1 garlic clove, peeled
* 200g potatoes, peeled and cut into chunks
* 500ml vegetable stock
* 100ml milk
* Crusty bread
* In a large saucepan, heat the oil in medium heat.
* Add the celery, garlic, and potatoes and coat them with the oil.
* Splash some water over the ingredients. Add a pinch of salt and stir regularly for 15 minutes.
* Add the vegetable stock and bring to boil.
* Simmer for another 20 minutes until the celery is soft and the potatoes are falling apart.
* Put the mixture in a blender and mix for a few minutes. Add the milk and blend again.
* Let it cool. Serve with crusty bread.
7. Tomato Gazpacho Soup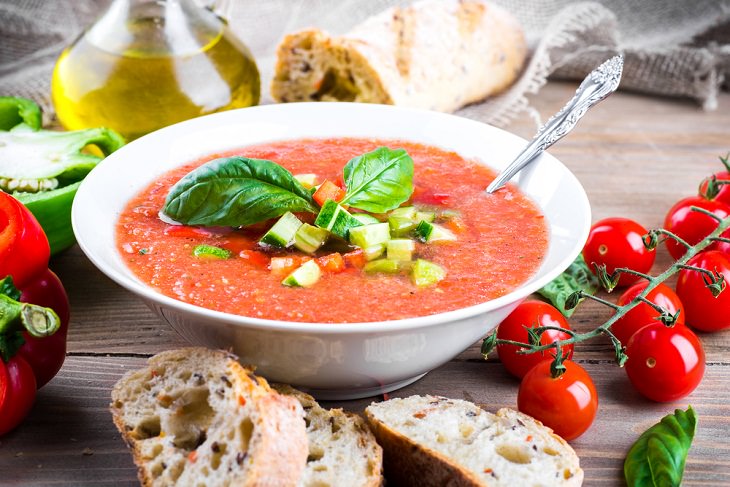 Gazpacho is a traditional summer dish of Spain made up of chilled pureed tomatoes, cucumbers, and peppers. It's always served cold and is considered the quintessential summer soup since all the ingredients required to make it are available fresh during the season. This is a super healthy soup as it's rich in so many veggies and should be had for lunch.
* 2 cups chopped tomatoes
* 1 peeled and diced cucumber
* 1 green bell pepper, minced
* ¼ cup olive oil
* 3 tablespoons fresh lemon juice
* 1 tablespoon minced garlic. Make sure it's blended to a chunky-smooth consistency
* Add the tomatoes, cucumber, tomatoes, lemon juice, green bell pepper, and minced garlic in a blender or food processor. Puree for 1 minute or until it reaches the consistency you want.
* Transfer the soup to a sealed container and refrigerate for at least 4 hours.
* Garnish with olive oil and serve chilled.
8. Carrot & Coriander Soup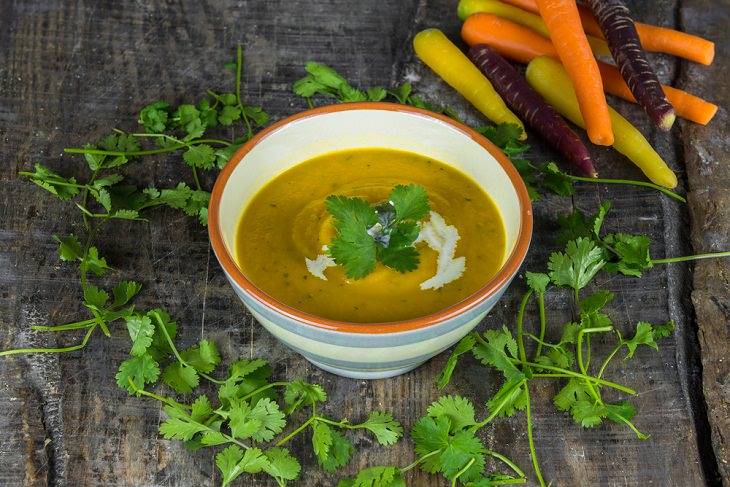 Carrots, as you might know, are extremely healthy vegetables. They're packed with vitamin A and beta-carotene and can help keep blood sugar levels under control. They can also strengthen your bones.
This Carrot & Coriander soup is amazingly simple to make and requires only a handful of ingredients.
Ingredients:
* 4 large carrots, cut into 1-inch pieces
* ¼ large onion, chopped
* ½ cup chopped fresh coriander (cilantro)
* 100 ml vegetable broth
Method:
* Add the carrots, onion, vegetable broth, and cilantro into a saucepan and bring to a boil.
* Cook for about 10 minutes until the carrots are tender.
* Remove from heat and let it cool.
* Using a blender or food processor, puree the soup until it achieves a smooth consistency.
* Refrigerate for a couple of hours before serving.
9. Creamy Spinach Soup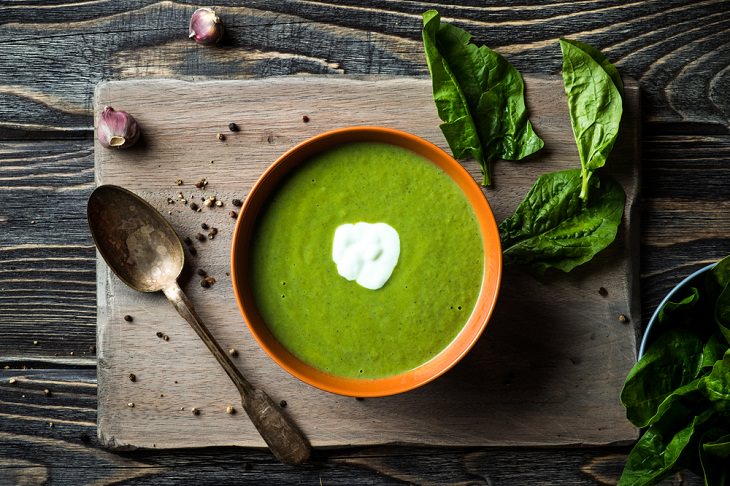 We don't need to tell you why spinach is considered a superfood. It's packed with tons of nutrients and provides protein, iron, vitamins, and minerals to our body. Having spinach regularly can be great for our skin, hair, and bone health.
This chilled spinach soup is flavorsome and healthy and makes for the ideal veg meal to have on a hot summer day.
Ingredients:
* 250g spinach, stalks removed
* 1 garlic clove, chopped
* 500g plain yogurt
* 3 tablespoons dried mint
* 200-300ml chilled vegetable stock
* Shredded fresh mint leaves
* Fresh nutmeg, grated (optional)
* Salt and pepper (to taste)
Method:
* Cook the spinach in a pan of boiling water for about 2 minutes. Make sure that the leaves don't become wilted.
* Drain and add the spinach to a bowl of cold water. Drain again, this time ensuring that all the excess moisture from the leaves is squeezed.
* Add the spinach along with the garlic, yogurt, and dried mint in a food processor or blender. Mix well for a couple of minutes and add the vegetable stock.
* Blend again thoroughly until the mixture has a thick, creamy consistency.
* Pour the mixture into a bowl and refrigerate for 2 hours.
* Sprinkle fresh mint leaves and a little grated nutmeg before serving.
Share these amazing recipes with your friends and family