There is something quite special about taking some distance and seeing the bigger picture. This is exactly the magnifying quality of aerial photography, which is what The Aerial Photography Awards (APA) aim to celebrate. The newly founded competition drew submissions from 96 countries. The jury awarded 106 photos in 23 different categories, but the countries that stood out the most were Belgium, which generated winners in 10 different categories, Russia with 9 winners, and the UK with 8 winning images. All of the photographs were captured using drones, helicopters, kites, balloons, or airplanes.
"For a first edition, the quality and diversity of the awarded photos demonstrate the evolution of aerial photography and the standards it has reached today. Aerial photographers prove their ability to amaze us. New visual writings are being built," said the APA's founder Christopher Martin.
Scroll through the stunning winning images below and enjoy the view!

1. First Place In Landscape Category: Skyggnisvatn by Sebastian Müller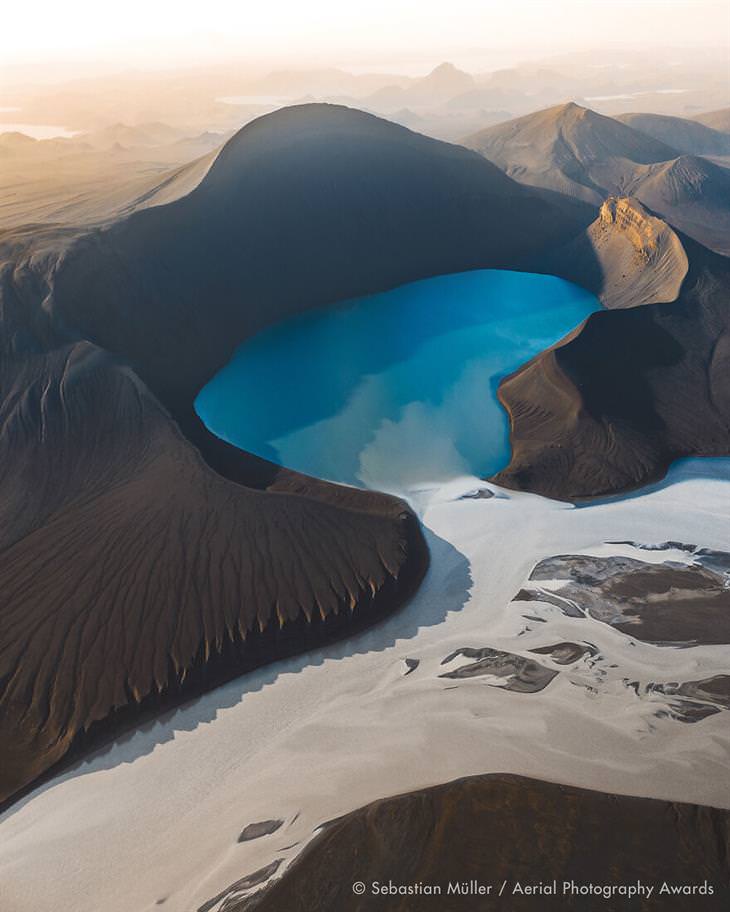 Image Source: Sebastian Müller / Aerial Photography Awards
2. First Place In World In Lockdown Category: We Are In It Together by Prabu Mohan

Image Source: Prabu Mohan / Aerial Photography Awards
3. First Place In Waterscapes Category: Arctic Paradise by Kyle Vollaers

Image Source: Kyle Vollaers / Aerial Photography Awards
Related: See 22 Famous Landmarks From a New Aerial Perspective
4. First Place In Patterns Category: Umbrella Crossing by Daniel Bonte

Image Source: Daniel Bonte / Aerial Photography Awards
5. First Place In Constructions Category: The Frame by Bachir Moukarzel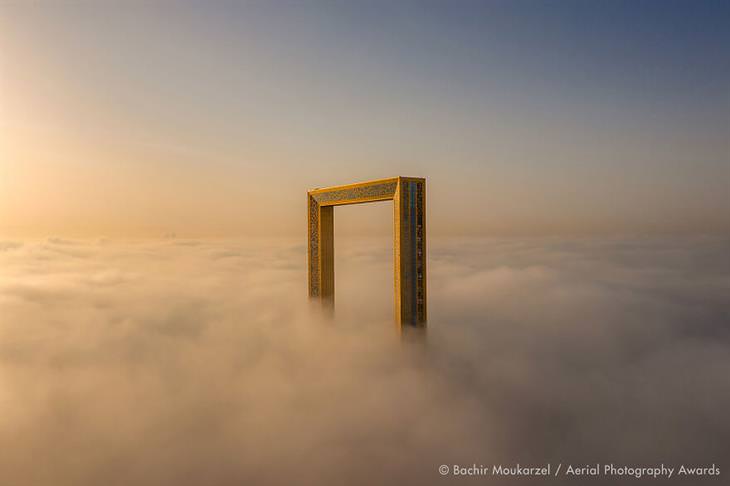 Image Source: Bachir Moukarzel / Aerial Photography Awards
6. First Place In Abstract Category: Tatacoa Desert

Image Source: Johan Vandenhecke / Aerial Photography Awards
7. First Place In World Culture Category: Eid Congregation by Azim Khan Ronnie

Image Source: Azim Khan Ronnie / Aerial Photography Awards

Related: These Aerial Shots Present Nature In Her Finest Glory
8. First Place In Daily Life Category: The Lady Of The Sea by Duy Sinh

Image Source: Duy Sinh / Aerial Photography Awards
9. First Place In Travel Category: Shanghigh by Yiran Ding

Image Source: Yiran Ding / Aerial Photography Awards

10. First Place In Trees & Forests Category: Forest Path by Mehmet Aslan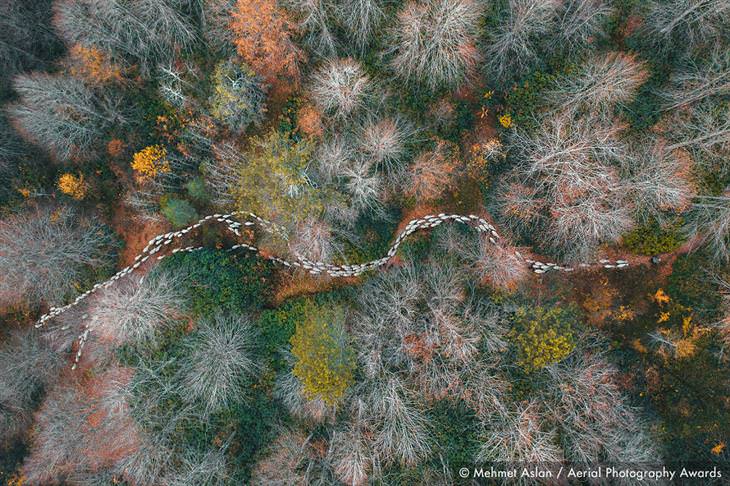 Image Source: Mehmet Aslan / Aerial Photography Awards
11. First Place In Abandoned Places Category: The Wreck by Reginald Van de Velde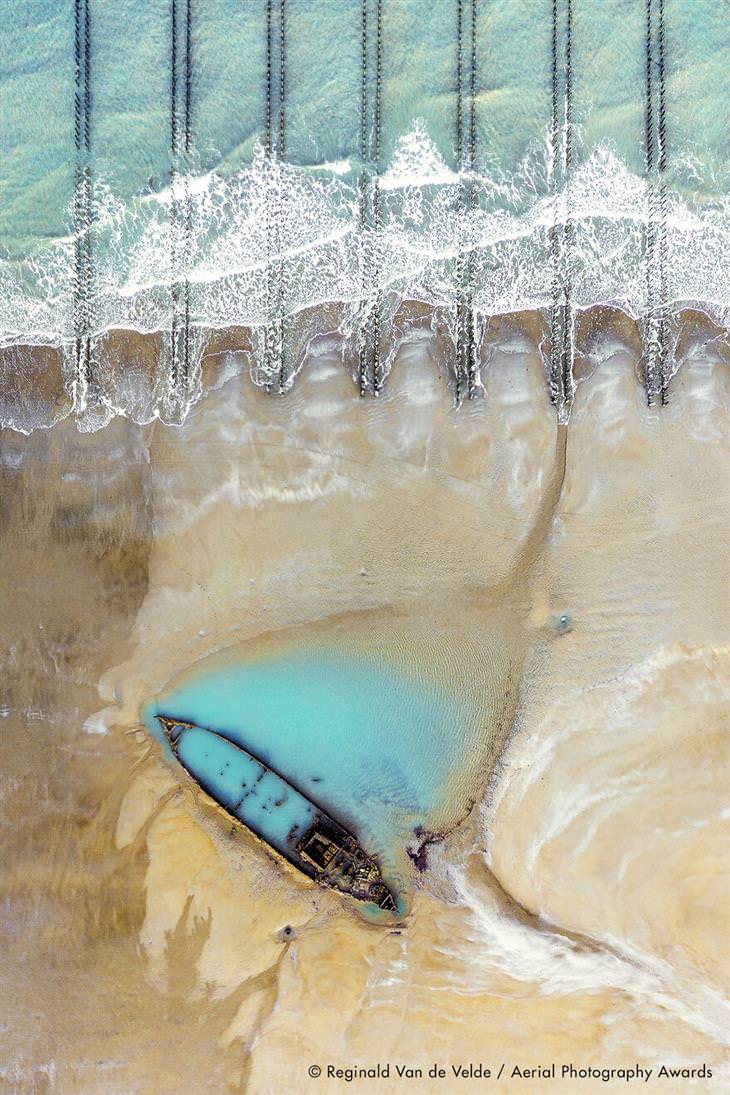 Image Source: Reginald Van de Velde / Aerial Photography Awards
Related: These Drone Photos Are Absolutely Stunning
12. First Place In Cityscapes Category: Spanish Rainbow by Sebastien Nagy

Image Source: Sebastien Nagy / Aerial Photography Awards
13. First Place In Environment Category: Flood Water Has Damaged Crops by Azim Khan Ronnie

Image Source: Azim Khan Ronnie / Aerial Photography Awards
14. First Place In Accommodations Category: Colors Of Dubai by Kevin Krautgartner

Image Source: Kevin Krautgartner / Aerial Photography Awards
15. First Place In Architecture Category: Abstract Greece by Sebastien Nagy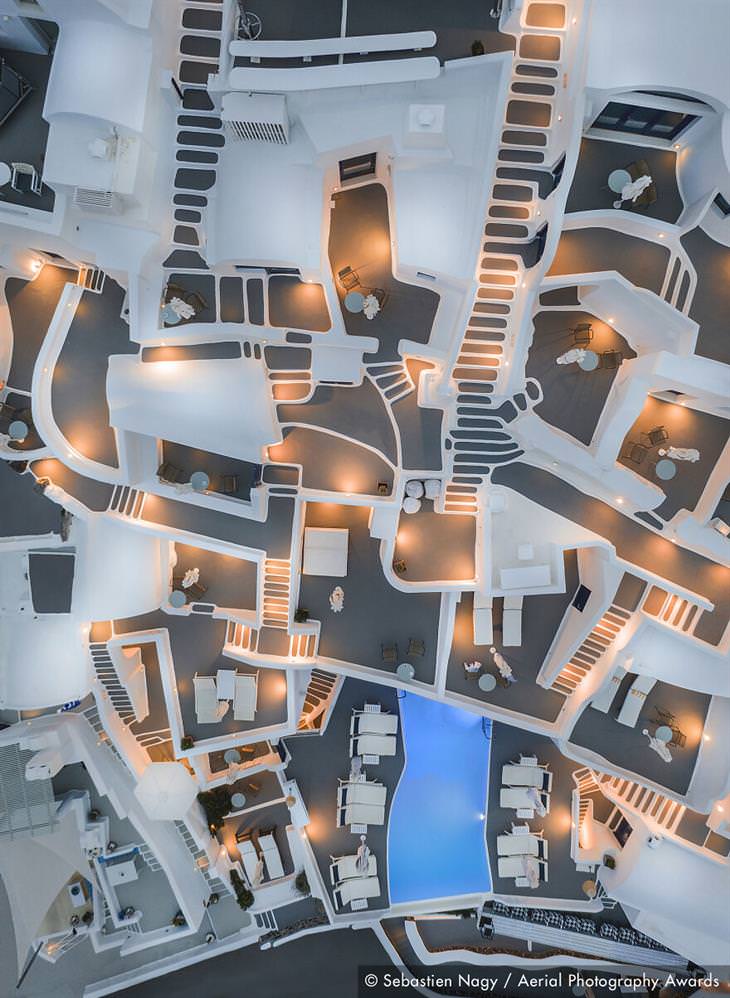 Image Source: Sebastien Nagy / Aerial Photography Awards
16. First Place In Wildlife Category: Flying Flamingos by Hua Shang

Image Source: Hua Shang / Aerial Photography Awards
17. First Place In Documentary Category: Fire Attack by Marc Le Cornu

Image Source: Marc Le Cornu / Aerial Photography Awards
18. First Place In Other Category: On The Edge by Ryan Koopmans

Image Source: Ryan Koopmans / Aerial Photography Awards
Share these beautiful images with other photography lovers