Time really seems to be whizzing past us, particularly in this year of perilous pandemics leaving us locked in our homes. But that's why it's all the more important to celebrate momentous occasions as they come before they fly right past us. October is the month that begins to bring in the spirit of the holiday season. Before we start getting our Christmas decorations out, we need to drape our homes with spooky spider webs, hang some bat-coated wreaths upon our doors, and prepare for some Halloween hijinks.
For those trying to avoid excessive trips to shopping complexes, don't let the pandemic put a damper in your creepy crawly celebrations. The best Halloween decorations are actually homemade! Just take a look at these incredibly fun and easy-to-make DIY decorations perfect for this spooktacular season, and get ready for some good old fashioned family fright nights!
1. Halloween Wreath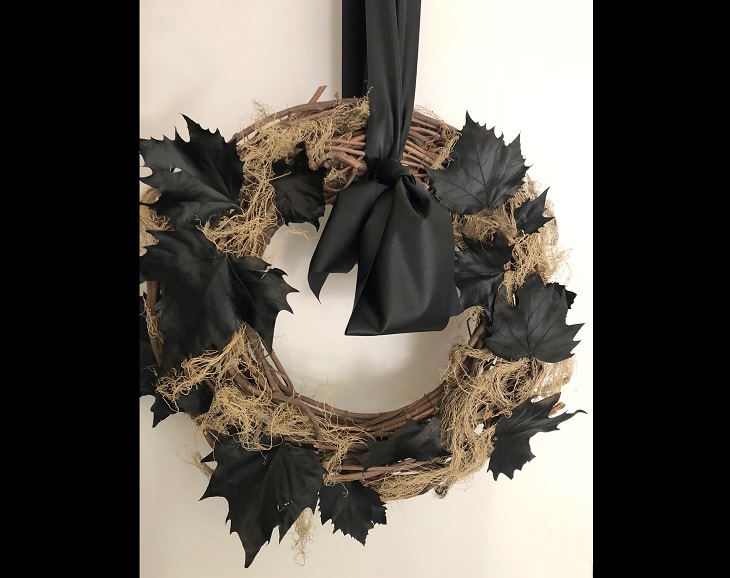 (Flickr)
Start off your Halloween decorating with something simple, like these eerily dark Halloween wreaths. It's easy enough to make using black fabric and various sized stencils of maple leaves to create the "haunted woods" effect. Hang it on your front door so all passersby know that your home is Halloween ready.
2. Smoke-o-Lantern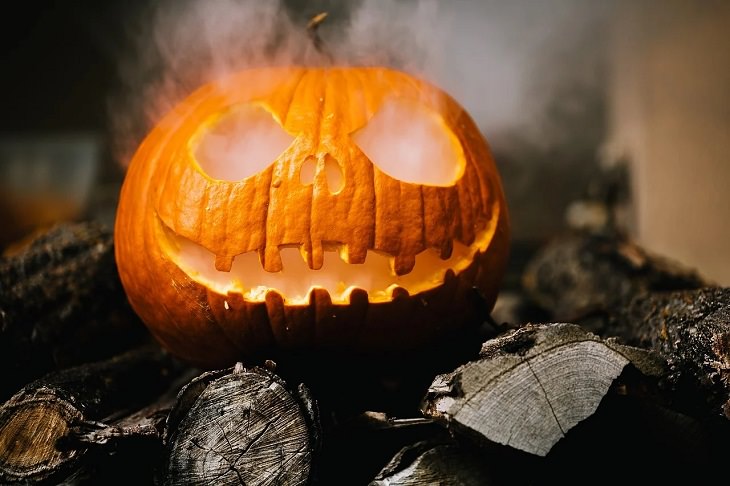 Turn your jack-o-lantern into a misty and mysterious smoke-o-lantern that shrouds its victims in a blinding fog before attacking! It's an easy craft with an overwhelmingly cool result. The first step is simply carving your jack-o-lantern.
Once that is complete, you can add the smoky effect by using dry ice just prior to receiving guests, or a miniature fog/smoke machine. You can also create your own "instant smoke machine" using some tealight candle, nails, deionized water, and glycerine.
3. Hanging Spooky Spiderweb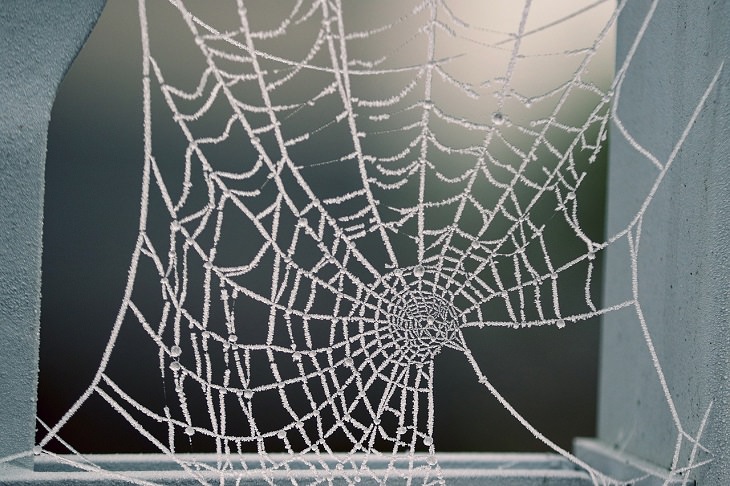 If you don't want to invest in store-bought spiderwebs that have a tendency to cling and get caught in the decor, you can make your own wider spiderwebs using only white yarn. For those that are comfortable with knitting or crocheting, this will be an easy task.
Even if you're not handy with a needle or knots, you can always use glue to ensure you get the shape and thickness you want. Add to the illusion with some paper insects and pinecone spiders (see the next decoration on our list).
4. Pinecone Spiders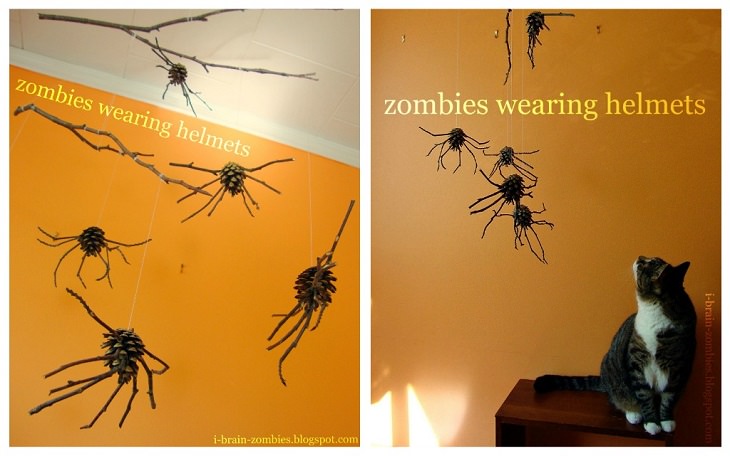 (Flickr)
Who says DIY and budget-friendly decorations can't also be all-natural and eco-friendly? Make your own eight-legged creepy crawly critters using only pinecones and twigs. Start by painting the pine cone black and whatever other colors you want your spider to be. You can either paint on the eyes or glue on a couple of store-bought googly-eyes.
Glue eight long twigs onto both sides of the pinecone (4 on either side) for the legs. You can also make the legs with cardboard and paint them black. Attach a string to the top of the pinecone and presto! You've got your own hanging arachnid.
5. Beast-o-Lanterns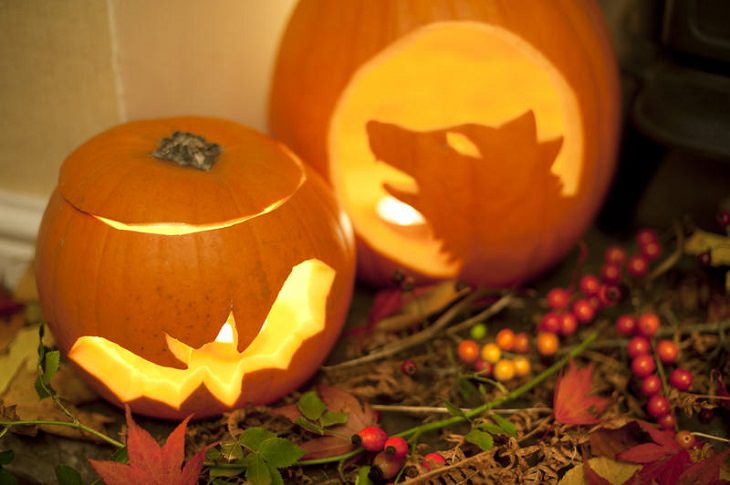 (By Halloween, freeimageslive)
Tired of plain old jack-o-lanterns and their cheeky grins? Get creative with your pumpkin carvings and give different types of Halloween themed stencils a try. These shapes can include everything from creatures of the night like wolves, bats, spiders, and blacks cats.
If you are especially skilled at creating these unusual carvings then you can search for more elaborate designs like witches on broomsticks, bubbling cauldrons, and headless horsemen, just to name a few.
6. Halloween Shadowboxes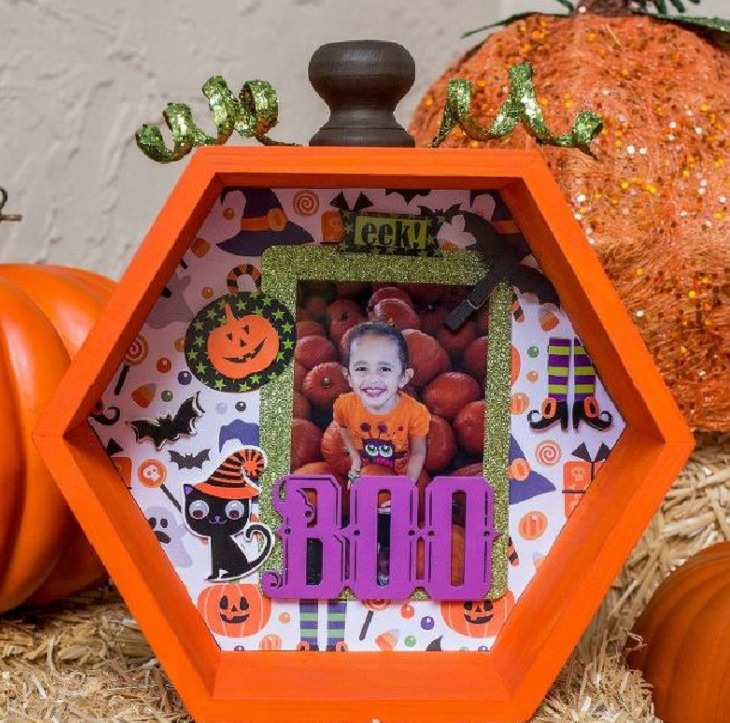 (Reddit)
Halloween shadow boxes can come in many shapes and sizes, but essentially they require a hollow space for Halloween-inspired decorating or fitting in drawn, painted, or cardboard cut-out scenes and silhouettes.
Pumpkin shadow boxes are the most common type found during Halloween, though the designs work equally well with any well-decorated orange-colored Halloween-themed hollow space including a box or old drawer like in the photograph.
7. Melting Pumpkin Witch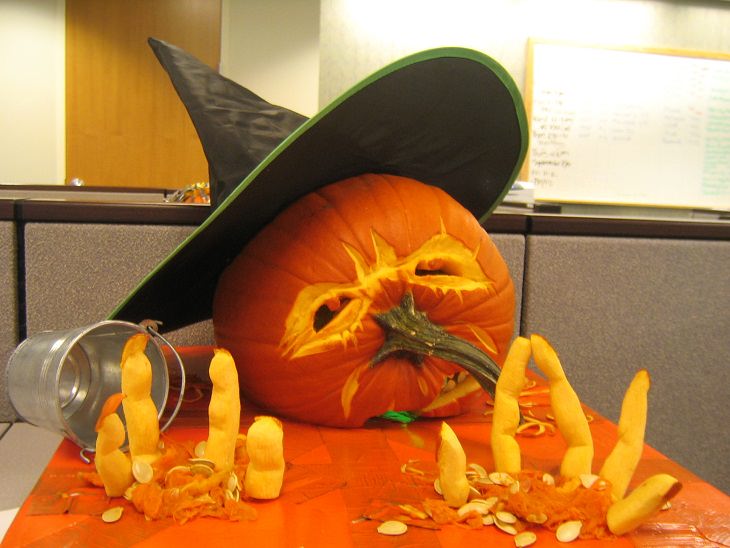 (Flickr)
Another creative carving option that is a twist on the classic jack-o-lanterns, literally so! Turn your pumpkin over so that the stem is facing the front. The pumpkin's stem will act as the nose of your witch. Depending on which side of the turned pumpkin (either above or below the stem) is more steady, the bottom of the head can be selected.
Eyes are then carved just above the nose. You can make the fingers using large chunks cut from inside the pumpkin, or orange clay as per your preference and depending on what's available. Adding pumpkin filling to the hands gives it an extra-melty feel. Finally, top off your witch with her signature hat and prepare to see some amazed trick or treaters.
8. Painted pumpkins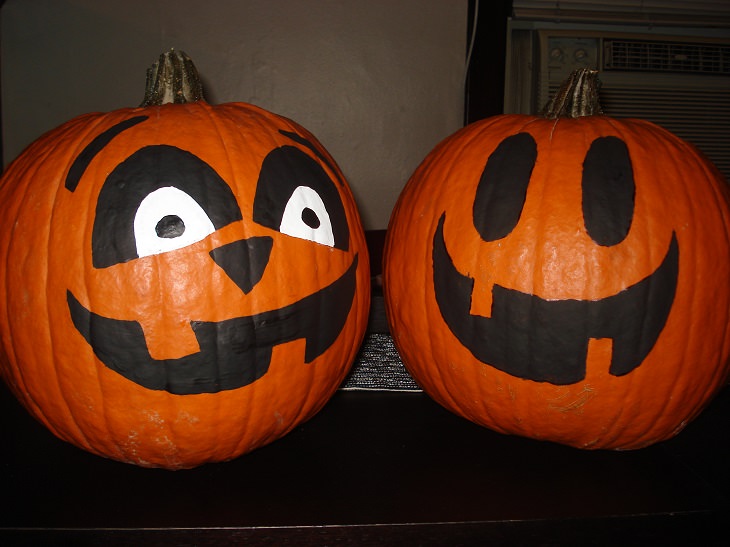 (Flickr)
What is with all of this carving? Orange pumpkin guts spilling, seeds and skin scattered everywhere, and an entire carving station that ends up coated with sticky pumpkin juice. The mess alone is enough to make even the most ardent Halloween lover give jack-o-lanterns a skip.
However, carving isn't the only way to give your pumpkin a face. If you happen to be a talented and coordinated painter you can probably paint a frightening face onto your pumpkin freehand. In case you are a novice artist there are stencils you can print out to create your own frowning and fear-inducing heads of fruit!
9. Halloween magnets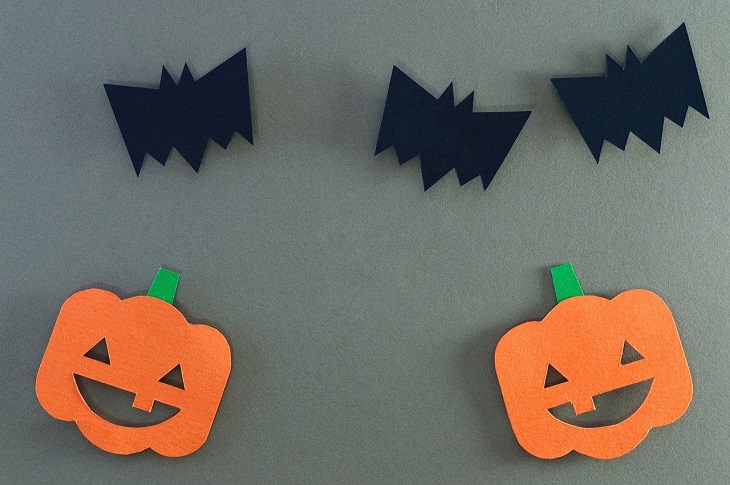 Get your refrigerator (and its daily visitors) into Halloween mode with some adorable hand-made fridge magnets. Choose the shapes you want, from bats, spiders, and jack-o-lanterns to ghosts, witches, candy, and black cats. Cut out the shapes first on felt, fabric or paper.
Then create identical cardboard cut-outs to stick underneath the original. This will ensure your magnet stays firm (at least until the holiday has passed) and is not easily bent, broken, or torn. The final step is to glue the magnets to the backside of your cut-out. Small flat refrigerator magnets or office magnets can be purchased online or in a local store, and many are sold in bulk along with double-sided tape to attach them with.
10. Paper Spiders and Bats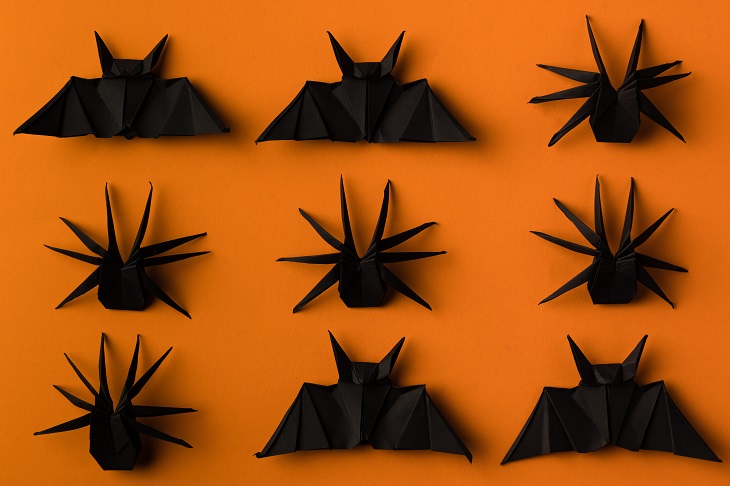 If you don't feel like foraging for sticks and pinecones to make your spiders or if the bat stencils are beginning to bore you, you can add an extra layer of texture to your wall-hanging critters by making them out of paper. Origami bats and spiders make the perfect Halloween decoration.
Easy instructions are available online for both the bat and the spider, the former of which can be made in 15 steps and the latter in only 10. You can also make them in varied sizes, having smaller ones lined up on the wall as if following the larger one to create truly creepy and crawly patterns. They can be hung from strings or glued to parts of the wall for effect.
11. Cereal Box Tombstone
Turn your green garden into a groovy grey graveyard using only some spray paint and old cereal boxes. If you're excited at the prospect of scaring some trick or treaters with some hilariously pun-tastic tombstones, then now is the time to begin saving up cereal boxes because each one requires its own cereal box.
Cut the sides of the cereal box just a few inches before evenly cutting the back and front of the box into the shape of the tombstone. Stuff the inside of the box with newspaper, enough to make the box firm without causing it to become bulky. Tape the sides of the box over the top in the desired curved shape and proceed to tape over the entire box.
While taping, be careful to avoid wrinkles, bubbles, and unnecessary lines which may be visible after painting. Finally, paint your cereal box a deep gray color and add a lighter shade for texture, before adding the actual text. The above video will give you the details for avoiding bubbles while taping, creating interesting color textures, and using stickers for the "engravings" of the tombstone.
12. Crocheted pumpkins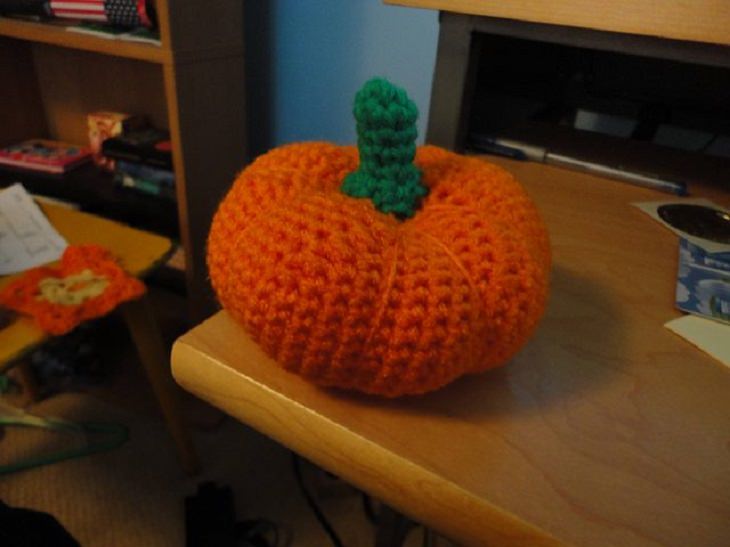 (Reddit)
Where, oh, where would Halloween be without the pumpkin? Some would argue in a place with infinitely less rotting fruits, come November. In all seriousness though, pumpkins are a big part of the festivities, which results in people who don't have pumpkins being left out of all the fun. Don't worry. All you need is yarn.
Yes, crocheting entire pumpkins, both big and small, is starting to become a major Halloween tradition. Particularly during these lockdowns when everyone is being ultra-cautious, creating your own yarn pumpkin is a great way to replace the fruit.
Bonus idea: If you do have a pumpkin but have no interest in carving or painting it, you can always make a multicolored decoration for your pumpkin using the yarn and your skill with a set of crochet needles!
Share this with all your fellow Halloweeners!