Mother Nature has blessed our world with more things than we probably realize. After all, there's more to nature than just lakes, mountains, and forests. If we put our minds to proper use, we can take great benefit of things from nature to give new life to a lot of old items we would generally discard. In this collection of pictures below, for instance, you will see how several people have found innovative eco-friendly ways to recycle and upcycle old things.
From using avocado pits to make necklaces to making ice cream cups from banana leaves, here are some great examples of sustainable upcycling that can give us all some much-needed inspiration.
See Also: 18 Creative Recycling Ideas: New Life for Your Trash
1. This ice cream cup has been made from banana leaves!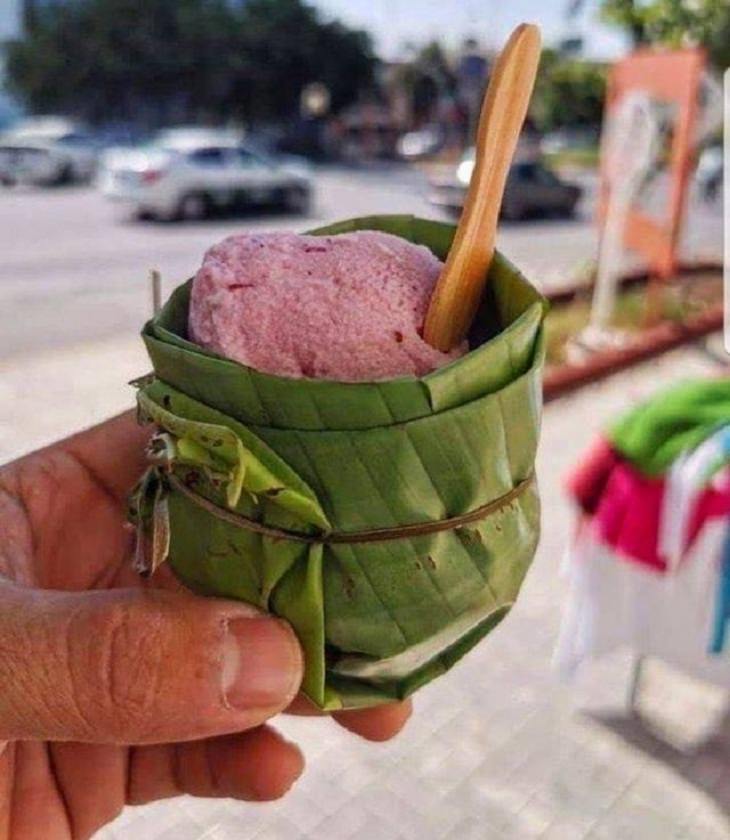 2. A newlywed couple planted these sycamore trees that lead to their house. This symbolized togetherness for them...
3. A national park in Sweden refused to cut the trees that were in the way of a bridge. They simply left the trees that way.
4. This pencil has seeds on the tip. When it's too small to use, you can plant it and a tree will grow out of it.
5. A coffee cup made from recycled coffee grounds.
6. In a parking lot in Hawaii, the authorities didn't use paint to draw the lines. Instead, they let nature take care of it.
7. A disposable bowl made out of pressed leaves. These are very common in India.
8. A local community used old metal chairs as a new fence!
9. This office building is made up of old shipping containers.
10. WOW! That's an incredibly beautiful bougainvillea house in San Francisco.
11. This local bakery leaves out a bag of unsold pastries instead of throwing them away and creating additional waste.
12. A unique eco-friendly soap refill station in Canada.
13. A man took the discarded old fence from his friend and used it to make garden boxes.
14. A number of New Zealand supermarkets are trying to use less plastic for fruits and veggies.
15. Instead of using stickers, a supermarket is using engraved letters on fruits and veggies such as this avocado. This prevents people from switching stickers on organic fruits.
16. Amazing! A spring that flows through a living tree...
17. The people of this town disguise their cell towers to look like pine trees so they don't stand out.
18. This guy carved avocado pits into necklace pendants and talismans.

Image source: Acid Cow