Bethany Hamilton always loved to surf and was a natural at it from a very young age. Raised by surfers in Hawaii, she was born to be in the water. Her talent was spotted early and Bethany soon began competing professionally as a young child. However, when she was just 13, tragedy struck her life. While surfing in an area highly populated with sea turtles, a large tiger shark bit off Bethany's left arm. The attack was vicious and the young girl had lost so much blood that she was in danger of losing her life, too.
One month later, however, Bethany was back on her surfboard, after having made a full recovery. She had lost her arm, but her spirit remained unwavering. Determined and positive, Bethany continued her love for surfing and won first place in the Explorer Women's Division of the NSSA National Championships just two years after her accident. Bethany's incredible story even inspired a Hollywood film titled 'Soul Surfer'.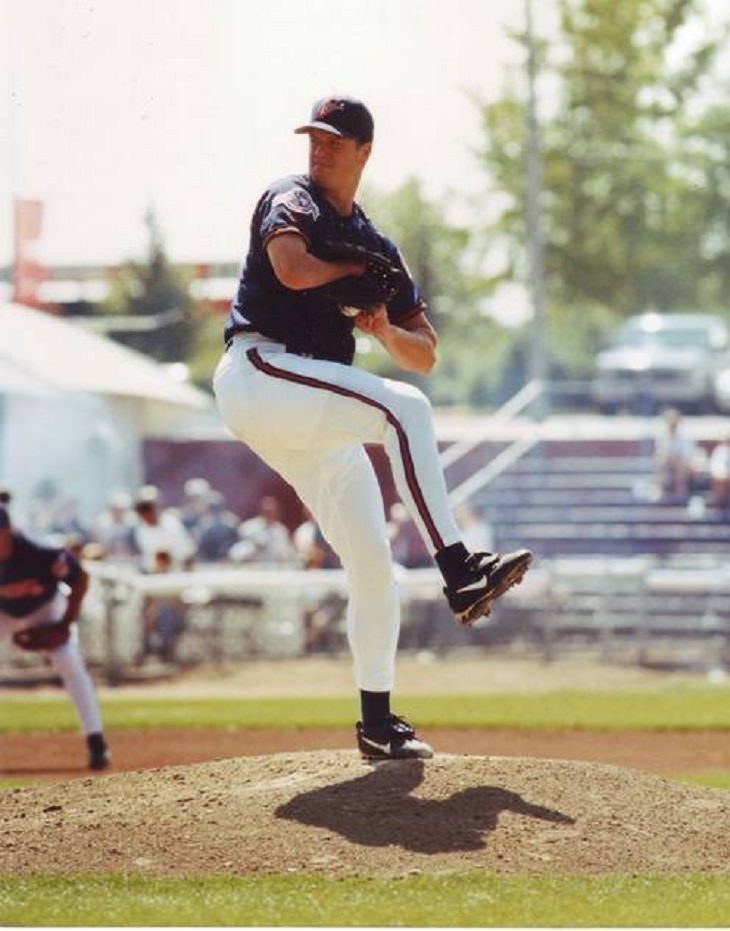 Being born without a hand can be a huge hindrance to playing any sport. However, that wasn't the case with Jim Abbott. Even though he was born without a right arm, the Michigan-born Jim aspired to play basketball when he was just a little boy. But then, how can someone use a glove and throw with only one hand? His family and friends suggested Jim take up soccer instead, but Jim's heart was set on baseball. Thus, he spent hours and hours throwing a rubber ball against a brick wall and then moving swiftly to get his glove on his hand to catch the ball on the rebound. He kept honing his skills and made himself into a competent pitcher.
Soon enough, Jim went on to become a star baseball player in his college team and from there he progressed to feature for the New York Yankees. Within no time, Jim became one of the best left-handed pitchers in the entire league and scored a whopping 888 strikeouts against opposing batters. Players on the opposing team often tried to exploit his weakness by bunting the ball so that Jim could be prevented from catching the ball and throwing it to the base players. However, that tactic proved ineffective and the star pitcher made double plays throughout his career.
Jim played for 10 seasons in the majors and had a tremendous impact on the game in his time. Furthermore, during his playing days, Jim would also keep at least one scheduled meeting with a disabled child during every road series of his career. He retired in 1999 and chronicled his life's remarkable journey in a book titled "Imperfect: An Improbable Life".
3. Kyle Maynard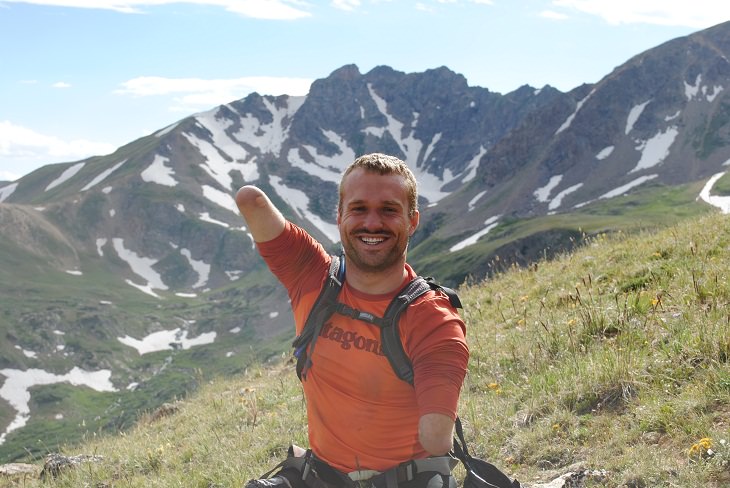 Now here's an all-round athlete whose story will leave you stunned. Kyle Maynard was born in March 1986, in Suwanee, Georgia with a rare disorder called congenital amputation. This means that his arms end at his elbows and his legs end at his knee. Despite this, Kyle played high school football, wrestled, knows martial arts, has taken part in MMA fights, does CrossFit, lifts weights, and has even climbed a mountain.
Curiously, when Kyle's parents first found out that their son might have physical disabilities, their nurse suggested that they have an abortion. However, the parents wouldn't even consider it. Kyle's formative years were obviously not easy. He learned how to eat, using a prosthetic spoon, but eventually progressed to silverware. As a teenage boy, Kyle dreamed about being a professional athlete and persuaded his parents to let him play organized football. Kyle kept pushing himself as he grew up and kept exploring the sports he loved.
From football, Kyle then moved to wrestling where, after 35 straight losses, Kyle finally won a match. The one victory instilled a tremendous belief in the real-life champion and he finished his high school wrestling career with 35 victories and only 16 losses.
In the coming years, Kyle tried his hand at mixed martial arts and even became the first quadruple amputee to reach the summit of Mount Kilimanjaro and Mount Aconcagua without using any prosthetics. He deservedly won the ESPY Award (Excellence in Sports Performance Yearly Award) for Best Athlete With a Disability and continues to be a real-life inspiration to so many.
4. Marla Runyan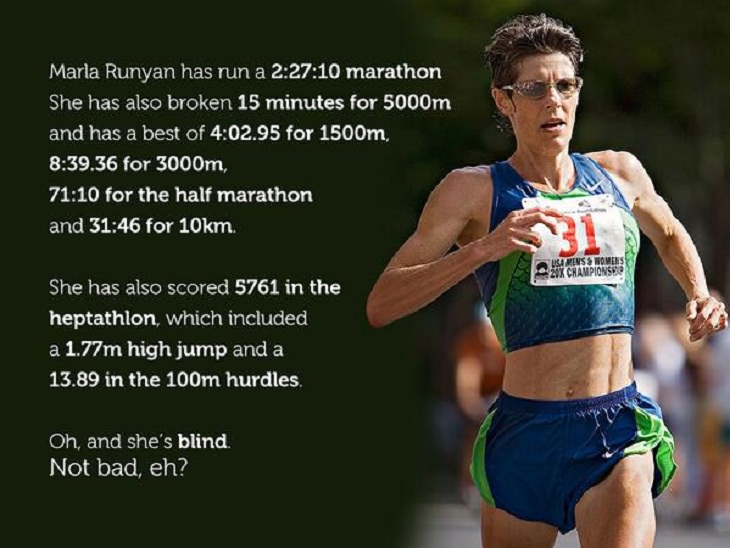 Legally blind by Stargardt disease, Olympic track and field athlete and marathon runner Marla Runyan never allowed her disability to come in the way of her passion for running. Born January 4, 1969, in Santa Maria, California, Runyan developed Stargardt's disease at the age of 9 which causes gradual degeneration of the retinas. While she retained her peripheral vision and could make out shapes and shadows, she still can't always see the curbs, potholes, and roots in front of her. Yet, the amazing woman has excelled at track and field throughout her life.
Runyan began competing in several athletic events - the heptathlon, 200-meter dash, high jump, shot put, 100-meter hurdle, long jump, javelin throw, and the 800-meter run - in her university days. She even took part in gymnastics and soccer but stopped when she couldn't see the ball anymore.
Runyan soon made her mark at the Paralympics and went on to bag five gold medals at the event. She even won the gold medal in the 1500-meter race at the Pan American Games in 1999. However, the highlight of her career came in 2000 when Runyan became the first blind athlete to qualify for the US Olympic team in the 1500-meter event. She finished 8th in the event and returned to compete again in the 2004 Athens Olympics. Runyan capped off her career with a brilliant first-place finish at the 2006 Twin Cities Marathon.
Runyan retired from the sport in 2008 and since then, apart from other things, she's teaching the blind in Oregon schools. She's even co-written and published her autobiography, 'No Finish Line: My Life As I See It' where you can find more details about her wonderful journey.
5. Lis Hartel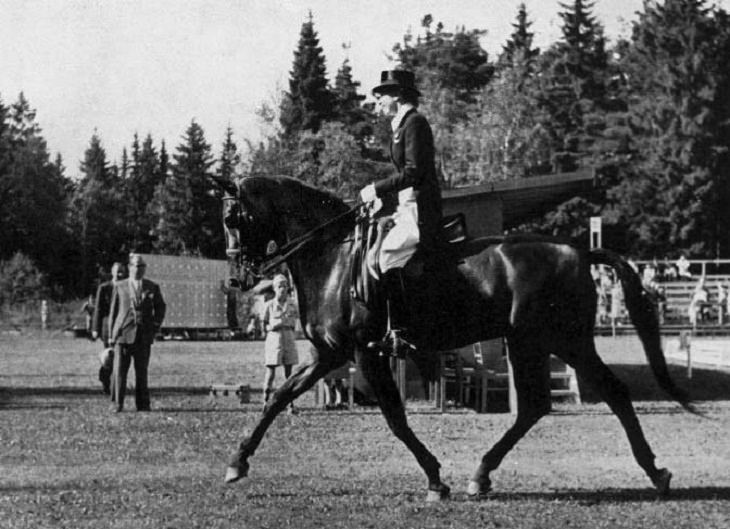 Lis Hartel, an equestrian from Denmark, was one of the first women to compete in the Olympic dressage event (a highly skilled form of training and riding a horse). However, her progress to the top was far from easy.
In 1944, when 23-year-old Hartel was pregnant with her second child, she was paralyzed by polio. While she eventually managed to reactivate most of her muscles, she remained paralyzed below the knees. Despite years of rehabilitation, Hartel was unable to mount or dismount a horse on her own. However, that didn't stop her from pursuing her passion for horse riding competitively and she was soon able to compete in the Scandinavian riding championships, finishing second in women's dressage.
In 1952, Hartel achieved her dream when she was chosen to represent Denmark at the Helsinki Olympic Games. This was the first time women were allowed to compete in the equestrian dressage event and Hartel made it memorable by winning the silver medal. Four years later, she clinched silver at the Stockholm Summer Olympics.
Lis Hartel died on 12 February 2009 at the age of 87 and she will always be remembered for being a pioneer for women's dressage in the Olympic Games.
Liked this post? Share it with other sports enthusiasts!