Life is full of seemingly strange events and bizarre encounters, with people everywhere just trying their best to accomplish everything that has to be done. We live with a certain need for order. Yet despite our best joint efforts to create a structured world, we are often bombarded by weirdness and silliness from all directions. Whether it's typos in major labels and designs, stairs that go nowhere, or advertising signs that just send the wrong message, we have to admit that even frustrating things in this world can be funny.
These hilarious pictures show just a few of the design mistakes, construction errors, and just plain bad planning that intertwines amusingly with our attempted orderly lives, clear proof that chaos still reigns supreme!
1. These balconies are only for the birds

2. Someone's going to have a very unpleasant experience with their hot dog

3. Somehow, I don't feel any safer

4. They really don't like cyclers

5. Is… Is there one bolt missing?

6. This is actually kind of genius, though I can think of many better solutions

7. When the printer goes haywire

8. Fancy a trip to Nev York?

9. They're either convinced the grass is actually water or very protective of their sidewalk

10. The incredible pedestrian crossing... to nowhere

11. The worst kind of unintentional subliminal messaging

12. I have no idea what the system is here

13. Like. Just sort of try it?

14. Something has gone terribly wrong here!

15. Always check your spelling

16. Well… This is disappointing!

17. Brilliantly designed to confuse

18. Cats can be deer. Cats can be anything they want

19. The worst bench ever to have lunch on

20. Gotta love the irony!

21. Close enough

22. The cheapest seats in the house

23. This makes the commentator's job infinitely more difficult

24. Anyone up for a lopsided game of basketball?

25. There are going to be a lot of collisions at that turn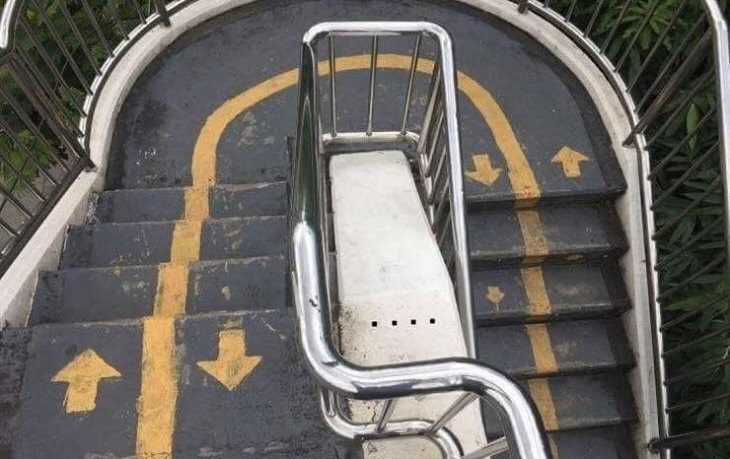 (Source)