When it comes to pioneer women in history, Amelia Earhart is one of the first names that come to mind. She was born in 1897 in Atchison, Kansas, and grew to become a record-setting and legendary aviator. While being a household name, many know Earhart mostly for her historical solo flight across the Atlantic, and her tragic mysterious death.
To celebrate her legacy, we rounded up 10 fascinating facts about the exciting life of Amelia Earhart.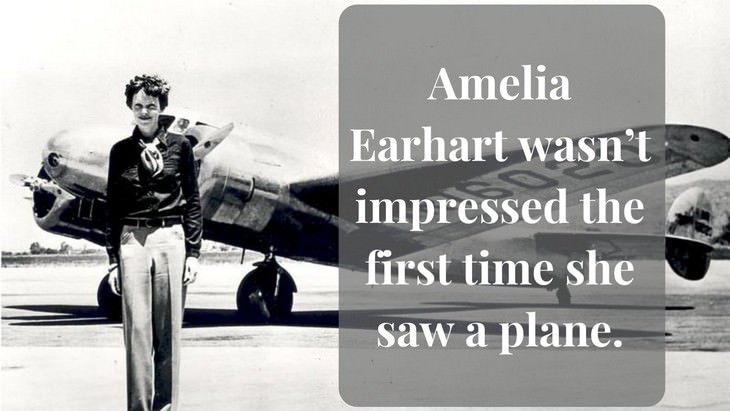 The first time Amelia Earhart set eyes on a plane was at the Iowa State Fair in 1908. It wasn't the life-changing experience you might expect. In fact, Earhart even recalls feeling unmoved by "a thing of rusty wire and wood" in a diary entry. It wasn't until years later that she discovered her passion for aviation when she worked as a nurse's aide at Toronto's Spadina Military Hospital. The first time Earhart actually got on a plane was in 1920, and even then she was only a passenger.
2.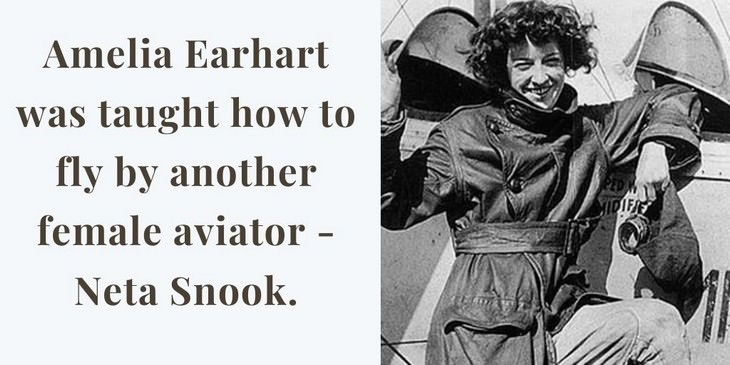 Today Amelia Earhart holds more fame than her teacher, Neta Snook, who was herself a pioneer who deserves accolades. Snook made history as the first woman to run her own aviation business and commercial airfield. She gave Earhart lessons near Long Beach in 1921, reportedly charging $1 for every minute they spent in the air.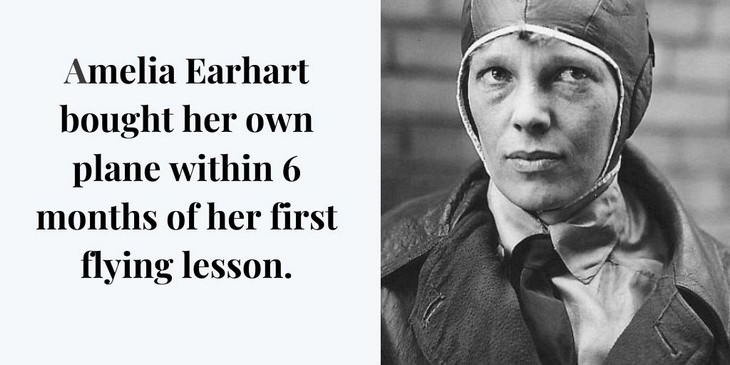 Once she fell in love with aviation, Earhart pursued her passion wholeheartedly. In the summer of 1921, she purchased a secondhand bright yellow Kinner Airster biplane she nicknamed "The Canary". She paid $2,000 for it, despite Snook's opinion that it was underpowered, overpriced, and too difficult for a beginner to land.
In 1928 Earhart was appointed Cosmopolitan's Aviation Editor. Within that role she published 16 articles, among them "Shall You Let Your Daughter Fly?" and "Why Are Women Afraid to Fly?" Earhart recounted her adventures and encouraged women to fly, even if they did so just as passengers (although commercial flights date back to 1914, they didn't really become commonplace until after Wolrd War II).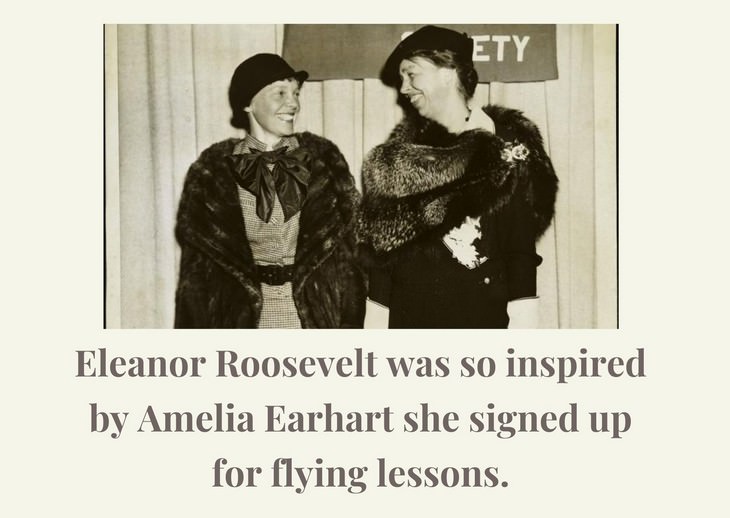 Amelia Aerheart and First Lady Eleanor Roosevelt became friends in 1932 and grew quite close. In 1933, during a dinner at the White House, Earhart spontaneously suggested that the group take a flight to Baltimore and back, and surprisingly it's exactly what followed.
The whole party, still wearing their formal attire, headed to Hoover Field airport and boarded a twin-engine aircraft that belonged to the Eastern Air Transport. Mrs. Roosevelt, who herself had recently obtained a student pilot's license, sat by Earhart's side all along this unplanned flight. Despite attaining a license to fly, the First Lady never went on to become a real pilot. One of the reasons was that President Franklin deemed her piloting too dangerous.
6.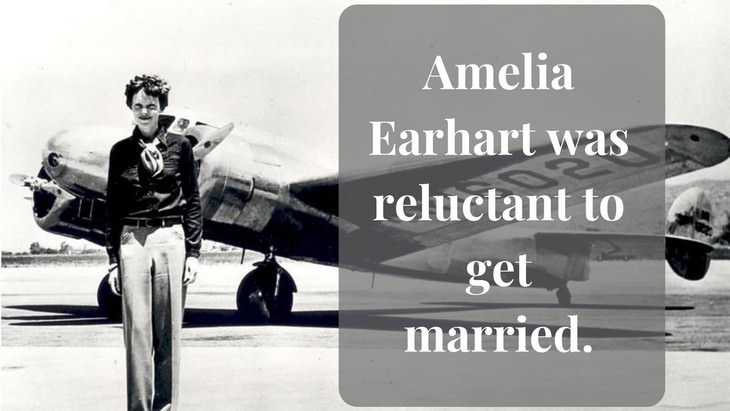 In 1928 Earhart was contacted by promoter George Putnam to be the first woman to cross the Atlantic as a passenger on a plane. The two started a working relationship which soon flourished into a romantic one. They got married in 1931, a year before Earhart's historical solo crossing of the Atlantic as a pilot. However, Earhart had some apprehensions about marriage she could not hide. Most importantly, she wanted her and Putnam to maintain separate identities. The night before the wedding, she handed him a letter that read:
"I may have to keep someplace where I can go to be myself now and then, for I cannot guarantee to endure at all times the confinements of even an attractive cage. I must extract a cruel promise, and that is you will let me go in a year if we find no happiness together."
Putnam agreed to the one-year trial marriage. The couple lived happily until Earhart's disappearance in 1937.
7.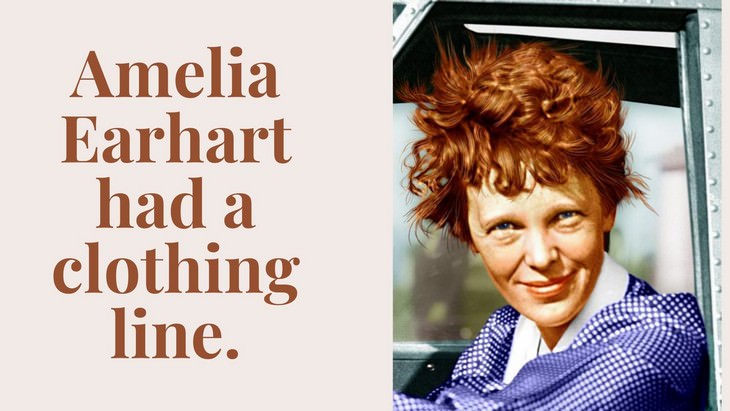 Today it's common for celebrities to endorse clothing lines, but Amelia Earhart was actually one of the first famous people to do so! Amelia Earhart Fashions were affordable separate pieces sold exclusively at Macy's and Marshall Field's. The line had dresses, blouses, pants, suits, and hats that featured aviation-inspired details, like propeller-shaped buttons. Earhart studied sewing as a girl and actually made her own samples.
8.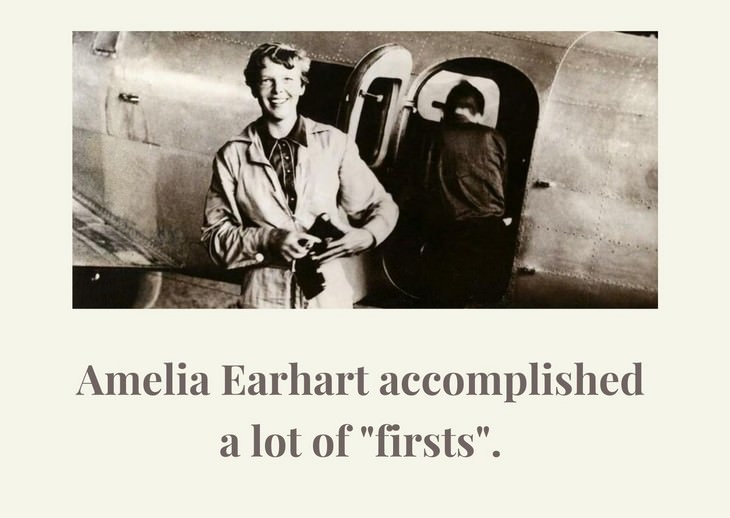 Amelia Earhart's most well-known record is being the first woman - and the only person since Charles Lindbergh - to fly non-stop across the Atlantic. But it's not the only time Earhart was the first to accomplish something remarkable. She was the first person to ever fly solo from Honolulu to Oakland, Los Angeles to Mexico City, and Mexico City to Newark, all in 1935.
Not only that, but Earhart was also the first woman, and one of the few civilians in history, to earn the Air Force Distinguished Flying Cross.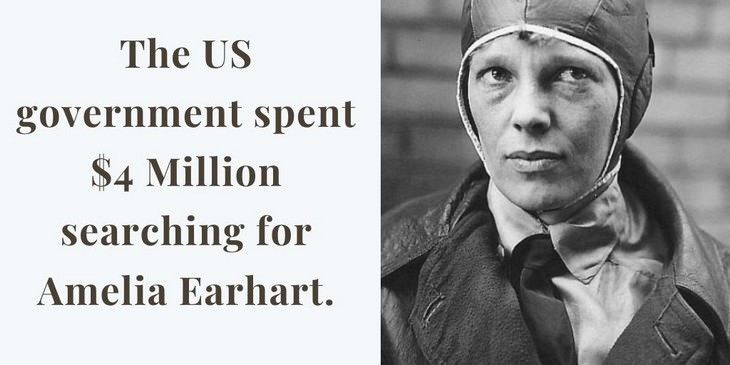 Amelia Earhart's plane disappeared over the Central Pacific Ocean on July 2, 1937, during an attempt to circumnavigate the globe. The US government held an extensive air and sea search, which was the most expensive one in history at the time. The official search ended a little over two weeks later on July 19. Putnam then held a private search but to no avail.
Most people believe Earhart ran out of fuel and crashed into the pacific ocean. Others believe she landed on an island and died of thirst, starvation, injury, or at the hands of Japanese soldiers. We covered a theory claiming she could have died on Nikamuroro island in a previous article titled It's Likely That Earhart Died on Nikumaroro.
10.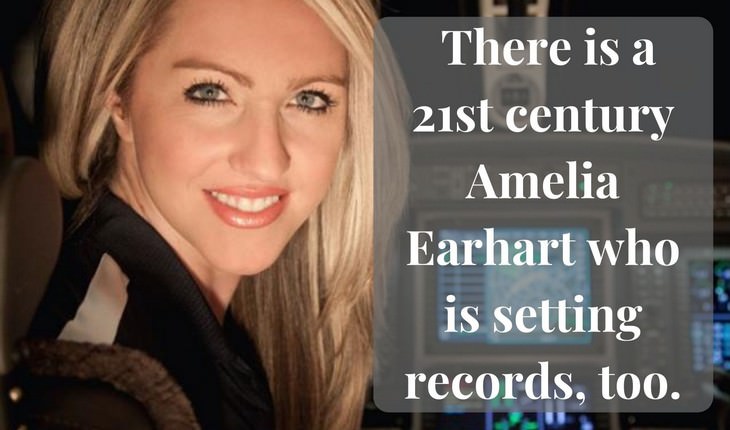 In July of 2014, another pilot named Amelia Earhart set a world record. In fact, she completed the journey her namesake never managed to. The then 31-year-old California native became the youngest woman to fly 24,300 miles around the world in a single-engine plane!
If you enjoyed this article, why not share it with family and friends?