Are you ready to go fast? Really fast? Racecar fast? Is your adrenaline pumping just thinking about it? Then you definitely need to take a look at these cars. Real race car fans have probably been to the tracks before and taken in the energetic vibes. A few lucky souls may have even gotten to drive a vehicle on the tracks. Unfortunately, this can cost a pretty penny, so it becomes vital to do it with the right car, a fast car, one that will make you feel like a racer yourself.
Not everyone can afford a Porsche or a Ferrari to make the most of their race-track moment, but thankfully, not everyone has to! There are cars from the more common and budget-friendly brands that also offer efficiency, power, and speed. These are the most affordable sports cars available on the market today that combine ordinary usage with extraordinary speed. These speedy beauties are totally racetrack-ready and easy on the eyes and the wallet!
1. Toyota Camry TRD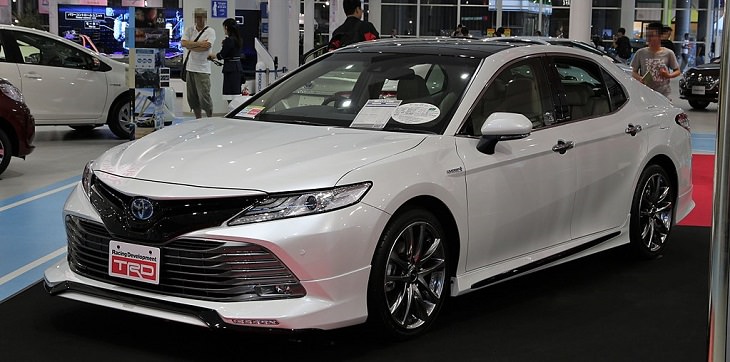 (By TTTNIS, Wikimedia Commons)
Despite its calm and casual appearance, the Toyota Camry CRD makes use of a 301 horsepower V6 engine, allowing it to reach higher speeds very quickly. This car comes with a specialized tuning system that boasts a low center of gravity, adding to its already unique aerodynamics. This mid-size vehicle is equipped with a rear diffuser and rear spoiler, as well as a front splitter which aids in lowering wind resistance. With its capacity for high speeds, the Camry can proudly wear the Toyota Racing Development (TRD) badge.
2. Subaru WRX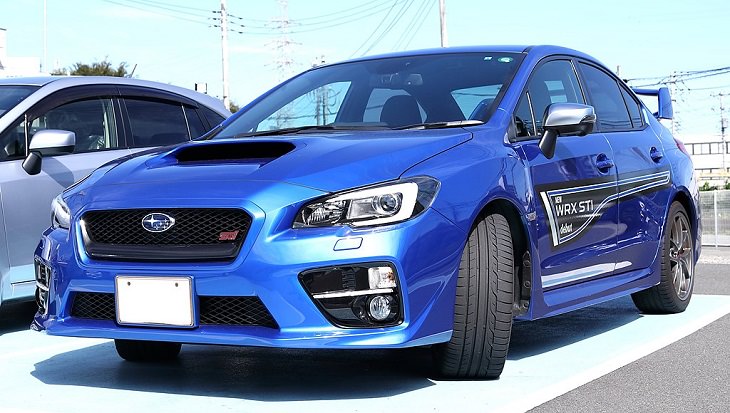 (By 根川孝太郎 (Kotaro Negawa), Wikimedia Commons)
While this car may not give you the smoothest ride, it is a love letter to driving enthusiasts and adrenaline junkies. It comes with a standard all-wheel-drive and a powerful 268 horsepower turbocharged 4 cylinder engine, which sits low in the car to improve its center of gravity. It can maintain high speeds even on bumpier roads though the turbo lag can make it seem to be going slower than it actually is, and affects the smoothness of the ride. Its effective suspension and Vehicle dynamics control system, equipped with a torque vectoring system make it one of the fastest cars in its price range.
3. Hyundai Veloster Turbo R-Spec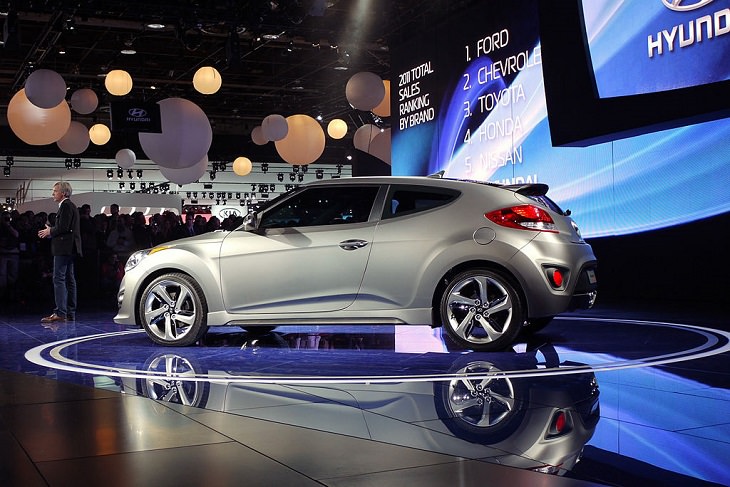 (By loubeat, Wikimedia Commons)
The latest model of this compact car from Hyundai comes with an unconventional hatchback design and an asymmetrical three-door layout. It is equipped with a 4 cylinder turbo engine which gives it 201 horsepower and 195 feet-pounds of torque. Its aluminum suspension system aids in lightening the weight of the vehicle, which also enables higher speeds. To really get you itching for a race track, the latest models have also been designed with a unique sport-tuned steering system, to give you better control.
4. Fiat 124 Spider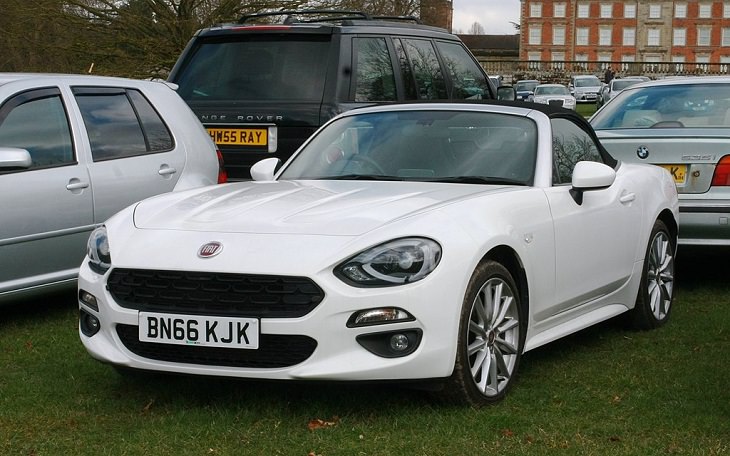 (By Charles01, Wikimedia Commons)
Great things come in small packages, and the Spider is a pretty small package. Its sleek and slim design is paired with a convertible top to give you a stylish vehicle with a 4 cylinder turbocharged engine. The upgraded Abarth model also comes with a sport exhaust system, contributing to increased speeds. With a 1.4 liter engine and a 164 horsepower output, what this car lacks in power it makes up for with agility and control, with highly responsive steering and brake system. The interior of the Abarth upgrade also comes with sports seats.
5. Nissan 370Z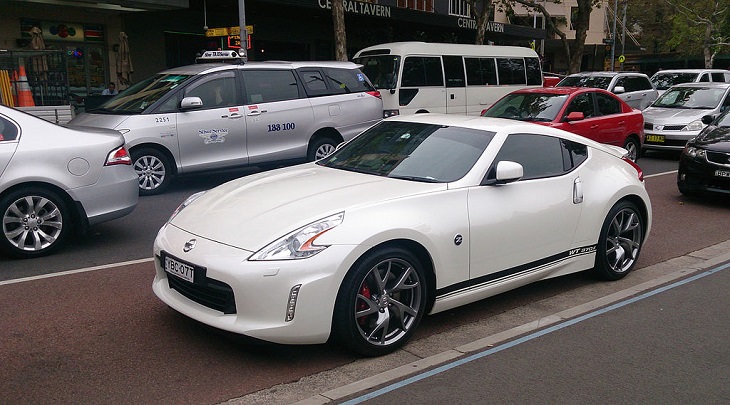 (By FotoSleuth, Wikimedia Commons)
Turning back to the high output heavy hitters we find the Nissan 370Z a rare performance sports utility vehicle that combines a 7.7-liter V-6 engine with a rear-wheel drive, producing a whopping 332 horsepower and 276 foot-pounds of torque. The manual Nissan 370Z also comes with a rev-matching feature which helps you downshift more easily when approaching corners. The instrument panel is also placed on the steering column to allow for quick and easy adjustments.
6. Volkswagen GTI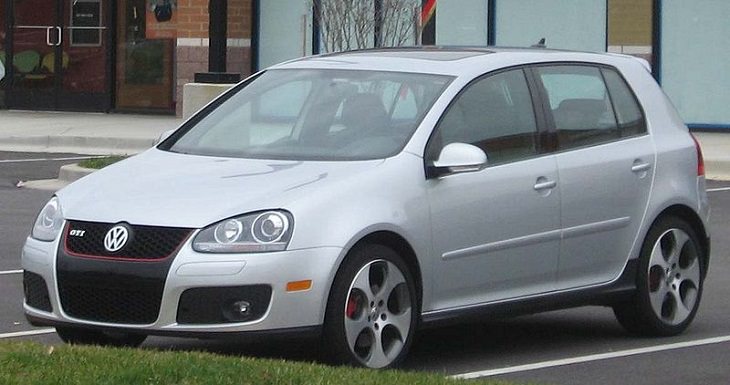 The 2020 Volkswagen GTI is a handsome hatchback with a luxurious and comfortable interior, the features it shares in common with the 2020 Volkswagen Golf GTI, released alongside it. However, the Golf's engine and horsepower remain comparable to that of the Fiat Spider, while the VW GTI is home to a turbocharged 2-liter engine that produces 228 horsepower. This athletic front-wheel drive is among the more expensive of compact cars due to its exceptional infotainment system, lush interiors, and firm suspension.
7. Mini Cooper S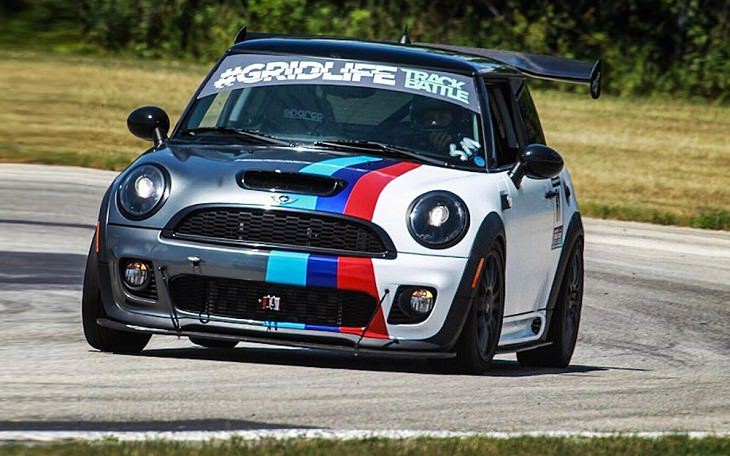 (By Carpenterdesign, Wikimedia Commons)
This British beast has been a favorite ever since it made its way across the ocean nearly 20 years ago, and there is a good reason for that. The 2020 Mini Cooper S, like its predecessors, is a small, highly affordable machine that offers precision steering and responsive handling. This latest model also comes with a 4 cylinder turbocharged 2.0-liter engine that produces 189 horsepower and has 207 pound-feet of torque. The upgraded (and slightly more expensive) John Cooper Works edition has a sport-tuned suspension and exhaust system which gives you a 228 horsepower and 236 pound-feet of torque.
Share this article with other car enthusiasts!