The city of Copenhagen is tackling its known urban pollution problem with a brand new and unique project called 'Copenhagen Islands', an archipelago of roaming artificial islands that will serve as a public relaxation area and a refuge for the animal life of the city. This is an extremely clever solution, as the urban density of the Danish capital doesn't have the space for a new landlocked park. The team supervising the project is Australian architect Marshall Blecher and Studio Fokstrot, a Danish firm, who will finish building the first cluster consisting of 9 sections grouped together and a few surrounding floating islands in the nearest future.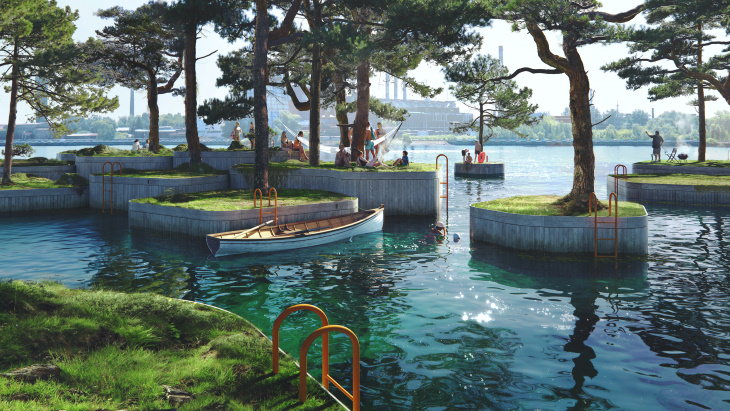 Each island is made of steel and sustainably-sourced wood-based floating elements, which will be anchored to the floor of the harbor. After securing each island in place, the designers plan on planting local species of grass, bushes, and trees on each island.
Apart from being the perfect location for a weekend family picnic or a fishing trip, however, the plant life will also become a sanctuary for the local birds and the bottom of the floating island will be the perfect habitat for the sea life of the harbor, the architects said in an interview with Dezeen.
The designers also point out that it will be possible to move the floating park from one part of the harbor to another from time to time. If you think that the project sounds unrealistic, the architects and designers assure it's ready to be built right away, as the first prototype for the roaming park has been afloat since 2018.
This prototype island, known as CPH-Ø1 (seen in the picture above), has been properly tested and will be joined by 3 more islands by the end of this year. As Blecher revealed in the same interview, "We have plans to add more separate islands as the project develops. The project is inherently flexible and organic."
To learn more about this amazing architectural project and its first prototype, we invite you to watch the video below.
Enjoyed reading this article? Why not share it with others?