What's your favorite part of every meal? While there are a few that might say the veggies, the most common answer is the dessert! Almost all human beings are born with a voracious sweet tooth and sometimes, we just have to give in to our sugary creamy cravings. For diabetics, these cravings tend to become an ordeal because it can be so difficult to find sugar-free desserts that taste like the real deal, it almost isn't worth the hassle. However, 'the hassle' can take a back seat because all you need are these delicious sugar-free recipes for different types of desserts. Whether you enjoy cookies or cheesecake, these desserts are perfect for diabetics or anyone simply looking to cut down their sugar intake, without compromising on richness or taste.
1. Sugar-free Blueberry Coffee Cake
All the goodness of blueberries, coffee, and cake without the added sugar (though the recipe remains equally delicious with sugar instead of the specified substitutes). Throw in some cinnamon and you get a dish that is equal parts fruity, sweet and crumbly.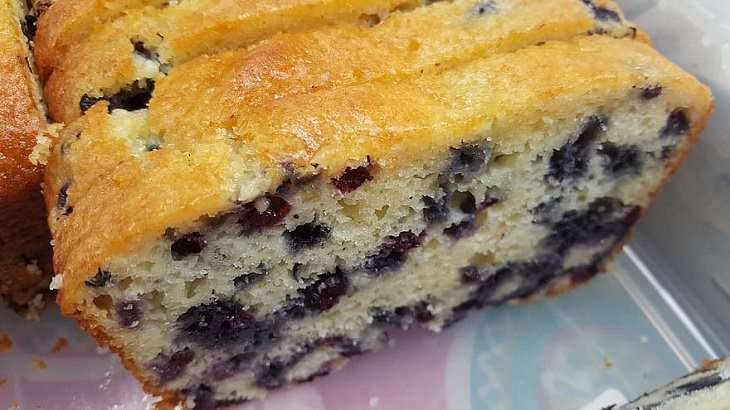 Ingredients:
3 eggs

1 teaspoon of vanilla extract

1 cup of milk

¾ cup of melted and cooled butter

1 ½ cups of granular sweetener (such as Stevia or your preferred sugar substitute)

3 cups of all-purpose flour

2 teaspoons of baking powder

2 teaspoons of ground cinnamon

½ cup of softened butter

¾ cup of flour

1 ¾ cups of fresh or frozen blueberries

1 ½ cups of maltitol or preferred brown sugar substitute
Preparation:
1. Preheat the over to 350°F, and select an appropriately sized pan (approximately 9x13 inches). Grease and flour the pan.
2. Put the milk, eggs, vanilla, and granular sweetener of your choice in a bowl and mix it thoroughly with the melted and cooled butter. Add baking powder and all-purpose flour to the wet ingredients and stir until it is fully blended.
3. Add the blueberries to the mixture and fold them into the batter. Then spread the batter evenly in the greased and floured pan.
4. In a smaller bowl, mix ¾ cup of flour with softened butter, your chosen brown sugar substitute, and cinnamon. Stir carefully with a fork until the mixture becomes soft and crumbly. Sprinkle this mixture evenly over the batter spread across the pan.
5. Place the pan in the preheated oven and bake for 30-40 minutes. You can check if the cake is baked by inserting a toothpick into the center of it. If it comes back clean, the batter is fully baked and your cake is ready to be served hot!
2. Keto Creme Brulee
Who doesn't love the creamy custardy goodness of creme brulee, with its rich inner pudding and sweet caramelized cover? Every time you cut through the smooth surface of this creme brulee, you're prepping yourself to eat a sugar-free, gluten-free, diet-friendly delight. And it only has 4 ingredients!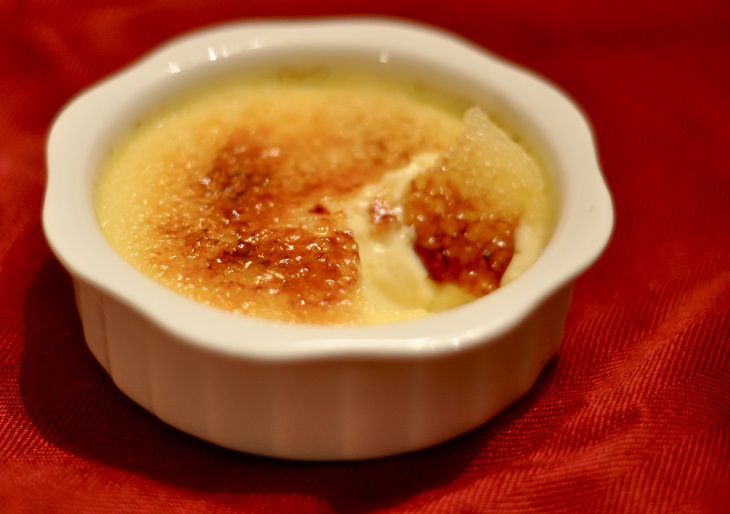 (Flickr)
Ingredients:
1 teaspoon of vanilla extract

4 egg yolks

5 tablespoons of a low-calorie natural sweetener

2 cups of heavy whipping cream
*You will also need 4 ramekins or similarly sized souffle dishes
Preparation:
1. Preheat the oven to 325°F.
2. Mix the egg yolks and vanilla extract in a bowl and whisk thoroughly.
3. Place a saucepan over medium heat and pour in 1 tablespoon of sweetener and heavy whipping cream. Whisk until the mixture simmers. Then move the saucepan off the flame.
4. Add the mixture of yolk and vanilla extract to the contents of the saucepan (while it is hot) and continue whisking until the custard is fully blended. Pour even amounts of the custard into the ramekins or souffle dishes.
5. Place the ramekins in a glass baking dish, and add enough water to make the custard rise approximately 1 inch. Bake for 30 minutes
6. After baking, sprinkle a tablespoon of sweetener on the top of each ramekin and use a culinary torch to melt it until it is perfectly golden and caramelized.
3. Sugar-Free Peanut Butter Cookies
Peanut butter really is the stuff dreams are made of, whether you like it smooth or chunky. It is not only a great way to sweeten any dish, but it is the main ingredient in these delicious and easy to make cookies. You can make your own peanut butter with natural sugar substitutes to fully round off this sugar-free delight.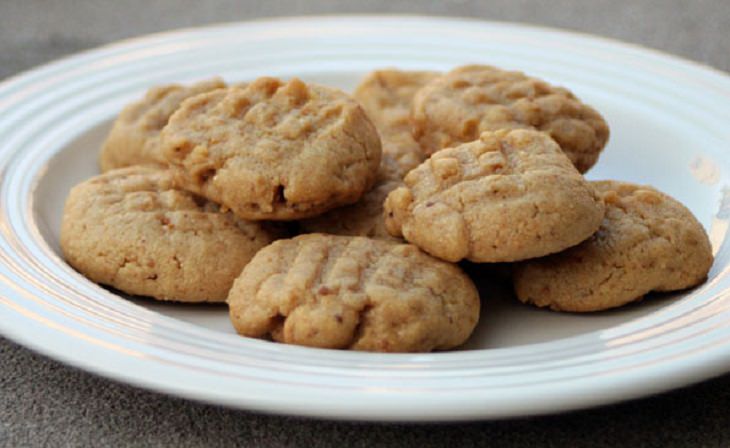 (Flickr)
Ingredients:
2 cups of natural peanut butter (preferably smooth)

2 large eggs

2 cups of granular no-calorie sweetener
Preparation:
1. Preheat the over to 325°F. Add a light layer of grease to a baking sheet and set it aside.
2. Mix the eggs, sweetener and peanut butter in a bowl. Stir the batter thoroughly until it is smooth.
3. Using a spoon, place 22-24 scoops of the batter onto the greased baking sheet, keeping even amounts of space between each scoop.
4. Bake for 8-10 minutes, until the center of each cookie is dry.
4. Berry Burst Sorbet
This refreshing and cool cream is very aptly named, containing three different berries in an explosion of sweet and sour. This low carb treat tastes delicious with the sweetener of your choice and will overwhelm you with delicious fruity flavors.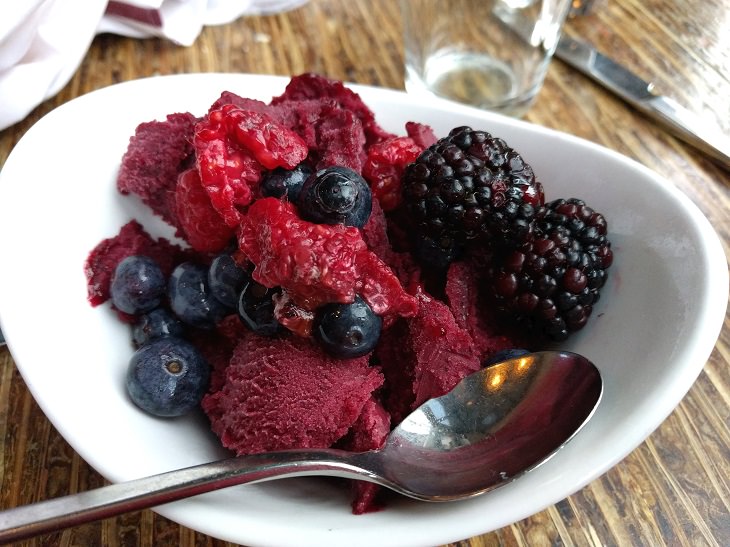 (Flickr)
Ingredients:
1 ½ cups of thawed frozen blackberries

1 ½ cups of thawed frozen raspberries

½ cup of thawed frozen blueberries

½ cup heavy cream

1 cup of granular low-calorie sweetener

1 cup of water
Preparation:
1. Mix sweetener and water in a large measuring cup until the sweetener is fully dissolved.
2. Blend and then puree the cold blackberries, raspberries, and blueberries in a food processor. Slowly add the sweetened water and then heavy cream. Continue to blend until the mixture is smooth.
3. Pour the mixture into an ice cream machine and let it freeze until the mixture is firm and thick enough to be scooped and savored.
4. If you don't have an ice cream machine, refrigerate the mixture until it is cold, then freeze the bowl for 45 minutes. After that, whisk the mixture thoroughly, focusing on the edges where the cream ices over. Repeat this process after every 45 minutes of freezing, for a total of 2-3 hours until the mixture is firm and thick enough to be scooped and savored.
5. No-Bake Sugarless Strawberry Cheesecake
This cool cheesecake is the best way to eat strawberries, and packs in many different flavors. It can be made with sugar-free pudding mix available at most grocery stores and is equal parts healthy, refreshing, and delectable.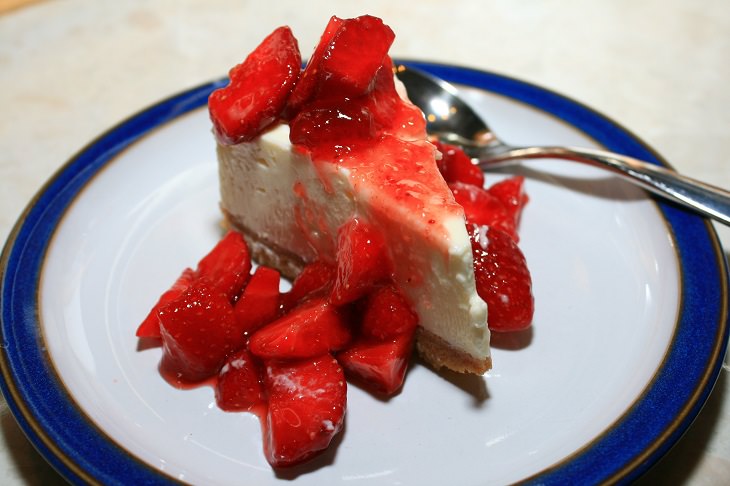 (Flickr)
Ingredients:
¼ teaspoon of ground cinnamon

3 tablespoons of melted butter

¼ teaspoon of ground nutmeg

¾ cup of crumbled graham cracker

1-ounce packet of sugar-free instant pudding mix (preferably cheesecake flavor)

1 ½ cups of milk

1 8-ounce packet of softened cream cheese

2 pints of fresh sliced strawberries
Preparation:
1. Add cinnamon, nutmeg, graham crack crumbs, and melted butter to a bowl and mix well. Pour the mixture into an 8-inch pie dish and press it firmly into the base. Place the pie dish in the refrigerator while making the filling.
2. To make the filling, first beat the cream cheese thoroughly, ideally with an electric mixer, Once it is softened, gradually add milk and beat the mixture slower. Ensure to scrape all cream cheese from the side of the bowl until the mixture is fully blended and slightly watery.
3. Add the pudding mix and beat the mixture until the consistency of the filling becomes rich and smooth.
4. Remove the pie dish from the refrigerator and pour half the filling into the dish. Spread evenly. Then place half the strawberries evenly across the first layer of filling. Repeat with another later of filling and a top layer of strawberries.
5. Refrigerate for at least an hour until firmly set.
Share these recipes with anyone who would find them useful!