The Caucasus is probably a name you've heard floating around in the background of casual conversations and never thought about again. Also known as Caucasia, this term isn't just a fun name to say but a massive geographical wonder in Europe, wedged between the Caspian Sea and the Black Sea. The Caucasus is largely occupied by the European nation's of Azerbaijan, Georgia, and Armenia, as well as a big chunk of South-Western Russia. This stretch of land is home to some of the most beautiful landscapes, powerful peaks, and an amazing blend of culture, craft, and color. Let's take a journey through it!
1. The Caucasus Mountains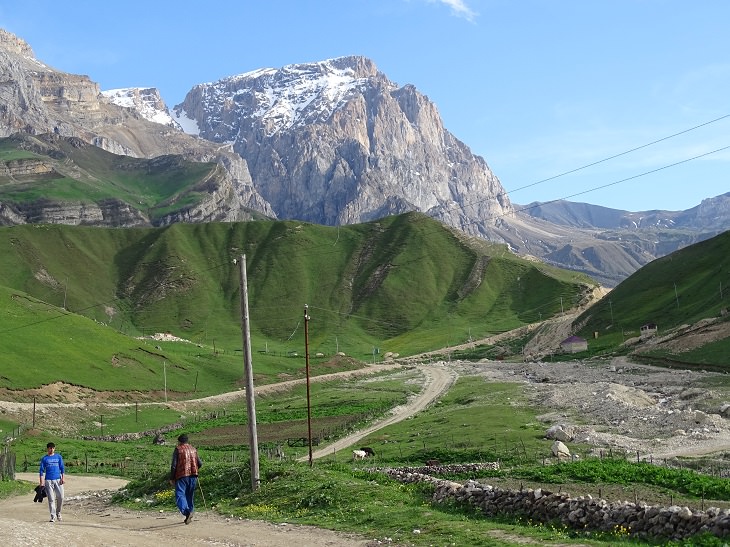 (Flickr)
2. The Caucasus Nature Reserve, in the northwest section of the Caucasus Mountains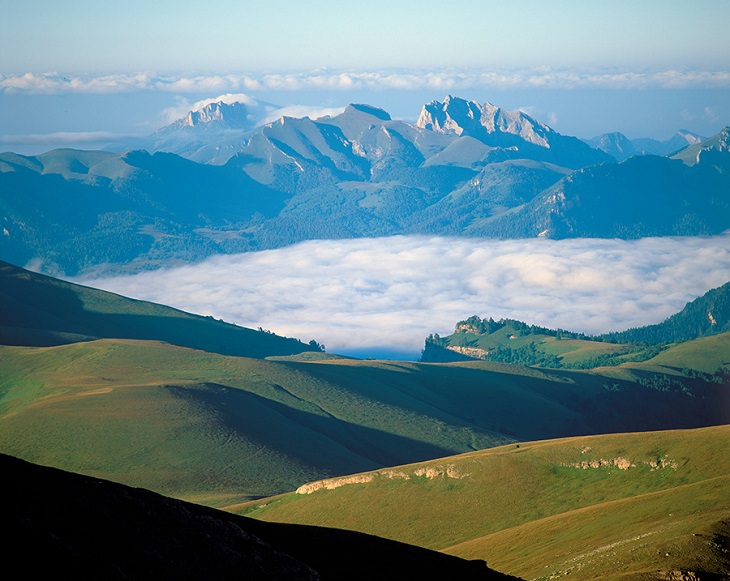 (By Игорь Шпиленок, Wikimedia Commons)
3. The Mountain Valleys of the Caucasus Nature Reserve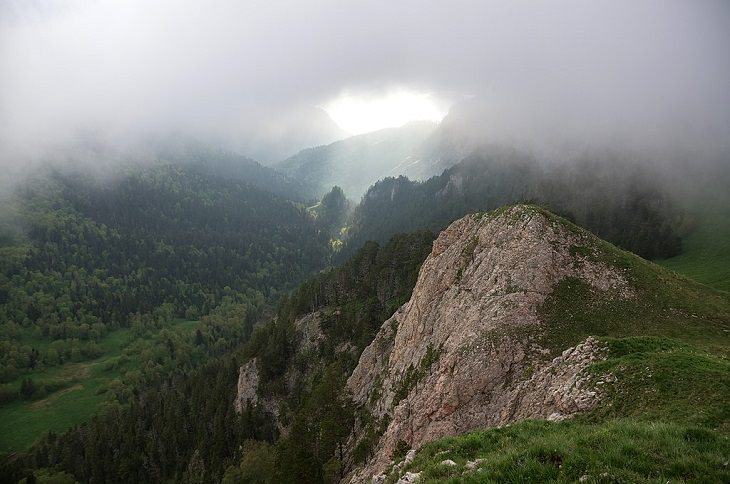 (By © Vyacheslav Argenberg, Wikimedia Commons)
Each of the above-mentioned nations is definitely visit-worthy, each offering a different exciting experience. For example, located in Armenia is one of the most artistic cities imaginable, named Gyumri. It has been informally designated the second capital of Armenia because of its creative hub and incredible tourism industry, largely centered around the dynamic and unique architecture of the city. Gyumri is only one treasure of Armenia, alongside monasteries, historical treasures, and natural exhibits, like these beauties below.
4. Marmashen Monastery, 4 miles northwest of Gyumri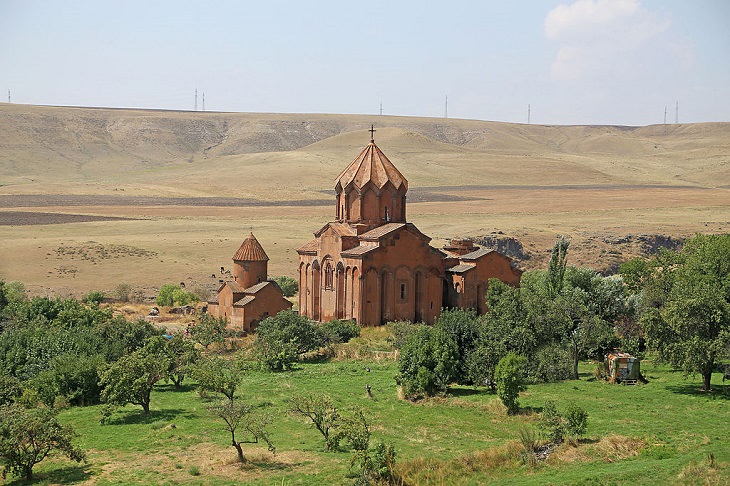 (By Vahag851, Wikimedia Commons)
5. Gyumri with a view of Mount Aragats in the background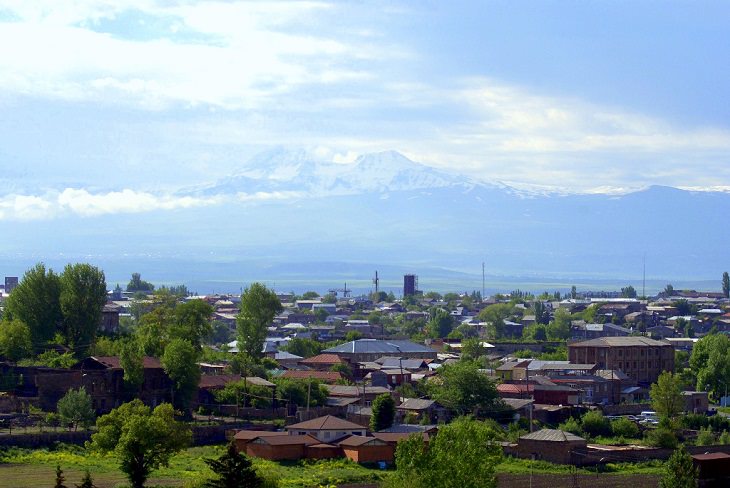 (By Der Reisende, Wikimedia Commons)
6. Kirk Kerkorian (formerly Alexandrovsky) Street of Kumayri district, Gyumri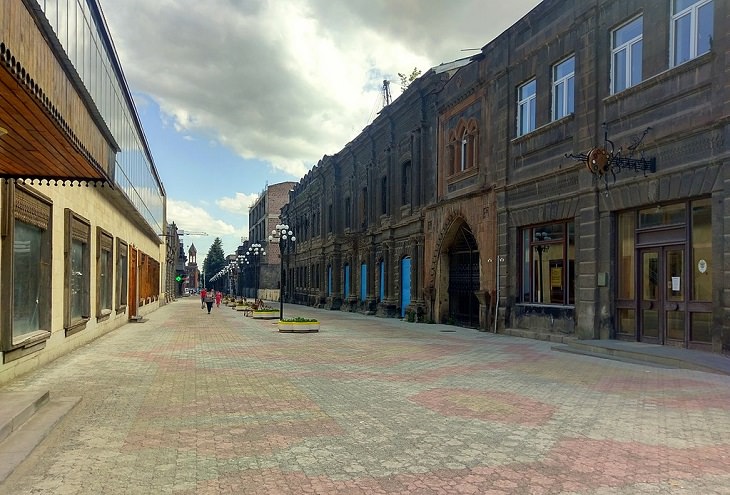 (By Preacher lad, Wikimedia Commons)
7. Cascade of Yerevan in Armenia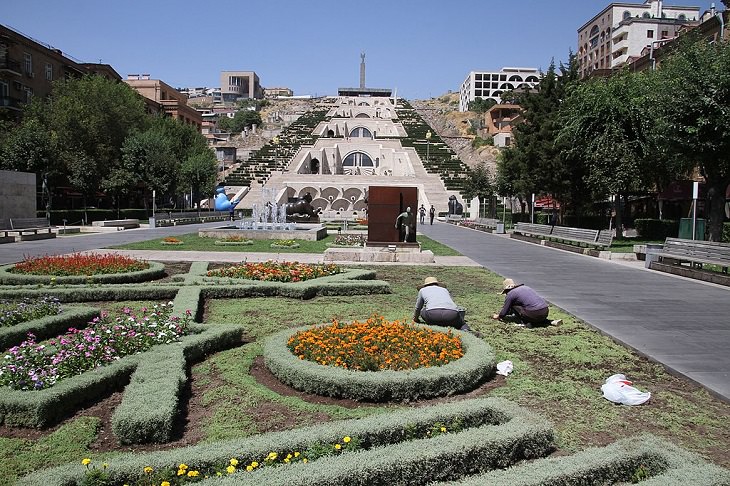 (By Gerd Eichmann, Wikimedia Commons)
8. View of Lake Sevan from Sevanavank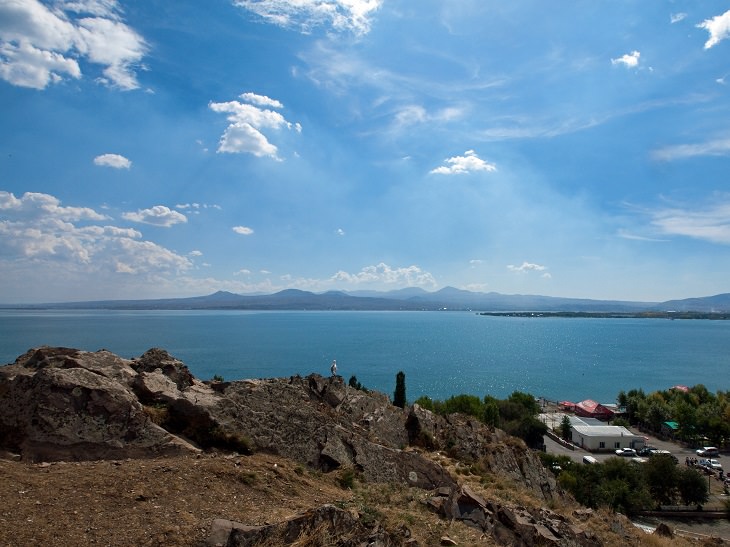 (Flickr)
9. Ski run at the Tsakhkadzor ski resort, with Lake Sevan in the background
(By Սէրուժ Ուրիշեան (Serouj Ourishian), Wikimedia Commons)
Azerbaijan isn't quite the historical hub that Armenia is, but tourists are thrilled by the country's modern architecture and mixed cultures. One of the must-see destinations in Azerbaijan is Baku, a diverse city known for its amazing food and closeness to the Caspian sea. From Baku, you can visit the nearby national parks for trekking, remote villages like Khinalug for the stunning scenery, and for the daring souls, take a trip to one of the nearby mountains and fascinating geological constructs, like Gobustan's famous mud volcanoes.
10. Evenings in Baku, Azerbaijan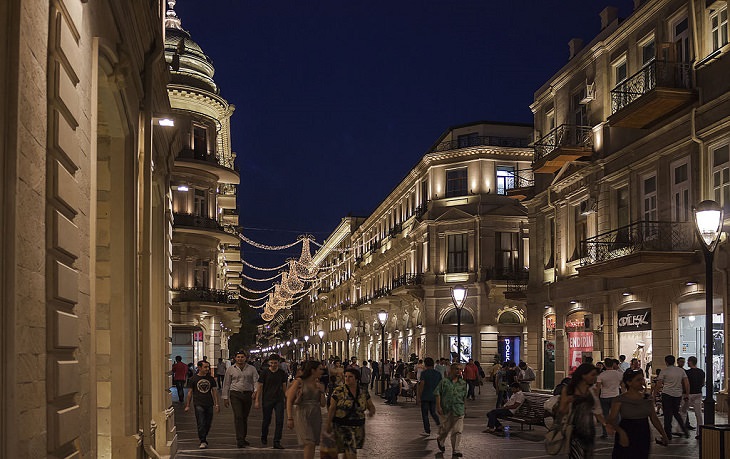 (By AlixSaz, Wikimedia Commons)
11. Palace of Happiness on Mukhtarov street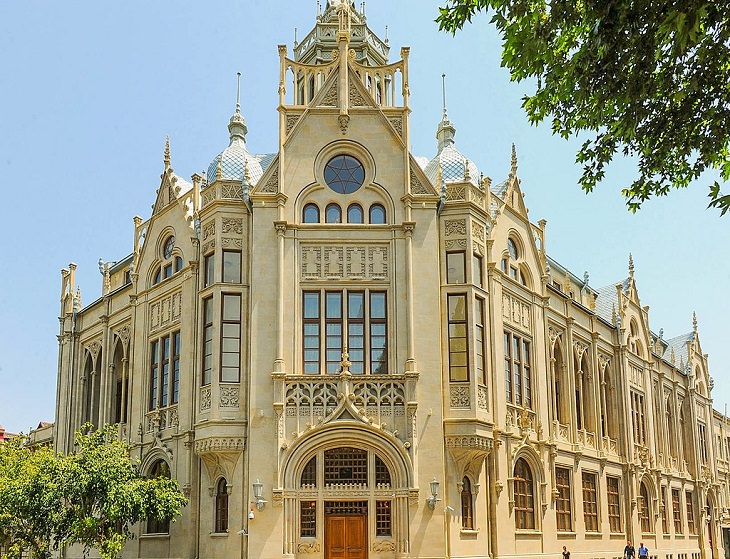 (By President.az, Wikimedia Commons)
12. Panoramic view of Baku at night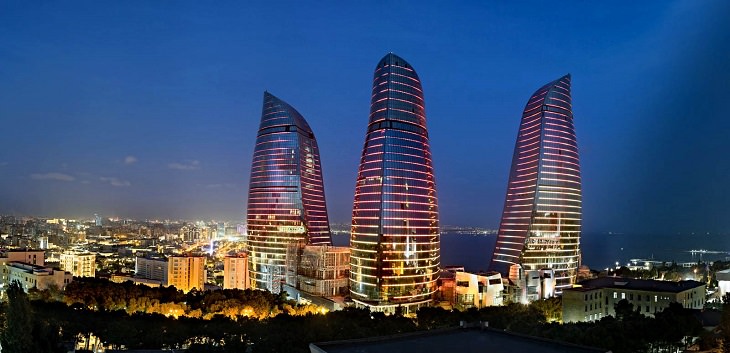 (Flickr)
13. The road to Khinalug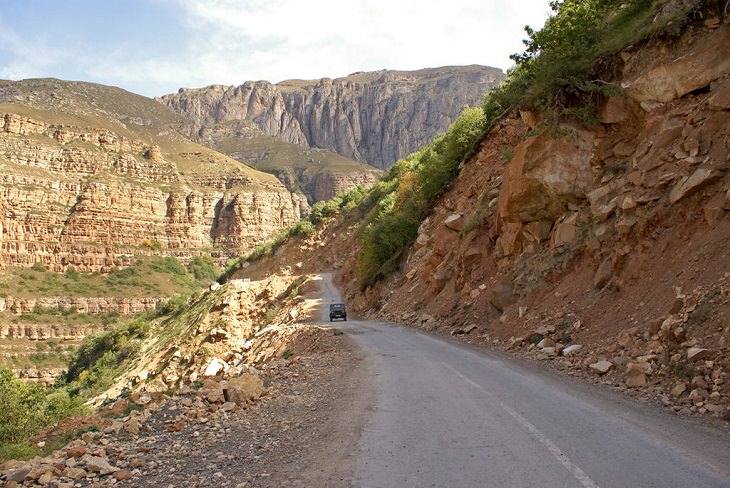 14. Atashgah of Khinalig, a restored Zoroastrian firetemple near the village of Khinalug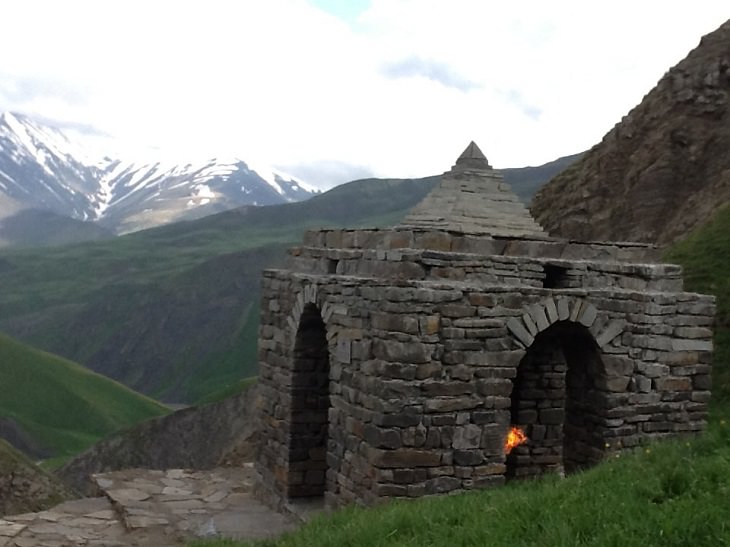 (By Farroukh, Wikimedia Commons)
15. Gobustan National Park, in Azerbaijan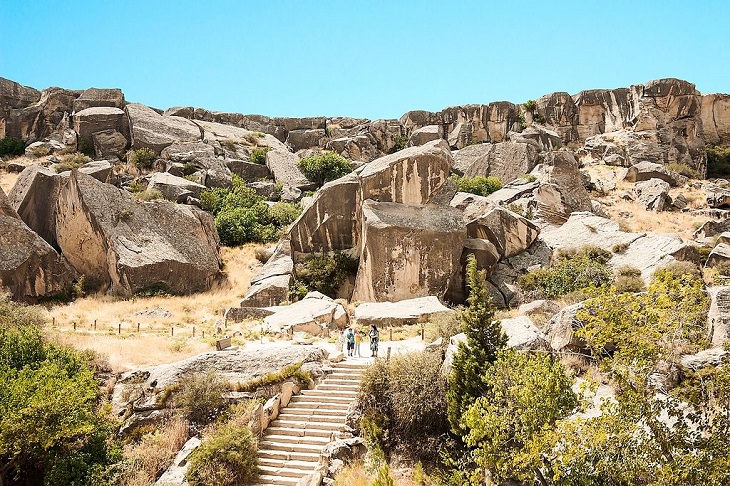 (By AlixSaz, Wikimedia Commons)
16. Gobustan Mud Volcano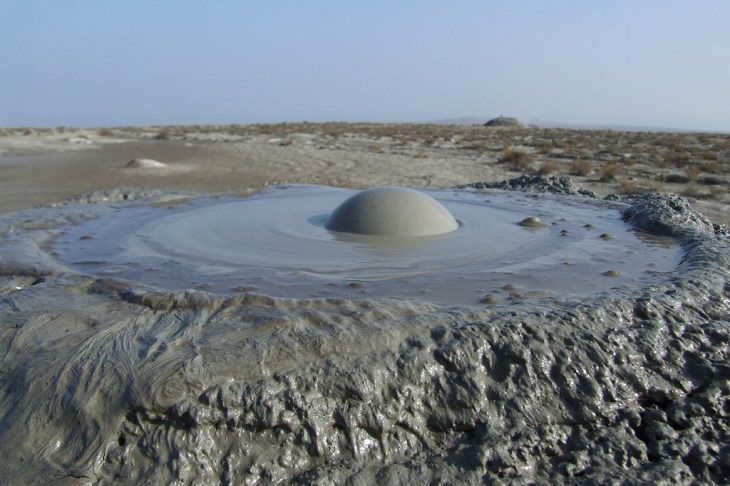 (By Investigation11111, Wikimedia Commons)
17. Shahdag National Park, Azerbaijan
Summer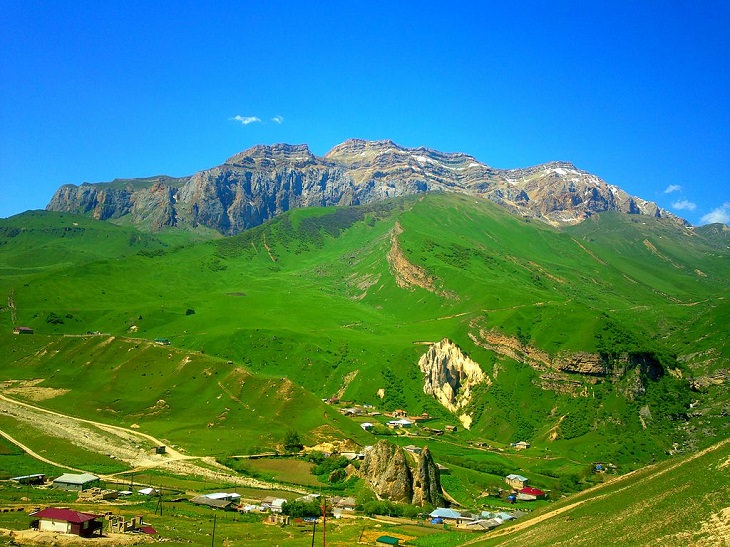 (By Khagani Hasanov1988, Wikimedia Commons)
Winter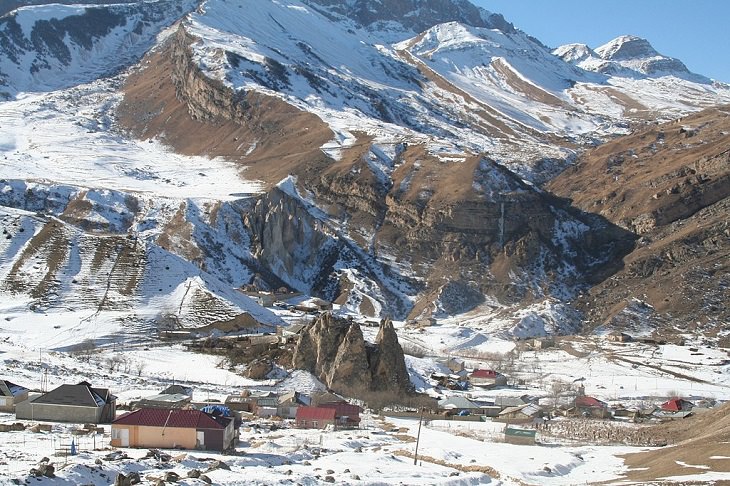 (By Interfase, Wikimedia Commons)
18. Lake Goygal, the most beautiful lake in Goygal National Park, Azerbaijan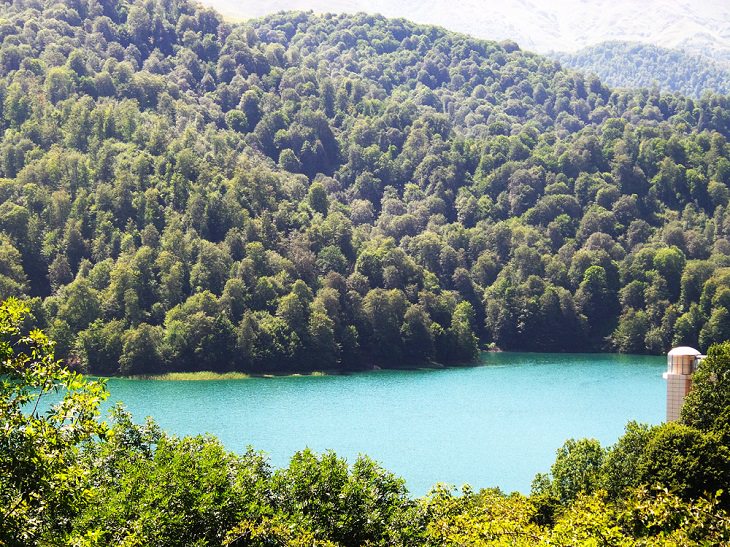 (By Ilkin M-zade, Wikimedia Commons)
In between (not geographically) these two very different nations is Georgia, which offers a mix of history, culture, and natural beauty. Tbilisi is perhaps the most famous destination, but Batumi has been known for its cheap travel rates. Within the Georgian territory of the Caucasus Mountains lie incomparable towns and villages, embedded into the mountainside, like Mestia, an unassuming town known for its medieval architecture.
19. Tbilisi, Georgia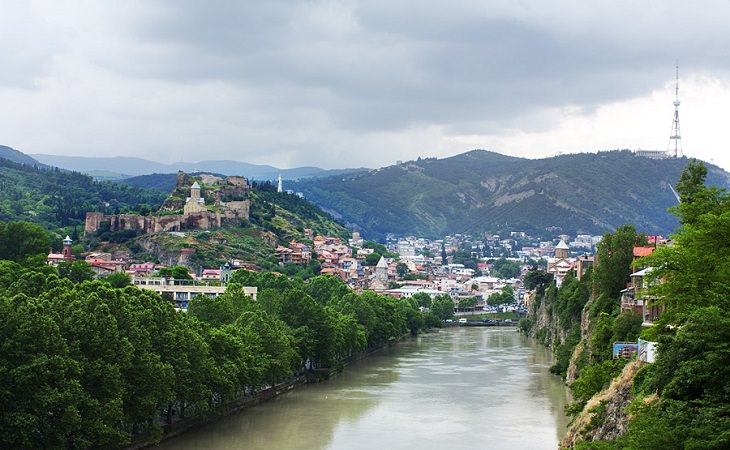 (By Levan Gokadze, Wikimedia Commons)
20. Batumi, Georgia (Panoramic View/Street View)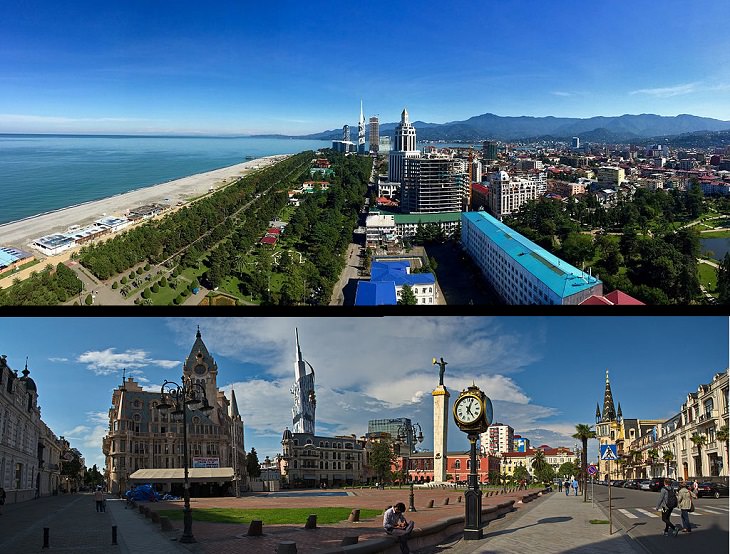 (By Greg McMullen, Wikimedia Commons /(By Uwe Brodrecht, Wikimedia Commons)
21. The Svan Towers near Mestia, Georgia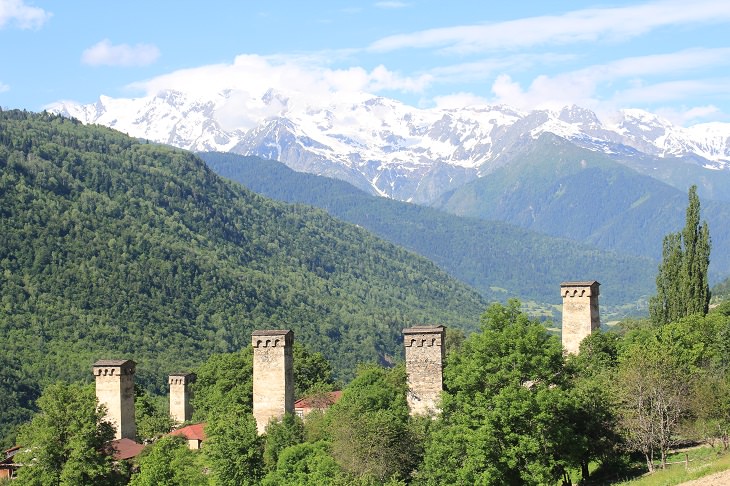 (Flickr)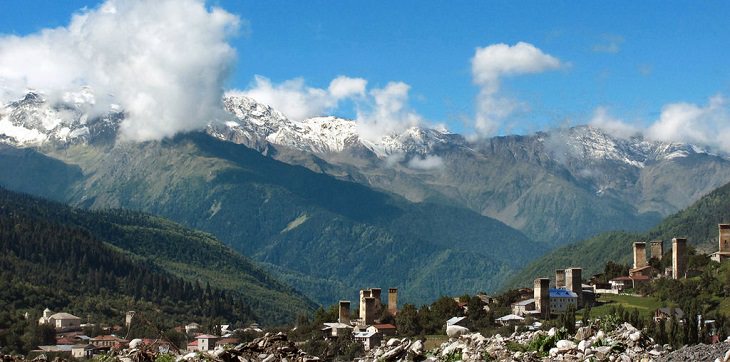 (By Amy Nelson, Wikimedia Commons)
The best part of the Caucasus is that the connectivity between the countries, cities, villages, and landscapes are highly effective. Though the distance to be covered may be great, the tourism industry of the areas have all bases covered. And from each of these cities, the true jewels of the Caucasus can be visited: the incredible Caucasus mountain range, with over 40 different peaks of varying lengths, structure, and climate. On one side you may be looking at a snow-covered peak and after a quick drive to the other side, you'll be staring at a gorgeous green Jurassic Park-esque landscape.
22. Chaladi Glacier, a popular stop on hiking routes in the Caucasus Mountains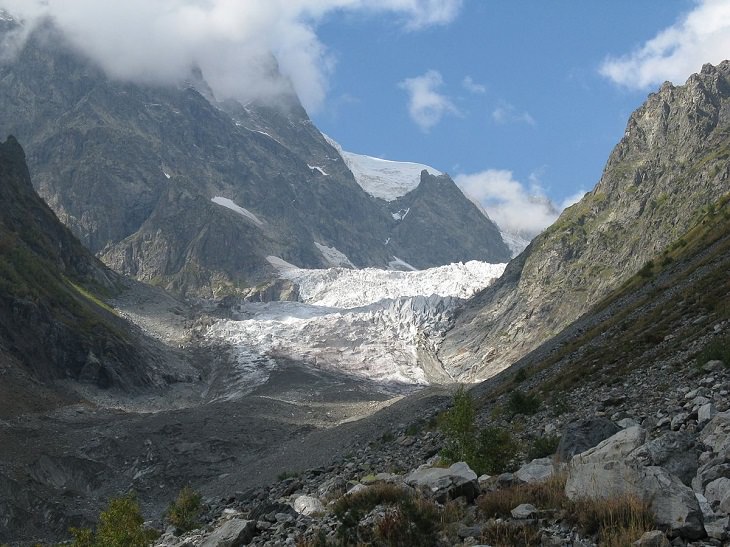 (By Alen Ištoković, Wikimedia Commons)
23. Mount Elbrus in Russia, the highest mountain in Europe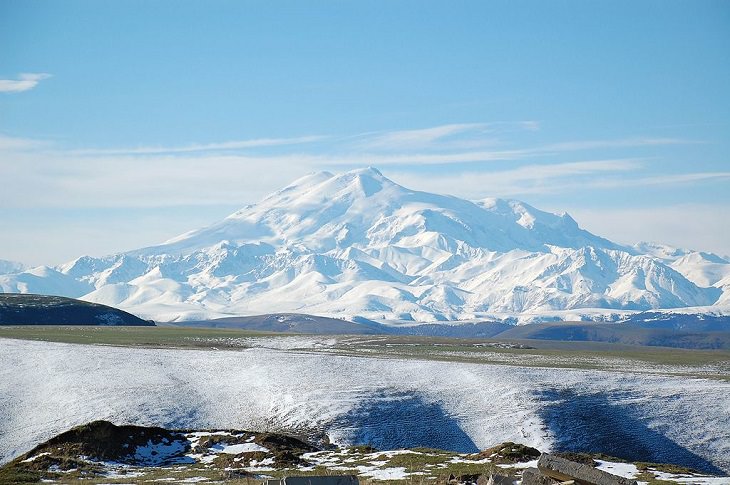 (By JukoFF, Wikimedia Commons)
24. Mount Shkhara, on the Georgia-Russia frontier, and the highest peak in Georgia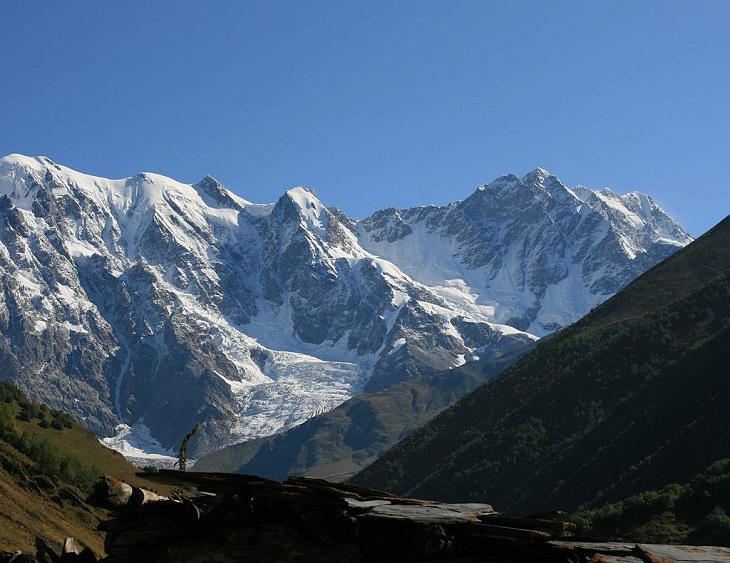 (By travelgeorgia.ru, Wikimedia Commons)
25. Mount Kazbegi (Kazbek), a dormant stratovolcano on the border of Georgia and Russia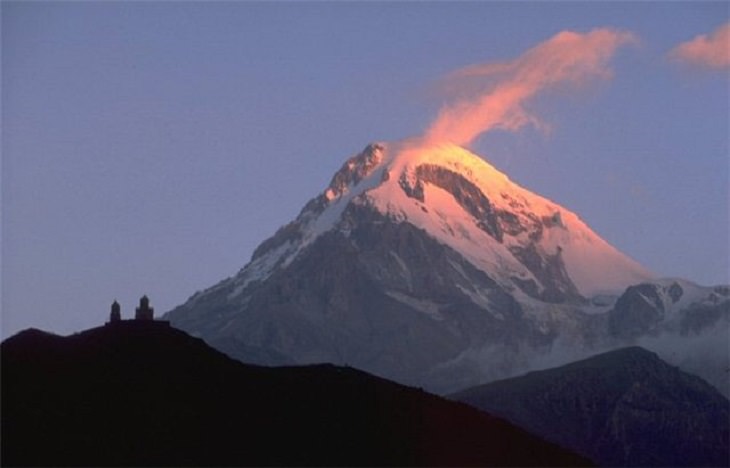 (By Jaba1977, Wikimedia Commons)
26. Mount Tetnuldi and Mulkhra River in Georgia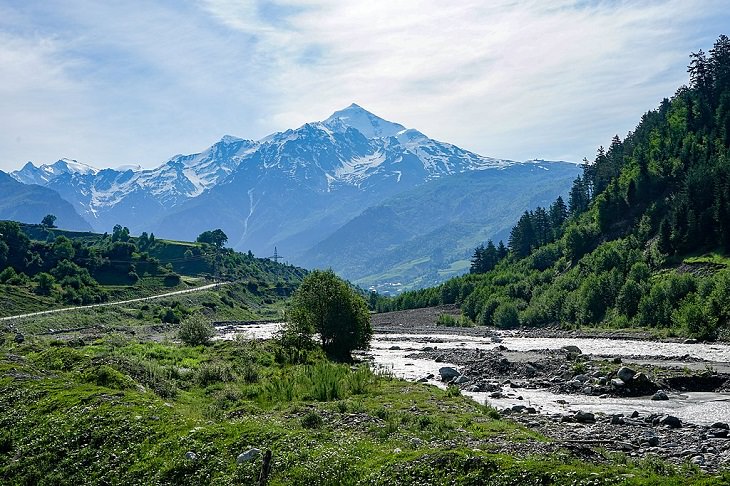 (By Yasuhiro Kojima, Wikimedia Commons)
27. Mount Bazardüzü, the highest peak in Azerbaijan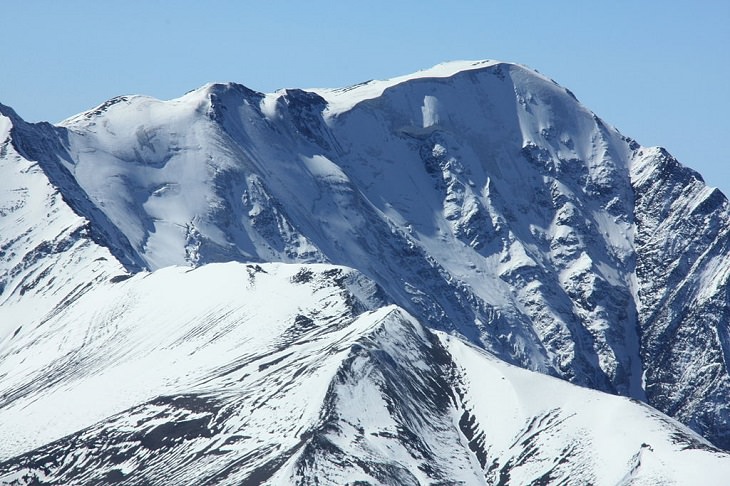 (By Freieck, Wikimedia Commons)
28. Mount Aragats, a four-peaked volcano massif, in Armenia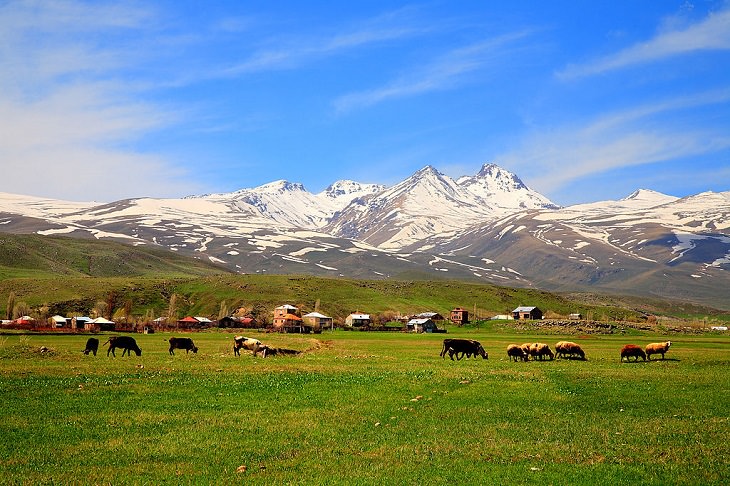 (By Alexander Mkhitaryan B, Wikimedia Commons)
Though each of these cities and countries are known to be popular destinations, to make the most of a visit to any of them, you need to keep all the treasures of the Caucasus in mind. If you want to truly see tradition, art, and nature come alive, your journey should begin at one end of the Caucasus, and wind its way slowly to the other. And don't forget to stop, soak in the vivacious views and definitely take pictures!
If you found this article interesting, share it with your travel-loving friends