Lentils may seem like a boring food item but they are super healthy. They are full of protein, fiber, and iron. Also, they are low in calories and rich in folate. Make it into a soup filled with veggies and you have yourself a filling and healthy meal ready. That is why you should definitely consider lentil soup when you don't have the time to make something elaborate but want something warm and healthy. It's a fast, hearty soup that you can have for lunch or dinner.
Ingredients:
1 teaspoon extra-virgin olive oil

1/2 small onion, finely chopped

1 carrot, finely chopped

1 celery stalk, finely chopped

1 garlic clove, minced

Coarse salt and ground pepper

14.5 ounces (430 ml) low-sodium vegetable or chicken broth

3/4 cup cooked lentils (from a 15-ounce can), rinsed and drained

2 teaspoons red-wine vinegar
Directions:
* Take a medium saucepan and heat oil over medium. Add onion, carrot, celery, and garlic.
* Sprinkle salt and pepper to taste and stir for about 3 to 5 minutes until the onion softens.
* Add broth and bring to boil. Cook for 5 minutes.
* Add lentils and cook for 3 to 5 minutes. The soup should thicken by then.
* Stir in the vinegar.
Prep time: 15 minutes

Related Post: 6 Delicious and Special Soup Recipes That'll Warm Your Body
2. Bruschetta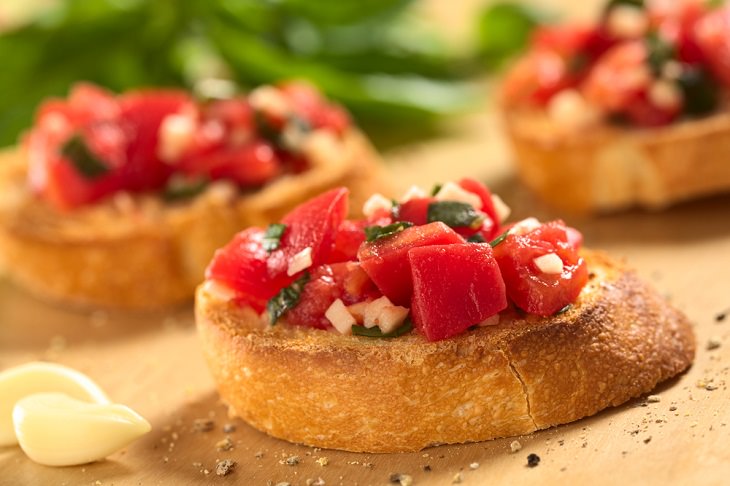 Bruschetta (pronounced as Bru-Sketta) is a fresh, simple, and delicious Italian appetizer. It's a perfect small meal that you can whip up yourself in the evening when your stomach starts growling. As you can see from the ingredients list, there are plenty of health benefits to bruschetta.
A single serving of this recipe has only 140 calories and is loaded with vitamins. The main ingredient of the meal is tomato, which is brimming with the antioxidant lycopene, known to reduce the risk of heart disease and cancer while also being a great source of vitamin C, potassium, folate, and vitamin K.
Ingredients:
2 lbs. tomatoes

1/2 onion

4 cloves garlic

1 bunch basil

4 tablespoons extra virgin olive oil

Salt and pepper

Italian bread or baguette
Directions:
* Dice and chop the tomatoes, onions, garlic, and basil.
* Add the olive oil and salt and pepper to taste.
* Slice the bread and toast it in the oven for a few minutes.
* Stir the tomatoes well and serve with the tomato mixture stacked nicely onto the bread.
Prep time: 5 minutes
3. Chickpea Salad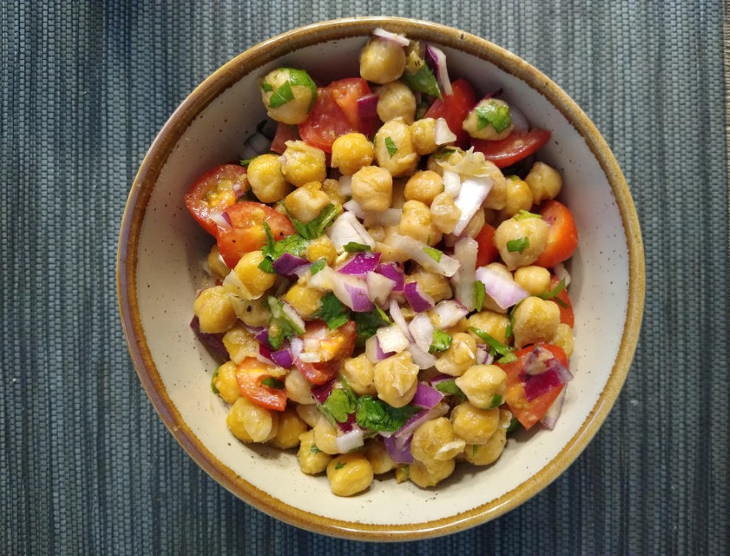 Image Source: Reddit
Chickpea salad combines many fresh vegetables in one delicious bite and is hence a healthy meal to have any time of the day. This salad includes chickpeas, juicy tomatoes, refreshing cucumbers, and creamy avocados (optional). It is a delectable and nutritious meal that is packed with proteins.
Chickpeas, also known as garbanzo bean, are a rich source of vitamins, minerals, and fiber, and also help in improving digestion and aid in weight management. Then you also have avocados that are nutrient-rich and cucumbers that are low in calories but high in many important vitamins and minerals.
Ingredients:
2 cans chickpeas

1 medium cucumber

1 green bell pepper

1/2 white onion

1 cup cherry tomatoes

1 cup parsley

4 tablespoons lemon juice

2 tablespoons olive oil

Salt and pepper

1/2 tablespoon Italian seasoning

1/2 tablespoon smoked paprika

2 tablespoons feta cheese or 1/2 medium avocado (both optional).
Directions:
* Cut the veggies and mix everything in a big bowl.
* Add lemon juice and stir gently.
* Add remaining salad ingredients and gently toss to combine.
* Mix the dressing with the salad and enjoy hot or cold.
* Add salt and pepper, according to taste before serving.
This is a light, easy-to-make, and super healthy snack. The salad is hearty and filling and meets your daily protein and carbohydrate requirements with ease.
Prep time: 5 minutes
Related Post: Make the Best Salads This Summer with This Helpful Guide
4. Cinnamon and Honey Gluten-Free Waffles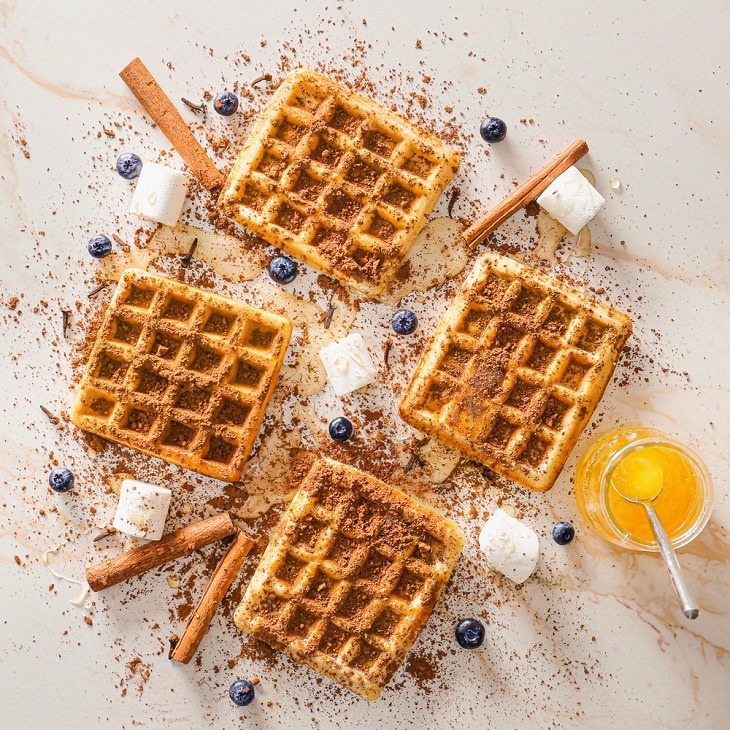 Waffles are for breakfast, right? Well, no. That notion has stayed long enough and this delicious snack can be enjoyed at any time of the day. However, if you want to make sure your waffle is healthy, then you can opt for fluffy gluten-free waffles rather than the ones with refined flour and sugar in them. These waffles are sweet, tender, and fluffy on the inside and crispy on the outside. Moreover, they have a simple, whole-food base of almond flour and eggs.
Add honey and cinnamon to the mix and you have a filling and healthy meal to munch on at any time of the day.
"The fiber keeps you full and holds you over longer, and they are also low in sugar," says Amie Valpone, a culinary nutritionist about the gluten-free waffles.
Ingredients:
1 1/2 cups gluten-free all-purpose baking flour

2 tablespoons baking powder

1/2 tablespoon baking soda

1 teaspoon of almond extract

1/2 tablespoon salt

1 tablespoon sugar or 1/4 tablespoon stevia

1 tablespoon oil

3/4 cup milk

4 eggs, separated

1 tablespoon vanilla extract
Directions:
* Preheat the waffle iron. Mix the flour, baking powder, soda, salt, and sugar together in a large bowl.
* In another bowl, whip together milk, yolks, vanilla, and oil. Add the milk mixture to the bowl containing the dry ingredients and mix. Use a rubber spatula to slowly fold in the egg whites with the remaining ingredients.
* Add the almond and vanilla extracts to the total mixture.
* Follow the instructions on the waffle machine or cook for about 3 minutes on each side.
* Drizzle with 1 tablespoon honey and sprinkle with a pinch of cinnamon powder.
Prep time: 10 minutes
5. Cottage Cheese with Mixed Fruits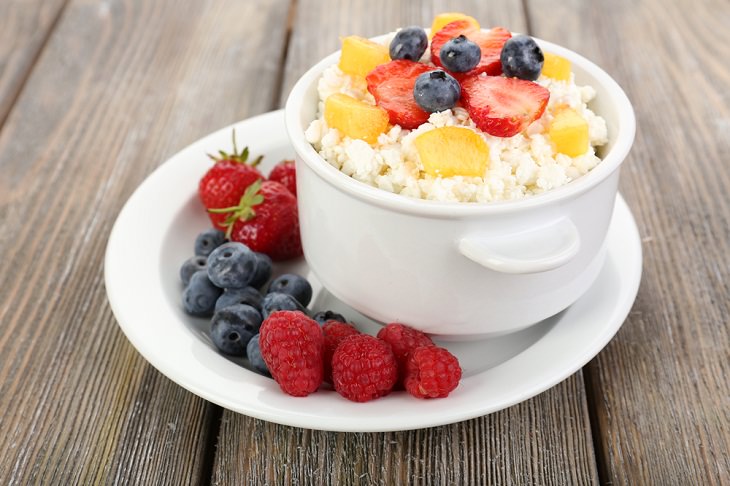 Cottage cheese can be used in a variety of ways to prepare different food items. It's a highly beneficial food that is high in many nutrients, including protein, B vitamins, and minerals like calcium, selenium, and phosphorus.
Cottage cheese with mixed fruits is one extremely quick and healthy dish that will work well for both kids and adults. It is also so quick to prepare and will leave you feeling full for at least a couple of hours.
Ingredients:
1 cup low-fat cottage cheese

1 cup pineapple chunks

2 strawberries, blueberries, or medium kiwis
Directions:
* Scoop 1 cup full-fat cottage cheese into a bowl.
* Peel the fruits then chop into bite-sized pieces.
* Layer the cottage cheese with the sliced fruits.
* Add nuts for extra health benefits.
Prep time: 5 minutes

Liked the post? Share it with someone who enjoys cooking!