• 2 large eggs
• ⅓ cup honey
• ½ cup vegetable oil
• ½ cup brown sugar
• ⅓ cup baking cocoa
• 2 cups shredded, unpeeled zucchini, gently pressed
• 1 teaspoon vanilla extract (optional)
• 1 teaspoon salt
• ½ teaspoon baking soda
• ½ teaspoon baking powder
• 1 ⅔ cups all-purpose flour
• 1 cup (170g) chocolate chips
Instructions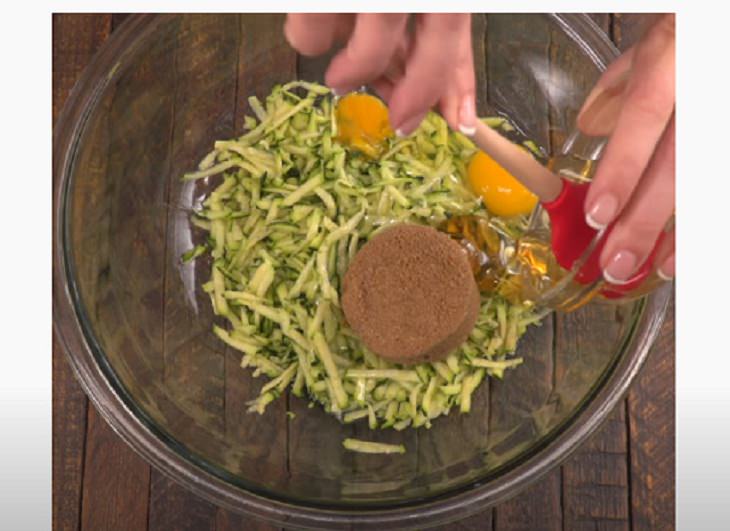 Image Credit: YouTube
1. Firstly, adjust the oven rack to the lower third position. Now, preheat your oven to 350 degrees Fahrenheit (175 degrees Celsius). Take an 8½-inch-by-4½-inch loaf pan and lightly grease it.
2. Beat the eggs, honey, oil, brown sugar, cocoa, zucchini, and vanilla in a large mixing bowl until smooth.
3. Add the salt, baking soda, baking powder, espresso powder, cocoa, and flour. Mix them well until properly combined.
4. Stir in the zucchini and chocolate chips.
5. Pour the batter into the prepared pan.
6. Bake for 65-75 minutes or until a toothpick inserted in the center comes out clean. Do not be alarmed if your cake takes longer. Remember that all ovens are different.
7. Take out the bread from the oven, and let it cool for 10 to 15 minutes. Then set on a wire rack and allow the bread to cool completely in the pan.
8. Slice and serve when bread has completely cooled. The leftover bread should be stored well-wrapped in an airtight container at room temperature for up to 5 days.
9. Yield: one 8 1/2" x 4 1/2" loaf.
Additional Notes: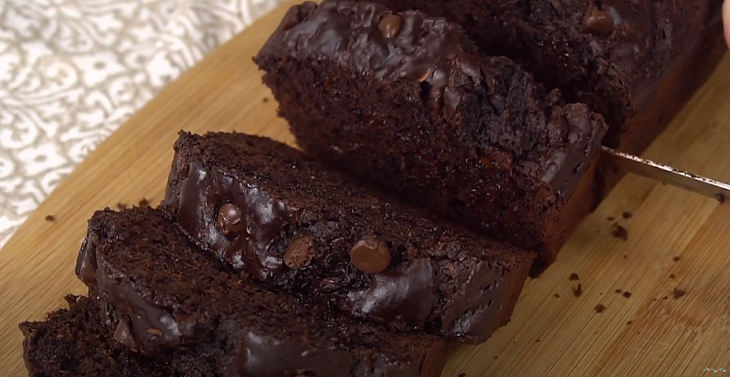 Image Credit: YouTube
* Adding a little espresso powder to the cake will accentuate the chocolate flavor.
* For best results, use white whole wheat flour or a blend of whole wheat and all-purpose flour. Using all whole wheat flour may make the bread a little too dense.
* Make sure to include the chocolate chips as they sweeten the bread and provide it with an extra chocolaty flavor. Without them, the bread might feel a tad bland.
* If you use coconut oil, make sure it is melted and slightly cooled.
Nutritional Information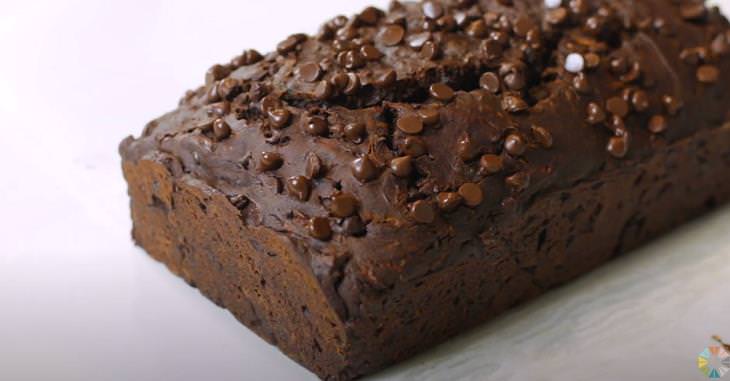 Image Credit: YouTube
Servings per batch: 16
Amount Per Serving (1 slice):
Calories: 220
Total fat: 11g
Saturated fat: 3g
Trans fat: 0g
Cholesterol: 25mg
Sodium: 220mg
Total carbohydrate: 30g
Dietary fiber 2g
Total sugars: 18g
Protein: 3g
Related Article: Twix Cake -Turn your Favorite Candy Bar Into a Cake!
That's it then! Your delicious double chocolate zucchini bread is ready! This cake will work perfectly for kids as you can get them to eat some vegetables while also allowing them to taste chocolate. It will also satisfy your chocolate cake cravings without making you feel guilty as you will know that there's zucchini hidden in there. It's a perfect dish to have for breakfast, dessert, or as a snack!
Share this recipe with someone who loves cakes!