There are numerous forms of art in this world that are created to astound and amaze. There is fine art, photography, abstract art and even food art! Street art is another extremely common art form, seen in every city in the world. While much of this type of art is created by amateurs, some are true masterpieces. Murals are a popular form of art that are constructed over large surfaces like walls and ceilings. You can find some truly gorgeous murals on the streets of each city that were created to send a message of political, historical or cultural significance. These murals are the best in each state and will take you on an unlikely and beautiful tour across the United States.
1. Alabama
Space is Our Place, by Jahni Moore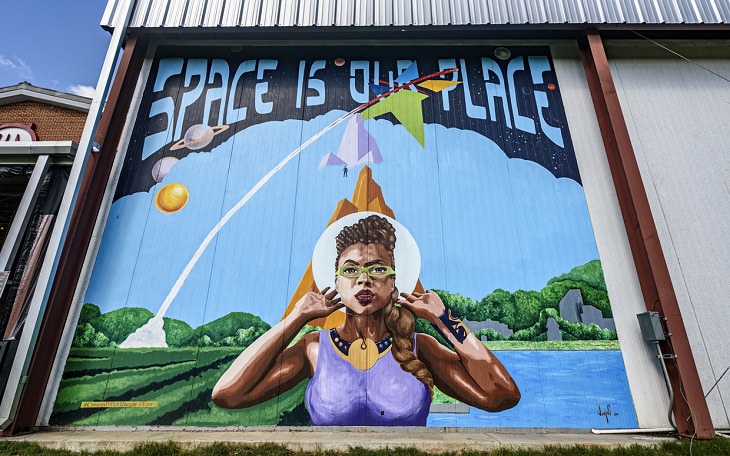 This mural was designed in Huntsville to promote female empowerment and marginalized communities and to encourage unity.
2. Alaska
Greetings from Alaska, by Victor Ving and Lisa Beggs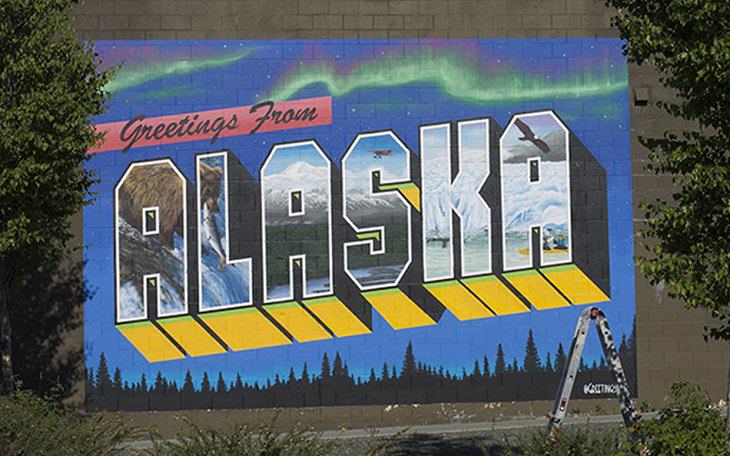 This mural was painted in 2018 at the end of a 3 year-long "Greetings from…" tour of the traveling artists who went from state to state creating their postcard style murals, ending in Anchorage, Alaska.
3. Arizona
Unnamed Garfield Elementary School Mural, by Gabriel and Isaac Fortoul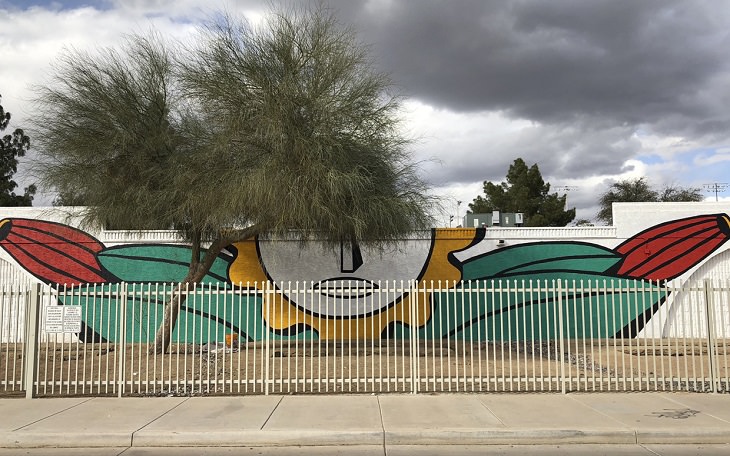 This 200-foot long mural was created in Phoenix to represent an oasis, and the importance of reconnecting with Earth, as well as respecting the traditions of indigenous peoples.
4. Arkansas
Universal Chapel, by Okuda San Miguel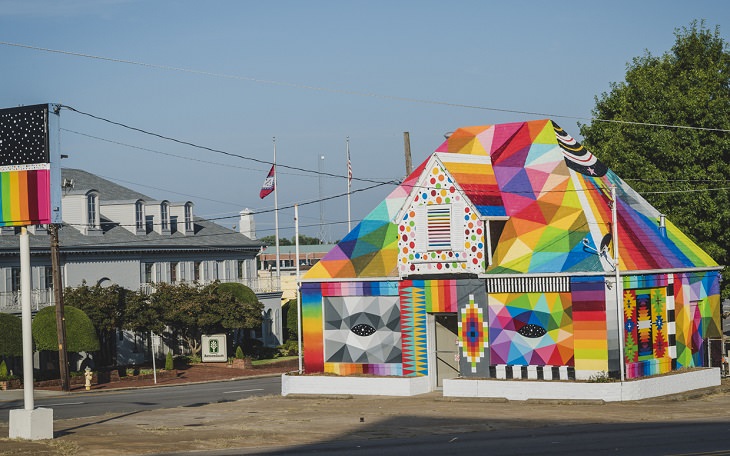 This mural was painted as part of the 2016 Unexpected Project on an abandoned structure in Fort Smith that invites the public to reflect on the contradictions in concepts like nature, freedom, and identity.
5. California
Johnny Cash, by Shepard Fairey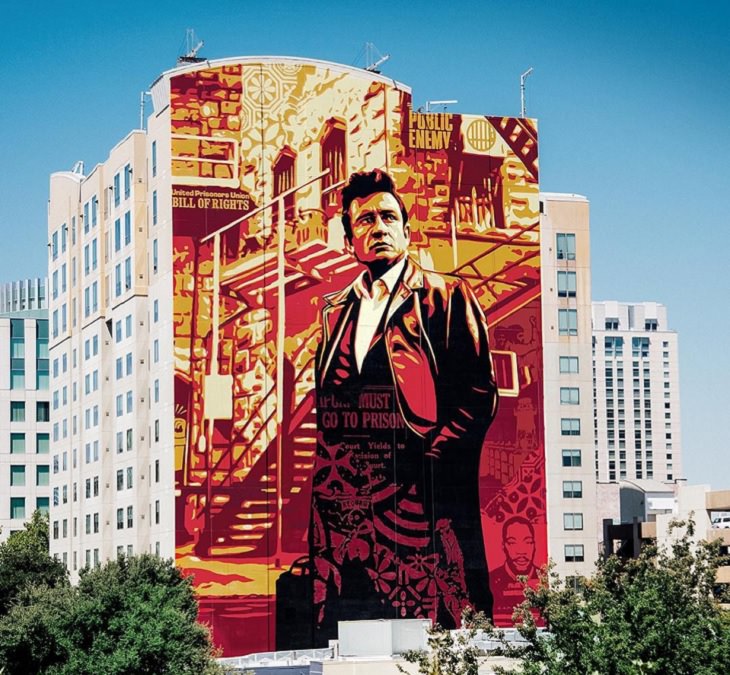 (Shepard Fairey / Reddit)
This mural was painted in Sacramento as a tribute to the 1968 live album of Johnny Cash, At Folsom Prison, based on a photograph by Jim Marshall, with the goal of inciting discussions on the need for incarceration reform.
6. Colorado
Love This City, by Pat Milbery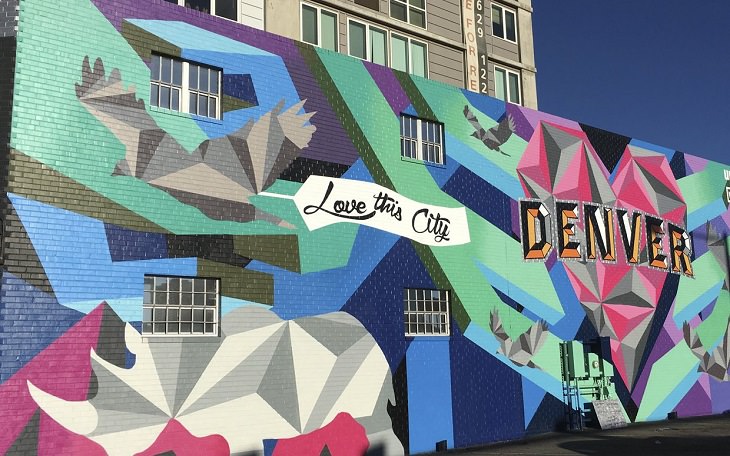 This painting is one of the many but by far the loveliest in Denver's best neighborhood for bold public art, RiNo.
7. Connecticut
Whirls and Twirls, by Sol LeWitt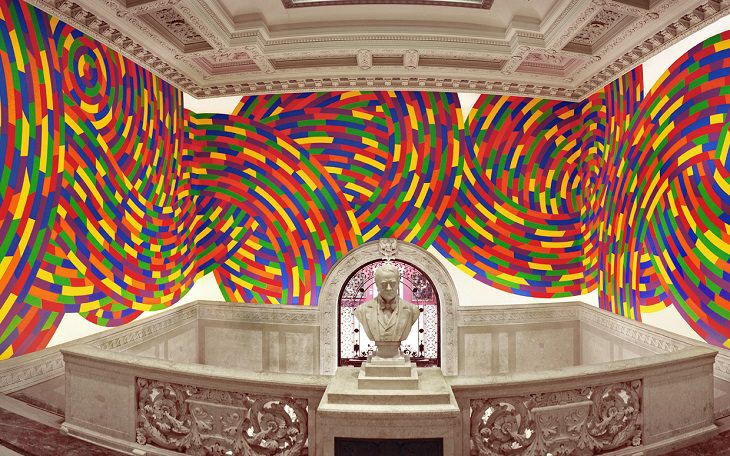 This conceptual rainbow installation was painted in the Wadsworth Atheneum Museum of Art in Hartford.
8. Delaware
We Are Milford, by Lori Conner, Gilberto Rodriguez, and DeMarcus Shelborne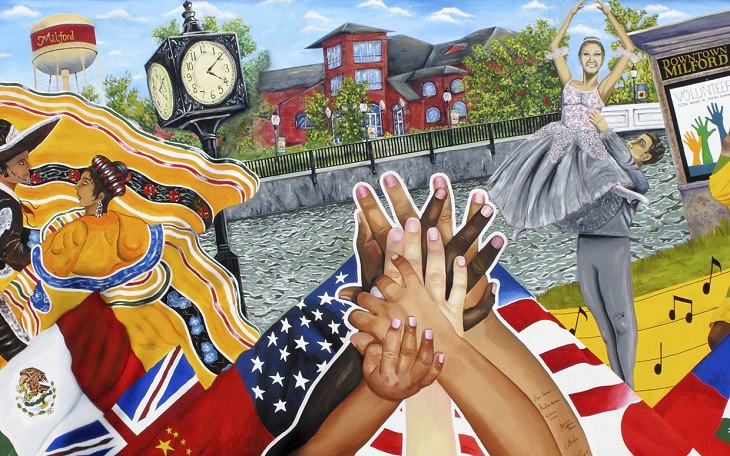 (Lori Conner, Gilberto Rodriguez and DeMarcus Shelborne)
This trio of artists enlisted 6 high school students in Milford to create this 24x12 foot mural, to watch over the city.
9. Florida
Main Piece of Wynwood Walls, by Kenny Scharf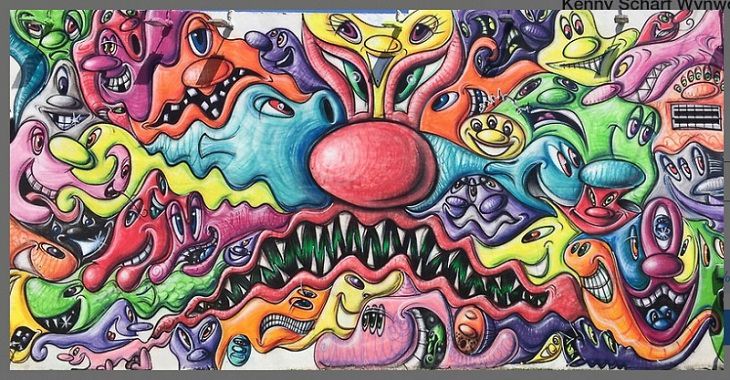 Wynwood Walls consists of a series of murals painted by a variety of artists in a warehouse-district gallery. Work on Wynwood Walls began in 2009 and has since transformed this once defunct area into a must-see spot in Miami.
10. Georgia
John Lewis, by The Loss Prevention

This mural was painted in Atlanta's Martin Luther King Junior historic district, as a tribute to civil rights hero and US Representative John Lewis.
11. Hawaii
Tentacles, by Ricky Watts and James Bullough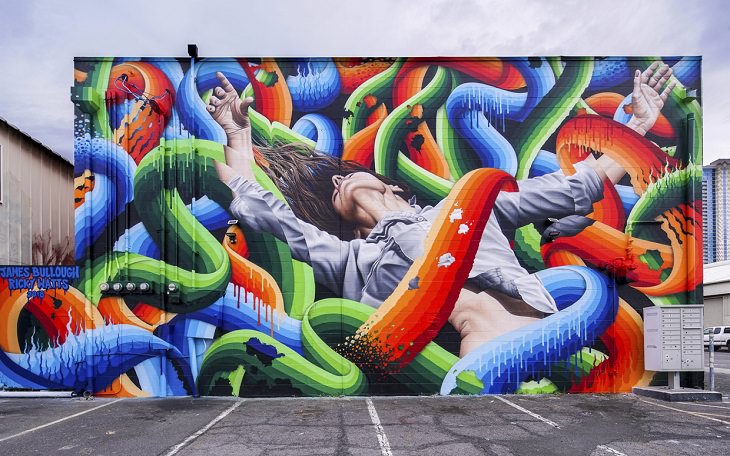 (Ricky Watts and James Bullough)
This stunning mural was painted in Honolulu, on Oahu during the annual Hawaiian street art festival, Kakaako's 2018 Pow! Wow!
12. Idaho
The Big Back Yard, by David Carmack Lewis
This installation of a winding road was the 2nd mural painted by this artist in 2017. This 40x50 feet mural in Boise was made by suspending a floating chair to the top of the mural, to inspire the people of the city to think of the wilderness as their backyard.
13. Illinois
Robin Williams, by Jerkface and Owen Dippie
(Jerkface and Owen Dippie)
This mural was painted in Chicago by two artists as a tribute to the memory of Robin Williams. He appears in the mural surrounded by a group of laughing Genies, the iconic character in Aladdin voiced by him.
14. Indiana
You Belong Here, by Eva Allen
This mural was funded by the City of Bloomington Arts Commission and can be found in Peoples Park near the Sample Gates of Indiana University. This inclusive mural spells out the name of the city, filling each large letter with various sights in the city.
15. Iowa
Ada Hayden, by Gaia and Voices Production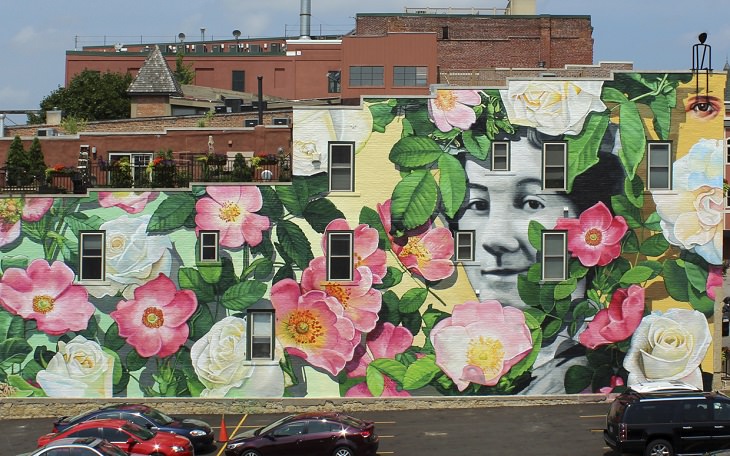 (Gaia and Voices Production)
This mural in Dubuque was a joint effort in honor of the memory of Ada Hayden, a botanist, preservationist, and the first female to complete her Ph.D. at Iowa State. The piece consists of wild and domestic roses, as well as the eye of Mazzucchelli, a Dominican friar that established the Catholic Church found near the mural.
16. Kansas
Personnages Oiseaux, by Joan Miró (1893–1983)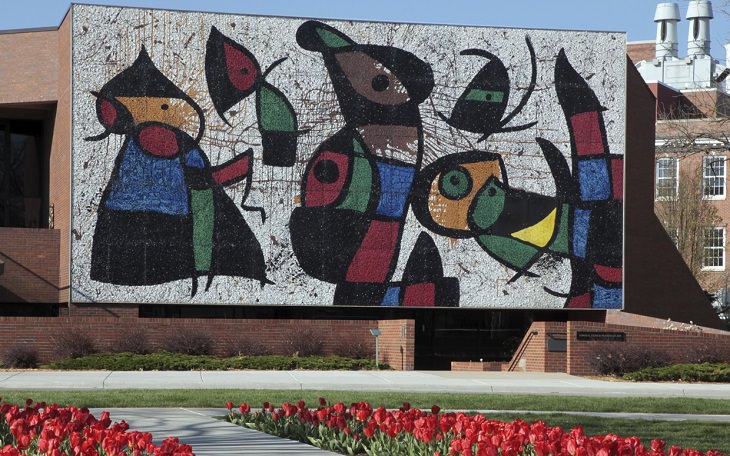 This mural in Wichita is the legacy of Spanish painter Joan Miró, and the largest piece in his public art commissions. It is made of a combination of marble on stainless steel and Venetian glass.
17. Kentucky
Louis Armstrong, by Sergio Odeith

This mural was painted in Lexington by a Portuguese artist, Sergio Odeith, after his first mural in the same city, depicting running horses, was accidentally painted over. This 30x70 foot mural was painted as a tribute to musician Louis Armstrong.
18. Louisiana
Project Catfish, by Ivan J. Roque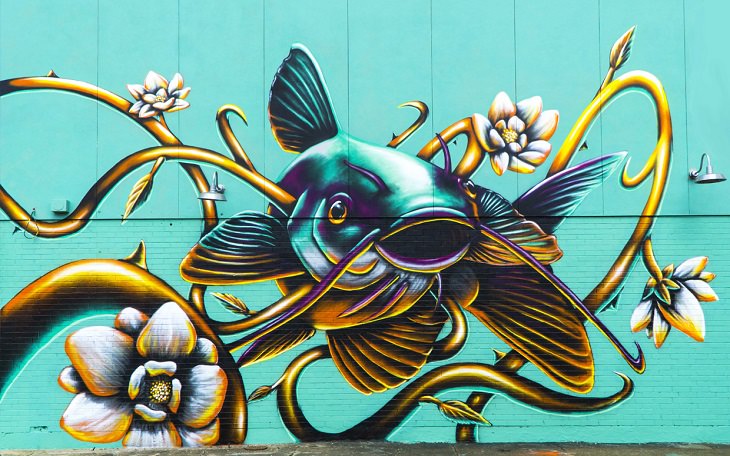 This mural was the artist's attempt to bring his signature style to the Bywater district of New Orleans, with a focus on nature, as part of the efforts of the NOLA Mural Project's to brighten up the city. To the artist, the catfish was the symbol of "making the best of whatever your situation is…"
19. Maine
Water Town, by Alexis Iammarino, Melissa Luk and various artists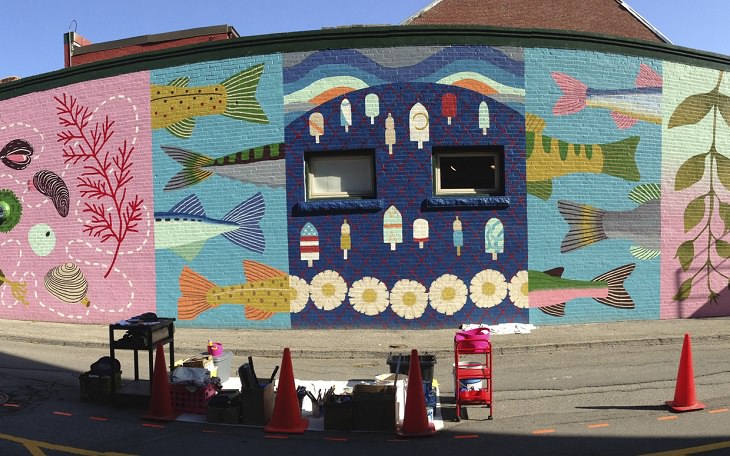 (Alexis Iammarino, Melissa Luk and various artists)
This mural was painted as a collective effort of the town, spearheaded by local muralist Alexis Iammarino, who stated about the project, "Water Town celebrates the marine life of the Penobscot Bay and Rockland's location on the water —expressing joy, playfulness, and a youthful spirit."
20. Maryland
Baltimore Love Project, by Michael Owen Art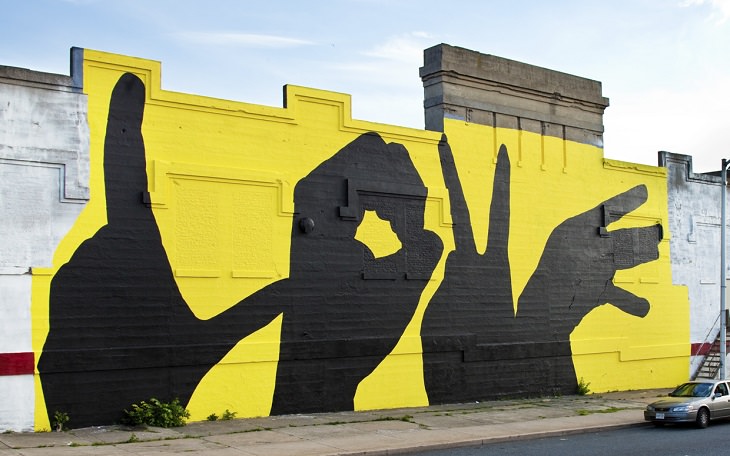 This local artist created 20 murals across the city with this image of helping hands spelling out the word "Love". Because of the nature of the message, the artist did not want to restrict the mural to any single neighborhood.
21. Massachusetts
Love Thyself, by Victor "Marka27" Quiñonez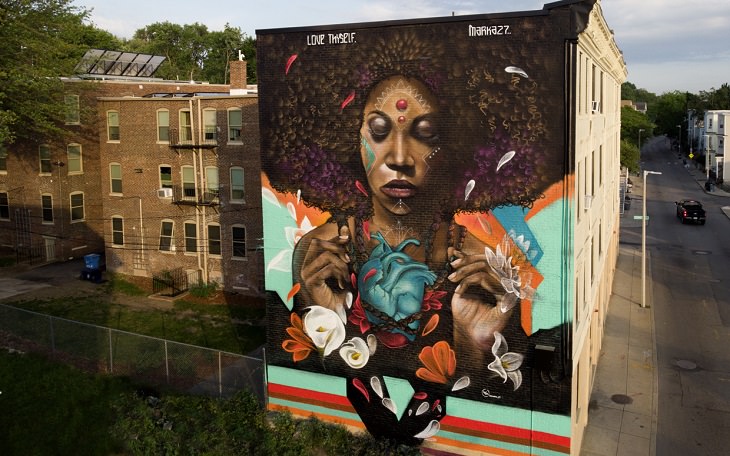 This Neo Indigenous masterpiece was a city-funded project and covers the wall of a 3 story building in Boston. The artist, who is also co-founder of Street Theory, created it with the intention of inciting curiosity in people about the beauty of different cultures.
22. Michigan
The North Corktown Pheasant, by Bob Spence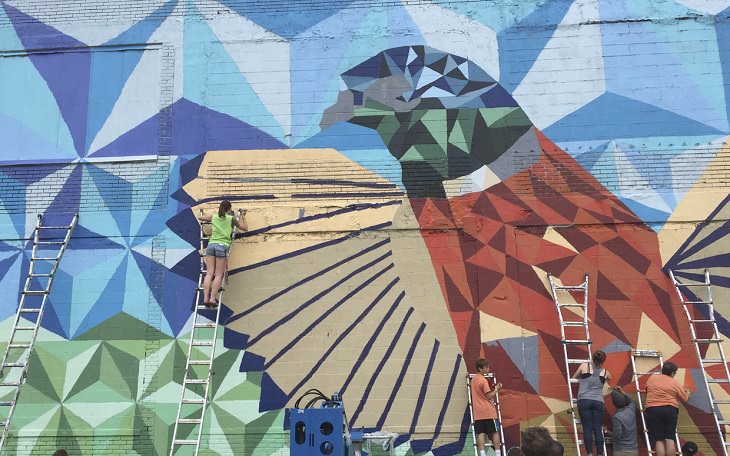 This mural was painted in the image of a pheasant, one of the more famous local residents of Detroit's North Corktown area, as a part of the 2015 Summer in the City Project.
23. Minnesota
The Times They Are A-Changin', by Eduardo Kobra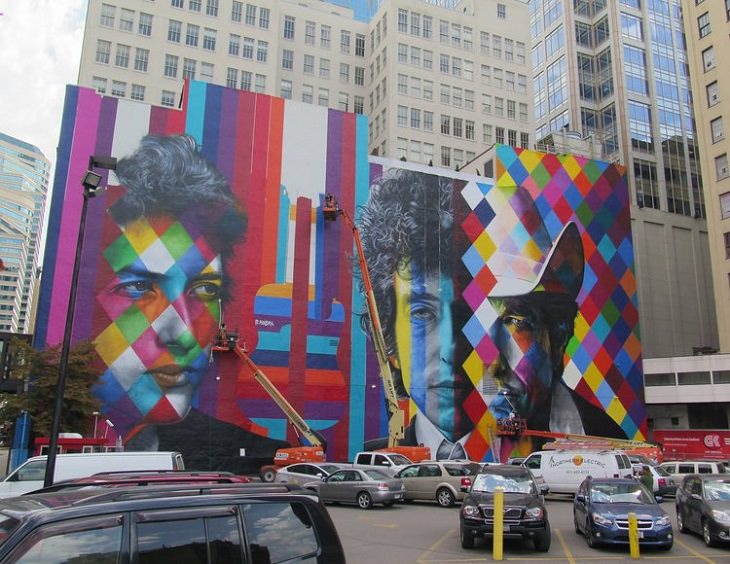 (Eduardo Kobra / MagicMarcProductions)
This mural was painted on a five-story building in downtown Minneapolis by an iconic Brazilian artist, depicting three stages in the career of musician Bob Dylan.
24. Mississippi
Mississippi River Tales, by Thomas Melvin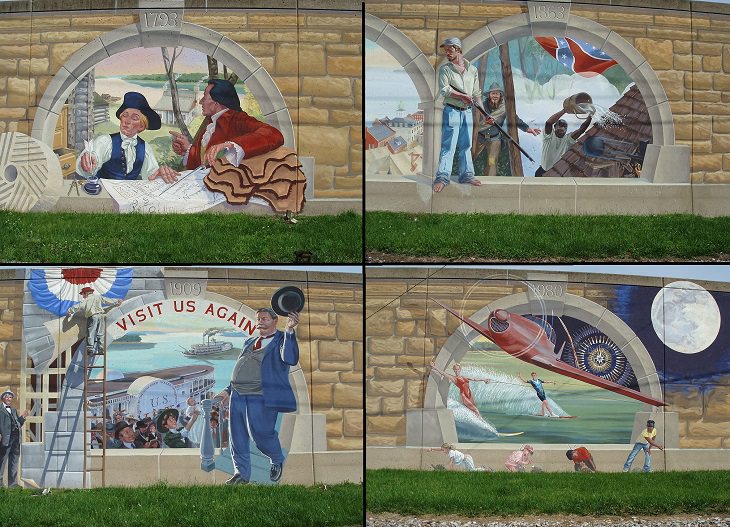 (Thomas Melvin / Wikimedia Commons - Top Left, Top Right, Bottom Left, Bottom Right)
This mural consists of 24 separate large panels each bearing an image of significance, spread across 18,000 feet of the downtown floodwalls of Cape Girardeau in Missouri. Each panel depicts a different important event in the growth of the city from as early as 1973 when the city was being planned (top left) and including memorials to other major events like the Civil War (top right), President Taft's visit in 1909 (bottom left) and the River Fest in 1980 (bottom right).
25. Missouri
Two Light, by Alexander Austin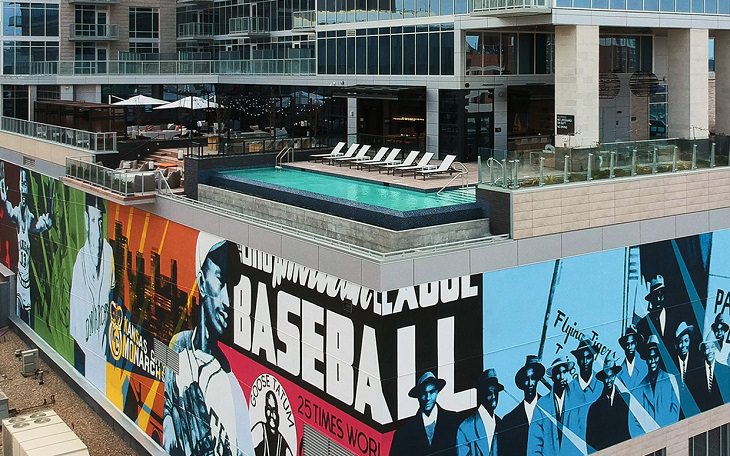 This 100-foot tall mural runs along the length of a football field and was painted by a local artist on request of the company that owned this new high rise building, which overshadowed a 10-year old mural. It was painted in Kansas City as a tribute to the Kansas City Monarchs and the Negro League.
26. Montana
The Miner, by ARCY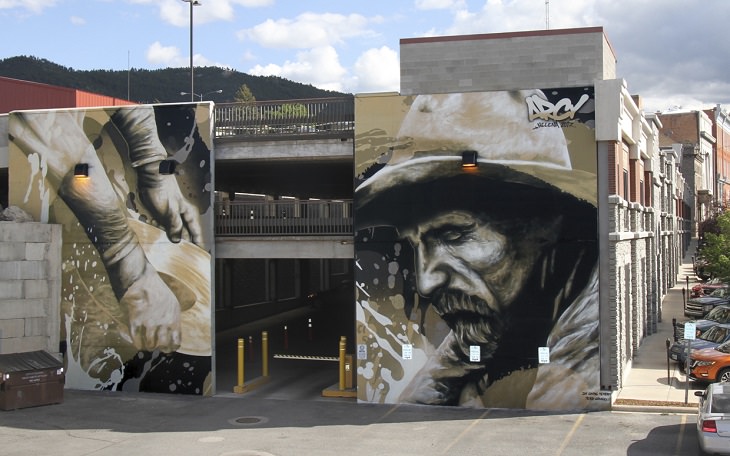 (ARCY)
This mural was painted on the side of a parking garage in Helena and stands at 40 feet tall. It depicts a miner digging for gold, as a reflection of the historical Gold Rush days of Helena. The artist believed it is a great way to encourage young people and jump-start the art community.
27. Nebraska
Home Run, by Justin Queal

This mural in Omaha depicts a worker and a baseball player backed by bold geometric patterns colored red, white and blue as a tribute to the history and culture of Omaha.
28. Nevada
Life is Beautiful, by Kevin Lyons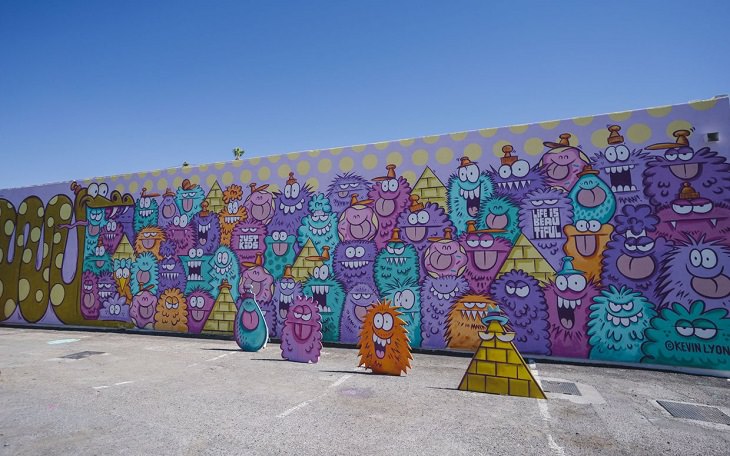 This mural was painted by Kevin Lyons featuring his signature brightly colored fuzzy friends, as a part of the Life is Beautiful festival in Las Vegas. The festival included the collective works of numerous street artists curated by the Justkids community art firm.
29. New Hampshire
The Good of the Hive, by Matthew Willey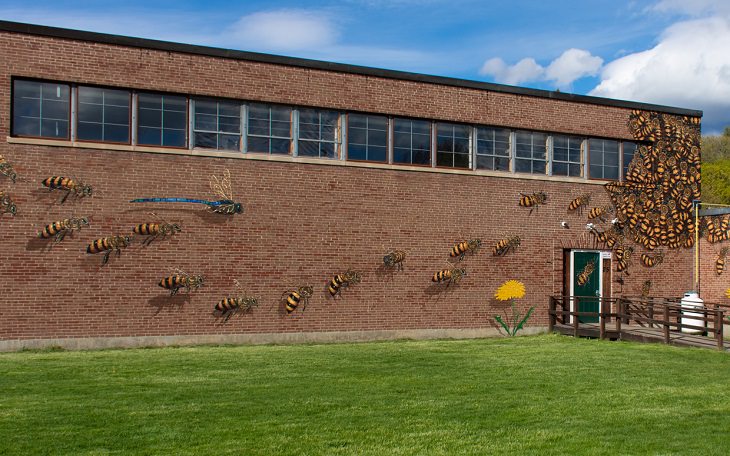 This mural in Peterborough is part of the extensive passion project of this traveling artist, who is painting 50,000 bees on walls across the country to raise awareness on the decline of honeybee populations.
30. New Jersey
Gateways to Newark, by various artists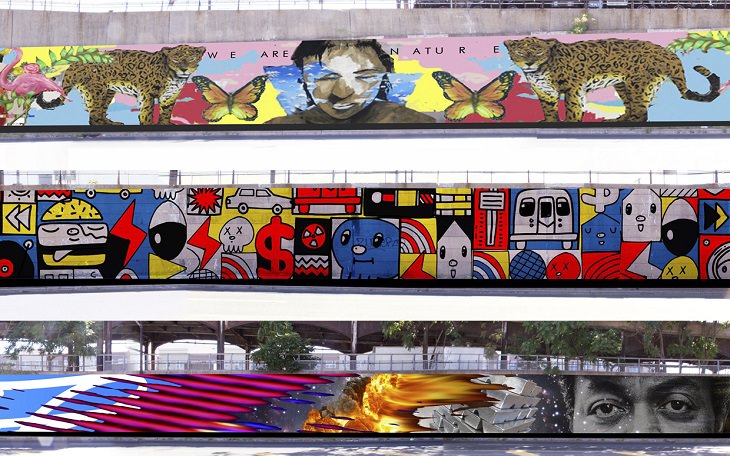 This mural was painted by 18 different local and international artists and consists of a series of paintings on a Newark railroad retention wall that is a century old. It is the longest mural in the East Coast.
31. New Mexico
Seeing Thru the Patterns, by Werc, Isaias Crow and Geraluz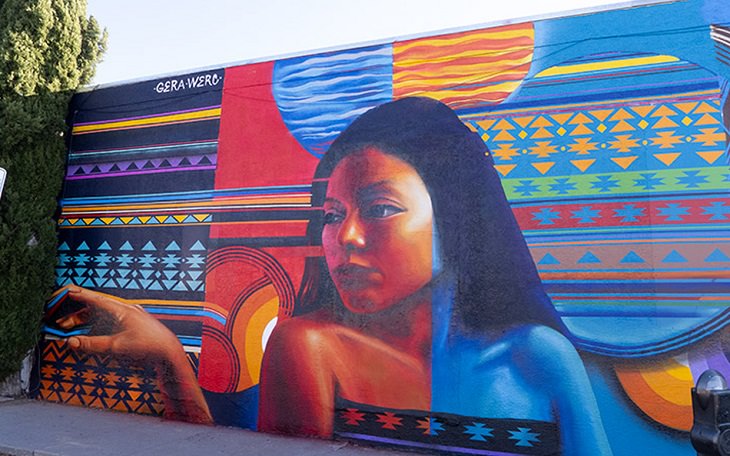 (Werc, Isaias Crow and Geraluz)
This mural in Albuquerque was the collaborated effort of three artists displaying Native American beauty on this large wall along Route 66.
32. New York
Gandhi and Mother Teresa, by Eduardo Kobra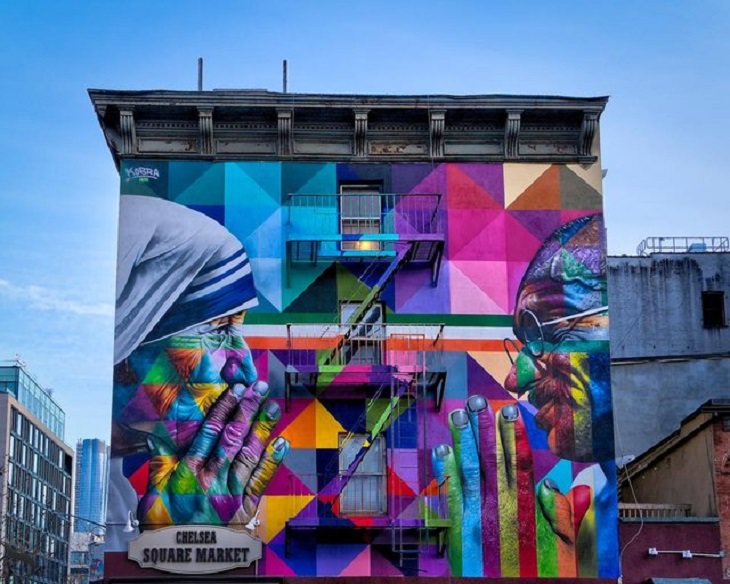 (Eduardo Kobra / Steemit)
This is another incredible mural painted by talented Brazilian artist Eduardo Kobra, put up in 2018 beside Chelsea square market. This New York City mural depicts a beautiful moment between two historical figures, Mother Teresa and Mahatma Gandhi.
33. North Carolina
Color Pop Corner, by Lisa Gaither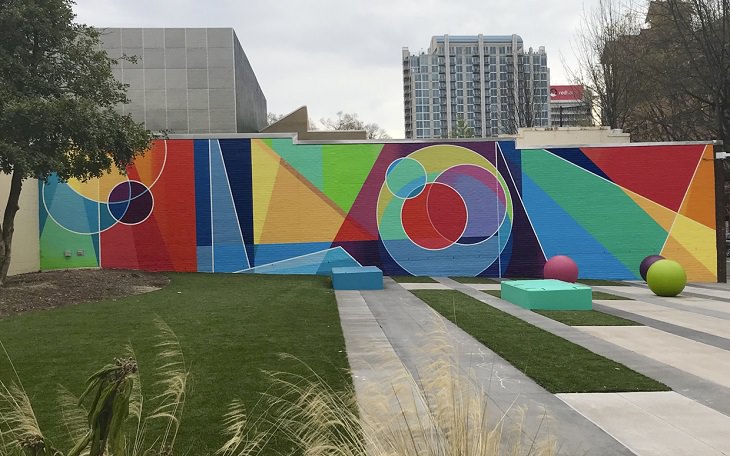 This mural is the backdrop of the play area of the Marble Kids Museum in Raleigh. The geometric shapes and bright colors were painted with the goal of inciting creativity.
34. North Dakota
Sitting Bull, by Melissa Gordon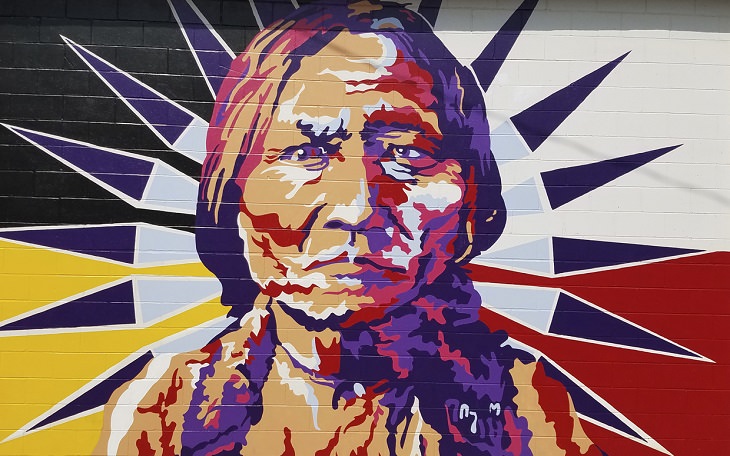 This mural was painted in celebration of different cultures, depicting the leader of the Lakota People, a Native American tribe. It stands in the capital's art gallery in Bismarck.
35. Ohio
Snakespeare, by David Shillinglaw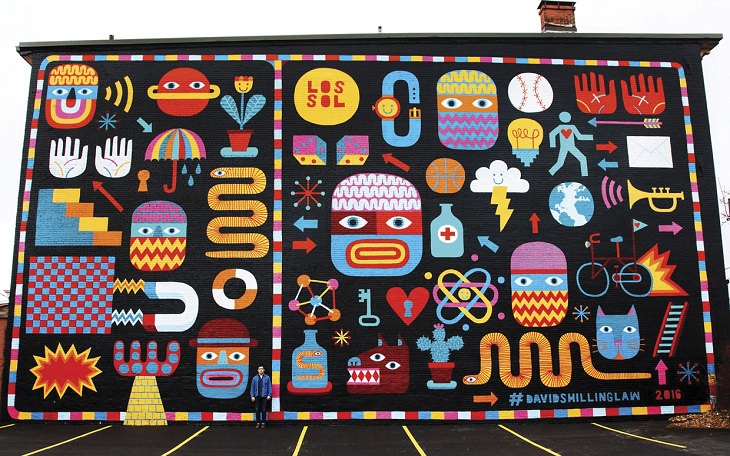 This mural was painted on a 3 story wall in Cleveland by an artist from London. The mural consists of numerous symbolic images in a variety of styles, inspired by Egyptian hieroglyphics.
36. Oklahoma
Oklahoma Aiukli, by Erin Cooper, Amanda Bradway, and Lauren Miller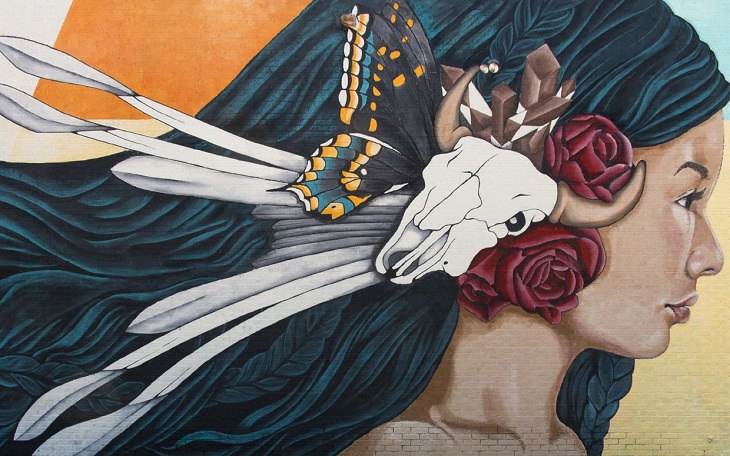 (Erin Cooper, Amanda Bradway and Lauren Miller)
This mural in Oklahoma City depicts Bella Aiukli, a 13-year-old Choctaw girl that is connected firmly to her roots in Oklahoma, as well as her Native American heritage as an active part of her tribe.
37. Oregon
Capax Infiniti, by Faith47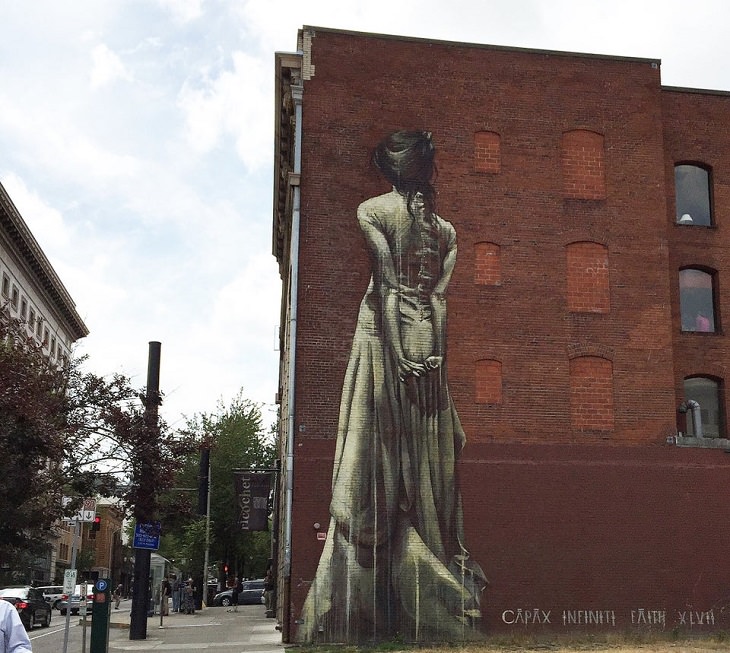 This mural in Portland was painted by a South African artist in 2014. It depicts the back of a ghostly woman. The goal of the artist was for the image to look as if it had been there for a long time, existing in two spaces at once.
38. Pennsylvania
We the Youth, by Keith Haring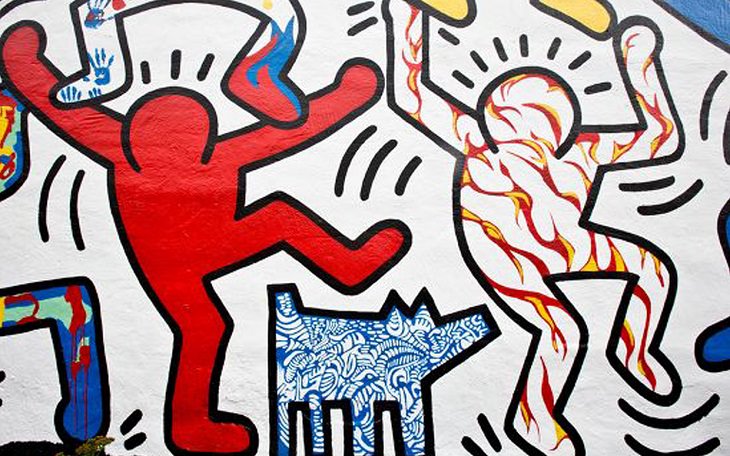 This mural is an iconic public collaborative work of art in Philadelphia that was created in 1987 and remained intact since. The structure of the painting was created by the black outlines of Haring's work, and the color filled in by locals over time.
39. Rhode Island
Adventure Time, by Natalia Rak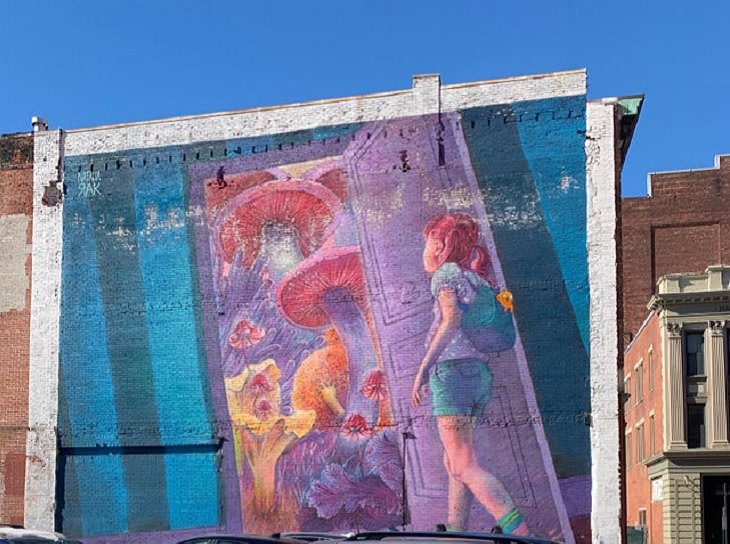 (Natalia Rak / Reddit)
This mural in Providence was created by a Polish artist and depicts a scene that resembles Alice in Wonderland, as a young girl stumbles into a fantastical world.
40. South Carolina
Tunnel Vision, by Blue Sky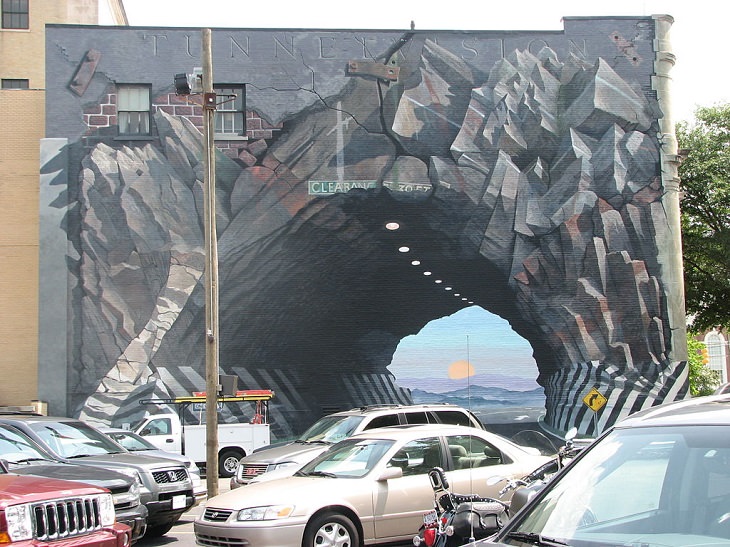 (Blue Sky / Wikimedia Commons)
This mural has been a local landmark in Colúmbia, the capital city of South Carolina, since 1975 and depicts a tunnel to a never-ending road.
41. South Dakota
Agtegra Grain Elevator, by Guido van Helten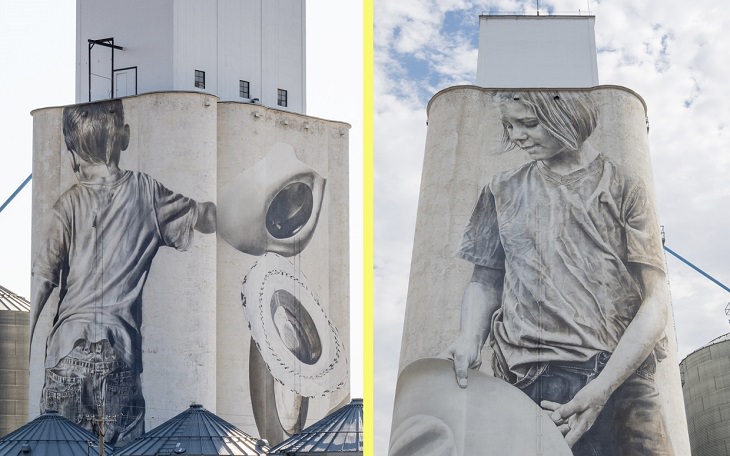 This mural was painted by an Australian artist on a grain elevator that is 110 feet tall, in the prairies of Faulkton. It depicts a young boy and girl and aims to shine a light on the small regional community.
42. Tennessee
Off the Walls, by various artists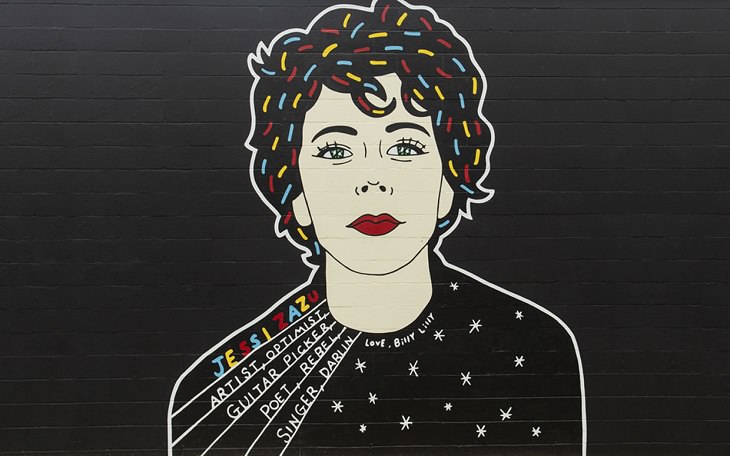 This mural is one of many in the previously defunct central corridor of Charlotte Avenue in Nashville that has turned it into a colorful hotspot for travelers. This particular piece pays homage to Jessi Zazu, a member of the band The Darlins, based off an illustration by Billy Lilly .
43. Texas
Owl Family, by Jeff Soto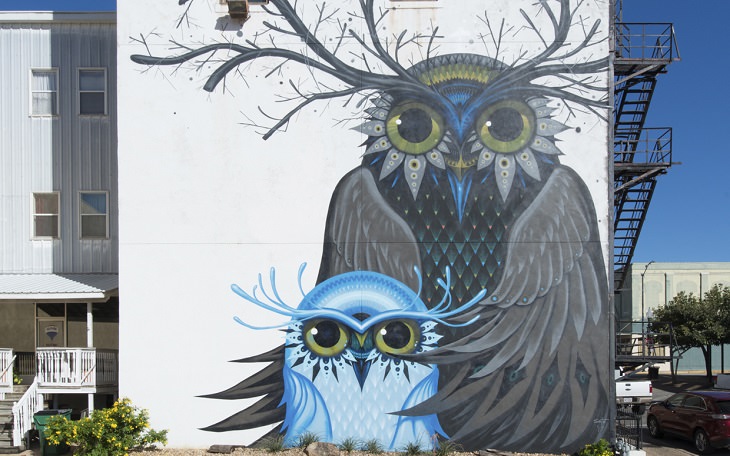 This mural was created in Brenham, the birthplace of Blue Bell Ice cream by a solitary artist. It depicts a pair of unique owls and was painted as a part of the Texas Arts and Music Festival in 2017.
44. Utah
Zeus, by Shae Peterson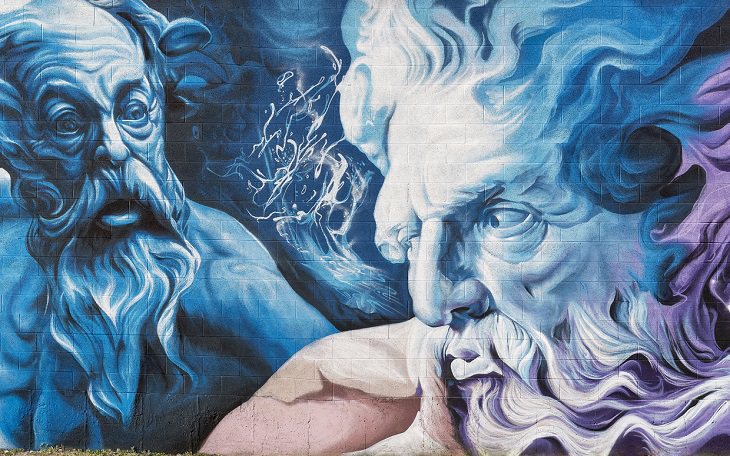 This mural stands on a wall 100 feet long in Salt Lake City. It depicts the Greek Gods Zeus, Poseidon and Hades with the eye containing the universe.
45. Vermont
You Are Loved, by Alex Cook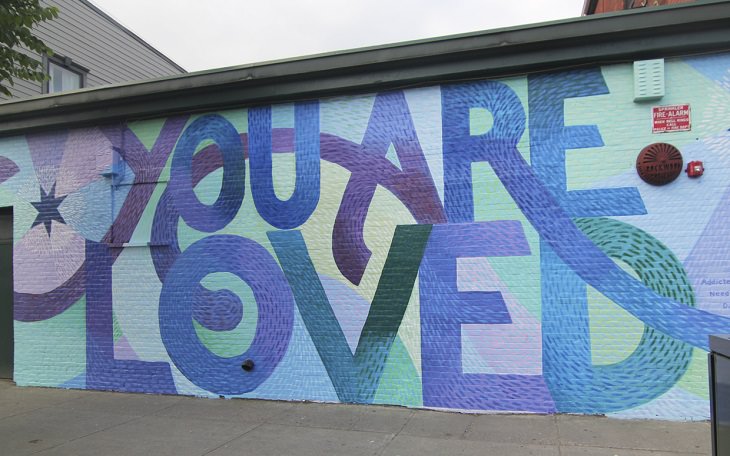 This mural was commissioned by the Vermont US Attorney's Office in Burlington to be a message of positivity. The goal of the mural was to raise awareness and support victims of sex trafficking.
46. Virginia
Girl With Phone, by Nils Westergard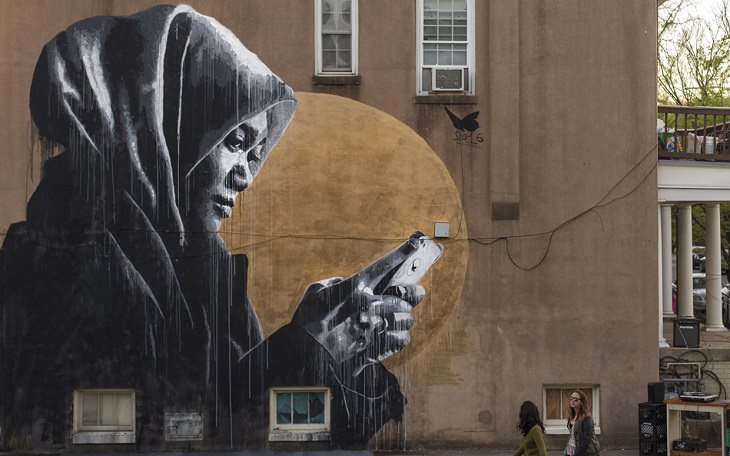 This mural was painted by a local iconic artist in Richmond, known for his numerous realistic depictions of people. This mural features a young woman preoccupied with her phone based on a photograph taken by Akbar Simonse.
47. Washington
SODO Track, by various artists

This mural was painted along the SODO transit corridor in Seattle and consists of 2 miles of continuous artwork, covering 32 walls. This corridor continues to be added to and currently holds the works of over 60 artists.
48. West Virginia
Power, by Rebecca Recco and Isaac Emrick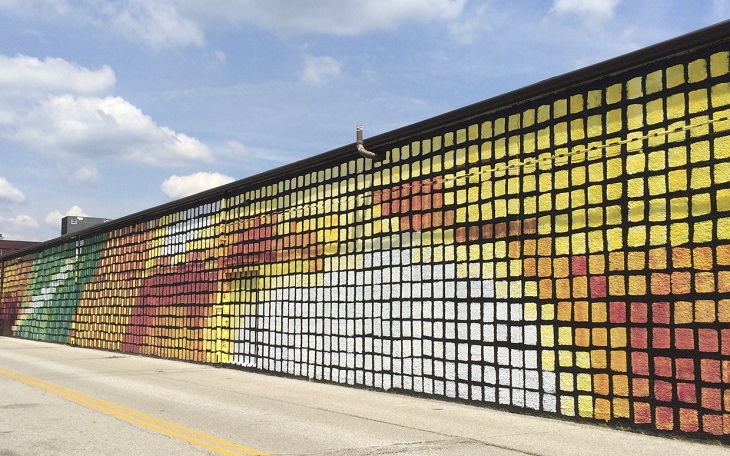 (Rebecca Recco and Isaac Emrick)
This mural was created by a husband-and-wife team with squares reminiscent of the blocks from old games like Lite-Brites and Atari games. It spans an entire city block of Charleston.
49. Wisconsin
The Gift, by George Gist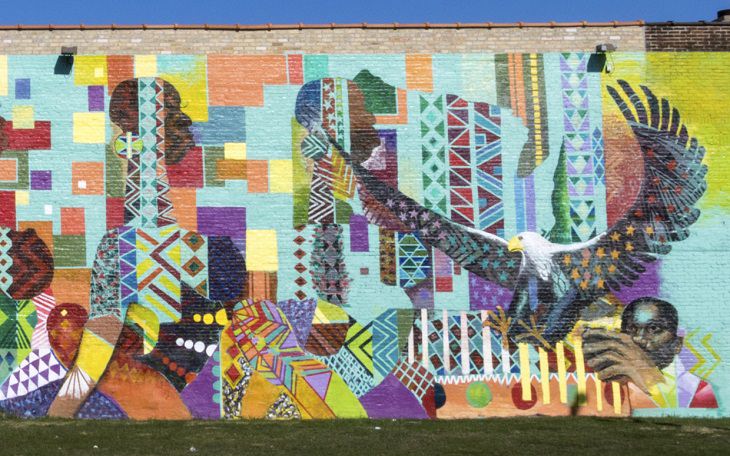 This mural was commissioned by the Wisconsin Black Historical Society with the intention of replacing a faded mural painted by Ammar Nsoroma. It covers a wall 125 feet wide and 50 feet tall as a tribute to the African American community in Sherman Park, Milwaukee.
50. Wyoming
Fox Den, by Tony and Amy Elmore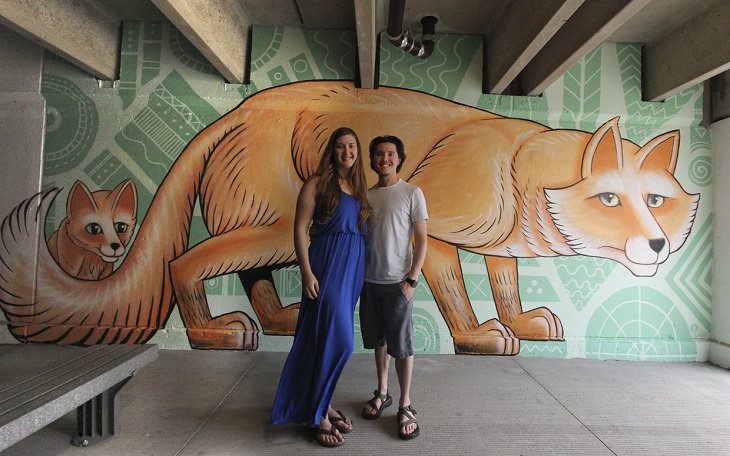 This mural was created as a collaborative effort between Keep Casper Beautiful and the Downtown Development Authority. It depicts a fox and its baby, meant to represent the wild side of the city of Casper.

Images Source: Parade