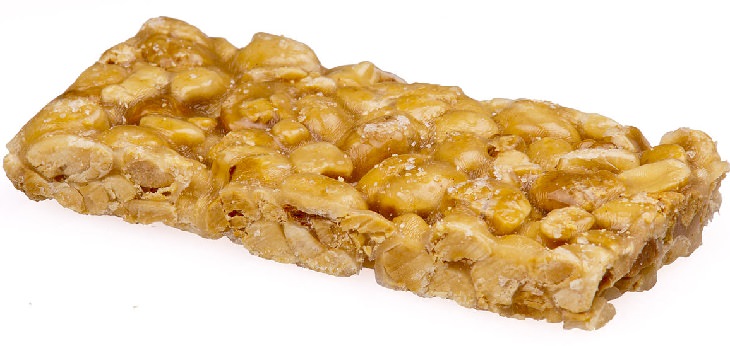 Homemade peanut butter snack bars are incredibly simple to make and will delight both children and adults. They are also quite versatile, as you can make them with nuts, granola, cornflakes or a mix of all of the above.
Ingredients:
• 6 cups of granola, cornflakes or assorted unsalted nuts, crushed into smaller bits (but not too small!)
• 1 cup white sugar
• 1 cup light corn syrup
• 1 cup peanut butter

Instructions:
1. Place your crunchy filling of choice in a large bowl.
2. In a saucepan over medium heat, mix the sugar and syrup and stir. As the mixture heats up, stir more vigorously.
3. Around the 10 minute mark, the edges will begin to boil. As soon as that happens, remove the pan from the stove, add the peanut butter and stir until smooth.
4. Pour the mixture over the granola, cornflakes, or nuts and stir until coated. Pour the mixture into a prepared baking sheet with parchment paper. Let the bars set for about 20 minutes before cutting up.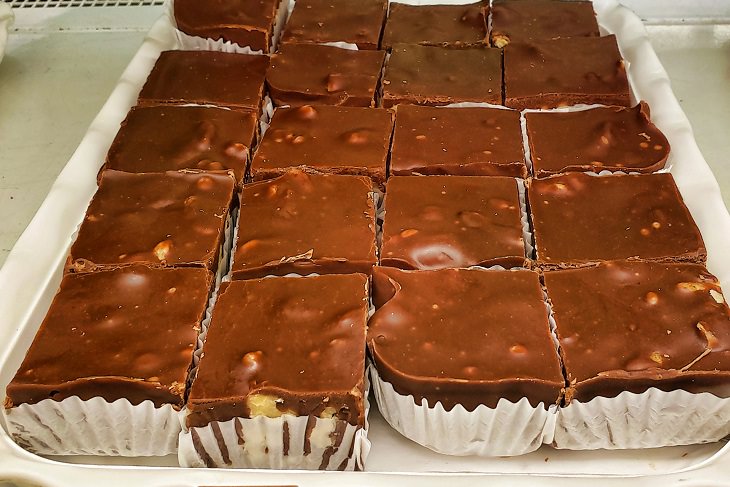 Nothing satisfies a chocolate craving quite like fudge does. The pure, chocolate taste, coupled with a texture that's chewier than mousse, but suppler than your average chocolate bar… mmmm…
Ingredients:
• 14 oz. can sweetened condensed milk
• 2 cups semisweet chocolate chips
• 1 tbsp. butter
• ½ tsp. vanilla extract
• For some flavor complexity, ½ tsp. kosher salt (optional)
• For a bit of a crunch, ½ cup crushed unsalted nuts (optional)
Instructions:
1. Prepare a baking pan with parchment paper and coat with non-stick cooking spray.
2. In a saucepan over low heat, melt butter, then add chocolate chips and condensed milk and whisk until mostly melted.
3. Add vanilla extract (optional: and kosher salt), whisk until you get a uniform mixture and remove from the stove.
4. If you opted to add nuts, now is the time to add them into the mixture. Pour the mixture evenly into the baking pan, and cool in the refrigerator for around 2 hours.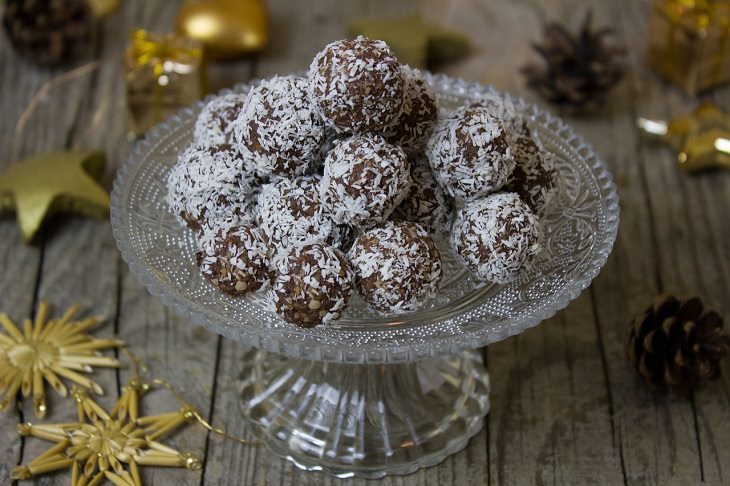 Rum balls are super popular, and for good reason. Something about their shape, texture, and flavor is just so delectable! Though rum is in the name, and it definitely upgrades this simple treat, it is entirely optional, so you can opt to remove it if you're planning on serving these to children and don't want them to get tipsy.
Ingredients:
• 9 oz. plain cookies or sweet crackers
• 14 oz. can sweetened condensed milk
• ½ cup unsweetened cocoa powder
• 1 cup shredded coconut, divided into two half cups
• 3 tbsps. rum (optional)
Instructions:
1. Using a food processor or a plastic bag and a rolling pin, crush the cookies into crumbs. The end result doesn't have to be a fine powder, and having larger chunks is okay.
2. Place the crushed cookies, one half of the shredded coconut, condensed milk and cocoa powder (optional: and rum) in a bowl and mix using a wooden spoon and your hands until a thick mixture forms.
3. Scoop out tablespoon portions, roll into a ball and roll in coconut. Lay out on a baking sheet and refrigerate before serving.