Folktales, myths, and legends have been filled for centuries with stories of incredible beings, having great beauty or fearsome qualities, that work hand-in-hand with the heroes, or alternately, are defeated by the heroes. Some tales are endless, and rumors still stand today of appearances of beasts like the Chupacabra and the Yeti (also known as the Abominable Snowman). As it turns out, all of these mystical creatures may not be too far from reality. These 10 supposedly imaginary creatures may have been inspired by beings that truly existed on this planet.
1. The Loch Ness Monster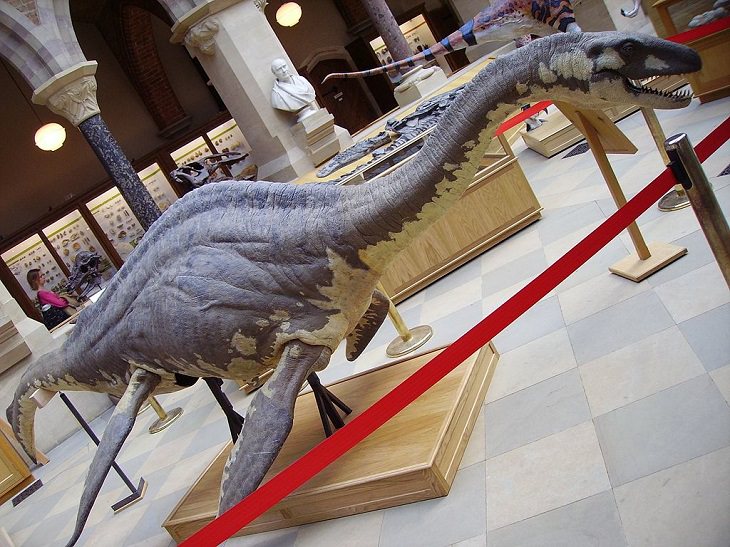 (By Ballista, Wikimedia Commons)
The Legend of Nessie has been a commonly known tale originating from the Scottish Highlands. The legend speaks of a large creature, living in the depths of the Loch Ness, believed to have a long neck that protrudes out of the water and a humped back. Stories of Nessie, the Loch Ness Monster, have persisted for over 1500 years.
Paleontologists and scientists together believe the origins of this beast can be traced back to a prehistoric sea creature that inhabited the same area millions of years ago. This beast was called the plesiosaurus, a marine reptile closely related to dinosaurs that lived during the Jurassic Era. Alternate sources say the beast might have once been a surviving member of a large family of plesiosaurs.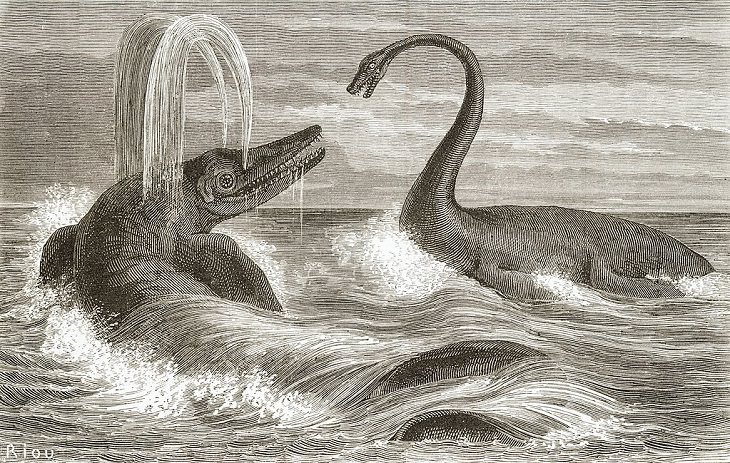 (By Edouard Riou, ichthyosaur (left) and plesiosaur (Right), Wikimedia Commons)
2. Igopogo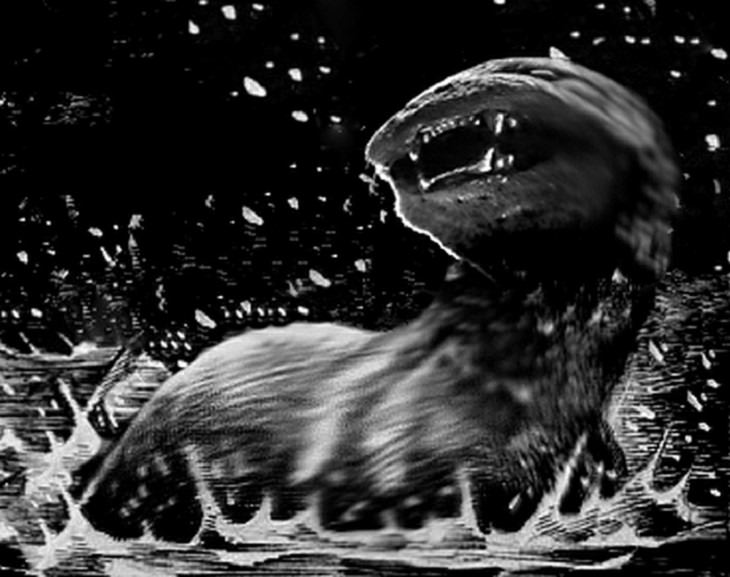 (By Bango Art, Wikimedia Commons)
Meet the Loch Ness Monster of Canada. Igopogo is a large underwater beast, believed to inhabit Ontario's Lake Simcoe. Its name was most likely derived from the name of another water beast in Canadian Folklore, called the Ogopogo, which resided in British Columbia's Lake Okanagan.
Igopogo has been described as a creature that is 15-60 feet long, with a bulky figure and a canine-like head. It also bears a close resemblance to the Irish Crocodile, a violent Irish beast from folk tales that was named Dobhar-Chu (meaning water hound), also known as the King Otter. Based on its appearance, Igopogo, as well as Dobhar-Chu, are most likely actually a large otter or seal.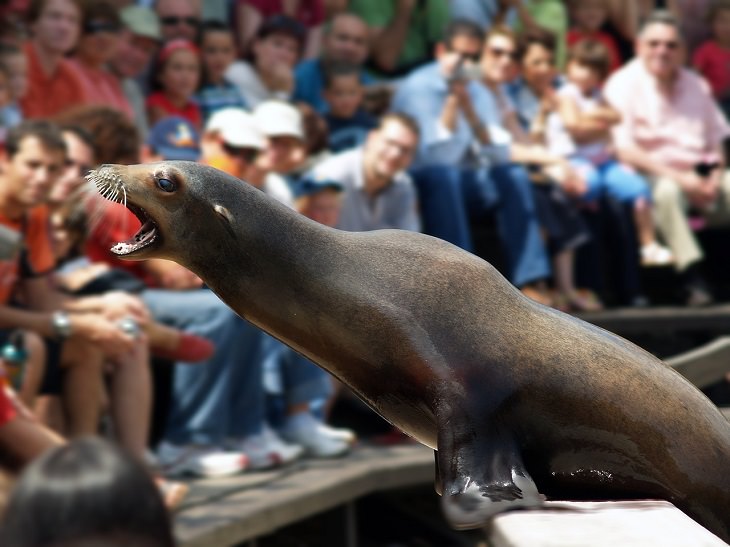 3. Thunderbird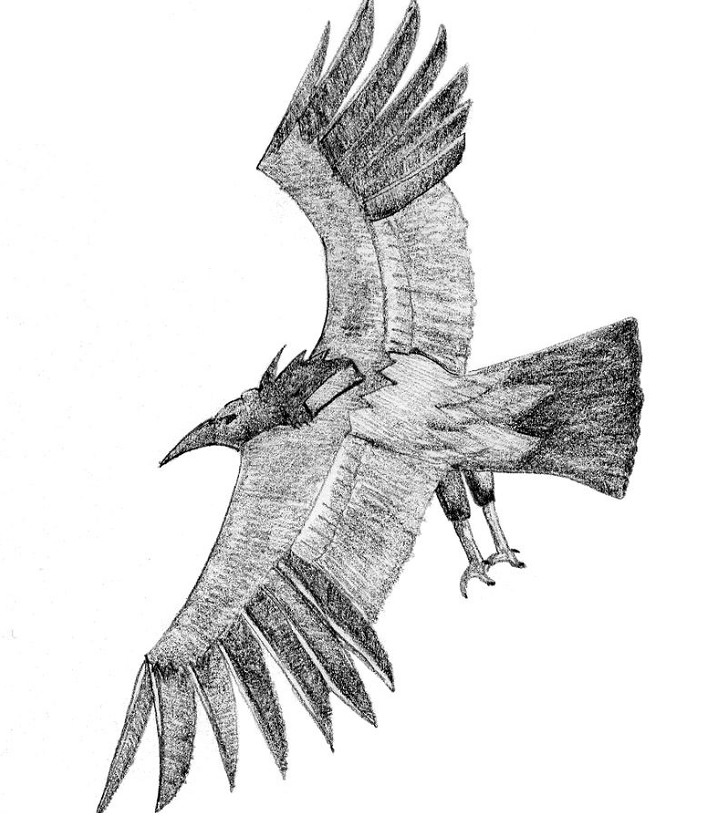 (By Carnby, Wikimedia Commons)
Thunderbirds are gigantic birds that, according to Native American folklore, were frequently associated with the arrival of rain and thunderstorms. The legend itself was that the thunderbird was the controller of the world above, and with the flapping of its wings could create thunder. It would protect the upper world by hurling lightning at the creatures of the underworld. The Thunderbird was often depicted in totem poles and other works of art.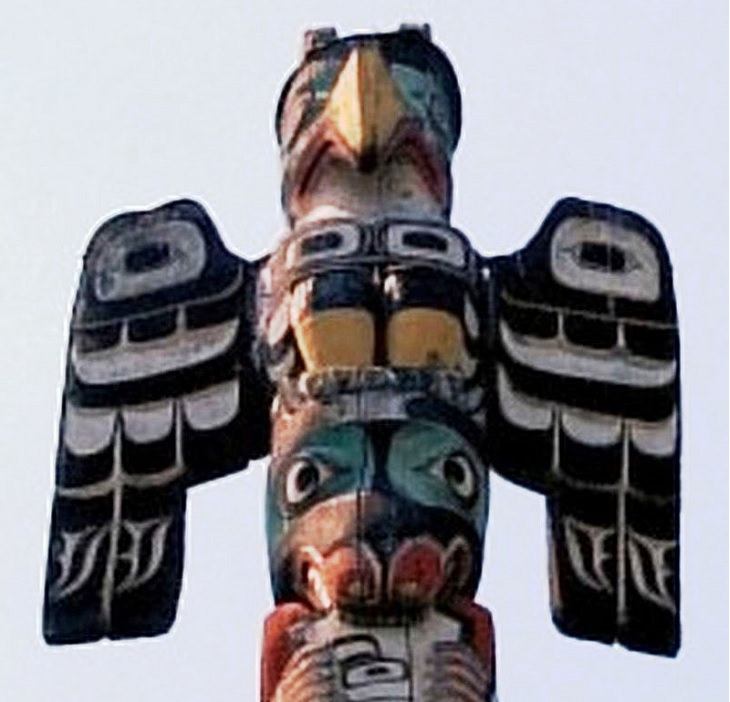 (By Dr Haggis, Wikimedia Commons)
Historical records show that during the early days of man and the birth of civilization, there were giant birds, with wingspans as large as 15 feet, that shared the planet with them. However, it has been suggested by historians that stories of the Thunderbird in Native American mythology are due to the discovery of fossils belonging to pterosaurs, now-extinct flying reptiles from as far back as the Triassic Era.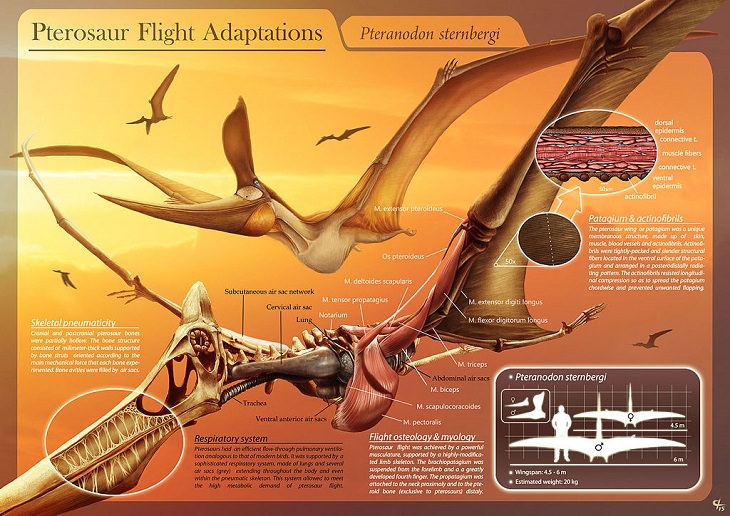 (By Hugo Salais López, Wikimedia Commons)
4. The Monoceros (Unicorn)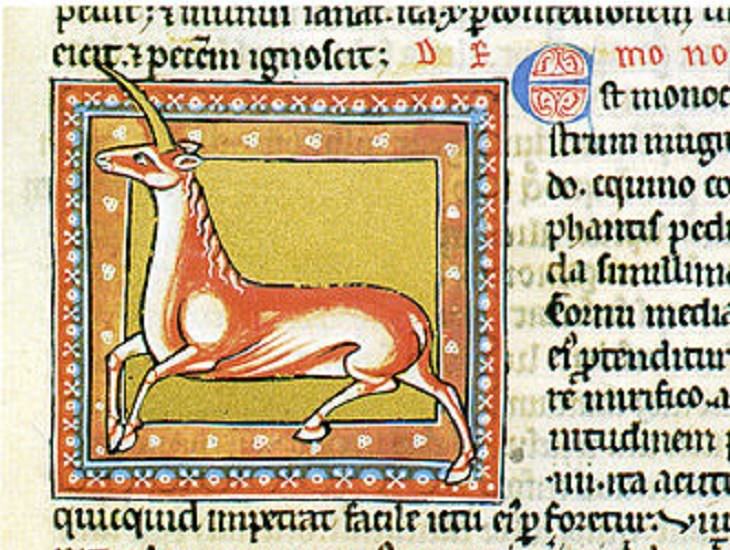 The Monoceros is a mythological beast, found in Greek mythology and closely related in resemblance to the Unicorn, another legend in its own right. It is described as having the body of a horse, elephant's feet, the tail of a boar and finally the head of a stag, with one large protruding horn, believed to measure as long as four feet.
A faintly visible constellation, located in the Celestial Equator, closely resembles this legendary creature and is named the Monoceros. Based on its description, it is believed that the Monoceros is derived from the appearance of the Indian Rhinoceros.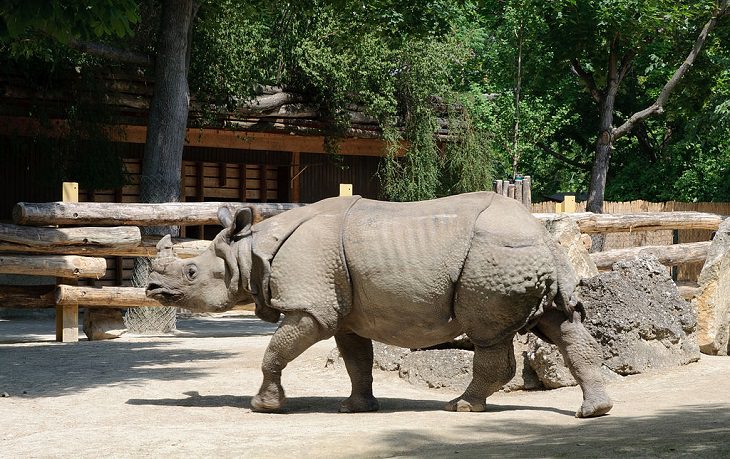 (By MrPanyGoff, Wikimedia Commons)
In later years, the Monoceros came to be known commonly as the Unicorn, which is also believed to have resembled the now-extinct Siberian Rhinoceros (Elasmotherium) as well as the Narwhal, a whale with a singular long protruding tusk.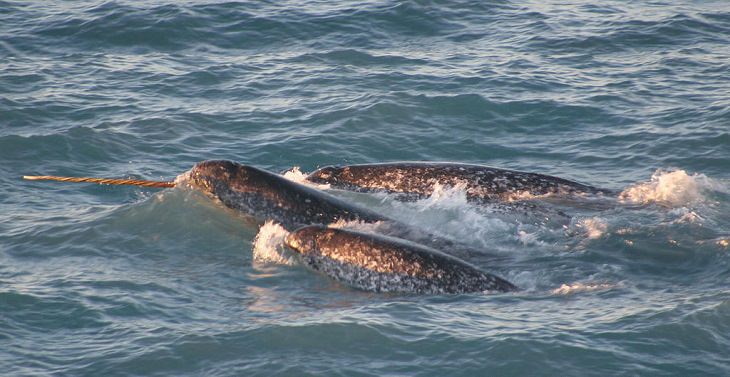 (By Dr. Kristin Laidre, Wikimedia Commons)
Unicorns are also associated with the Okapi, a member of the giraffe family, but more similar in appearance to zebras. The males of this species have two horns that, when viewed from an angle, looked like a single horn, leading the locals to believe it was, in fact, a real-life unicorn.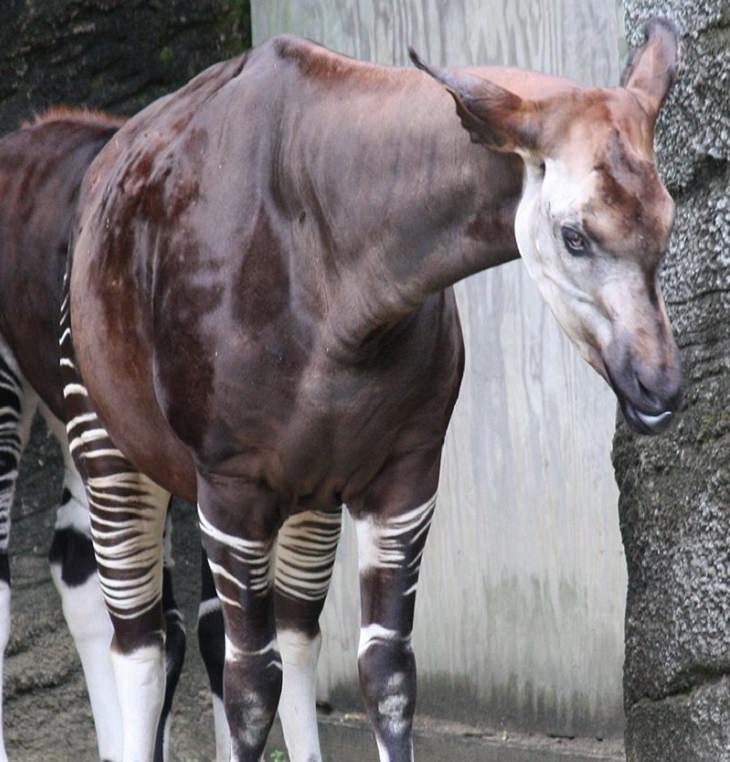 (By Ltshears, Wikimedia Commons)
5. The Minhocao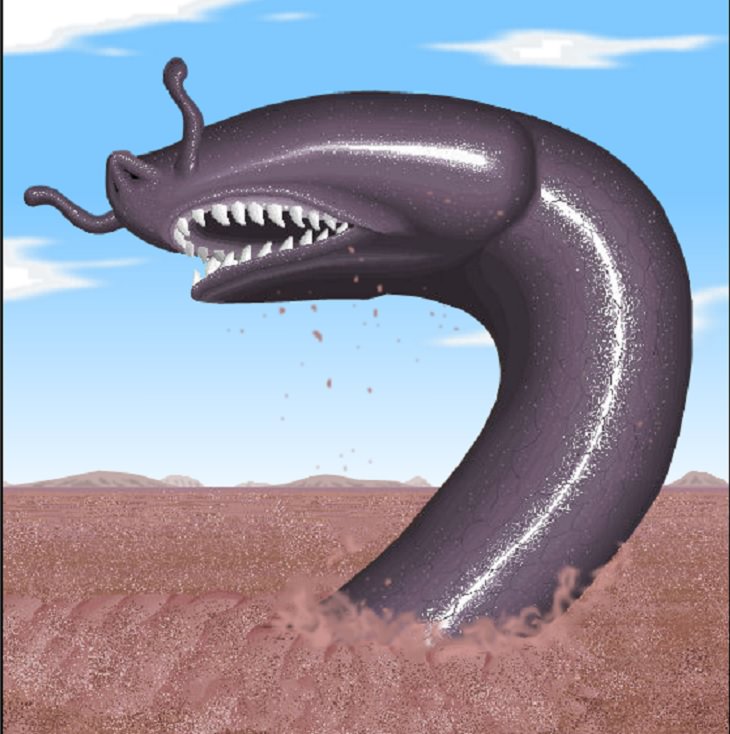 (By Kryptid, Wikimedia Commons)
Minhocao is a Portuguese word, meaning "earthworm". In the 19th century, the locals of Brazil spoke of an incredibly long creature, with a large and fearsome mouth, that lived in the lake and would draw their horses and other cattle into the water to devour them. A French naturalist who studied the legends of the beast believed it was likely to be a large subspecies of the South American Lungfish.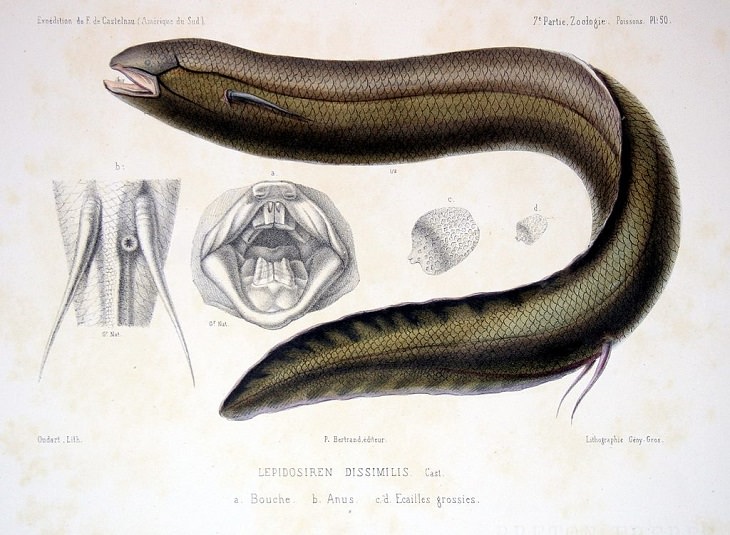 (By Francis de Laporte de Castelnau, Wikimedia Commons)
Some stories of the Minhocao claim it was a destructive creature on land as well, leaving large trenches as it moved and uprooting trees along the way, much like a giant earthworm. Exact descriptions of the size of the Minhocao vary between 30 feet to 150 feet long, and equally varied in width. Its described movements on land have led some scientists to believe the Minhocao was inspired by the prehistoric snake, the Titanboa.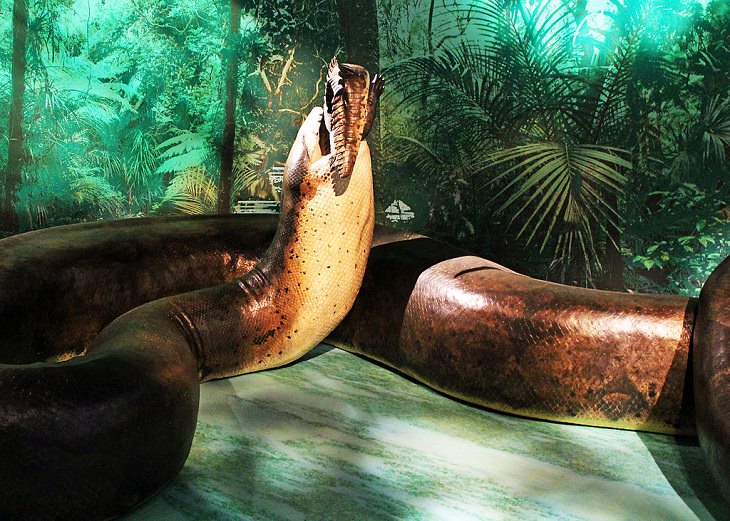 (By Ryan Quick, Wikimedia Commons)
6. Giant Sea Serpent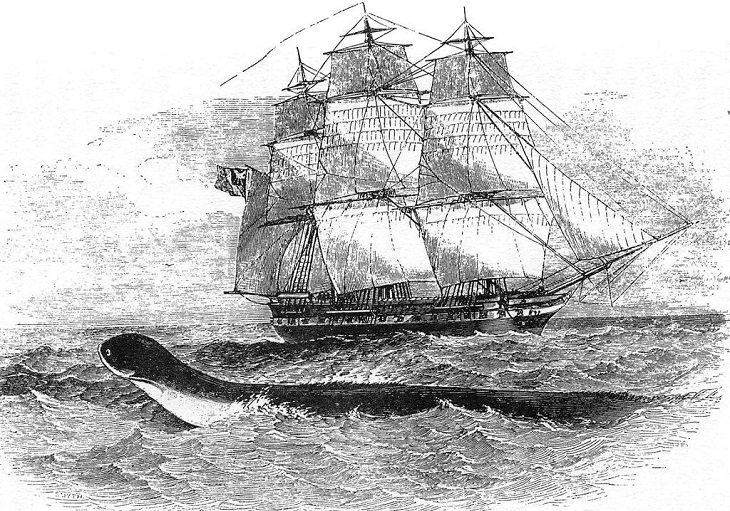 The Sea Serpent is a creature found in Norse, Mesopotamian, Egyptian and Greek mythology. They are often depicted as massive snake-like monsters, stretching as long as 40 to 60 feet, and preying on passing boats and ships. The giant oarfish is a creature that bears a striking resemblance to this mythological beast. This fish has an elongated torso and has the longest known length of any living species.

(By Wm. Leo Smith, Wikimedia Commons)
Oarfish tend to linger closer to the surface of the water when they are ill or dying, leading to numerous sightings of oarfish. The longest oarfish on record is 36 feet, end to end. However, unconfirmed reports state that oarfish as long as 56 feet have also been spotted.
7. Jackalope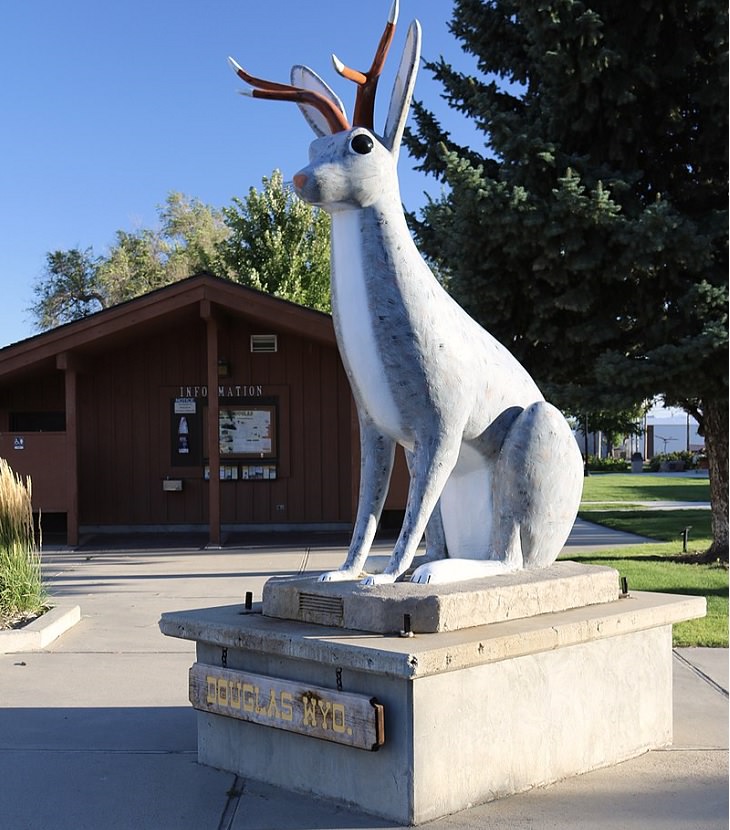 (By Montanabw, Wikimedia Commons)
The Jackalope is a formidable creature in Colonial folklore, often associated with other creatures from North American fables like Bigfoot and Mothman. The name, much like the animal itself, is an amalgamation of a Jackrabbit and an Antelope. Its appearance is that of an ordinary jackrabbit, with one minor difference. Two large antlers, greatly resembling antelope horns are atop the Jackalopes head.
This legendary animal became especially popular when the Herrick Brothers used their hunting and taxidermy skills by grafting antelope horns onto a jackrabbit carcass, and began selling the stuffed "jackalope".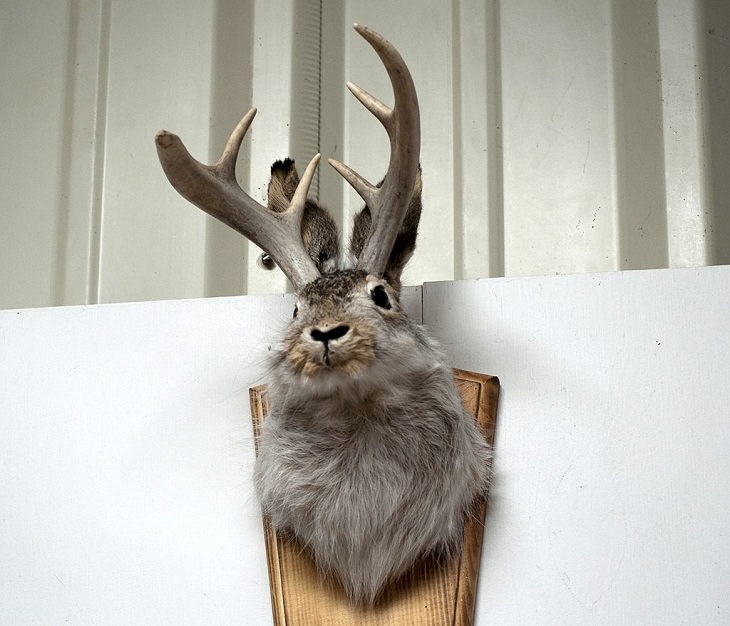 While the Jackalope became popular in hunting and taxidermist circles, legends of the horned rabbit are believed to have actually been derived from stories related to infected rabbits. Once infected with the Shope papillomavirus, rabbits have been known to develop tumors on their head that can resemble horns, tusks or antlers.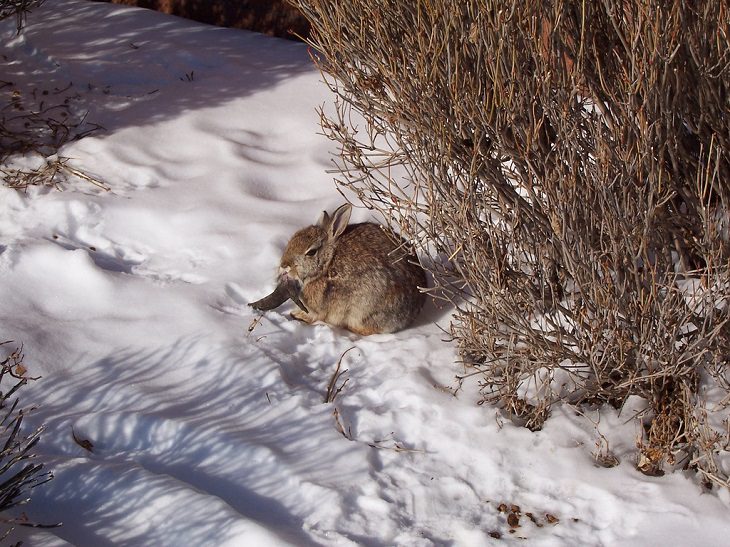 (By WD45, Wikimedia Commons)
8. The Kappa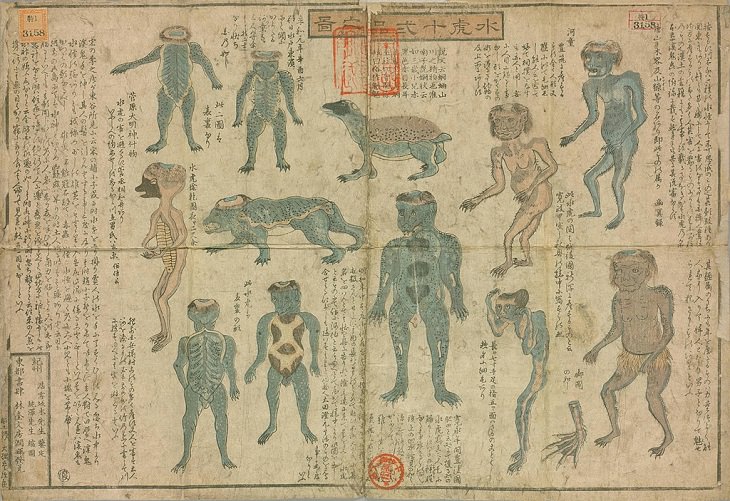 (By Juntaku, Wikimedia Commons)
Kappas are amphibious imps common to Japanese folk stories and are also believed to be a type of yokai demon, a class of supernatural monsters prevalent in Japanese folklore. The legends describe this creature as an endless trouble maker, with a humanoid appearance. Its has green skin and webbed hands and feet. It has a shell-like exoskeleton on its back, like a turtle, and a slight indent in its head, resembling a dish, that holds water which keeps the creature strong.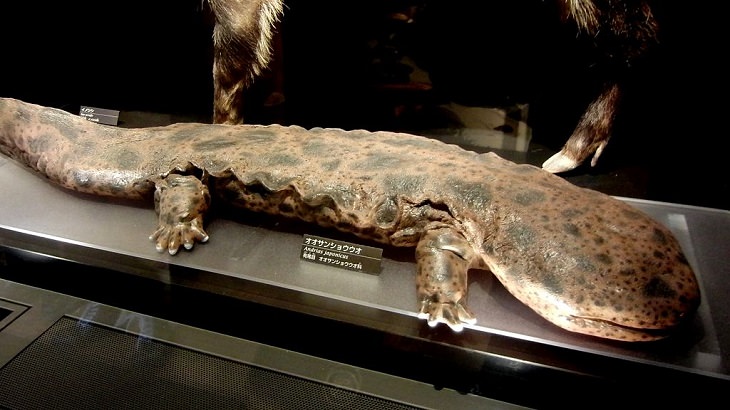 (By Momotarou2012, Wikimedia Commons)
Cucumbers are said to be their favorite meal, and though they primarily lived in water, Kappas would often come on land to steal food and wreak havoc. The appearance of kappas and their amphibious nature have led many to believe that the stories of these creatures have been derived from the Japanese Giant Salamander.

9. Mermaids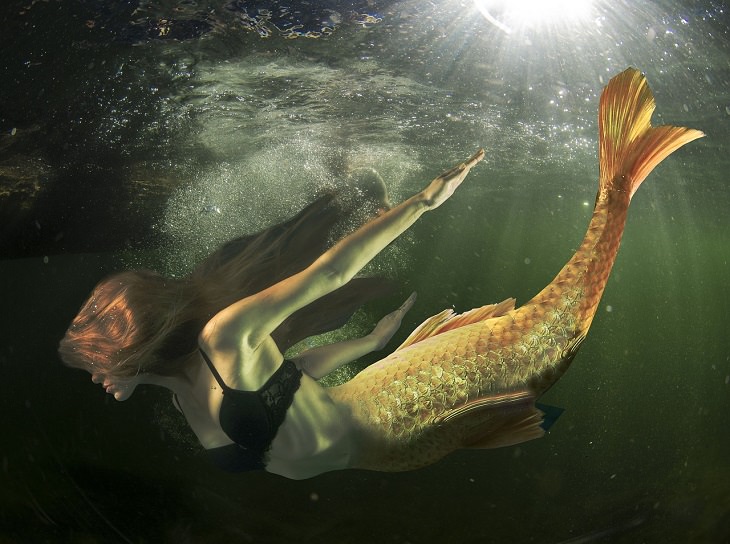 During his travels, Christopher Columbus reported seeing mermaids, three to be specific, rising up out of the water. He noted that they had manly features, as opposed to the beautiful creatures we had presumed them to be. Looking deeper into the discovery, it has been theorized that what the explorer may have seen were manatees, also known as sea cows.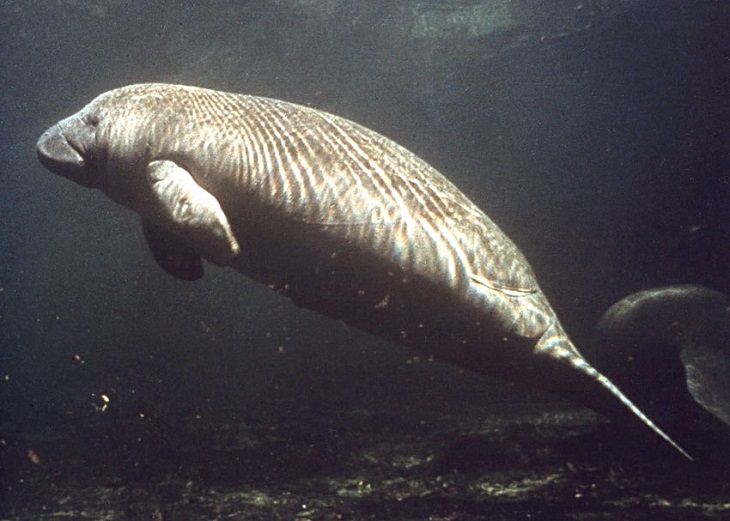 (By NASA, Wikimedia Commons)
Manatees have been known to use their tails to vertically rise from below the sea and tread water. That combined with their ability to hold objects and food comfortably, thanks to their jointed forelimbs, does create an almost human-like silhouette.
10. Mapinguari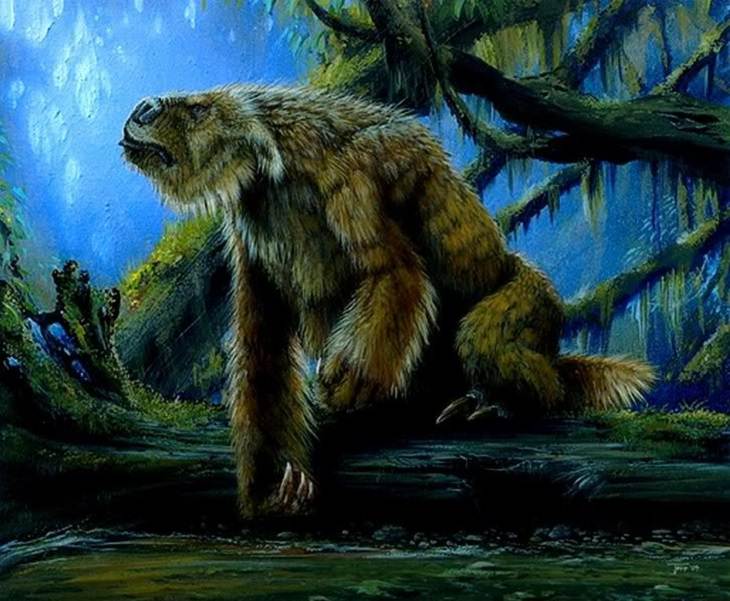 The Mapinguari is a horrid beast described in South American mythology, another creature originating from Brazilian folklore. In the mid-1930s, 100 cows in the locality were slaughtered, and the culprit was claimed by all to be Mapinguari.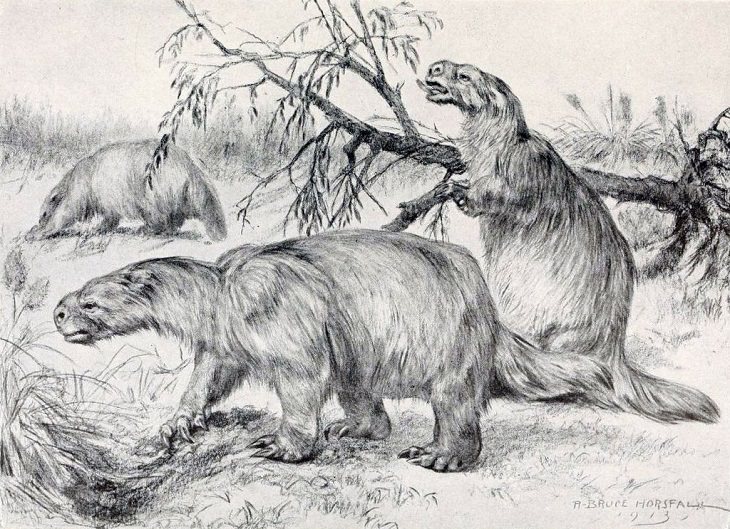 (By Robert Bruce Horsfall, Wikimedia Commons)
The creature was described as having tapered lizard-like skin, sharp, long claws, and a single eye. Looking into descriptions and artistic renderings of the beast, researchers have since concluded that the Mapinguari is likely a living close relative of prehistoric ground sloths, like mylodon or the megalonychid.
Related Articles:
7 of the USA's Most Haunted Houses
The 8 Most Perplexing Pirate Mysteries
The 10 Most Valuable Shipwrecks Ever Discovered