1. Belvedere Palace in 1945 and 2015
The magnificent Belvedere Palace, once the capital building of the Austrian Empire, is one of the major historical sights in Vienna. Unfortunately, part of this beautiful palace was destroyed during World War II.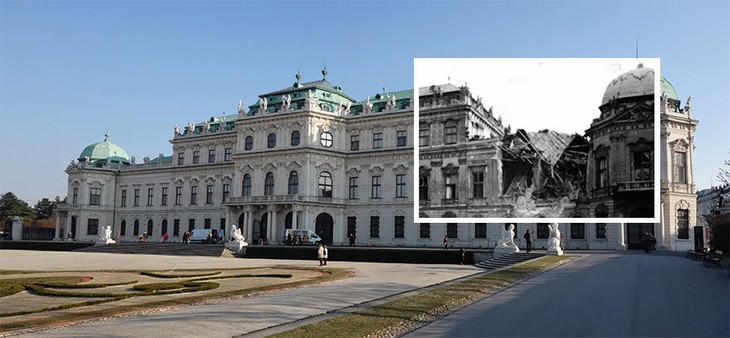 2. Gürtel Street in 1874 and 2015
On the right, you can see many new buildings and a busy street. Now it is one of the busiest streets of Vienna, in the 19th century there was a cemetery.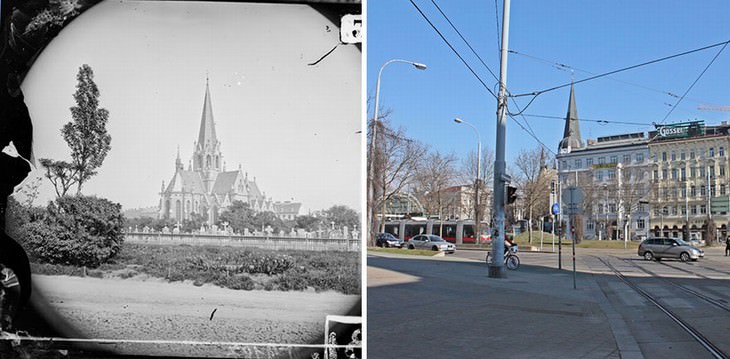 3. Stephansplatz in 1914 and 2018
Stephansplatz is the very heart of Vienna, both geographically and historically, with the incredible 12-century Medieval cathedral called Stephansdom (seen on the right) being the crown jewel of this historical part of the city. No wonder this is the most popular area among tourists.

4. Heldenplatz in 1880s and 2015
Ringstrasse is a circular street built around the historical area of the city in place of a previously-existing wall. Many of the most beautiful buildings were erected around this street since, as you can see below.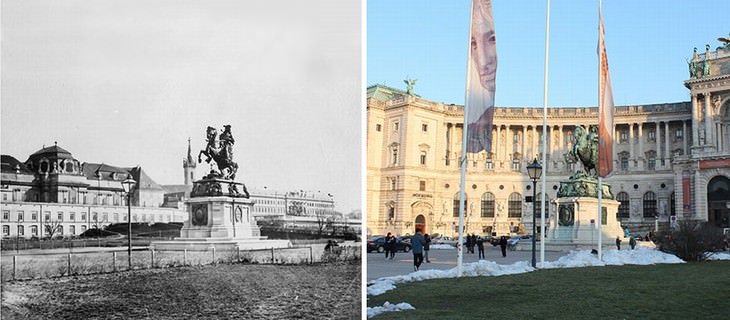 5. Graben in 1966 and 2018
Yet another tourist hotspot, Graben used to be an ordinary street, but it's a pedestrian area nowadays.

6. Mariahilfer Street in 1986 and 2015
Mariahilfer Street is the most famous shopping street in Vienna, with both tourists and locals alike walking up and down this street in search of the best buys. To enable a better shopping experience, the street was turned into a pedestrian area, with the previously existing tram being replaced by a subway.

7. Urania Building in 1930 and 2019
Urania is one of the many Art Nouveau style Viennese buildings, as the Austrian capital was also the city where the famous style was most popular. Today, the building is a public educational institute and observatory.

8. Along The Danube in 1980 and 2019
The Danube River used to cause annual floods in Vienna, so a second riverbed was built along the main river, which is exactly what you can see in the images below.

9. Neuer Markt in 1910 and 2018
Some street views hardly change throughout the years, and these photos are a great example of that, well, with the exception of all the advertisements seen in the early 20th-century photo.

10. Mariahilfer Street in 1900 and 2016
Yet another view of Mariahilfer Street, the famous shopping street in Vienna. It's funny how we can tell the age of the photo more by the people than by the actual buildings.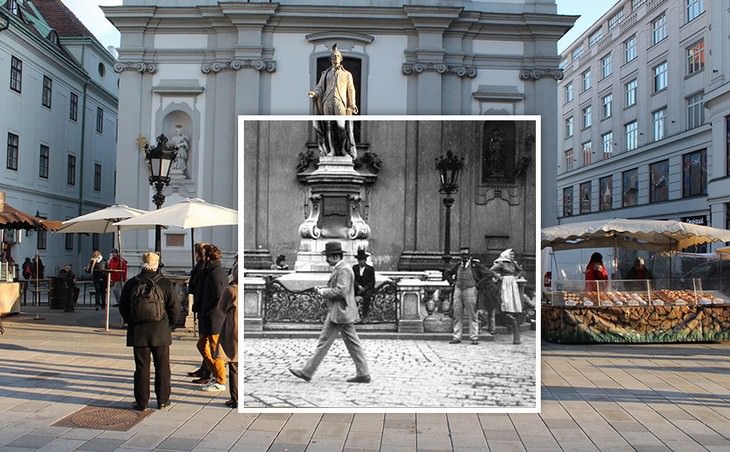 Bonus! A Video Featuring Vienna in the late 1920s and early 1930s