There is nothing more natural and intuitively beautiful than the human form. This is why the most recognized paintings in history are portraits, more often than not, think "the Mona Lisa", "the Girl with a Pearl Earring", "the Birth of Venus", and "the Kiss". Portraits capture one's attention like no other type of painting, if they're good, that is. And boy the portraits we're about to show you are good, so realistic and meticulously-detailed it seems like they're about to jump out of the screen and come to life.
These 16 images and live painting videos were created by Belarusian artist Daria Callie, who marries abstraction and realism together in a unique style that will simply leave you speechless. We feature only some of our favorite works in this article, but you can see more of Daria's works by visiting her Instagram or YouTube page.
1. Marzia
Press the arrow to your right to view more images.

This is how this painting was created. Please press on the "Play" button to start the video.
2. Untitled
The artist intentionally uses soft pastel colors that would complement the natural features of her subjects. This harmonious color scheme creates an atmosphere of serenity that soothes and calms the viewer.

Here is a Video Tutorial of this Beautiful Painting:
3. Bunny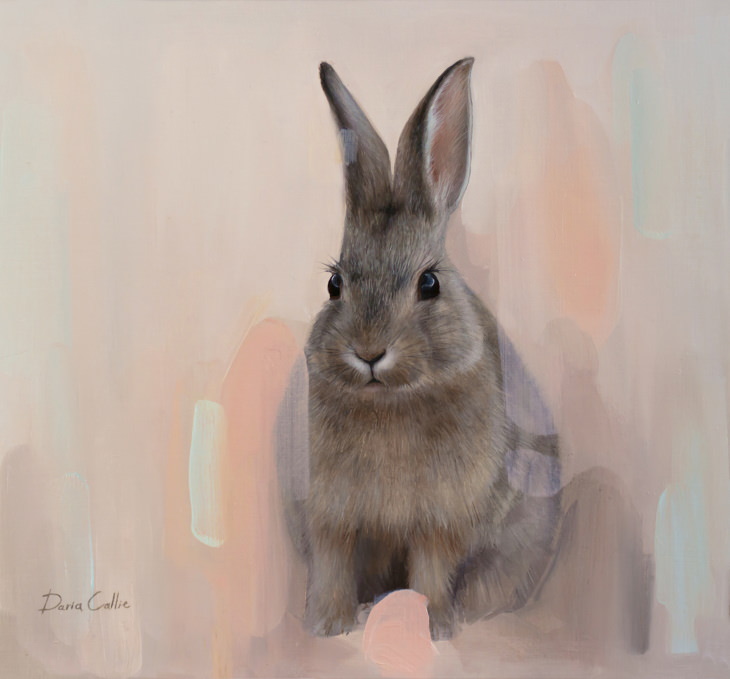 Press play to see a video of how this cute bunny was painted:
4. Untitled
As you can see in her video tutorials, the artist works primarily with oil paints off a glass palette. This technique allows her to superimpose colors in semi transparent layers, creating incredible dimension. You can see this layering technique in action in the painting and video below.

Here is a live video of the creation of this painting:
5. Rose Gold

Video Time Lapse of the Painting:
6. Cat
As you already saw above, Daria doesn't limit her works to human portraits, she sometimes creates incredibly realistic paintings of the cutest animals as well.

Video Time Lapse of the Painting:
7. Blurring the lines

A Video of the Painting Process:
8. Profile

Here is how this painting was created: