Summer is here and the heat is on, my friends! Now some may see this season and its unseasonably unpleasant weather as a nightmare, but I see it as a challenge and a call to adventure. There are a lot of great ways to handle the rising temperatures, like making refreshingly cool frozen cocktails from fresh fruits or making Aloe Vera ice cubes to keep your skin healthy, among many other hacks to manage the summer.
If you ask me, however, summer is the best opportunity (and excuse) to pick up the phone, gather the rest of your sweating friends and family and make a trip to the nearest water park! There is no better time than right now and to help you get started with your planning, we've gathered a list of the 10 best Water Parks all across America.
1. Six Flags Hurricane Harbor, Jackson, New Jersey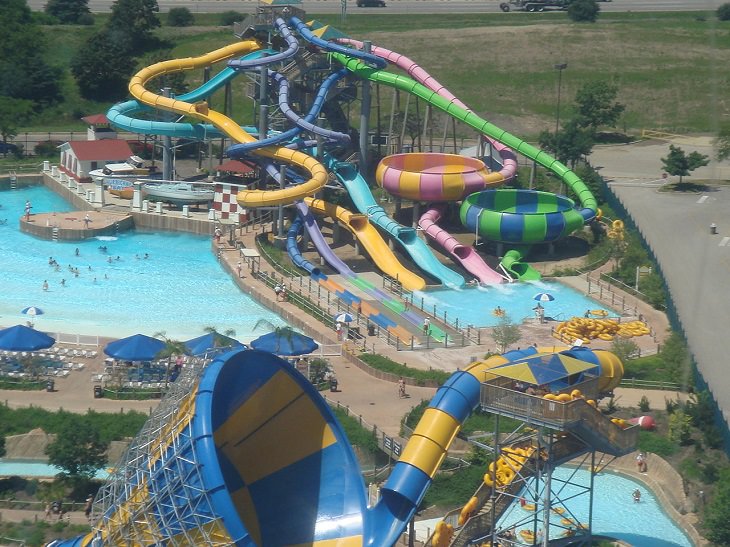 (By Flickr, Wikimedia Commons)
Let's start off on the east coast. This park is a part of the amusement park giant Six Flags group. In 1997, it was opened under the name Paradise Island, and over the next decade, was moderately successful. In 2007, the park was completely renovated, re-branded and reopened under the name Hurricane Harbor.
This park offers a scenic view while moving along the lazy river, in Taak It Eez Ee Creek, multiple mini pools in the Discovery Bay, and even a 696,000-gallon wave pool. The Big Wave Racer is a great ride to enjoy with a group, and for the thrill-seekers, there are roller coasters like Geronimo Falls that come with 70-foot drops.
This amusement park is centrally located and can be reached by road from New York, New Jersey, and Philadelphia. It Is only approximately 60 miles away from both Philadelphia International Airport and Newark Liberty International Airport.
There are also numerous great hotels, about 15-25 miles from the water park, some of which are pet-friendly and others that offer numerous amenities like swimming pools and fitness centers.
Tickets are approximately $40 a head, though season passes and monthly memberships are also available.
2. Splish Splash, Calverton, New York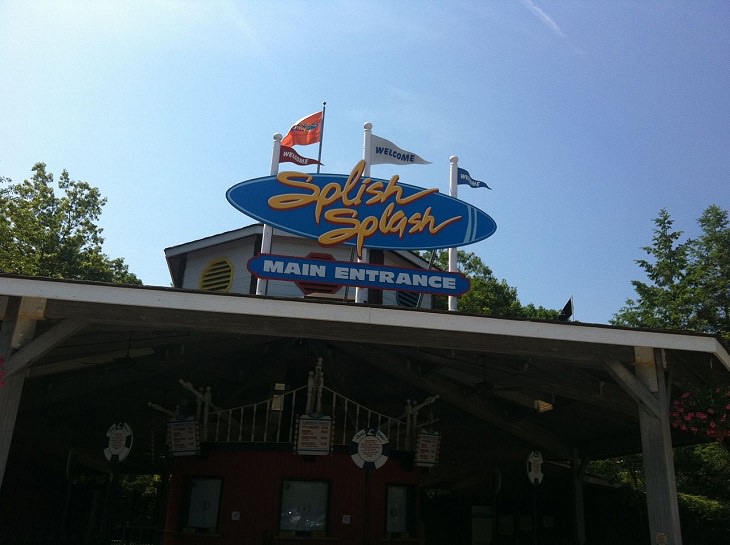 (By Railroadwiki, Wikimedia Commons)
Heading up north from New Jersey, and a further 60 miles north from New York City, you'll find another water park giant.
Splish Splash stretches across 96 acres and is jam-packed with water slides, water cannons, an interactive shipwreck attraction called Monsoon Lagoon, and over 30 different rides.
This park also has a few great rides to get the heart pumping like RipTide Racer for some fast-moving slides and a Giant Twister, which is a coaster that rolls you through the treetops.
It's an easy journey from Nassau County, New York City or the Hamptons. You can also take a shuttle straight to the water park from a variety of places in the state of New York, courtesy of the Long Island Rail Road (LIRR).
There is both a Hilton Hotel and a Holiday Inn located only 2 miles away from the water park, making good accommodation easy to find.
Tickets to this watery adventure cost only about $45 per head, and they offer great family discounts and payment plans.
3. Cedar Point Shores, Sandusky, Ohio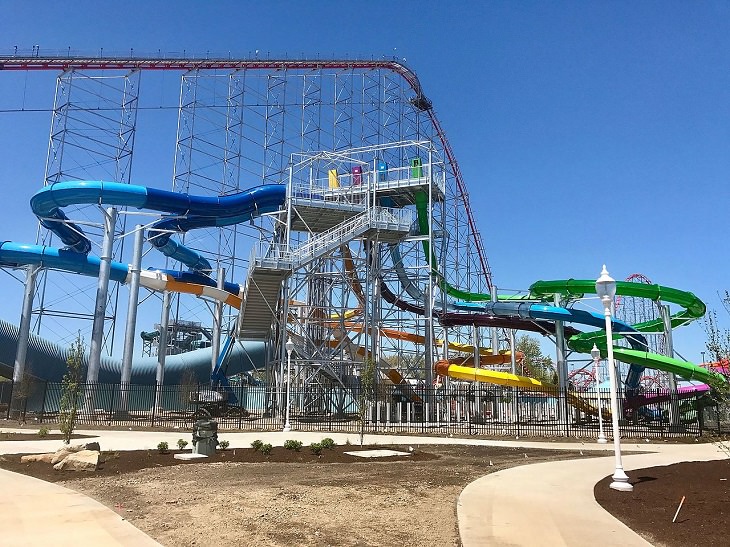 (By Gregory Varnum , Wikimedia Commons)
Let's skip two states over and head into Ohio, the home of the Rock and Roll Hall of Fame and this super-fun water park.
Cedar Point Shores is the real deal for battling the heat, as it is located right on the shores of the stunning Lake Eerie. The Park stretches across the mile-long beach, and beyond, spanning over 18 acres.
Cedar Point Shores has around 15 different slides, including the Point Plummet, which is a six-story aqua drop body slide. There is also a similar slide built for people to make the plunge in pairs. This park is also home to a 500,000-gallon wave pool, with multiple cabanas set up on all sides, which can be upgraded to offer free wi-fi, charging ports, televisions and refreshment services, so you can enjoy the park in luxury.
Most of the hotels located close to the entrance of the water park are budget-friendly and family friendly.
Ticket prices are about $40 per person, and discounts can be availed if you book your tickets online early on. Fast Lane tickets may also be purchased for an additional price so you can skip those dreaded lines.
(Planning a trip abroad? Click here to know the wildest Amusement Parks in Europe.)
4. Dollywood's Splash Country, Pigeon Forge, Tennessee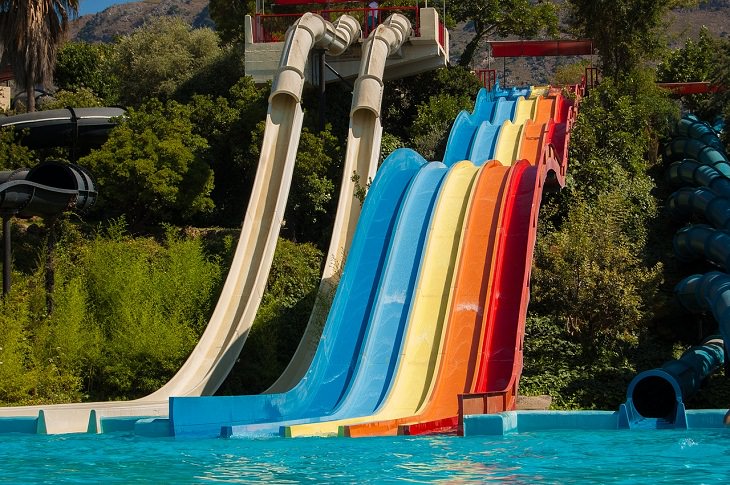 Time for a trip to Dollywood! Country fans, sing it with me! Right in between the Smoky Mountains of Tennessee lies Dollywood, the resort and amusement park of the world-famous sensational singer, Dolly Parton, first opened in 2001.
Pigeon Forge is a small mountain town that is a little isolated, but nonetheless extremely easily accessible by road from anywhere in the state. The closest airport to the park is McGhee-Tyson Airport in Knoxville, Tennessee, which is a domestic airport, so out of country visitors can drive in from Nashville or Memphis international airports.
This may seem a little out of the way to go for a water park, but with a 25,000 square foot wave pool, one might say it's worth it!
For the younger kids, Little Creek Falls is non-stop fun in the water, while bigger kids can take a trip down Fire Tower Falls, the fastest and tallest slide in the park. The Slick Rock Racer can get the competitor in you running as you race down one of the many lanes of slides against your friends.
There are many options for accommodation available in Dollywood itself. There is also another hotel located only two miles away from Dollywood called Country Cascades Waterpark Resort, which comes with its very own water park. So you can have twice the fun!
Family and group tickets can be purchased at a discounted price, with a single adult ticket costing about $50.
(Dollywood has got the right idea! Here are some other fantastic theme parks you can find all across the planet!)
5. Noah's Ark Waterpark, Wisconsin Dells, Wisconsin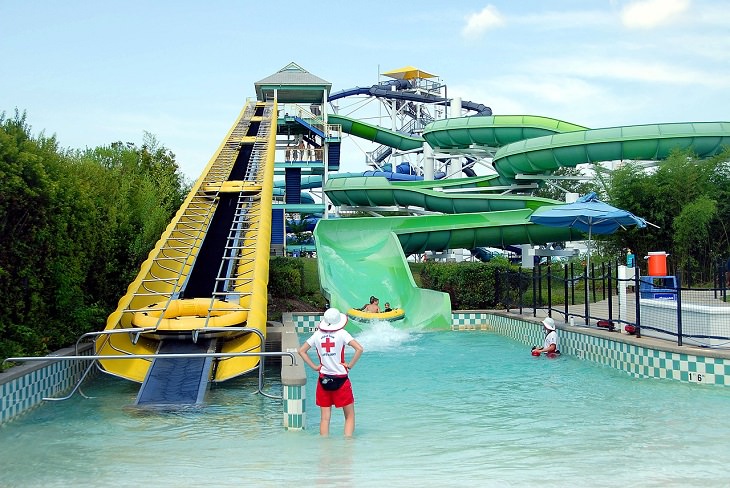 Welcome to the largest water park in America, affectionately nicknamed "the Waterpark Capital of the World. It is the ultimate tourist destination of Wisconsin Dells, right on the banks of Lake Delton and has been bringing people in from all over the country for 4 decades.
Spanning across 70 acres of land, Noah's Ark has over 80 different activities, rides, slides, and games that the whole family can enjoy and also holds multiple special events throughout the summer. They recently had an event in celebration of Father's Day, where fathers were given an opportunity to showcase their belly-flop skills for the chance to take home some great prizes.
Fun family gimmicks aside, this water park is extremely versatile and also offers other activities, beyond the 51 different water slides and 2 wave pools, that can be enjoyed by all ages, like Safari Adventure Mini Golf, an attraction that reopened in 2019.
There are about 6 hotels, largely affordable and accommodating in the immediate area of the water park. If your preference is something more upscale, you may have to travel a little further in Wisconsin Dells, and further from the park.
Daily tickets to this park are about $35, but they also offer great discounts for purchases of 4 tickets as well as combo passes that are inclusive of food, parking, and other chargeable amenities.
6. Wet 'N' Wild Splashtown, Houston, Texas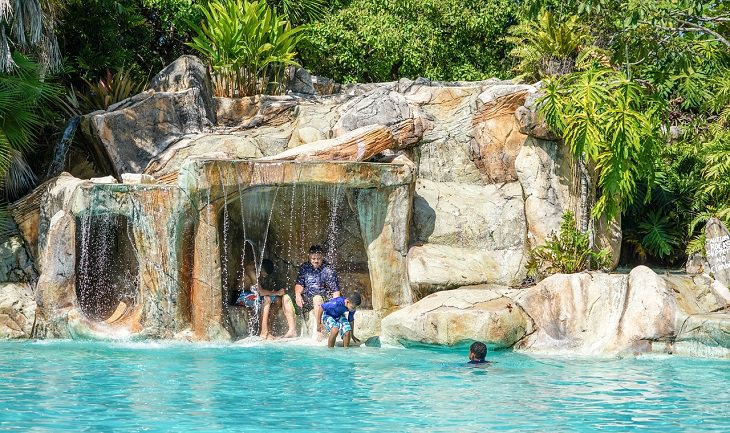 This is another veteran water park that has been around since the 80's, and is the ideal destination for those days when the heat is just cranking up. In fact, this water park is revered as a tropical destination for frolicking in the water.
Its Blue Lagoon Activity Pool has been built and customized with families in mind, and comes complete, with swings and stairs amidst the water, mild pressure geysers, a diving rock, miniature versions of the bigger slides in the parks for smaller kids to enjoy and even a stunning waterfall. This park also features lanes of slides for racing each other in the Runaway Rapids, and has an interactive adventure that allows you to journey into the mysterious Treehouse Island.
If excitement is your game, do not fret. Just take a whirl at the Alien Chase, a 60-foot two-person tunneling tube ride that shoots you into a "flying saucer". The flagship attraction is the Texas Freefall, which, as the name suggests is a massive slide that sends you down in a freefall.
Houston is an easily accessible city by road wherever you are coming from in the country. If you're flying in, the best place to land would be George Bush Intercontinental Airport, which also offers tickets for use of a shuttle service that can take you directly to Wet 'N' Wild Splashtown. There are both budget-friendly and luxury hotels located within a 2-mile radius of the park.
Single tickets are available at around $45, but if you're a frequent visitor, the annual pass only costs around $65.
7. Wet 'N' Wild, Phoenix, Arizona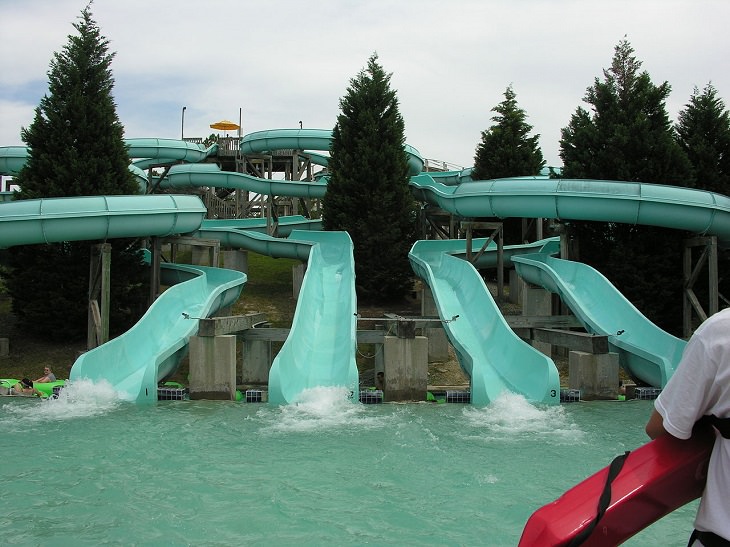 (By Christine Schmidt, Wikimedia Commons)
Moving further west across the map, here we are in Phoenix.
Normally, if I were to make a trip down to Arizona, my first instinct would be to see the Grand Canyon. But when the sun is bearing down on you, trying as much as it can to fry you, this wonder of the world should be left for another day.
Yet another chain in the Wet 'N' Wild franchises found all across the country, this 35 acres amusement park is a wonder on its own during the summer.
This park has a dedicated portion of the amusement park for younger children, called Wet 'N' Wild Jr., where many of the parks more adventurous (and bigger) rides have been built a second time, at a more kid-friendly size, so no one is ever missing out on any fun.
Some of the bigger rides include Maximum Velocity which is a racing attraction featuring lanes of tiles, and Tornado, during which you are literally flung into the center of a storm.
There are multiple hotels with a variety of price ranges available between 10 to 5 miles from the water park. The good part is, the park is easily accessible throughout the state, from Flagstaff, Phoenix, and Scottsdale, as well as from California by road. The park can also be reached quite quickly from Sky Harbor International Airport, Phoenix.
Tickets for this fun park start at $35 a piece.

(If you prefer the natural beauty this world has to offer on your trips, you should check out these beautiful National Parks spread across the United States.)
8. Knott's Soak City USA, Buena Park, CA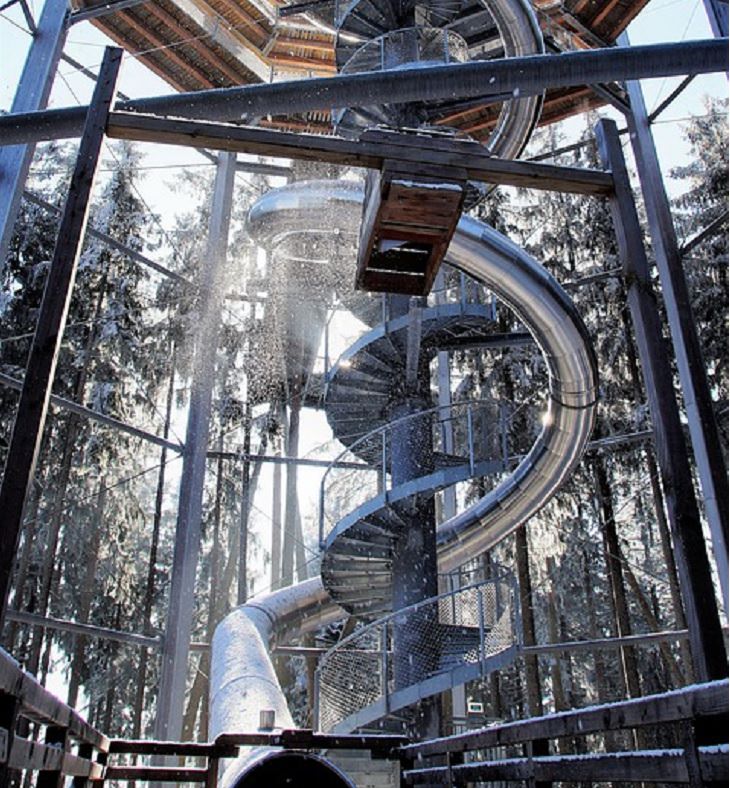 Here we are at last on the west coast, this state of pure heat, even in the winters! So if ever there was a state that needed a water park (or 20), this is it.
Knott's Soak City, as the name would suggest, is affiliated with Knott's Berry Farm, another California attraction, and was first opened in 1999, making it half the age of some of these veteran parks, like Noah's Ark.
Knott's Soak City also has an interactive kids play area, the customary gigantic wave pool and lazy river, and the coup-de-grace, 22 exciting and unique water slides, for the adventurer and the free-faller in you to enjoy.
The Banzai Falls is one heck of a fall, and the Old Man Falls is a fun slide that shoots you straight into the pool almost like a bullet. When you're in between rides, you can always catch your breath at one of the many cabanas available for rent and rest.
This park can be reached by road from many major Californian cities like Long Beach, LA, and Anaheim. However, there are also Karmel Shuttles that can take you to the park from the two closest airports, the John Wayne/Orange County Airport and the Los Angeles International Airport, which are respectively 20 and 30 minutes away from the park.
Alternatively, the Metrolink train is also a great option because the Buena Park Metrolink station is only a few minutes away from the entrance to Knott's Soak City.
Knott's Berry Farm, naturally, offers its own accommodation, with a themed section dedicated to Snoopy (the cartoon dog) and many other fun attractions on its own. However, if you're looking for something with a bit more luxury, there is both a Radisson Hotel and Courtyard Marriott located extremely close to the park as well.
At $50 per person, the tickets for this fun attraction are on the slightly pricey, but still very affordable side.