Though Indonesian wedding traditions and wedding attire admittedly vary greatly from island to island, in general, the Indonesian wedding dress can be summed up by one word - rich. You will often see both the bride and the groom wearing an abundance of intricately-embroidered gowns in bright colors, heavy gold jewelry, and even gold crowns.
2. Mongolia
Traditionally, both the groom and bride in Mongolia wear a wide padded dress with embroidered patterns and detailing called a deel that was worn by nomadic tribes in Central Asia for centuries. Apart from that, the bride wears a special headdress that is seamlessly combined her hairstyle you can see below.
3. Gora Region
Brides from this region in Europe located in the mountains of Kosovo, Albania, and Macedonia have a unique tradition to paint their faces and decorate it with sequins. This tradition is believed to guarantee a good look and ward off evil spirits.
4. Japan
Japanese brides are some of the few that wore pure white wedding gowns traditionally, which symbolizes purity and innocence. The groom, on the other hand, would wear a black kimono. After the formal ceremony, the bride would usually change into a red kimono that symbolizes good luck.
5. Romania
In a customary Romanian wedding from the Oas region in Transylvania brides wear tall headpieces embroidered with beads, an abundance of necklaces and a short poofy white dress with black and red detailing. This clothing is supposed to bring wealth, luck and also wards off evil spirits.
6. Poland
In the Lowicz region in Poland, the bride is supposed to wear a wreath decorated heavily with flowers, with each kind of flower having its own symbolic meaning.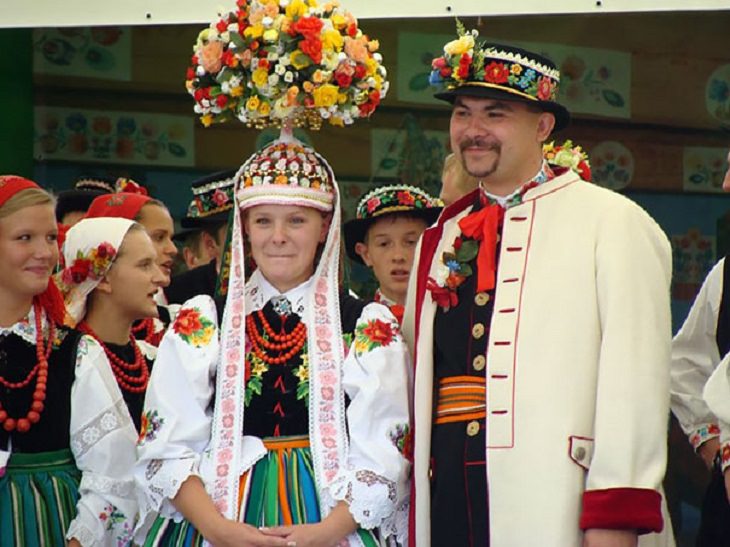 7. Kinnaur
The Kinnaur region in northern India is famous for the marriage tradition of heavy silver jewelry completely covering the bride's face and shoulders, and Buddhist charms complementing this already heavy accessory during the traditional ceremony.
8. South Africa
Brides in South Africa usually wear dresses in bright, vibrant colors and a special hat called an inkehli. Common accessories include colorful necklaces and earrings made of beads.
9. Hutsuls
Hutsuls are a nationality that lives in the Carpathian mountains of Ukraine. Much like the South African wedding dress, Hutsul wedding attire features a lot of accessories made of colorful beads and decorations, as well as embroidered clothing.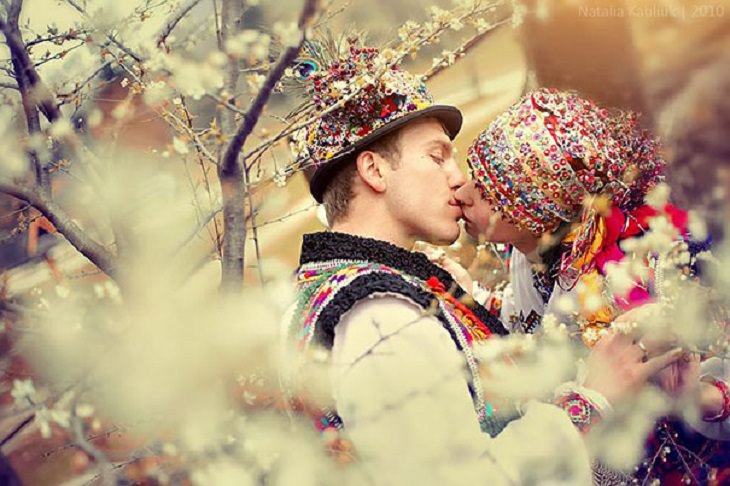 10. Norway
According to Norwegian customs, the engaged couple wears a wedding garb called a bunad on their wedding day. This clothing is complemented by silver charms that, you guessed it, help ward off evil spirits. But this clothing isn't only worn on the wedding day, it's the required "dress code" for other traditional celebrations as well.
11. Turkmenistan
It's customary for the bride to cover her whole body with a thick colorful embroidered blanket in Turkmenistan. The dress itself (if anyone will get to see it) is made of homemade red silk and silver detailing, and the bride also wears heavy silver hand jewelry decorated with colorful precious stones.
12. India
One of the most complex wedding ceremony and preparations come from India, where the bride isn't only supposed to wear a special traditional wedding sari and intricate face jewelry, but they also adorn their hands with temporary henna tattoos called mehendi.
13. Ethiopia
The bride and groom in an Ethiopian wedding wear velvet capes and crowns embroidered with gold, which gives the couple a very royal appearance, we must point out. The velvet attire usually has a deep burgundy, purple or even black hue.
14. China
Chinese couples traditionally wear a qipao, a traditional red embroidered dress made of silk. It symbolizes good fortune, wealth and luck.
15. Kazakhstan
Last, but not least, if you were to go to a traditional wedding in Kazakhstan, you would likely see the bride wearing a cone-shaped headpiece with a veil on top that really reminds us of the fairy godmothers from Disney cartoons. However, it's a traditional head accessory called a saukele, and it's a symbol of togetherness and new beginnings.