What's the best spring-roll around? For me, the contest is moot. Vietnamese fried spring rolls (Cha Gio) are the perfect blend of everything that's good about any other type of spring roll.
Unlike their Chinese counterparts, which are wrapped in blintzes-like sheets of flour, Cha Gio are wrapped in rice flour, which gives them a glassy, crunchy texture when fried that breaks apart easily when bit into, revealing a sumptuous filling of pork, shrimp and crab meat. The accompanying dipping sauce breathes life into the roll, and the vegetables give the whole thing a freshness that truly makes it deserving of the name "spring roll".
The best way to serve Cha Gio is to arrange the lettuce and herbs around the rolls in a little bazaar. For a perfect bite, place the roll on a lettuce leaf, add your choice of herbs and wrap the lettuce around the roll. Dip into the sauce and bon appetit (or Chúc ngon miệng)!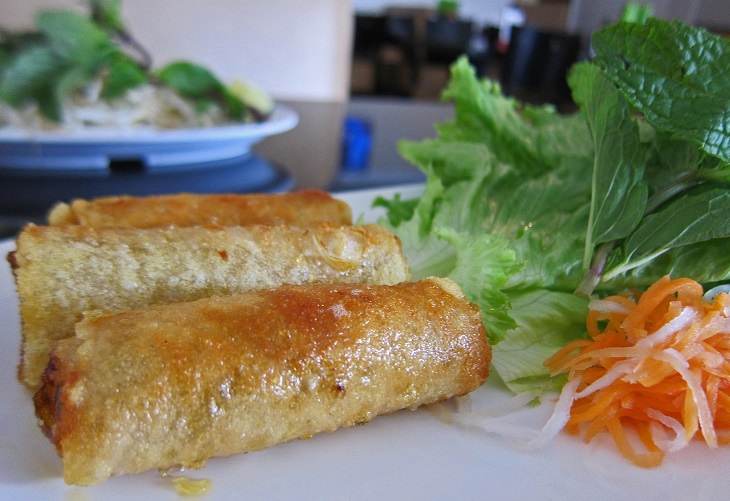 Ingredients:
Side
Lettuce leaves
Thai chili peppers, chopped into thin rings
Cilantro
Mint leaves
Basil
Nuoc cham (dipping sauce)
½ cup (120ml) of hot water
3 tbsps. sugar
3 tbsps. lime juice
2-3 tbsps. fish sauce
1 clove garlic, minced
1 small Thai chili pepper, minced
Dissolve sugar in water, then add the rest of the ingredients and stir.
The rolls
6 oz. (170 g) ground pork
2 oz. (60 g) shrimp, minced
1 oz. (30 g) crab meat, chopped
1 oz. (30 g) glass noodles, soaked in warm water until soft and then chopped
3 oz. (90 g) carrot, shredded
1 clove garlic, minced
1 small shallot, minced
Salt and black pepper to taste
1 beaten egg
Vietnamese rice sheets
Instructions:
1. In a bowl, mix the filling ingredients and add the egg. Knead until you get a sticky mush.
2. To prepare the rice sheets for wrapping, lightly touch them with hands or a clean cloth that were dipped in warm water.
3. Place a heaping tablespoon of the filling mix along one end of the rice paper sheet and roll towards the other end. At the halfway point, fold the edges inward and then continue rolling.
4. Heat oil in frying pan and gently place the rolls inside, space them out as the sheets are initially sticky (when they "crystallize" you can move them closer to create more space on the pan, as they will lose the stickiness), fry until golden-brown. Soak excess oil with paper towels.