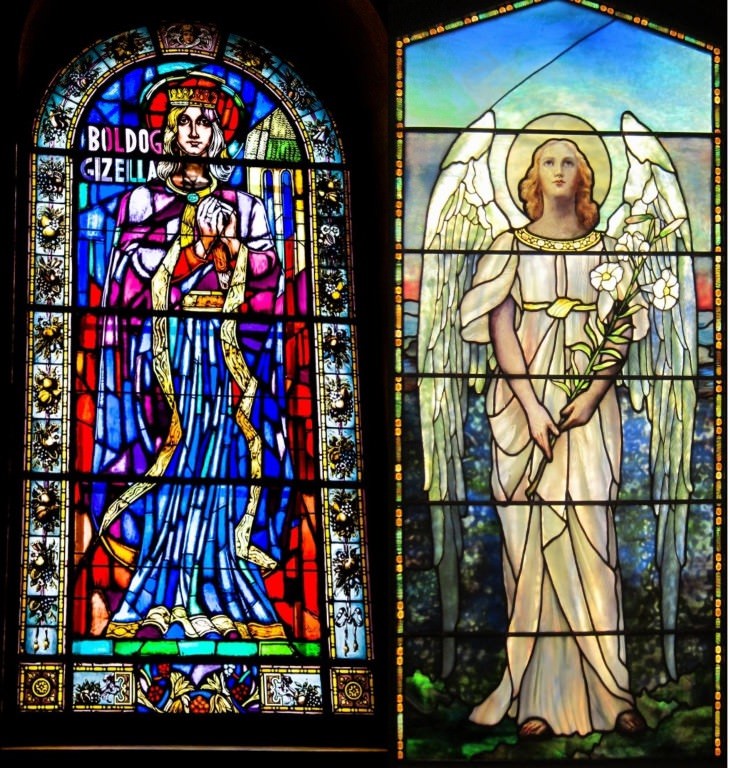 Louis Comfort Tiffany was born in New York City on February 18, 1848. And if his last name rings a bell, it's because his father, Charles Lewis Tiffany was the founder of Tiffany and Company, the world-famous American jewelry brand.
Madonna of the Flowers, Sarah Guild Memorial Window (1899) Arlington Street Church, Boston, Massachusetts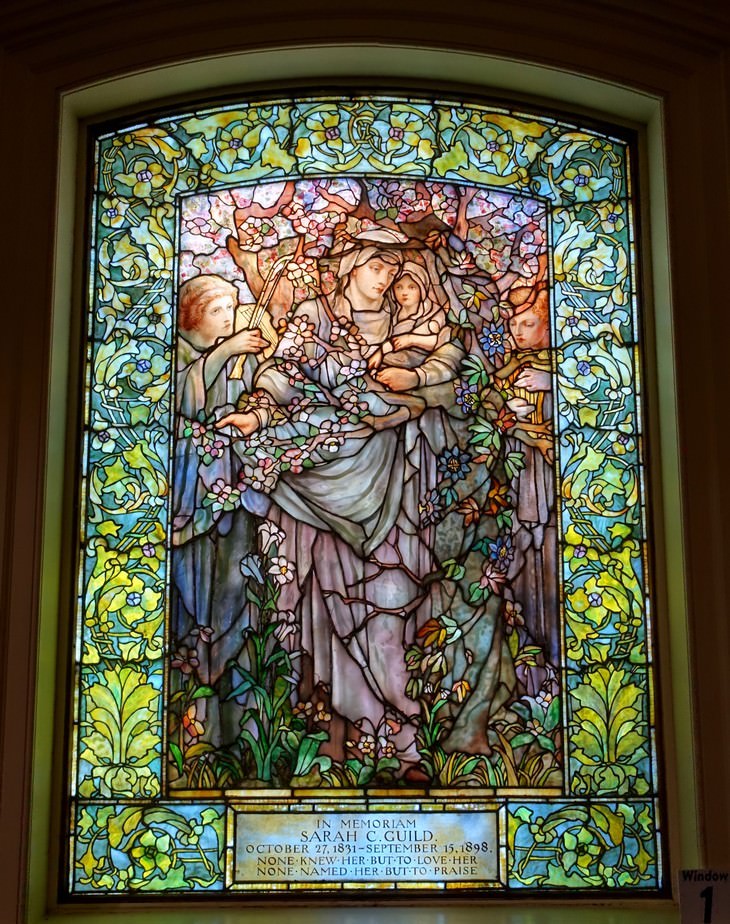 Louis was an exceptionally talented child, he began painting very early on, and after getting an education in the United States, he continued studying art in Europe, which is where he gained his individual style and continuously drew inspiration from.
Garden Landscape, Mural and Mosaic (1905–15)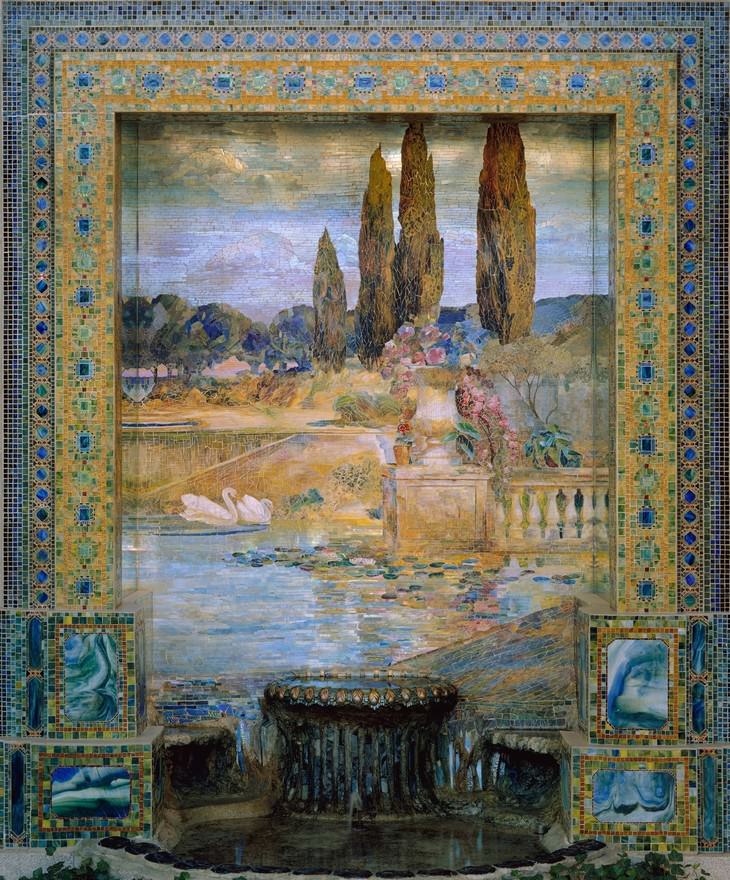 In 1879, after working at several stained glass workshops in Brooklyn, Louis decides to open his own business. With so much talent and his father's connections, his business thrives, and very soon, Tiffany started taking orders for many New York churches and private clients.
From the Collection of The Charles Hosmer Morse Museum of American Art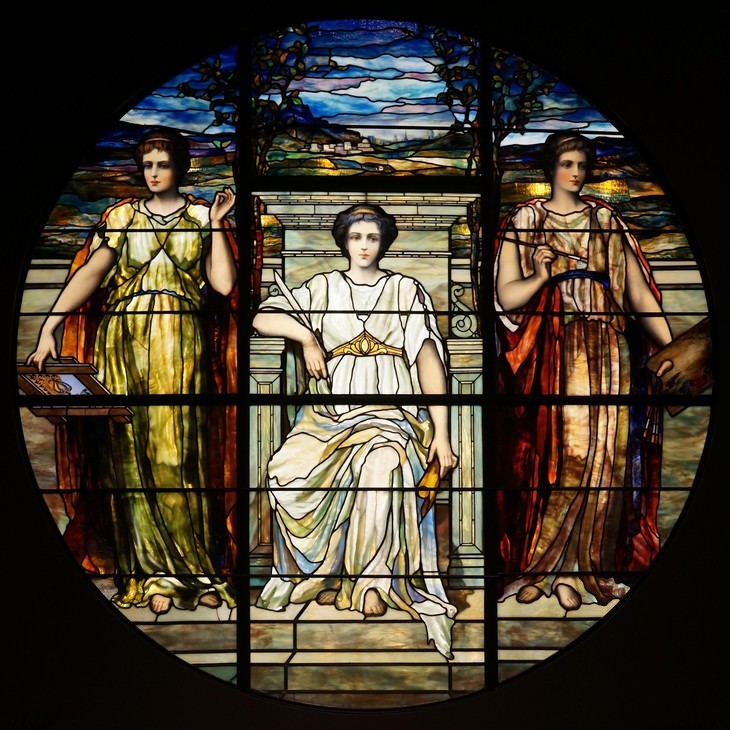 In 1881, Tiffany designed the interior of Mark Twain's home in Hartford, Connecticut, and only a year later, he was commissioned to redesign the interior of the White House.
Tiffany's artistic reach was not limited to stained glass windows and large interior decorations, he is also known for his impeccable lamp designs, vases and glasses, and other small decor items.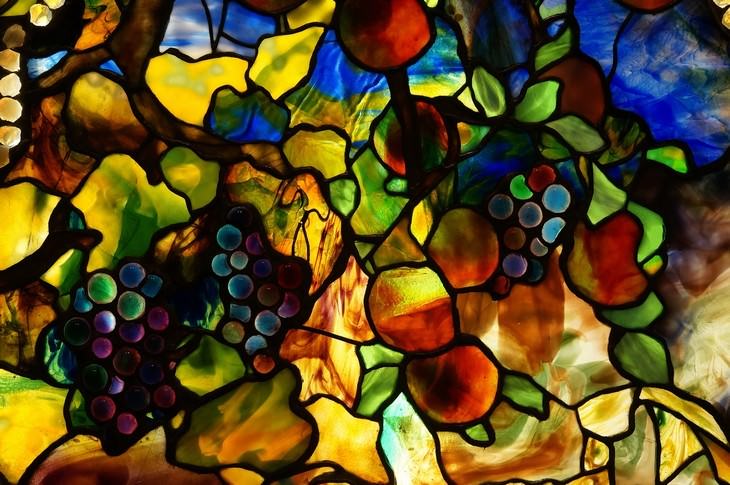 A Close-Up View
The decision to produce small and more affordable items for the home wasn't only a very wise business decision, but also the artist's conviction that everyone deserves to have beautiful, inspiring things in their home.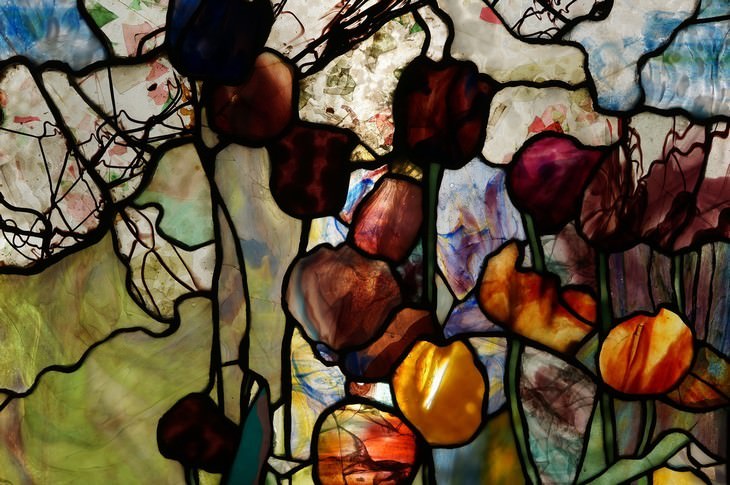 A Close-Up View
As for the artist's style, it is quite obviously inspired by the art deco movement in Europe, and one can easily draw a similarity between Tiffany, Gustav Klimt and Alphonse Mucha (the link will take you to an article about the artist).
In his works, Tiffany tried to emulate nature, as can be seen from the beautiful window design below.
Autumn Landscape (1923-24)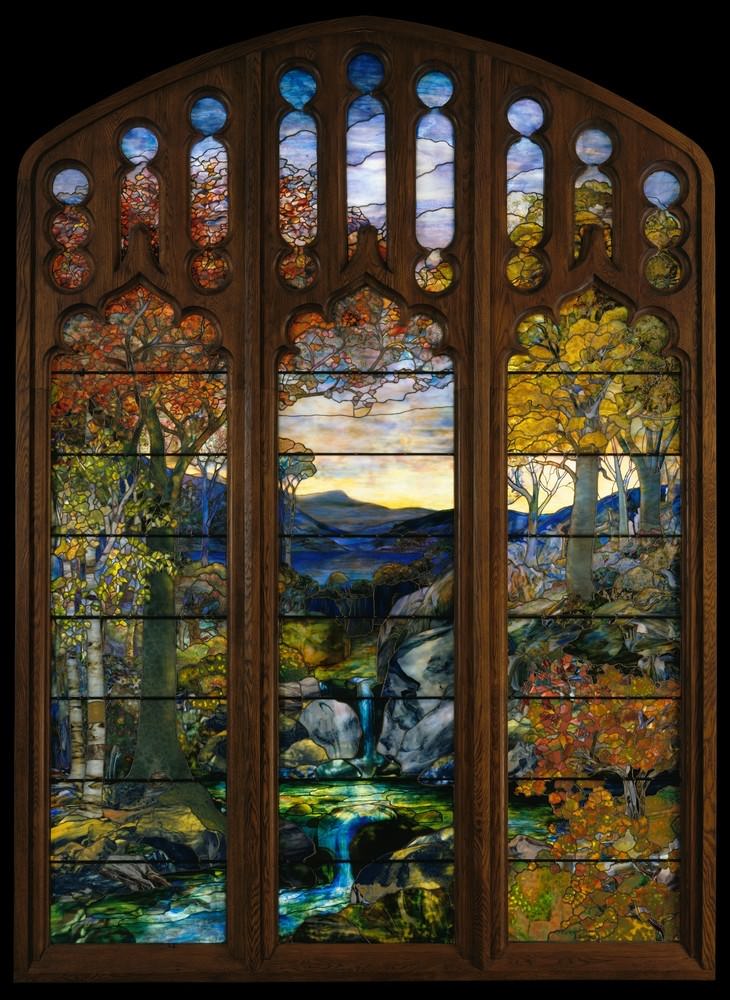 In fact, he had a sizeable garden in his own home and catalogued entire books full of flower and plant samples, from which he and his co-workers drew inspiration. Tiffany believed that nature has the most perfect and aesthetically-pleasing shapes and colors, and he transferred that natural beauty into his own works.
Stained Glass at the Chicago Cultural Center (1893)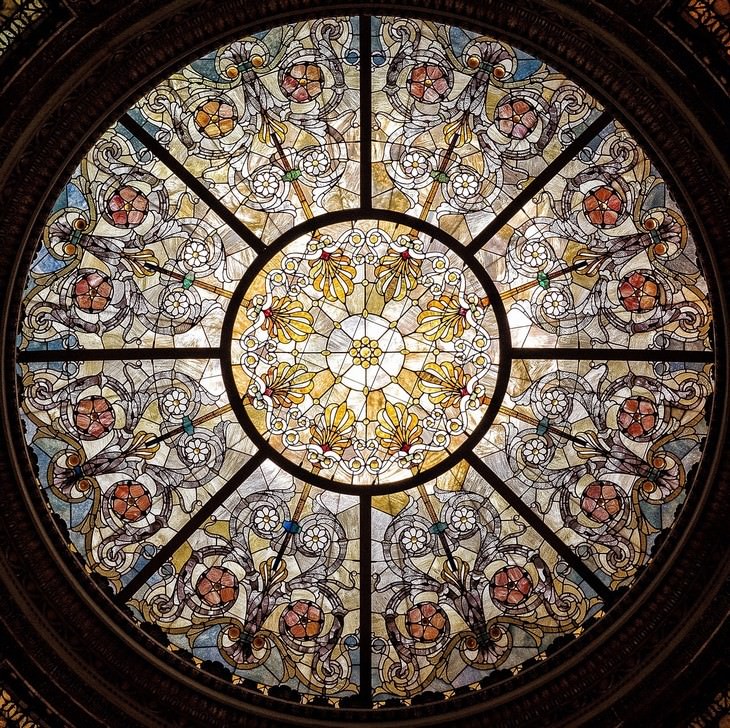 Even his lamp designs and home decor items repeat many natural forms, especially plants and flowers, both in shape and ornamentation.
Left: Leaded Favrile Glass & Bronze Lamp (1904-15); Right: Favrile Glass Vase (1899)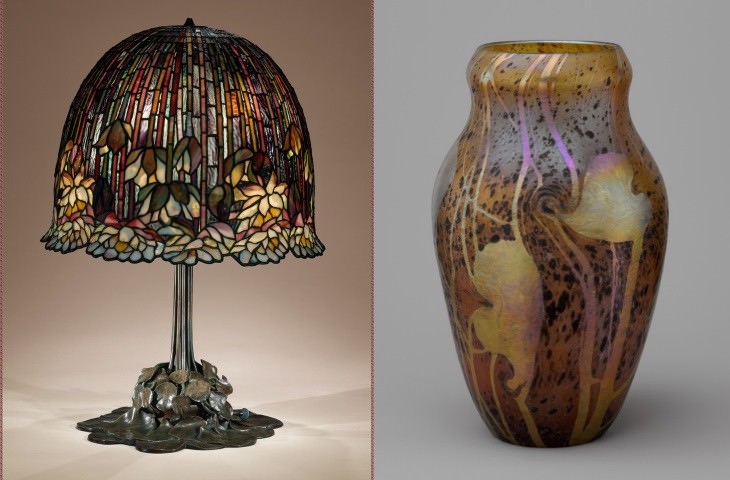 As we've mentioned, many of his works are very reminiscent of art deco paintings, but the addition of pearl and translucent elements add a very light and elegant feel to the masterpiece, which can be lacking in murals and paintings.
Feeding the Flamingoes Leaded-Glass Window (1892)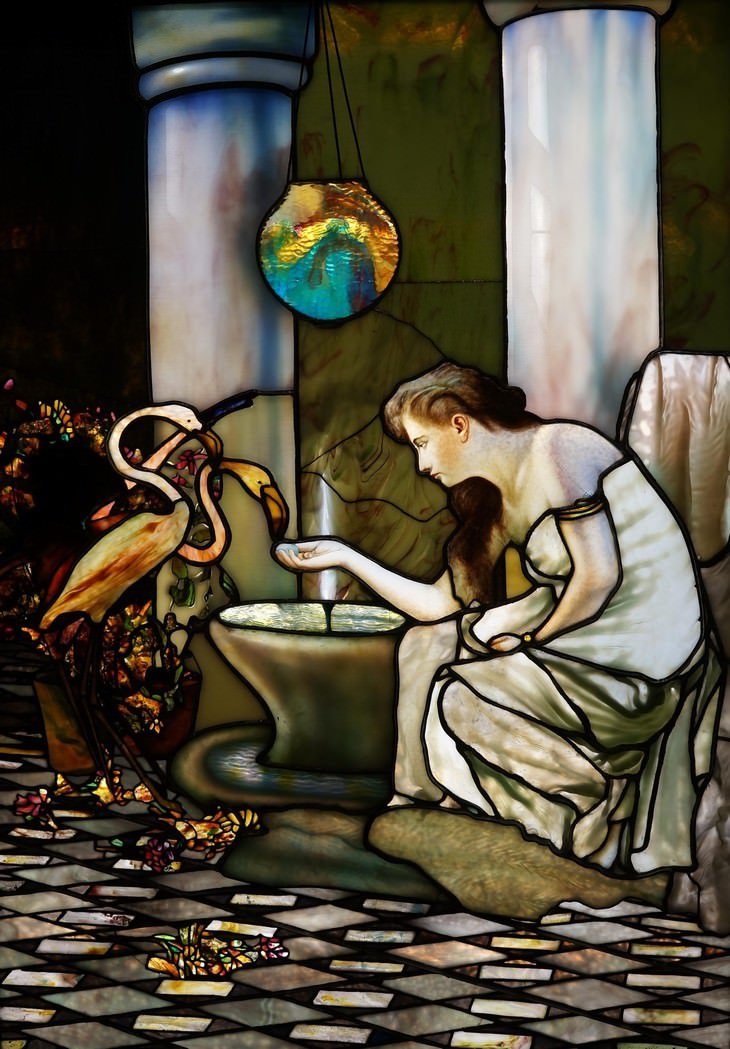 Below you can see a part of the enormous stained glass window Tiffany executed for the Chittenden Hall at Yale University. This is considered one of the masterpieces of the author.
Today, Tiffany is remembered as a distinguished artist, whose works contributed to a countless extent to the art of stained-glass making and elevated its status once more.
Education, Yale University (1890)