While vinyl siding can keep your house looking new for years, it can start to look dingy after some time. However, despite what you may think, you don't need to hire a pro or rent a power wash to clean your home's exterior. Vicki and Steph Kubiak, from MotherDaughterProjects, say "Sometimes the solution to a problem is the simplest and least expensive. Cleaning vinyl house siding can be accomplished with nothing more than a long-handled scrub brush, good-quality cleaner, a garden hose, and a little elbow grease." Unsure how to go about it? The video above explains.
2. Repaint the front door and update exterior accents
Updating your front door can boost the curb appeal of your home. Home design expert Marty Basjer suggests you "choose a bold accent color that works well with the rest of the exterior, but also stands out from it, to give the door a bit of a spotlight." For an even easier project, he suggests you, "change out your house numbers and possibly your mailbox,"
3. Apply removable wallpaper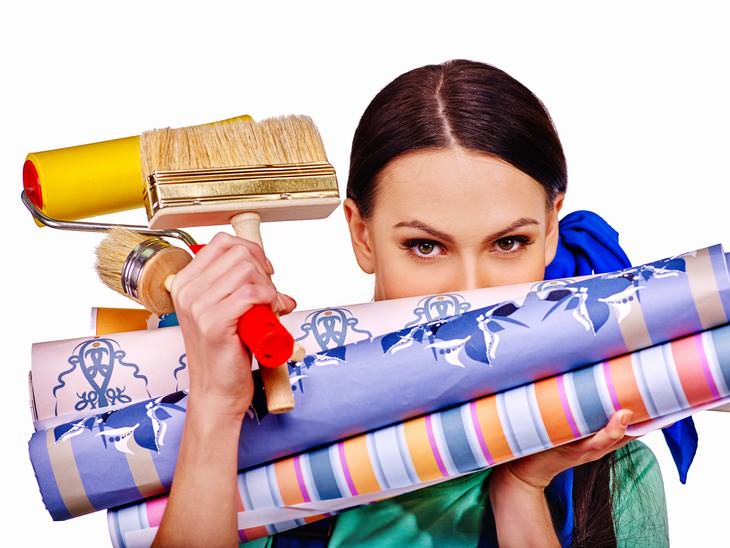 The very word 'wallpaper' might make you cringe, especially if you have attempted to install wallpaper yourself in the past. Founder of removable wallpaper company Chasing Paper, Elizabeth Rees says, "Removable wallpaper is a stylish and affordable way to update your space with minimal investment. Moreover, it's a really easy way to add color or pattern to your space with little commitment." She also recommends sprucing up the front of your stair steps with removable wallpaper. Simply cut strips to size and apply.
4. Paint your walls
If you prefer paint to wallpaper, you may be surprised to realize just how easy it is to paint a room yourself. The downfall is that you have to take your time to reap quality results. The key starts in preparation and that will make the job and cleanup much easier. Skip Bedell, home improvement expert from Home Depot says "I love CoverGrip drop cloths because they are reusable. They also have PVC dots on the back, so they don't slip or slide as you are painting." If you don't feel like doing the whole primer and paint approach, opt for an all-in-one paint to drastically reduce your paint time.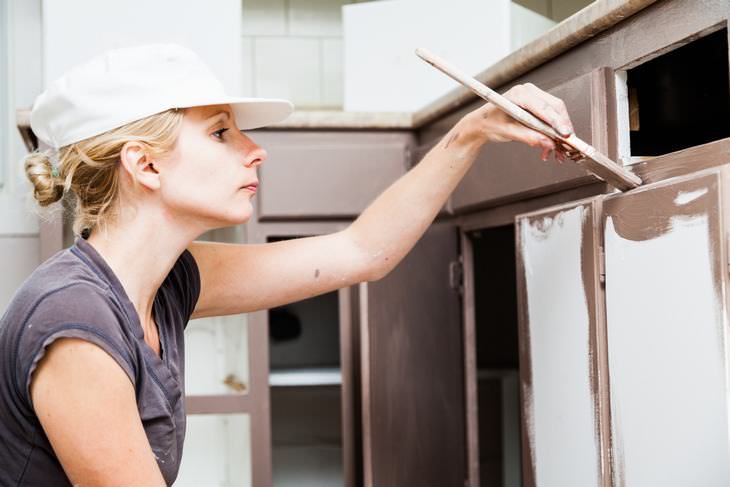 If your cabinets look old, it can make for a dreary kitchen. But, before you replace them, paint them and switch out the hardware for a dramatic update. "If you are not adventurous enough to paint your cabinets, consider changing out one cabinet door in the kitchen to glass, so you can highlight your entertaining glassware, serving pieces, and China," Anthony Navarro, author and co-creator of the online talk show The Wedding Planners says.
6. Apply a new backsplash
A fresh backsplash can give the impression of a bigger renovation. You can also opt for a peel-and-stick tile, as opposed to the real thing. While it may seem costly, a new backsplash is surprisingly affordable, especially when you opt for the peel-and-stick tile. This makes it a DIY project that can be completed without complicated or expensive tools. These tiles can be cut to size with ordinary tin snips, and stuck to the wall without added adhesives.
7. Rejuvenate your bathroom
If you cannot afford a complete bathroom renovation, upgrade hardware and fixtures, suggests Jamie Gold, a kitchen designer and author of the New Bathroom Idea Book. However, he recommends you keep it easy. "When replacing cabinet pulls, choose new ones that can fit into the same holes so you don't have to patch old ones." In addition, Gold recommends you replace your shower door and fixtures to update the room. "For hundreds of dollars, instead of thousands, you can replace a shower door with a modern frosted style that will hide a builder basic interior, replace a basic shower head with a handheld model offering massage settings, install a designer-friendly grab bar that doesn't need to be blocked, or add handsome storage shelves if there's no niche."
8. Hang wall art
The look of a room can change completely simply by hanging artwork. The mother-daughter duo behind interior design studio Verandah House, Judy, and Jess, say "Before you place holes in the walls, measure your wall and mark out the same space on the floor. Lay out your artwork on the floor." They also suggest cutting out cardboard to the size of the artwork and temporarily affixing them to the wall with a removable adhesive.
9. Put up window coverings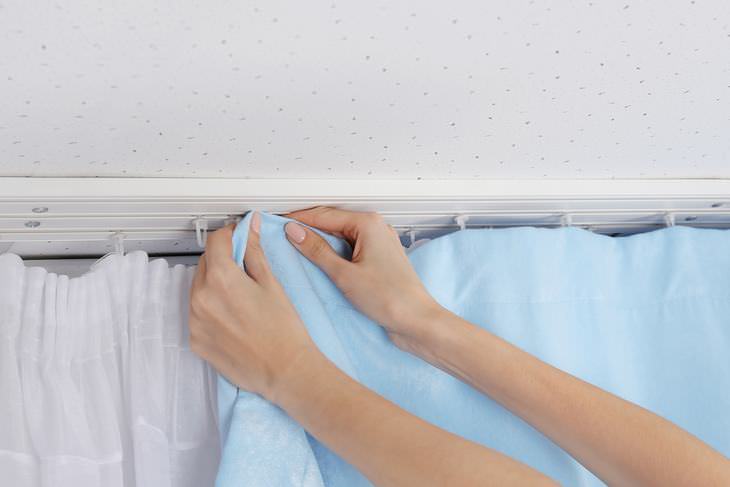 Giving your windows a new treatment can dramatically enhance a room without requiring a ton of effort. You can also find reasonably priced and easy-to-install shades, curtain, and rods at stores like Target and Home Goods. IKEA's no-sew curtains are easy to trim and finish to size.
10. Update old floors
Floors that are worn out can set the tone for an entire room, but re-sanding and finishing your floors could be beyond your capabilities. A great way to spice up your floors and change the look of a room completely is to apply a couple of coats of durable floor paint or peel-and-stick tiles from your local home store can go a long way.