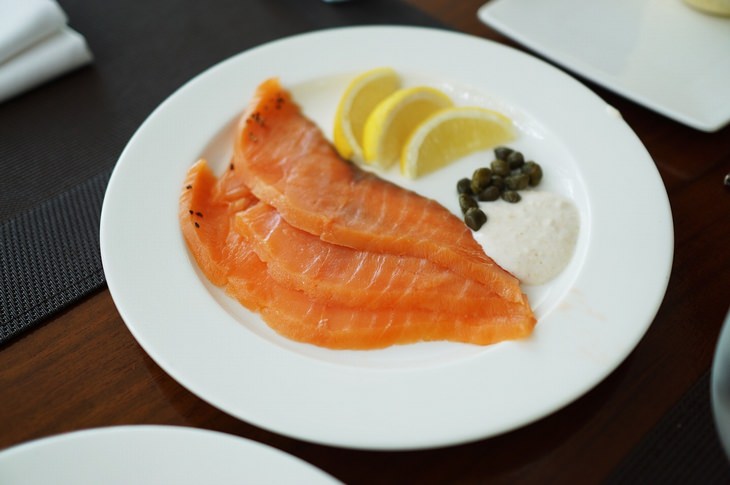 Smoked Salmon One-pot Pasta
The best thing about this pasta recipe is that it is a full-fledged healthy evening meal that you can whip up in less than an hour, and you'll have only one pot to clean afterward.
Cooking time: 25-30 minutes
Servings: 4 servings
Difficulty: easy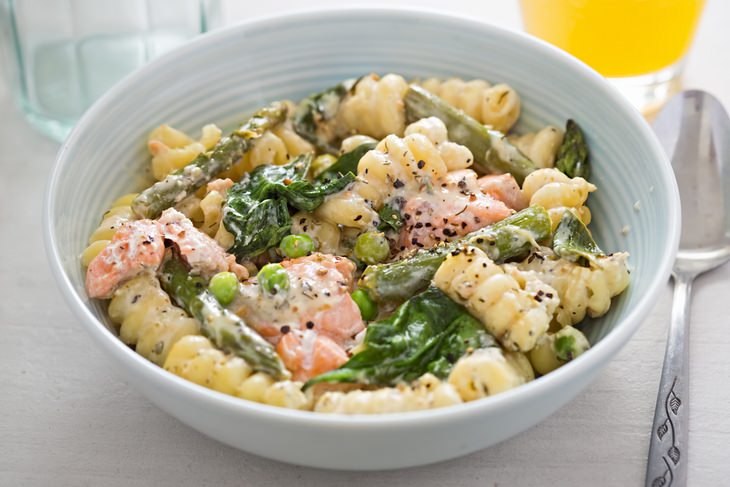 170 g smoked salmon, sliced into 1 cm pieces

340 g of any long pasta (like linguine)

1 cup sour cream, divided

4 tbsp. cubed unsalted butter

A bunch of asparagus, trimmed, cut into 2.5 cm pieces (about 450 g)

280 g of frozen peas

1 tbsp. grated lemon zest

3 tbsp. lemon juice

1 cup fresh basil

Salt and pepper to taste
Preparation
Step 1. Prepare the pasta in a pot of salted water, as usual, but 2 minutes before it's ready, add the asparagus and continue cooking. 1 minute later, add the peas as well and proceed cooking for another minute.
Step 2. Drain the vegetables and pasta, make sure to reserve 1/2 cup of pasta water.
Step 3. Place your pasta and vegetables into a bowl, and then add the butter, half of the sour cream, as well as the lemon juice and zest. Season with salt and pepper to taste. Mix well, gradually adding the pasta liquid that you reserved earlier until the sauce is not too thick and coats the pasta evenly.
Step 4. Now it's already time to plate up your pasta. Split the pasta into 4 servings, top it up with the smoked salmon strips and the leftover sour cream. Garnish with basil and black pepper to your liking. Et voila, your delicious evening meal is ready!
Easy Smoked Salmon Dip
I'm sure that I'm not the only one who loves a good cream-cheese and smoked salmon sandwich but hates the way the salmon slice often slides off the toast. This 10-minute spread recipe will help you enjoy your salmon toast without making a mess. Also, this spread doubles up as a delicious dip idea for a dinner party if you serve it with crackers on the side.
Cooking time: 10 minutes
Servings: 8 servings
Difficulty: easy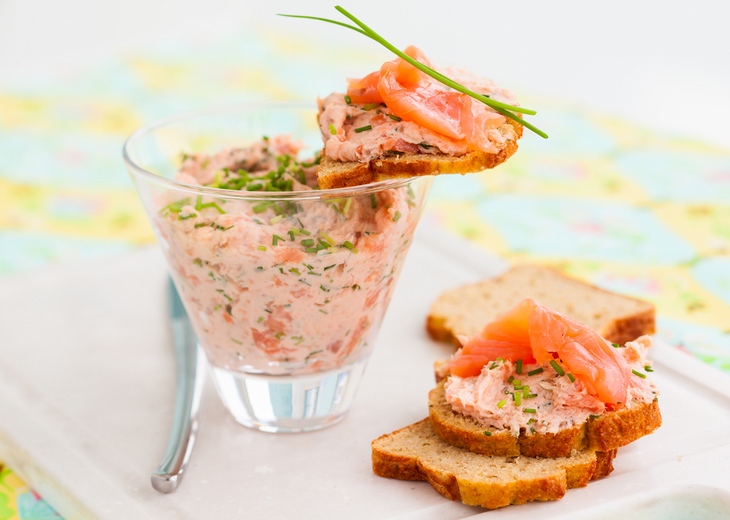 Ingredients
225 g smoked salmon

1 cup cream cheese (or creme fraiche)

115 g melted unsalted butter

2 small finely-chopped shallots

¼ cup finely chopped chives

2 tsp lemon zest

4 tbsp lemon juice

Salt and pepper to taste
Preparation
Step 1. In a food processor, mix the butter, cream cheese (or creme fraiche) and shallots so that they form a smooth mixture. Now you can add the salmon, pulsing for a few more seconds, until it is coarsely chopped.
Step 2. Move the mixture into a bowl, slowly adding in the chives, the lemon juice, and zest, and finally seasoning to your taste. Garnish with finely chopped greens and dig in!

Healthy Smoked Salmon Quiche
This savory dish is great for breakfast, lunch or dinner, plus it's probably one of the healthiest quiches you can make. It is packed with healthy oils from the salmon and sesame seeds, plus an essential daily dose of greens. Though it requires a little bit more time and technique, this meal is still a no-brainer, you must try it.
Cooking time: 1 hour 30 minutes
Servings: 6 servings
Difficulty: easy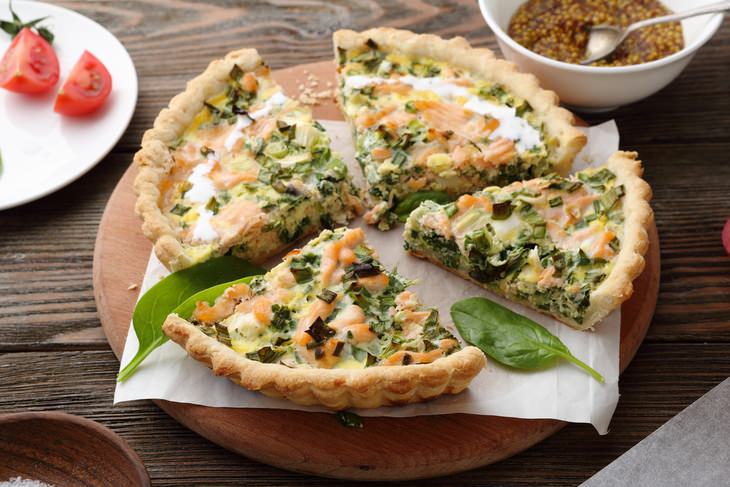 Ingredients
For the crust:
For the filling:
½ cup smoked salmon, sliced to ½ inch pieces

½ cup Greek yogurt (or creme fraiche)

½ cup white yogurt

1 tbsp butter (or olive oil)

1 onion, finely sliced

¼ cup kale, de-stemmed and cut into bite-size pieces (can be replaced with broccoli or spinach)

5 eggs

Salt and pepper to taste
To serve:
Equipment
A 20 cm quiche tin (but honestly, in desperate measures, a pie tin will do just as well).
Preparation
Step 1. Preheat your oven to 350°F (175°C).

The Sesame Crust

Step 2. To prepare the sesame seeds, toast them on a dry frying pan until golden. Then, to prevent them from burning, immediately transfer them on a plate or small bowl and let them cool down.
Step 3. Use a little olive oil or butter to grease your 20-cm quiche tin.
Step 4. Now that the sesame seeds have cooled down, you can put together all the ingredients for the crust in a food processor and keep combining them until they form dampish crumbs. Use your hands to form the dough into a ball.
Step 5. It is time to roll out the dough. Prepare your work surface by sprinkling flour on it to prevent the dough from sticking to the surface. Use a rolling pin to gradually spread out and flatten your dough into a circle that is slightly bigger than the quiche tin, around 8 ⅔ inches large and fairly thin (think as thick as a nickel).
Step 6. Reach for your quiche tin and very gently place the dough in the tin, carefully pressing on the sides of the pan so that the dough adheres to every nook and cranny. Use a sharp knife to trim off any excess dough from the tin's rim. TIP: If there are any holes in the dough, you can use these trimmings to seal them.
Step 7. Cover the dough with baking paper, load the tin with a bagful of baking beans, and bake for 20 minutes.

The Filling

Step 8. While your crust is in the oven, you can prepare the filling. First, saute the onion in the butter or olive oil until soft and fragrant.
Step 9. In a large bowl, whisk the yogurts (or the yogurt and the creme fraiche) together with the eggs, until smooth. Add the kale (spinach, or broccoli) to the mixture and season to taste.

Assembling Your Quiche

Step 10. Take out the beans and baking paper from the tin and let your crust sit in the oven for a couple more minutes, until golden brown.
Step 11. When the crust is ready, pour in the filling and top it up with the salmon slices. Bake until the salmon browns up a bit and the egg mixture sets, around 35 minutes.
Step 12. Let your quiche cool down a bit, remove it from the tin and garnish with basil. Enjoy warm or cold.
Quick Salmon Chowder
Chowders can take hours to prepare, but this refined, mouthwatering meal is actually ready quite fast. The next time you have to react fast and have a meal ready in less than an hour, surprise your family or guests with this exquisite warming meal.
Cooking time:
10 minutes
Servings:
8 servings
Difficulty:
easy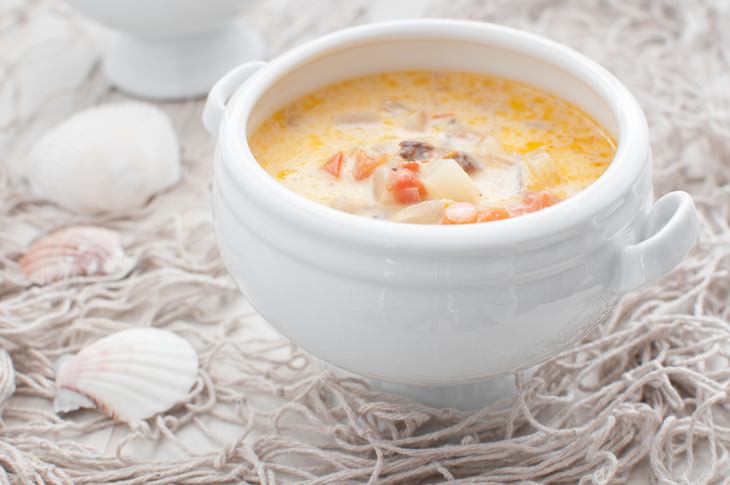 225 g smoked salmon, sliced into bite-size pieces

2 cups vegetable broth

2 cups of milk

½ cup heavy cream

2 tbsp tomato paste

3 medium leeks, sliced (white and light green parts only)

1 large peeled potato, cut into cubes

1 stalk celery, chopped

2 tbsp chives, chopped

1 clove garlic, finely chopped or minced

1 tbsp olive oil

Salt and pepper to taste
Preparation
Step 1. Saute the leeks and garlic in the olive oil for 2 minutes.
Step 2. Add the celery and the potato, season with salt and pepper and cook while stirring constantly on medium heat for a few minutes.
Step 3. Add the vegetable broth and cook until the potato softens (15 minutes or so).
Step 4. Add the milk, tomato paste, and salmon, and simmer for a few more minutes while slowly stirring in the cream. Note: Don't let the chowder boil at this point, otherwise the milk may separate.
Step 5. Serve, garnish with the chives, and savor this scrumptious meal.