Winter is coming and with it rain and snow. While rain is good for agriculture and snow is fun for all, there's no reason why we should get wet and suffer as well. With this simple guide, you'll learn how to easily protect your shoes from water. The process takes less than 5 minutes and at the end of it, you'll feel safe walking in the rain with your regular canvas shoes!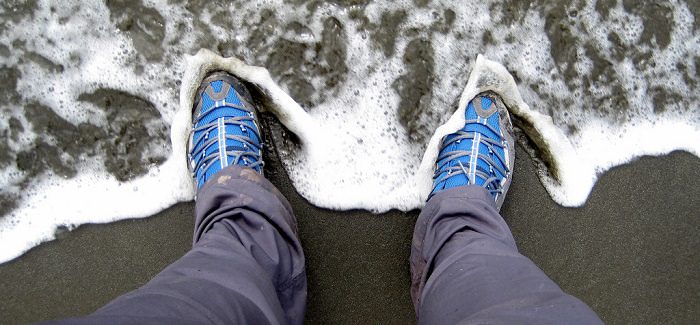 Materials:
A pair of shoes

A large wax candle

Hair Dryer

Oven mitts (optional)
The first step is to take your wax candle and rub it well over the whole surface of the shoe. Be sure not to neglect the area where fabric meets sole since this is where most water I able to penetrate.
After completing the first step the shoe should look white and dusty with candle wax, as can be seen in the picture. Don't worry, the white color of the wax will soon disappear and the shoe will look as it did before you got started.

Now, take your hair dryer, and turn it on to the highest temperature to warm the wax. As you can see in the picture, the wax melts and fills the grooves between the fibers of the fabric, so that the white color disappears, and the shoe becomes resistant to liquids. If you feel that the heat from the dryer is burning your hands, you can wear a pair of oven mitts.

After thoroughly heating all parts of the shoe, let the wax cool down and grab on to the fibers for about 10 minutes.

Take a look at how absorbent the non-waxed shoe is.

As you can see, the water was absorbed by a cloth that became dark, wet and cold.

On the other hand, the waxed shoe exhibits high resistance to water penetration, and you can be seen that the fabric is almost completely non-absorbent.
If you don't see a significant difference in the water resistance between the two shoes, repeat the process and coat the shoes in two layers of wax. If you want to get the most protection from water, you can coat the shoes in two layers of wax regardless of the results. As long as you don't overdo the amount of wax and heating time, there will be no damage to the shoe.

Have a nice and warm winter!