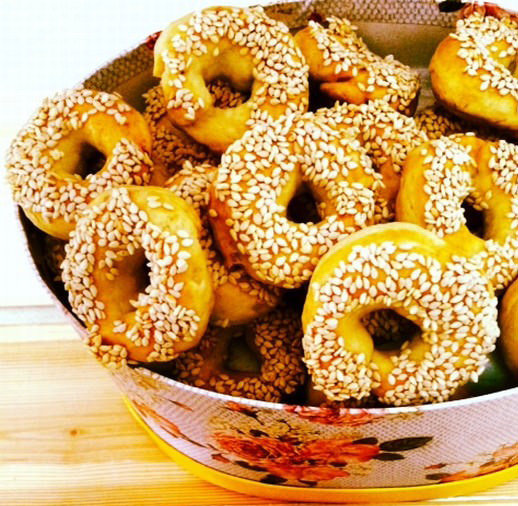 Ingredients for about 90 cookies:
7 cups of flour

1 - 1 1/2 tbsp. salt

200 grams butter

3/4 cup oil

2 tbsp. yeast

3/4 cup warm water

1 egg

2 tbsp. water

1 cup sesame seeds
Directions:
1. Preheat your oven to 400 degrees F (200 degrees C).
2. Place the flour and yeast in a bowl and mix.
3. Add all the other ingredients in order: salt, butter, oil and water, and work them lightly until you get a uniform dough.
4. Take small pieces of dough and roll them into snakes, then use the snake to form a circle.
5. Whisk the egg and water, pour the sesame seeds on to a flat plate, and dip each circle in the egg mixture and then in the sesame.
6. Place the cookies in a baking pan and bake for about half an hour, until golden brown.
Savory parmesan and sun-dried tomato cookies
No one can resist the smell of these cookies, and you yourself will be tempted to steal one from the oven. The creator of the recipe suggests switching out the dried tomatoes for paprika if you don't like tomatoes.
Time: 10 minutes
Difficulty: Easy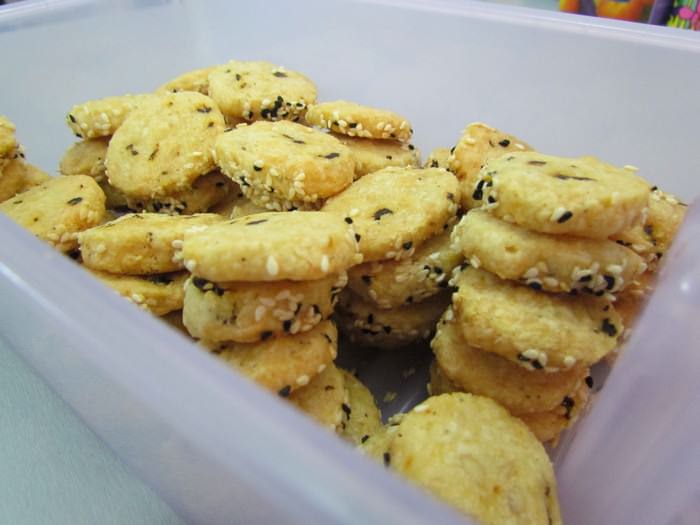 Ingredients for about 75 cookies:
170 g butter, softened and cubed

170 g parmesan

2 tbsp, sun-dried tomatoes, finely diced

210 g flour

1 tsp. salt

1 tsp. pepper

1 tsp. baking powder

1 egg, beaten

3/4 cup sesame seeds

1/4 cup nigella seeds
Directions:
1. Place the parmesan and butter in a mixer with a guitar hook and mix until they are combined.
2. Add the sun-dried tomatoes and mix again.
3. Mix together the flour, salt, black pepper, and baking powder, add them to the cheese mixture and mix again until all the ingredients are combined.
4. Remove the dough and knead it with your hands so that it becomes uniform.
5. Divide the dough into 3 pieces and make a log from each part.
6. Now, preheat your oven to 375 degrees F (170 degrees C).
7. Wrap the logs in plastic wrap and place in the freezer to cool for 15-20 minutes.
8. Remove the logs brush them in the egg, and roll them in sesame and nigella Then cut the logs into 1 cm slices.
9. Place the cookies on a tray with baking paper and bake for about 30 minutes, until the cookies turn golden.
10. Cool well and store outside of the refrigerator in a sealed box for up to two to three days.
Salty sweet caramel, peanut butter, and pretzel cookies
If you're looking for a combination of sweet and salty, this is the recipe for you! After making them for the first time, the person who created the recipe discovered the explosion of flavors in her mouth and decided that even the word delicious wasn't worthy of describing them.
Time: 15 minutes
Difficulty: Easy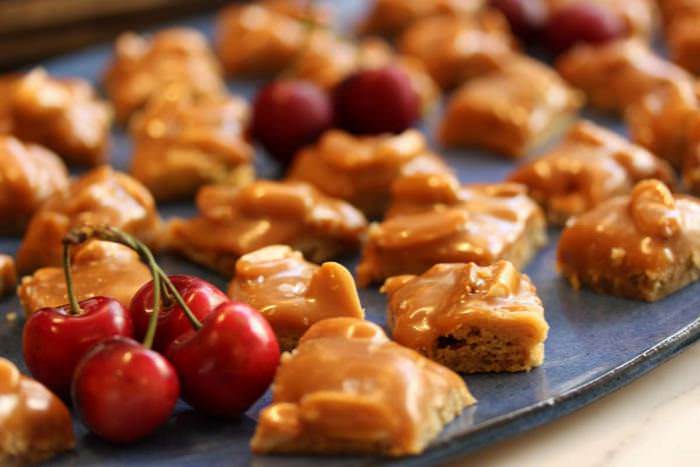 Ingredients for dough:
1/2 cup flour

2/3 cup brown sugar

2 egg yolks

1 tsp. vanilla extract

2 tsp. baking soda

2/3 cup salty pretzels, finely chopped
Ingredients for nougat:
1 1/2 cups marshmallow cream

1/2 cup peanut butter

1/4 cup powdered sugar

1 1/2 cups salted peanuts
Ingredients for caramel layer:
400 g caramel soft caramel chews

1/3 cup milk

a pinch of sea salt flakes
Directions for dough:
1. Heat your oven to 350 degrees F (180 degrees C).
2. line a 24 x 32 cm with baking paper and grease it well.
3. beat the sugar and butter in a mixer for about 3 minutes.
4. Add the yolks and the vanilla extract and mix well.
5. Lower the mixer to low speed and add the flour, baking soda, and pretzels, and stir for about a minute until you get a uniform mass.
6. Transfer the dough to the pan, press it down and bake for about 10 minutes, until it's slightly browned. then let cool.
Directions for nougat:
1. Mix the marshmallow cream and peanut butter in a microwave-safe dish and heat for about 50 seconds on the highest heat. The mixture should be smooth. If the mixture comes out lumpy, heat for about 10 seconds more.
2. Add the powdered sugar and mix again.
3. Apply the peanut butter mixture over the chilled dough, sprinkle the salted peanuts evenly over top.
Directions for caramel layer:
1. Melt the caramel candies and milk together over a low heat, stirring constantly, until they blend smoothly.
2. Pour the mixture over the salted peanuts and let it cool completely for about an hour.
3. Sprinkle the sea salt flakes over top.
4. cut the cookies into squares and serve.
Pecan and Blue cheese cookies
The creator of the recipe warns in advance: You won't be able to stop eating these cookies, so prepare yourself. The blue cheese adds a slightly tangy taste, and the cookies themselves are wonderful and crisp.
Time: 10 minutes
Difficulty: Easy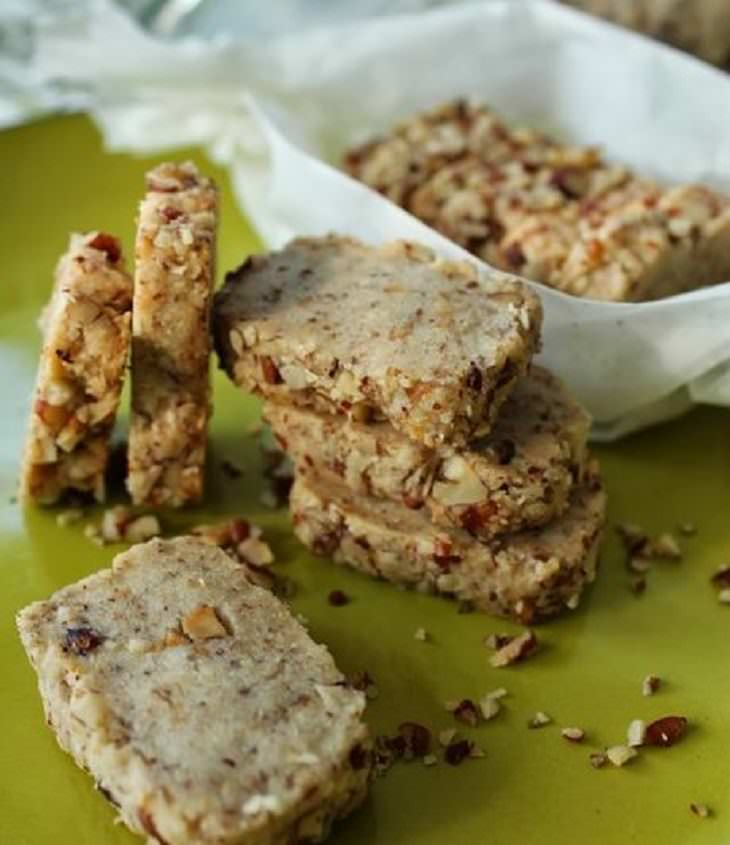 Ingredients for about 60 cookies:
100 g blue cheese, Roquefort or Danish blue - crumbles

100 g butter

2 tbsp. olive oil

1 tsp. powdered sugar

1 tsp. salt

1 tsp. pepper freshly ground or 1/2 tsp ground chili powder (optional)

1 1/4 cup flour

1 1/2 cup pecans, toasted and chopped (1 cup for the dough and 1/2 cup for the topping)
Directions:
1. Place the butter, cheese, olive oil, salt, powdered sugar and black pepper (or chili) into a food processor.
2. blend until ingredients are well mixed.
3. Add one cup of chopped pecans and flour, and work until a crumbly texture is formed.
4. Remove the dough from the food processor and knead with your hands.
5. Divide the dough into 2, mold each part into a log or long rectangle (for circles or squares).
6. Sprinkle the 1/2 cup of pecans you have left on a baking pan and place the logs or rectangles on top of them. roll them over the pecans so that they stick.
7. Wrap the dough in plastic wrap and cool in the refrigerator for about an hour or more before slicing the cookies. They can be stored in the freezer for 4 weeks.
8. Heat your oven to 350 degrees F (180 degrees C).
9. Remove the plastic wrap and slice into cookies
10. Place the slices on the baking sheet lined pan.
11. Bake them for about 13-14 minutes until they turn golden at the bottom around the edges.
12. Transfer to a cooling rack.
13. You can store them in a closed container for up to 4 days, however, the chances that you'll have leftovers are slim to none.
Savory onion cookies
These cookies go great with avocado, salsa and cheese dips, and what gives them their unique taste is the store-bought dried onion flakes, which, unlike the home-cooked onions, are died before they are fried, making them perfect for use in doughs and cookies.
Time: 10 minutes
Difficulty: Easy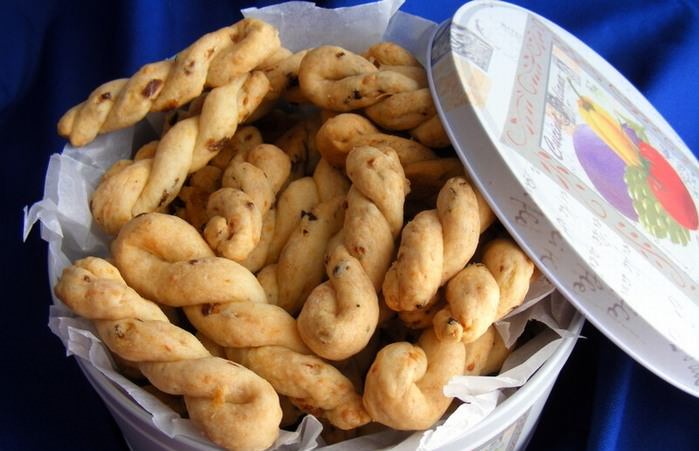 Ingredients for about 2 pounds of cookies:
2 cups + 2 tbsp. flour (300 g)

2/4 cup corn flour

10 g baking powder

1/4 tsp. black pepper

3/4 cup dried onion flakes

200 g butter

200 g sour cream

200 g grated Muenster cheese
Directions:
1. Sift flour, cornstarch and baking powder into a mixer bowl.
2. Add salt, black pepper, onion flakes, and mix at low speed with a guitar hook.
3. Add cubed butter, sour cream, and grated cheese. Mix at medium speed until uniform dough is created.
4. Collect the dough and wrap it in plastic wrap. Place it in the refrigerator for at least an hour and a half.
5. Cut a piece of dough and roll it into a long, narrow log about 15 cm long, fold in half and wrap one half around the other.
6. Arrange the cookies on a baking pan lined with baking paper.
7. Bake the cookies in a preheated 250-degree F (180-degree C) oven for 20-25 minutes.
8. Cool and store in a sealed box...
image source: yafchuk, kukilina10, rotteml, hamaroch