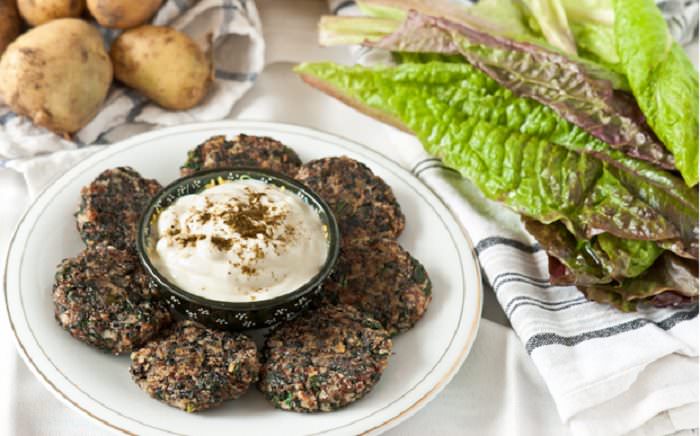 Ingredients:
120 g mallow leaves

2 tbsp. ground flaxseed

1/3 cup water

2 tbsp. breadcrumbs

1 tbsp. lemon juice, freshly squeezed

Salt, to taste

Grapeseed oil, for frying (or avocado oil)
Directions:
1. Boil a large pot of water, add the mallow leaves, cook for a few minutes, strain
and rinse with cold water.
2. It is recommended to squeeze the mallow leaves as much as possible and then chop.
3. Mix the ground flaxseed in a bowl with a ⅓ cup water and set aside for 15 minutes.
4. Meanwhile, mix the mallow leaves with the lemon, breadcrumbs and a little salt.
5. Add the mallow leaves to the flaxseed mixture and make small patties.
6. Pour oil into a pan making sure to cover the bottom of it and wait for it to heat up.
7. Now carefully place the patties in the hot oil and fry each side for a few minutes until they are browned (if the patties begin to burn, lower the flame).
8. Finally, transfer the patties to a plate with a paper towel and drain the oil.
Tip: its best to serve these patties with yogurt or sour cream.
Savory cheese and chives pancakes
Chives are a bulb-forming plant, and therefore its medicinal properties are similar to the medicinal properties of garlic (such as being antibacterial and having a positive effect on the vascular system) and it's very rich in vitamins A and C. chives serve as mildly flavored spice and therefore can be used as a main raw ingredient and also as a garnish. In the past, it was believed that bunches of dried chives would ward of diseases if hung around one's person, but I think that these pancakes are enough to make you feel good.
Time: 15 minutes
Difficulty: easy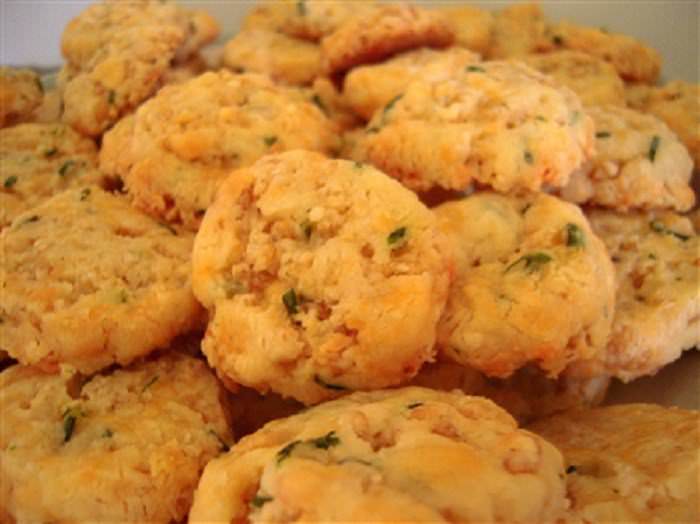 Ingredients:
230 g butter

3 cups cheddar cheese, grated

2 cups flour

¼ cup chives, diced

½ tsp. salt

½ tsp. spicy chili sauce

¼ tsp. garlic, crushed

2 cups rice puffs, optional
Directions:
1. In a large bowl, mix the butter and cheese.
2. Add flour, chives, salt, chili sauce, and crushed garlic and mix until you reach a uniform texture. At this stage, you can mix in the rice puffs.
3. Divide the mixture into 4 pieces, roll each part to a length of 15 cm, wrap in plastic wrap and put in the refrigerator for an hour.
4. Preheat the oven to 325 °F (165 °C).
5. Remove the dough from the refrigerator and cut 1 inch thick circles.
6. Place on a baking sheet in a baking pan 1 inch apart from each other.
7. Bake for 20-25 minutes, until the edges become crisp and the patties turn a golden brown.
Mint and basil pesto
Mint is a medicinal herb used in traditional medicine to treat abdominal pain and chest pain. Although many are used to adding it to hot tea, there is also a wide range of delicious and healthy recipes and drinks to prepare. Personally, I fell in love with this pesto sauce because of the aroma that permeates into the air as soon as I open the jar, which is why I chose to share this simple and wonderful recipe with you.
Time: 3 minutes
Difficulty: easy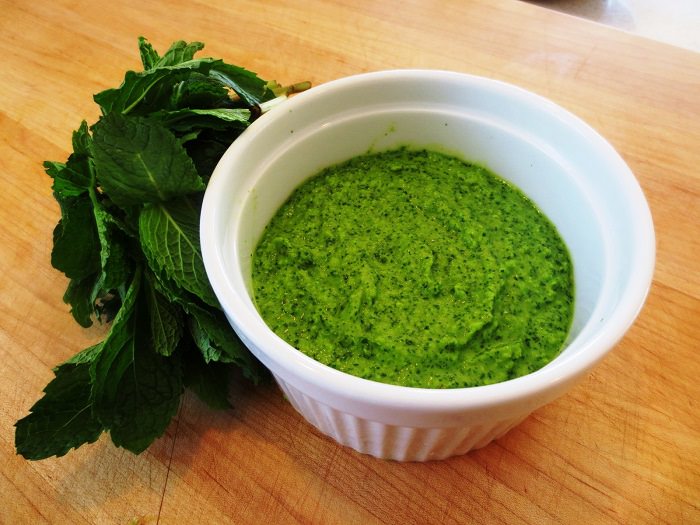 Ingredients:
1 ½ cups fresh basil leaves

¾ cup fresh mint leaves

¼ cup roasted almonds

3 tbsp. olive oil

1 tbsp. lemon zest

2 tbsp. lemon juice, freshly squeezed

1 large clove of garlic, cut into fours

¼ Tsp. salt
Directions:
1. Put all ingredients into a food processor.
2. Turn on the processor gradually until you get a uniform texture.
3. Finally, store in a glass jar in the refrigerator.
Risotto with nettle leaf and vegetable stock
Nettle is used in alternative medicine for the treatment of urinary tract infections, gastric poisoning, back, and joint pain and hair loss. Although the plant is thorny and doesn't seem to be particularly friendly, nettle is considered to have medicinal properties because of its leaves. You can brew a handful of leaves in hot water, but you can also use them as a great addition to risotto.
Time: 15 minutes
Servings: 2
Difficulty: easy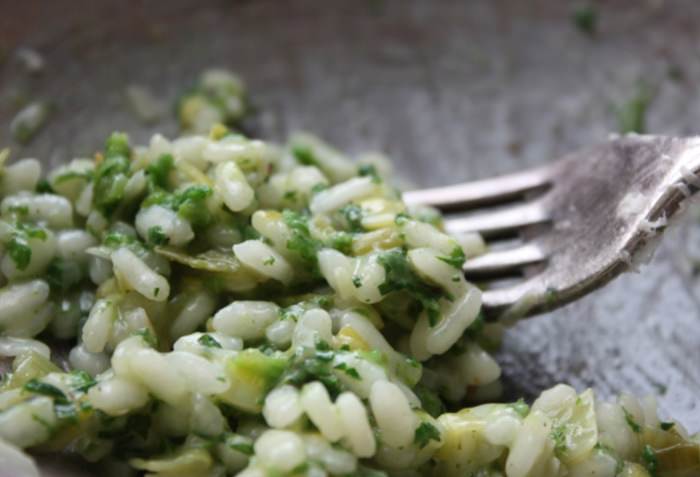 Ingredients:
100 g nettle leaves (Can be bought at health stores)

30 g butter

1 onion, finely diced

180 g risotto rice

900 ml vegetable stock

Sea salt, to taste

Black pepper, to taste

50 g parmesan cheese, or goat cheese, grated
Directions:
1. Wash the nettle leaves in a bowl with water (separate from stalks) and drain.
2. Bring a pot of salt water to a boil and add the nettle leaves.
3. Boil again, wait a few minutes and strain the water.
4. It is recommended to squeeze the nettle leaves as much as possible, and then chop them finely.
5. Heat the vegetable stock in a pot and bring to the brink of boiling.
6. Meanwhile, melt butter in a deep frying pan and add the onion.
7. Lower the flame and sauté the onion for 10 minutes, until soft and transparent (without browning).
8. Add the rice to the pan and mix with the onion.
9. Add about a third of the vegetable stock and bring to a boil.
10. While mixing, when the stock starts to reduce, add the chopped nettles and a little more stock.
11. Be sure to add a bit of the vegetable stock to the risotto gradually until it is absorbed and is cooked "al dente" (solid but not too hard).
12. After 20 minutes of cooking, the risotto will get a velvety texture, remove it from the flame and check to see if it needs more seasoning.
13. At this point, you can add a little butter, and sprinkle some cheese over top.
14. Leave covered for a few minutes and served.
Roasted potatoes and fennel
Fennel is a fragrant plant with extensive culinary uses and a delicate taste of anise. In alternative medicine, this vegetable is used to heal infections, digestive problems, and eye problems, and it contributes to the production of breast milk. In addition, fennel seeds are a rich source of protein, fiber, and minerals, such as calcium, iron, and magnesium. Fennel is a common guest in many of our kitchens, but I've always had a hard time incorporating it into cooked dishes until I found this wonderful roasted potato and fennel recipe.
Time: 20 minutes
Servings: 4
Difficulty: easy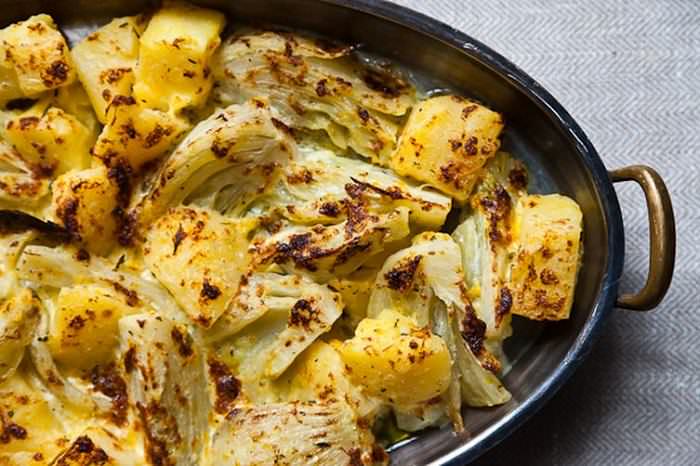 Ingredients:
3-4 potatoes, peels and chopped

2 whole fennel

240 ml milk

240 ml heavy cream

1 bay leaf

½

tsp

. fennel seeds, optional

Coarse salt, to taste

Ground black pepper, to taste

1 sprig of rosemary, finely diced

3-4 sprigs thyme, finely diced

¼ cup parmesan cheese

1 tsp. orange zest

A generous amount of olive oil
Directions:
1. Remove the outer layer of the fennel and cut 1-inch slices lengthwise (without damaging the root).
2. In a deep frying pan, place the potatoes, fennel, bay leaf, and fennel seeds.
3. Mix the cream and milk in a bowl, and add them to the skillet so that they cover the potatoes (you can add more if the liquid isn't enough).
4. Turn on a medium-high heat and add coarse salt and ground black pepper to taste.
5. Bring the cream and milk to a boil and lower the flame.
6. Cook the potatoes and fennel for another 20 minutes, until they soften, and lower the flame a little. At this point the potatoes and the fennel should be completely cooked, so turn off the flame and remove the pan from the stove.
7. Preheat oven to 350 ° F (180 ° C) - in grill mode.
8. Mix the rosemary, thyme, parmesan, and the orange zest. Then add one tablespoon of olive oil and mix again.
9. Prepare a baking dish by generously greasing with olive oil to prevent sticking.
10. Using a slotted spoon, remove the potatoes and fennel pan and transfer them to the baking dish. Be sure to arrange them in a single layer so that brown uniformly.
11. Taste the potatoes and see if there is a need for additional seasoning. If it does, add the seasoning.
12. Sprinkle the herb mixture over the potatoes and fennel.
13. Place the pan at least 15 cm away from the heating element in the oven, let the dish simmer for 3 to 5 minutes, and check whether the potatoes and the fennel are crispy, otherwise, leave the pan in the oven until the potatoes and fennel are as crisp as possible.
Elderberry cookies
The blossoms of the elderberry can be identified immediately with the appearance of small white flowers in late spring along with black-red fruits reminiscent of berries. The elderberry itself can be found in any health-food store as an ingredient in cold and flu and syrups. The fascinating thing that I discovered is that elderberry extract is great for cooking and baking and so easy to prepare at home, so I came up with a recipe that uses elderberry extract to make a delicious cookie that is sure to sweeten your day.
Time: 15 minutes
Difficulty: easy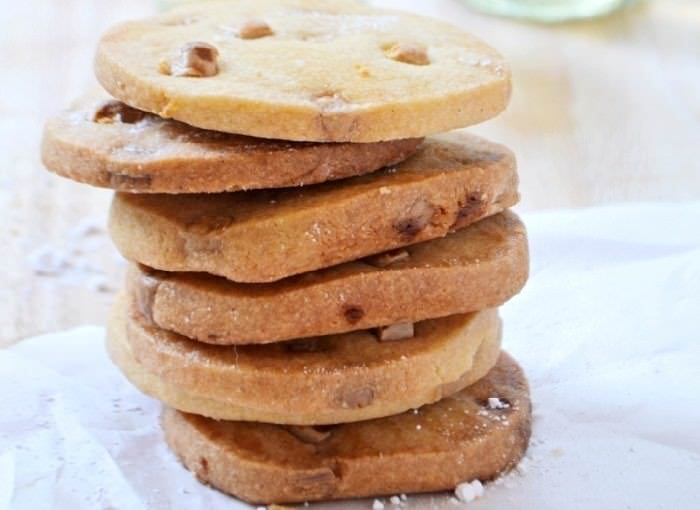 Ingredients for elderberry extract:
100 g sugar

100 ml water

20 g elderberry flowers
Ingredients for cookies:
300 g flour

250 g butter

100 g sugar

3 tbsp. elderberry extract

1/3 cup chocolate chips

1 tbsp. lemon zest

1 tbsp. vanilla extract

Powder sugar to top
Directions for elderberry extract:
1. Take a few elderberry flowers and cook them in water (almost to a simmer) at a ratio of 1: 5 (e.g. 200 grams of elderberry flour to 1 liter of water).
2. Strain the liquid and bring it to a boil (stirring) with an equal amount of sugar (e.g. 100 ml liquid with 100 g sugar or 8 tbsp.), Then store in a refrigerator in a glass container.
Directions for cookies:
1. In a bowl mix ½ a cup of sugar, vanilla extract, lemon zest and 3 tablespoons of elderberry extract.
2. Add the butter and beat until you get a creamy texture.
3. Sift the flour and add to the sugar and butter, mix until a soft dough is formed.
4. Add the chocolate chips.
5. Roll the dough to a thickness of 1 cm and wrap in plastic wrap, put in the refrigerator for an hour.
6. Preheat your oven to 350 °F (180 °C), remove the dough from the refrigerator, and cut the roll into slices.
7. Apply some elderberry extract over the cookies and sprinkle with powdered sugar.
8. Bake in oven for 15-20 minutes until lightly golden.