2. Colored cup clock
Upgrade each clock easily with cups and saucers, and you'll know without a problem when it's time to have a cup of tea! Glue the saucers and then teacups on the face of a large wall clock where the numbers would be. Use different color cups to really give it that quirky feel.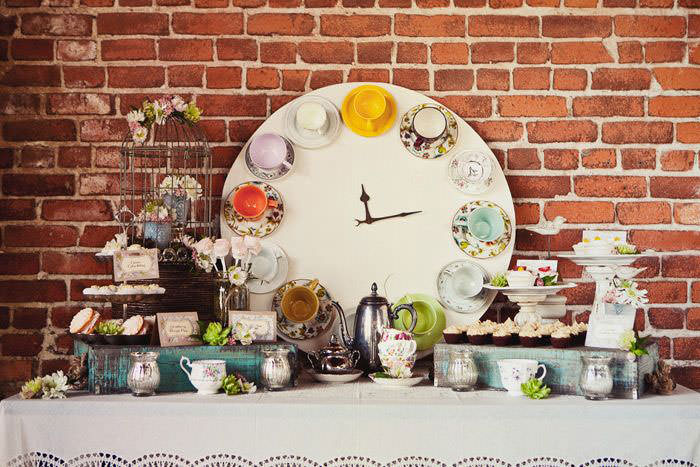 3. Garden signs from wooden spoons
If you grow herbs or vegetables in planters or in your garden, you can mark each bed easily with beautiful, colorful signs. Paint old wooden spoons in your choice color, write the name of the herbs or vegetables grown in a flower bed or pot, and place the spoons in the appropriate place.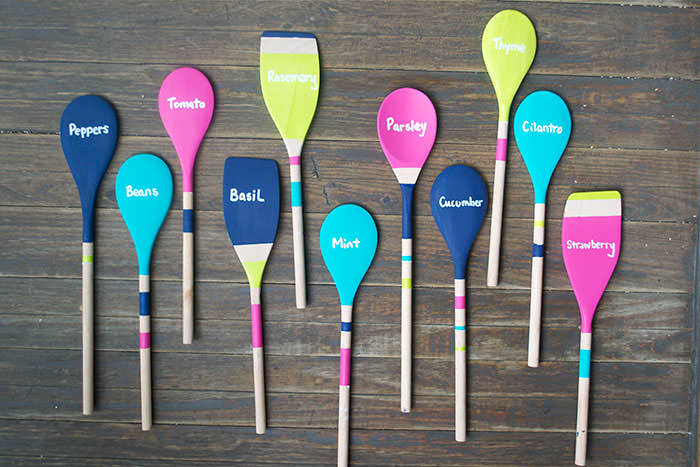 4. Cutlery hook
If you're often stuck with random pieces of silverware you never use because they don't match your set, try this DIY. Simply bend the cutlery you've chosen, and glue it or drill it onto a piece of wood of your choice, which you can paint or leave in its natural shade. Now hand it up at your entrance and use it to hang your keys or even your hat when you come in from work!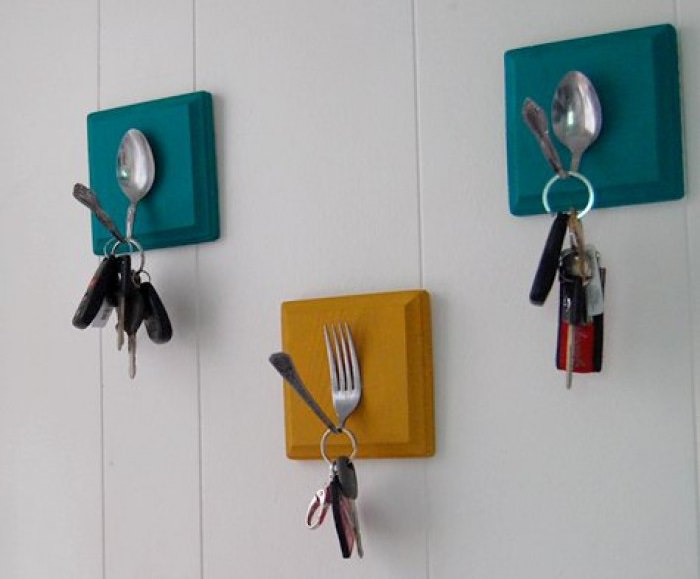 5. Upgraded chalkboard from a tray
A chalkboard can be used in any kitchen for a shopping list, listing recipe ingredients, and more, and of course a great way to keep our children busy while we cook. If you have a tray that you no longer need but feel bad throwing out, just buy some chalk paint from the hardware store, and paint your tray with it. The paint will turn the surface into a chalkboard immediately, and you'll enjoy a colorful and useful addition to the kitchen.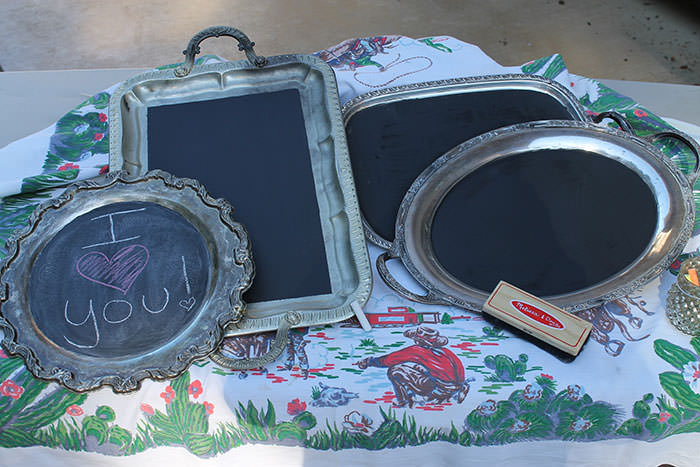 6. Serving stand from plates
Looking for a nice cake stand? Why not glue and old dish that you're no longer using onto a wide-brimmed cup? We all have miss matched plates and cups so why not make use of them Instead of keeping them hidden in the closet…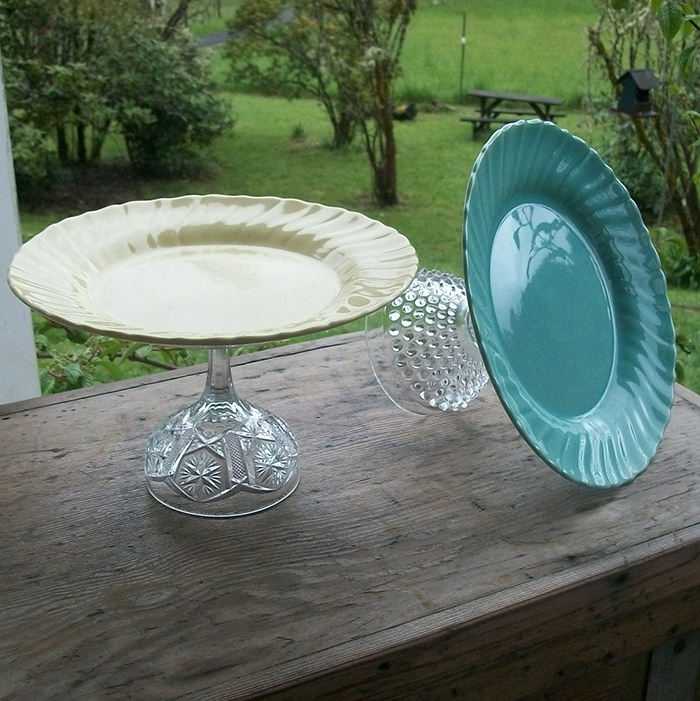 7. Magnetic board from old metal graters
Until a few years ago, every kitchen had at least one flat grater that served us in almost every field of cooking. Today, graters are much more comfortable and have pushed the old flat ones to the back of the closet. But the next idea suggests that you get the graters back out, tie them together with some rope and turn them into a magnetic board with a particularly nostalgic look. You can display old photos on them, as well as use them for any other purpose.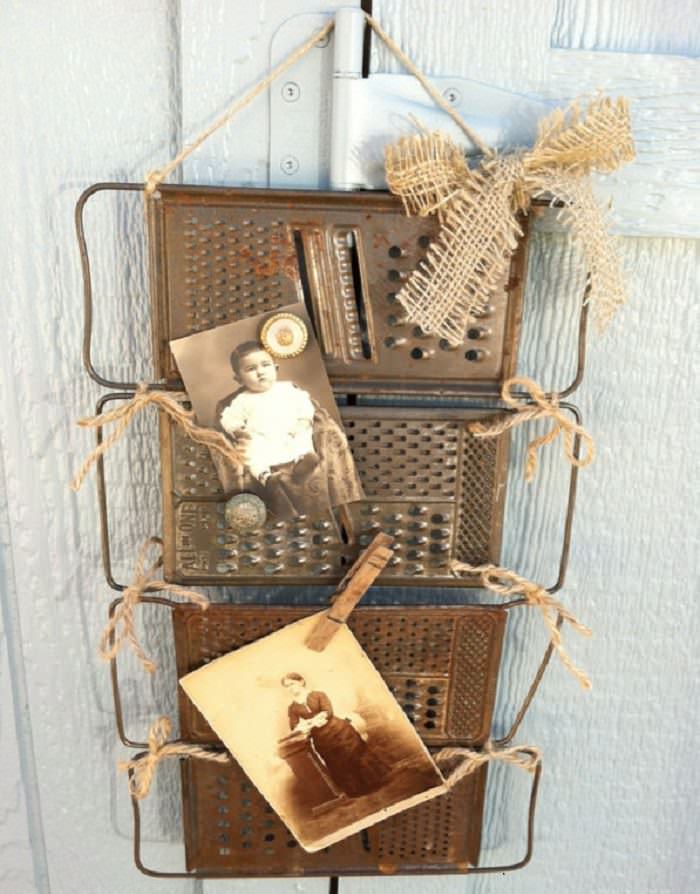 8. Tablet stand from a cutting board
In many kitchens electronic screens have begun to replace traditional cookbooks and recipes, making the tablet one of the most loyal helpers of many cooks. If you use one as well, you can turn an old unused cutting board as a stand for it, thus preserving some of the nostalgic look in this new high-tech environment as well. Choose your cutting board and gather your supplies: scrabble letter rack, wood wedges, and wood glue. Paint the pieces if you'd like and allow to dry. Once dry flue the scrabble letter rack to the front and the wooden wedges to the back (this is what will help the board stand.)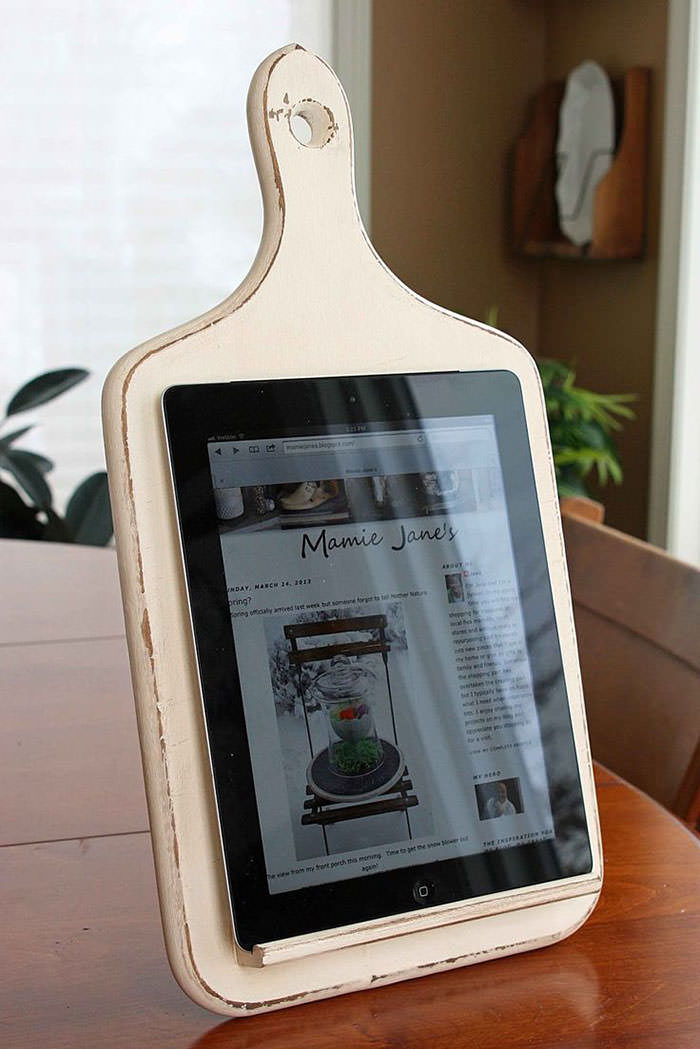 9. Rolling pin towel rack
An old rolling pin is just the right size for hanging our towels. Stick it at the end of your kitchen table or island, and you can use it a s a handy towel rack.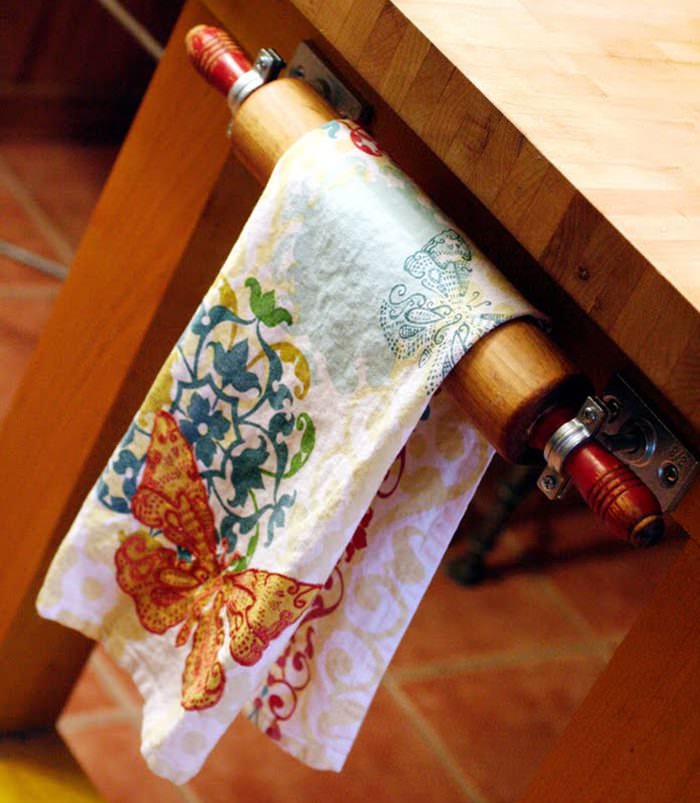 10. Candle holders from old funnels
If you're trying to put together a romantic dinner but can't remember where you last placed your candle holders, get out a few of your old funnels from the closet, turn them over and place a candle into each of their spouts.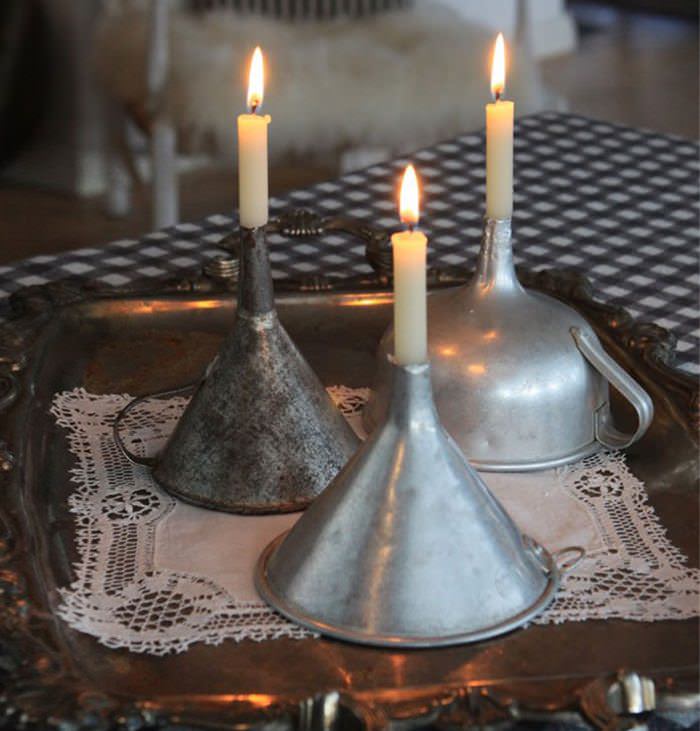 11. Ceramic pot-lid holders
We all know the saying "every pot has its lid," however we do occasionally find a pot-less lid. This creative idea will allow you to glue your old lonely lids onto wood or plastic boards of your choice, and use the holes and slots in them to turn them into holders of random items around your kitchen.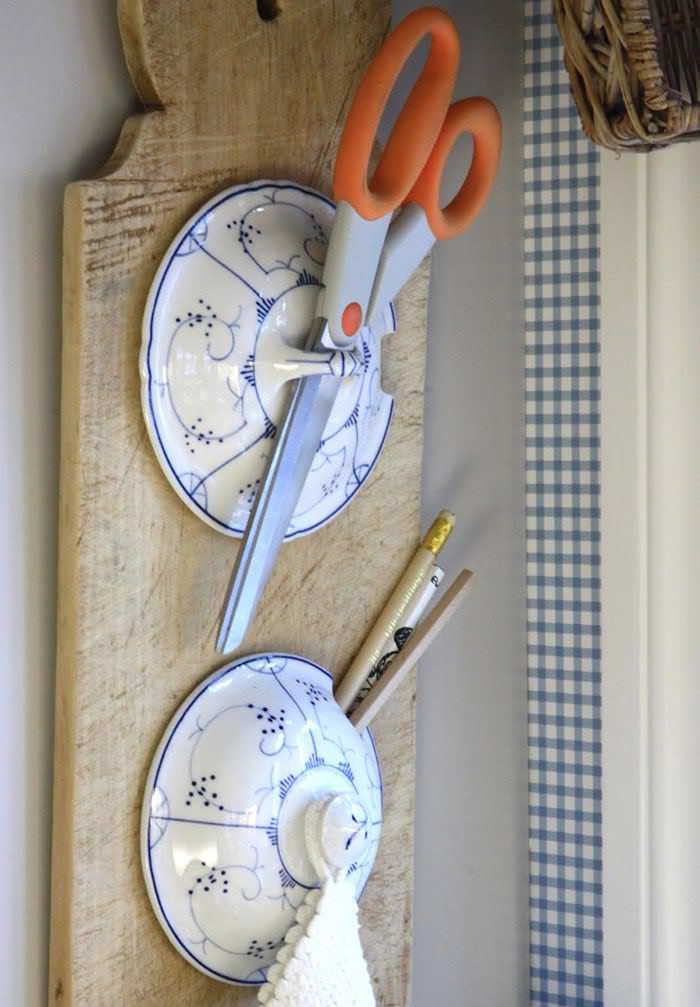 12. Grater earring holder
Every woman knows how frustrating it is to look for pairs of earrings in her jewelry box. Different jewelry racks don't always provide enough space for many pairs of earrings, but a standing grater can easily turn into the perfect earring rack. The small holes in it make it possible to insert any pair of earrings easily without fear of them falling off.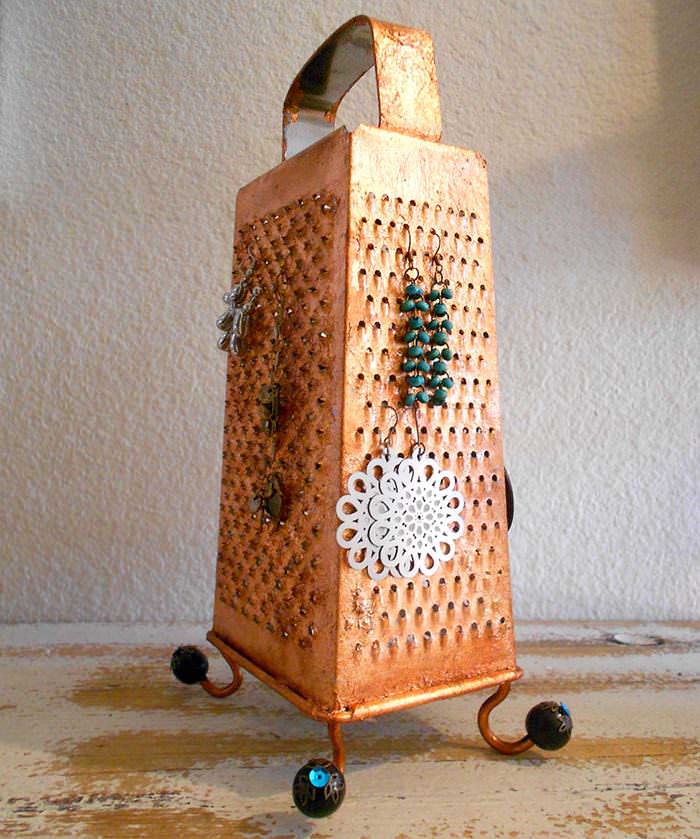 13. Hovering jars
I happen to be a jar hoarder and when I find myself with an excess of jars I can't help but wonder what other purpose they can serve. While it may seem counterintuitive to pierce holes in jar lids, doing so can provide you with a cool new space-saving storage unit. Drill 2-3 holes in the lid for the screws and attach them to the bottom of a shelf. Fill your jar with whatever small items you have laying loose around the house and screw them back on to the lids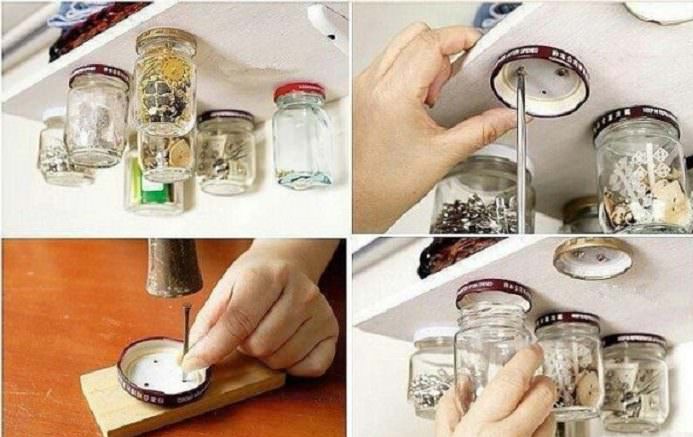 14. Rolling pin coat rack
If you ever come across a stock of old rolling pins, or if you have a few lying around, cut them in half and glue each half to a wooden board.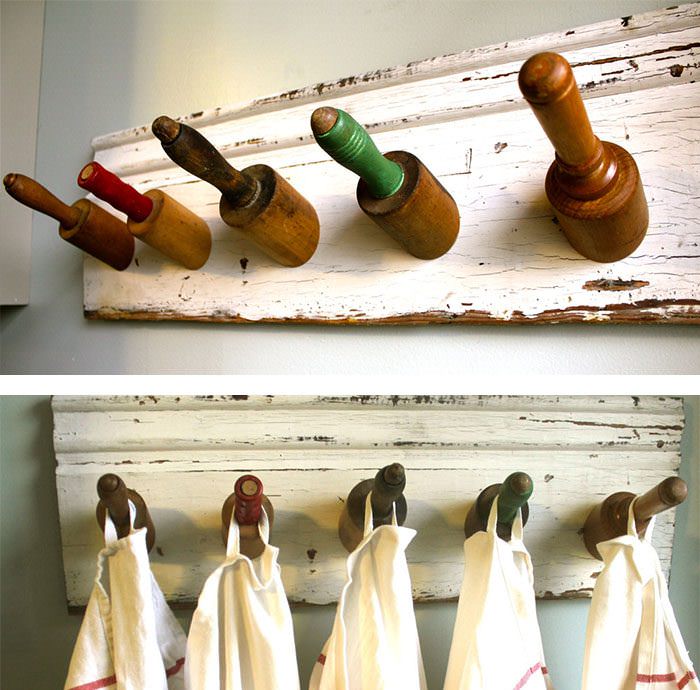 15. Colander planter
Many plants need large quantities of water, and in turn, they need pots with holes through which it can drain out. What's more natural for this than an old colander? You can turn you colander into a planter by hanging them with ropes threaded through the top-most holes, or by adding legs to the bottom allowing it to stand off the ground.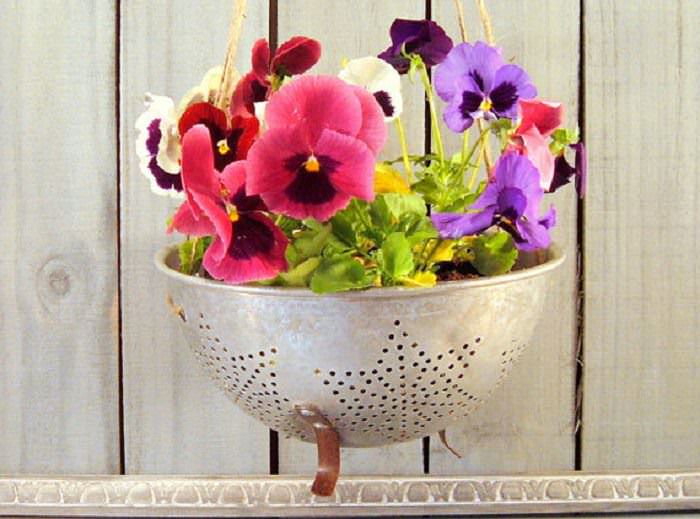 16. old funnel twine and yarn dispensers
This tip is great for anyone who knits or even for those who often use kitchen twine. Instead of looking for the end of the yarn or twine, let the thread balls sit in an old funnel and thread the ends through the spout. The funnel itself should be attached to a wall or to any work corner, and you can start sewing or knitting easily every time.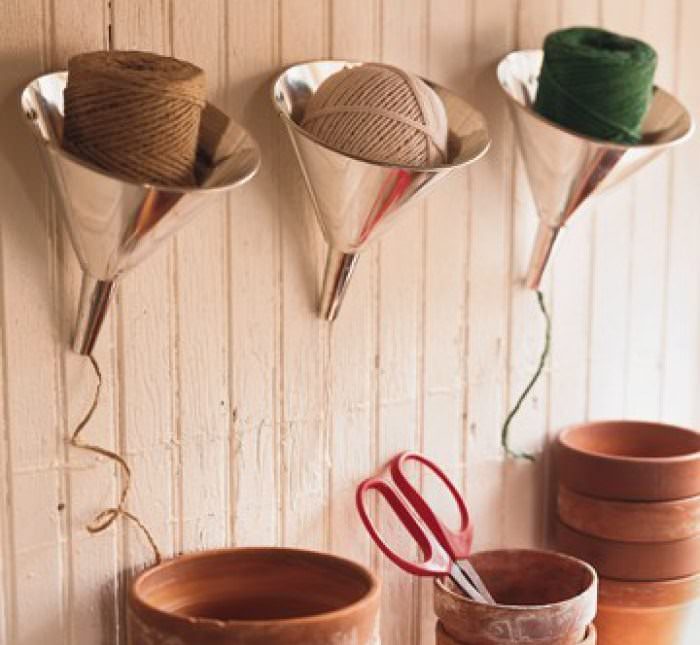 17. Corn on the cob skewers
Another awesome way to repurpose old silverware is by turning old forks into corn cob skewers. Just cut off the ends, sand so there are no sharp edges, fold back the two outer spears using a plier and voila!