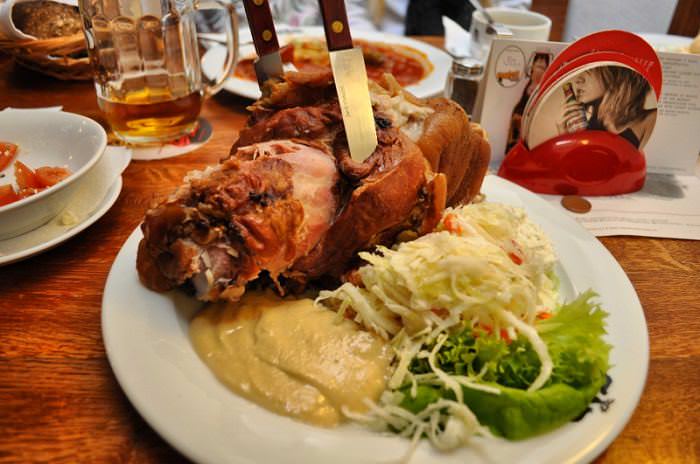 In the center of a traditional Czech meal is the meat. Czech cuisine gives a place of honor to meat dishes with ingredients such as chicken, beef, goose, and pork, and each dish is served with a side of cabbage or potatoes. The most popular dishes include schnitzel or stuffed chicken, fragrant goulash or soft meat. These are served alongside golden and bitter jugs of beer or sweet black beer, which are poured throughout the meal and provide hours of enjoyment to hungry diners. The waiting period for the main dish is not wasted in vain, as it allows diners to taste salads served in small bowls with loaves of bread. Salads are often based on combinations of red cabbage, soft potatoes, apples, and green vegetables or chicken.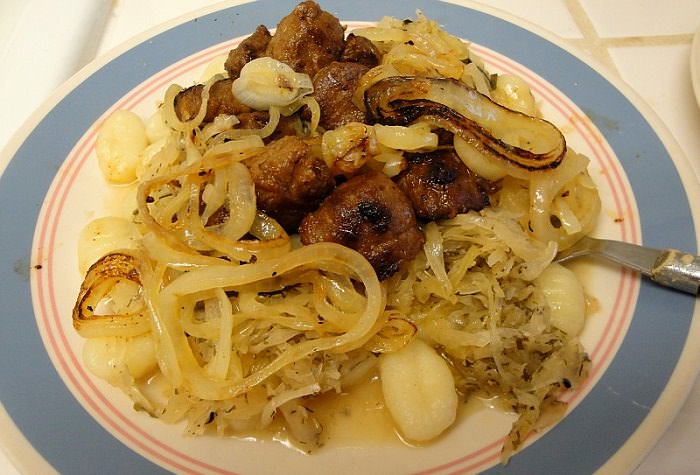 Those with a hearty appetite will be delighted to discover that after every large meal like this, they will also be served traditional dessert, usually dumplings filled with fruit.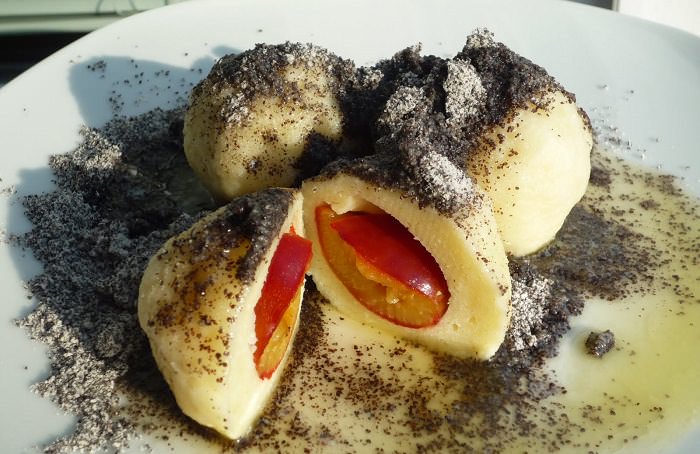 The following 5 recipes include salads, main courses, and desserts, which will allow you to put together a whole Czech meal, or you can choose to just add one or two to your regular meals. Whether you choose the first or second option, after the first bite you'll feel as if you just went for a surprise vacation to Prague. Bon Appetit!
Starters
Czech salads are usually eaten with thick slices of bread, and they help to open the appetite just before the main dish reaches the table.
Red cabbage salad
The cabbage is a vegetable staple in Czech cuisine, one that accompanies every meal, whether as part of a salad or as a main course. In some of the dishes the cabbage is cooked and in others, it is fresh, in some dishes it is pickled, while in others it is served with sugar. The next salad includes fried cabbage and apples, giving it a slightly sour and refreshing taste.
Time: 15 minutes
Difficulty: easy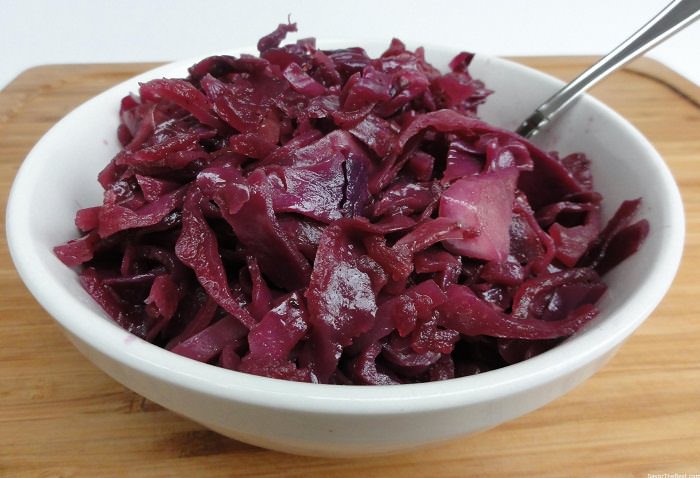 Ingredients:
Half a head of purple cabbage

1 large granny smith apple

1 large onion

2 tbsp. oil

½ tsp. salt

1/3 cup apple cider vinegar

3 tbsp. sugar

1 tsp. caraway seeds
Directions:
1. Cut the purple cabbage and apple into slices, and chop the onion into small cubes.
2. Fry the onion in vegetable oil until softened. Add the cabbage and salt, and cover the pan with the lid. Steam over a medium heat for 10 minutes.
3. Remove the lid and add the apple to the pot.
4. In a small bowl, mix the vinegar and the sugar, and pour over the cabbage. Sprinkle with caraway seeds, stir, cover and simmer for 30 minutes or until the cabbage softens, stirring occasionally.
5. Turn off the flame, transfer to a bowl and season to taste.
Chicken and celery salad
The next salad is an excellent dish for those who don't see a reason to wait for the main course to have some meat. The chicken will give your guests a juicy and appetizing opening to the meal, without filling them too much.
Time: 10 minutes
Difficulty: easy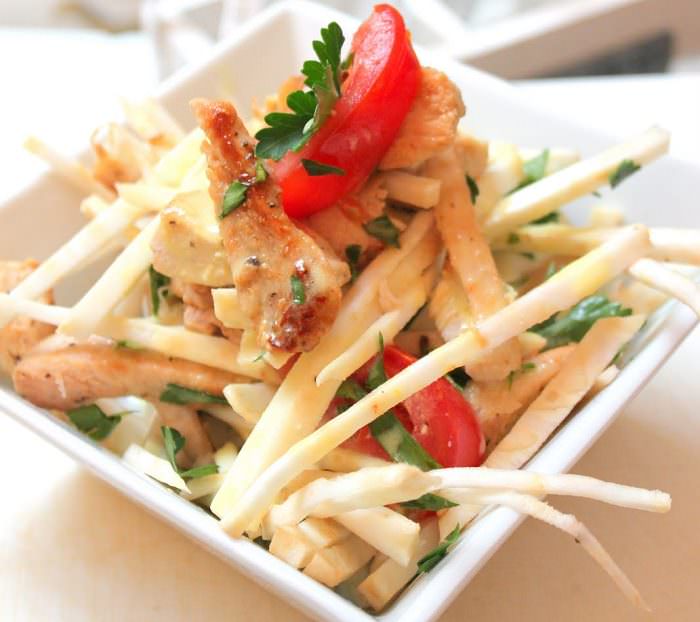 Ingredients:
1 medium-sized celery

300g boneless skinless chicken, cooked

1 small apple

½ a small onion

1 tbsp. fennel, diced

2 tbsp. olive oil

2 tbsp. lemon juice

1 tbsp. Dijon mustard

Salt, to taste

Ground black pepper, to taste

1 tomato
Directions:
1. Peel the celery and cut it into long strips.
2. Boil the celery in salted water for about 5 minutes until softened. Drain and allow the celery strips to cool.
3. Cut the chicken into strips, transfer to a salad bowl and add the cooked celery.
4. Peel and grate the apple.
5. Cut the onion, mix with the fennel and add to the bowl.
6. Mix the oil, lemon juice, and mustard together in a separate bowl. Season with salt and pepper.
7. Pour the sauce over the salad, mix well and let it cool in the refrigerator for at least 30 minutes.
Main course
Meat is usually the focus of the main course and the most delicious reason for any family meeting in the Czech Republic. The following dishes will allow you to switch it up and give your guests two juicy, satisfying and comforting dishes - a bowl of sausages and onion goulash, and mushroom stuffed chicken breast.
Sausage and onion goulash
Sausages are probably the most popular and delicious street food in the Czech Republic, and many streets in the big cities have countless stalls selling them alongside sauerkraut. Adding them to a warm and comforting goulash dish alongside potatoes and mushrooms will give you a delicious dish that you won't be able to stop eating even in the hot summer months. You can use any kind of sausages you'd like.
Time: 10 minutes
Difficulty: easy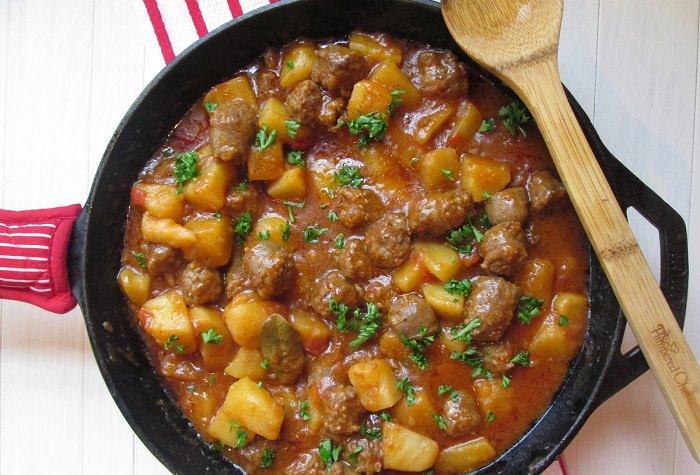 Ingredients:
2 lbs. potatoes

2 small onions

2-3 large tomatoes

10-15 medium champignon mushrooms

9-10 sausages

¼ cup oil

1 tbsp. paprika

1 cup water

Pepper, to taste

A handful of chopped parsley
Directions:
1. Peel the potatoes and cut them into cubes.
2. Peel and chop the onions and tomatoes.
3. Cut the mushrooms into small cubes and slice the sausages.
4. Pour the oil and fry the onion over medium heat in a deep skillet for a few minutes until softened. Add the sausages and fry them with the onion for 2-3 minutes.
5. Add the potatoes, tomatoes, and mushrooms, and cook for 2-3 more minutes.
6. Season and add enough water to cover the potatoes. Cook for about 15 more minutes for all ingredients to soften.
7. Sprinkle the parsley and served.
Mushroom stuffed chicken
This next main dish is one none of the guests will be able to refuse. The chicken is baked in the oven and filled with mushrooms and parsley, allowing it to win a medal of excellence as one of the less fattening dishes on the local menu.
Time: 10 minutes
Servings: 2
Difficulty: easy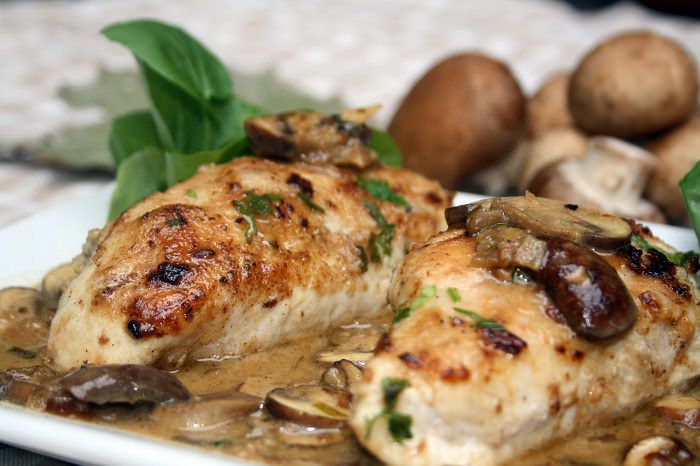 2 skinless boneless chicken breasts

2 onions, diced

1 clove of garlic, crushed

250 g mushrooms, diced

1 tbsp. olive oil

A dash of parsley, chopped

Pepper, to taste
Directions:
1. Pre-heat your oven to 350°F (180°C).
2. Season the mushrooms with black pepper to taste, add the parsley and garlic, and fry for another 2-3 minutes over a low heat.
3. Place the chicken breast on the work surface, cut it on the side to create a pocket and stuff with ⅓ of the fried mushroom mixture.
4. Bake the chicken with the mushrooms in the oven for about 25 minutes.
5. Remove, plate, top with the rest of the mixture, and serve.
Dessert
If you were in the Czech Republic looking at a dessert menu, you'd probably come across a large selection of dumplings. Dumplings are an integral part of the local cuisine and take up a lot of space on almost every restaurant's menu. Some are made of bread crumbs, some from potatoes, some are to be eaten as side dishes and some as starters. The following recipe is for a dessert dumpling.
Plum dumplings
Plums are a very common fruit in the markets throughout the Czech Republic and serve as the basis for a variety of foods, the most prominent of which are sweet and delicious dumplings that are suitable for dessert or even as a light snack on their own.
Time: 10 minutes
Difficulty: easy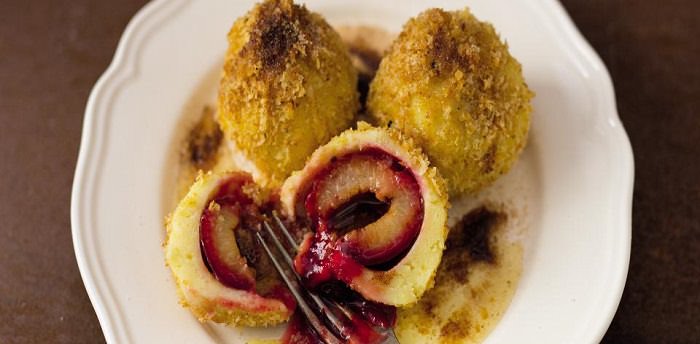 Ingredients:
100 g butter, or 100 ml oil

20 plums, pitted and halved

¼ cup semolina

1 egg

1 cup flour

2 tsp. cinnamon

½ cup milk

A dash of salt
Directions:
1. Mix the flour, egg, and semolina, and milk to create a soft mixture. Knead the mixture until you get a dough.
2. Roll the dough and cut it into squares the size of two plum halves.
3. Wrap 2 plum halves in each square of dough and roll on a floured surface.
4. Pour water into a pot and add salt. Transfer the dumplings to the water and cook until they begin to boil.
5. Once the water begins to boil continue cooking for another 10 minutes.
6. Remove the dumplings from the pot and transfer them to a serving bowl.
7. For the dips, prepare 2 separate bowls: Add melted butter to one bowl, and in another bowl mix the sugar with the cinnamon.
8. Roll each dumpling first in the butter bowl and then in the cinnamon sugar bowl. You can also add a bowl of blueberry jam or honey with nuts, and dip the dumplings into them.