Fish dishes are an easy and great way to provide ourselves and people close to us fast and healthy meals full of protein and amino acids. Just as there are different types of red meat and poultry, under the sea there is a huge selection of delicious fish to be turned into many dishes, especially tuna fish which most people like very much. Therefore, we've collected 6 different tuna recipes in its many forms, that will make you feel full yet still light and relaxed. Enjoy!
The next tuna salad recipe is undoubtedly one of the best dishes you can serve. Guests and family members will enjoy the taste of your excellent salad, so don't be surprised if you're asked to make it time and again. In addition to its wonderful taste and smell, its colorful and fresh look won't let anyone skip a taste of your delicious salad.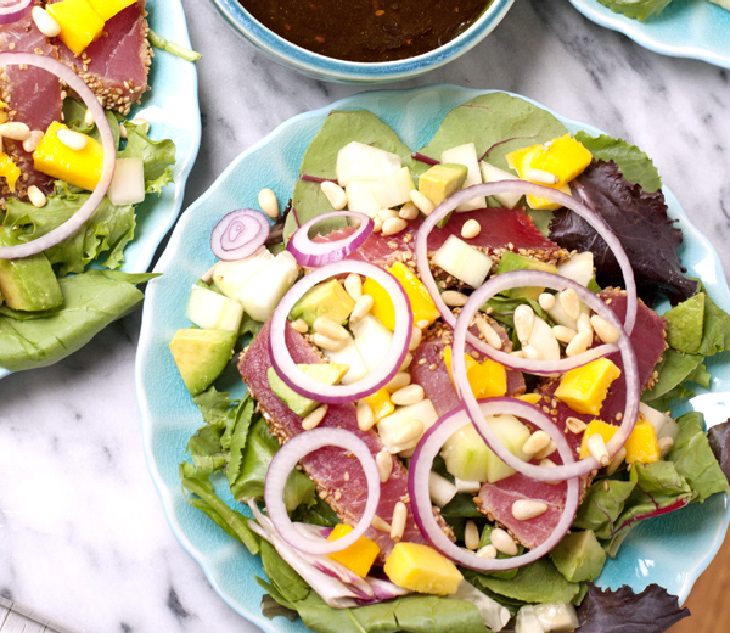 Ingredients:
1 4-inch piece of ginger, crushed

2 cloves of garlic, crushed

¼ cup soy sauce, low-sodium

½ cup olive oil

Juice of 2 lemons

3 pieces of tuna steak, 2-3 cm in width

2 cups of roasted sesame seeds

1 tbsp. cornflour

¼ cup of water

300 g arugula

1 large mango, peeled, cored and cubed

1 avocado, peel, cored, and cut into 4

1 red onion, cut into ¼ inch rings

1 cucumber

A handful of pine nuts
Directions:
1. In a bowl, mix together ginger, garlic, soy sauce, and lemon juice into a liquid
marinara.
2. Place the tuna steaks in a deep dish and pour the marinade over them, making sure all parts of the fish touch the marinade. Soak for about 10 minutes on each side.
3. Meanwhile, mix the cornstarch with water and set aside.
4. After soaking, dip the tuna pieces in the roasted sesame seeds making sure to cover all sides.
5. Now, heat a small pot over a medium-high flame, pour the marinade into it and bring to a boil. Add the cornstarch with the water and reduce to a slightly thick sauce, turn off the fire and set aside.
6. Heat olive oil in a cast-iron frying pan over a medium-high flame, and sear the tuna steaks coated with sesame seeds for 30-60 seconds each, depending on the level of doneness you prefer.
7. Remove the tuna from the pan, place it on a plate and wrap it in aluminum foil. Now place the plate with the tuna pieces in the freezer for 10-15 minutes to stop the cooking and for easier slicing.
8. Arrange 3 plates with rocket leaves on each, top with mango, cucumbers, and avocado. Remove the tuna pieces from the freezer and cut into thin strips, place on the leaves and vegetables, sprinkle pine nuts and slices of onion.
9. Pour over each plate a little of the sauce you first thickened and served.
2. Tuna and vegetable roll
If you're getting sick of plain sandwiches nestled between two pieces of white bread, then we might have just the recipe for you. This tuna roll that's sure to amp up your sandwich game will make your meal a celebration of delicious flavors. This recipe is also very easy to make making it very convenient as well!
Time: 10 minutes
Servings: 1
Difficulty: easy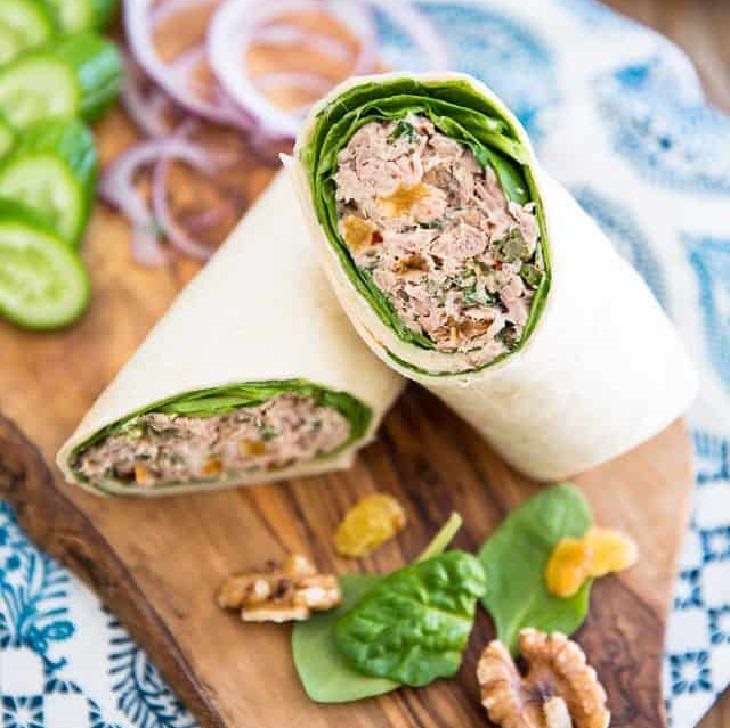 Ingredients:
1 11-inch tortilla

140 g canned tuna fish, drained

¼ cup yogurt

1 tsp. dijon mustard

2 tbsp. raisins

2 tbsp walnuts

1 tbsp. capers

1 tbsp parsley, chopped

A pinch of salt

A pinch of pepper

A pinch of chili

½ cup baby spinach
Directions:
1. In a bowl, place the tuna, yogurt, raisins, walnuts, mustard, capers, parsley, salt, pepper, and chili. Mix well until uniform.
2. Now place the tortilla on the work surface and lay the spinach leaves in the center.
3. Over the spinach place the filling you prepared in the first section and move the edge of the tortilla close to your body over and above the filling and spinach leaves.
4. Now fold the sides inward and roll the tortilla away from your body.
5. Tighten and cut diagonally in the center. Enjoy!
3. Tuna sushi cake
Usually, when someone says cake, we automatically think of a pastry with cream and a coating made of sweet layers that delight the palate, but the recipe here is called so not because of its sweet taste, but because of the work made of layers of rice, tuna, and vegetables. You are invited to try this impressive cake, and serve it as an appetizer that will entice everyone waiting impatiently wait for this surprising dish.
Time: 10 minutes
Servings: 3
Difficulty: easy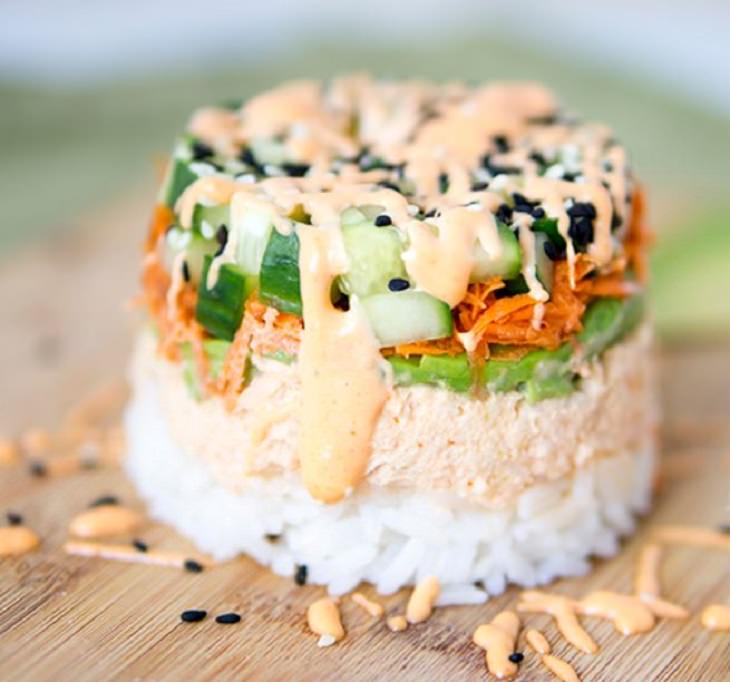 Ingredients:
½ cup jasmine rice, cooked

1 tbsp. rice vinegar

½ a cucumber, cubed

½ an avocado, peeled and sliced thin

½ a carrot, grated thin

130 g tuna, canned

½ cup mayonnaise

1 ½ tsp. chili sauce

A handful of sesame seeds, black and white
Directions:
1. Mix mayonnaise with hot chili sauce in a small bowl and set aside.
2. Mix cooked rice with rice vinegar in a small bowl and place it aside.
3. Strain the tuna from the liquid and place in a medium bowl, mix with half the mayonnaise and chili sauce together. Keep the other half for the end.
4. Now start assembling the dish, take a measuring cup or a clean container/mold that is round and slightly deeper than the tuna, and sprinkle black and white sesame seeds on the bottom. Above this layer, lay the grated carrots, cucumber cubes, and avocado slices. Press down to seal and add a layer of the tuna with mayonnaise, press down again and fill with rice to the top of the container/mold.
5. Press the rice down and turn the container/ mold over a serving dish, lightly tap the container/mold and gently release the layered cake. Lightly drizzle the leftover mayo-chili sauce over the cake and serve.
4. Italian spaghetti and tuna balls
If you've eaten only spaghetti with meatballs or Bolognese, you should get to know this third option. This special recipe can be used to prepare a light or as a meatless option. In any case, the fine taste and aroma of this dish will have diners flocking to your table.
Time: 20 minutes
Servings: 4
Difficulty: easy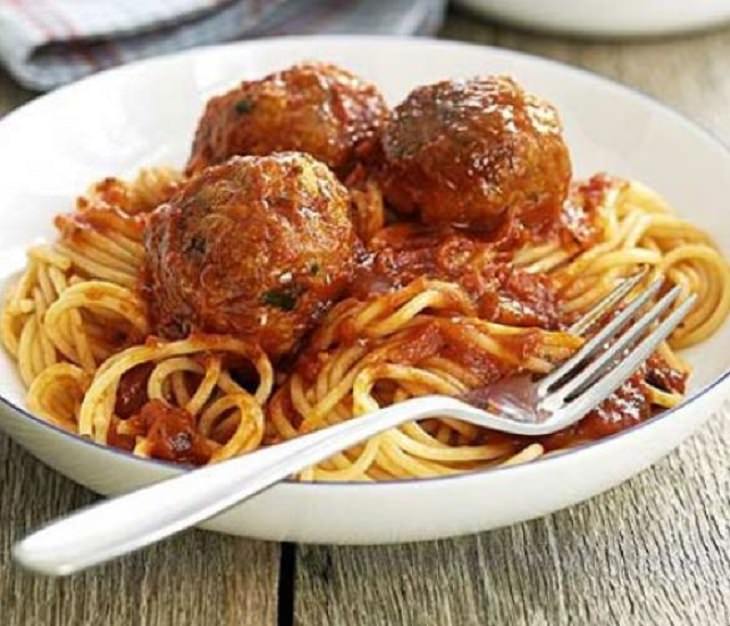 Ingredients:
2 cans of tuna, drained

Some pine nuts

Lemon zest from 1 lemon

A handful of parsley, chopped

50 g breadcrumbs

1 egg, beaten

Salt, to taste

Pepper, to taste

400 g spaghetti, uncooked

500 g pasta sauce, either store-bought or homemade

2-3 tbs. oil, for frying
Directions:
1. Cook the spaghetti according to the instructions on the box and strain.
2. Now, mix the tuna, pine nuts, parsley, bread crumbs, and egg into a bowl into a mixture that is not too wet nor dry. Season to taste and set aside.
3. Heat a skillet with a little oil, roll the tuna mixture into balls the size of a ping-pong ball and fry in the hot oil for about 5 minutes or until browned, turn over and fry for another minute or so.
4. Fry the whole mixture, place the prepared tuna balls in a strainer and warm your tomato sauce.
5. When the sauce is bubbling, add the fish balls and cook for about a minute together while stirring.
6. When the sauce with the fish balls is ready, plate your spaghetti, pour the hot sauce with the tuna balls and serve.
5. Egg noodles and tuna
Tuna fish is definitely high on the list of most liked fish, and many enjoy its canned version when making salads and sandwiches. With the help of the following recipe, you can prepare a different dish with canned tuna that will satisfy you and your family in a very tasty way.
Time: 50 minutes
Difficulty: easy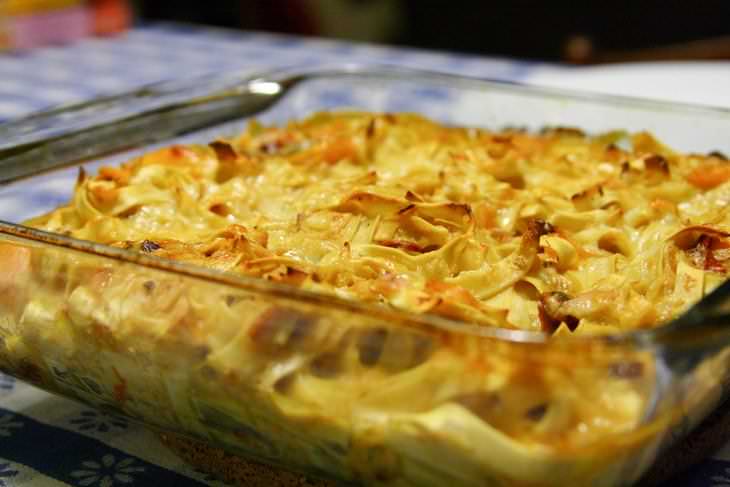 Ingredients:
100 g butter

250 g egg noodles, uncooked

½ an onion, finely diced

1 celery stalk, finely diced

1 clove of garlic, crushed

250 g champignon mushrooms, thinly sliced

¾ cup flour

2 cups of milk

300 g canned tuna,

drained

1

cup frozen peas, thawed

3 tbsp. breadcrumbs

2 tbsp. butter, melted

1 cup cheddar cheese, grated

Salt, to taste

Pepper, to taste
Directions:
1. Heat your oven to 400 degrees F (200 degrees C), and oil a medium-sized pan with 1 tablespoon melted butter.
2. Boil water in a large pot, salt, add the egg noodles and cook for 10 minutes or until they are almost ready (al dente).
3. Heat 1 tablespoon melted butter and add onion, celery, and garlic to a large skillet over medium-low heat. Sauté for 5 minutes until all the vegetables soften.
4. Turn up the flame to medium-low and add the mushroom slices to the frying pan. Fry for about 5 minutes or until most of the vegetable fluids evaporate.
5. In a medium saucepan, melt 50 grams of butter, add the flour and mix until smooth.
6· Add the milk to the pot with the butter and flour gradually and cook for 5 minutes until the mixture slightly thickens. Then add the tuna, peas, mushroom mixture, and cooked noodles to the pot.
7. Transfer the mixture to the greased pan and in a separate pot, melt the butter. Add the breadcrumbs to the pot, mix and sprinkle over the casserole.
8. Sprinkle the cheddar cheese over the casserole, put in the oven for 25 minutes or until the cheese is melted and served hot.
6. Tuna and corn-stuffed

sweet

potato
If you love cheesy potatoes then we have just the recipe for you! This dish takes your regular cheesy potatoes recipe and upgrades it tenfold by swapping regular potatoes with sweet potatoes and adding healthy and delicious tuna. Try this dish for dinner or as a snack.
Time: 10 minutes
Servings: 4
Difficulty: easy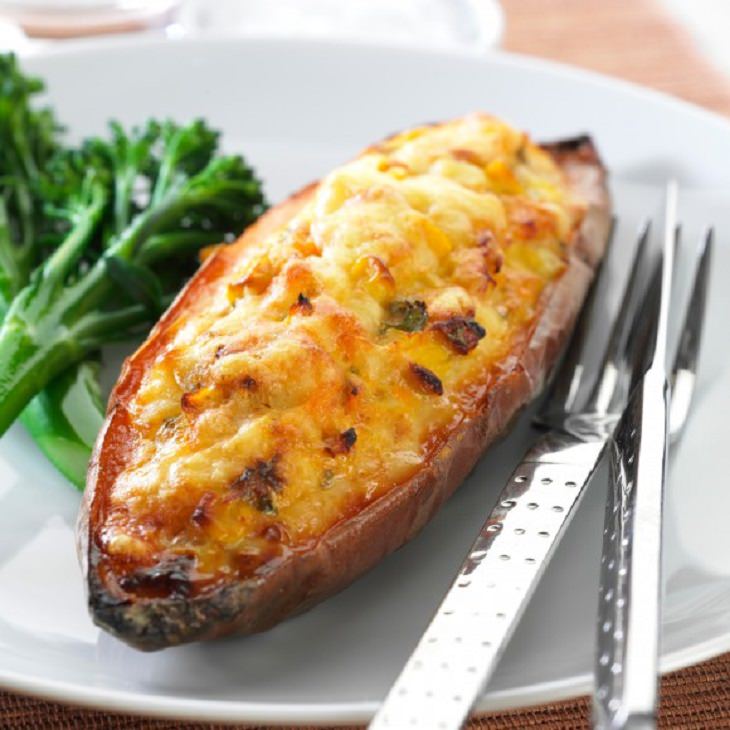 Ingredients:
4 eggs, beaten

2 sweet potatoes, 500 g each

250 g canned corn, drained

185 g canned tuna, drained and separated

2 tbsp. parsley

Salt, to taste

Pepper, to taste

½ cup cheddar cheese, grated
Directions:
1. Wash the sweet potatoes thoroughly and place them on a baking pan. Place in a preheated oven to a temperature of 375 degrees F (190 degrees C) for about 50 minutes until the center of the sweet potato is soft. Insert a knife into the center, if it is easily penetrated, remove it from the oven, if not, let it cook some more.
2. After removing the sweet potatoes from the oven, allow them to cool down. When they are cold enough, cut them lengthwise and spoon out the flesh of each half of the sweet potato leaving about 1 cm in the skin.
3. Place the potato flesh in a medium bowl and mash with a fork. Now add the corn, tuna, parsley and stir well.
4. Now add the eggs while stirring and season with salt and pepper to taste.
5. Place the potato skins on a baking pan and fill them with your sweet potato stuffing.
6. Sprinkle each half with the grated chess and bake in the oven for about 25 minutes or until golden brown. Remove and serve hot.