Many of us can remember bringing home a goldfish and watching it swim around in its little fishbowl, mesmerized. Well, with all due respect to the beloved goldfish, the fish below can turn any simple aquarium into a spectacular display of colors and shapes, because these are some of the most beautiful fish in the world! These fish, some of which are extremely rare and can cost tens of thousands of dollars, are found all over the world, and in the following series you can dive into the mysteries of the sea and watch the breathtaking beauty of nature with each of them.
The Clown Triggerfish is one of the most spectacular fish of its species, the family Balistidae because its body has a magnificent variety of spots in different colors such as black, yellow, white and light blue. This fish with bright yellow lips prefers to live alone in its territory, meaning that in the vicinity of other fish, especially fish smaller than it, it can be aggressive. In nature, it often lives in the tropics of the Indian and the Pacific Ocean and can grow up to 50 centimeters in length.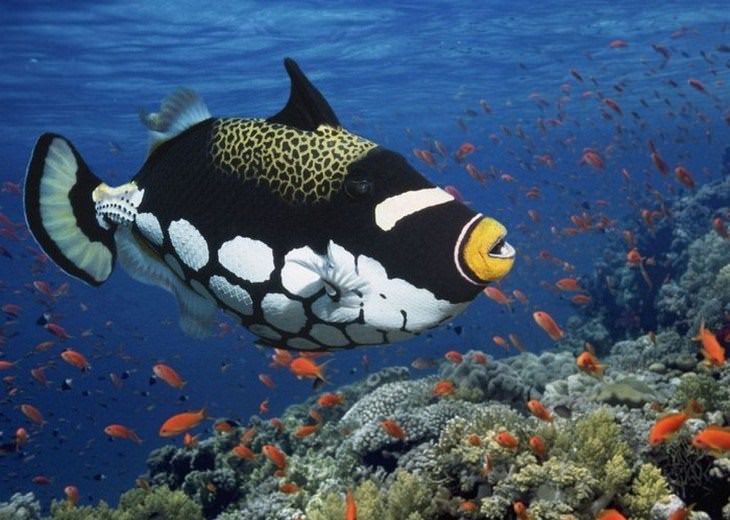 2. Bicolour Parrotfish
This fish is somewhat reminiscent of the parrot, because of its thick, prominent lips that resemble its beak. With its beak's help, it nibbles on coral reefs, chews the little creatures inside and spits out the leftovers of the inedible corals, meaning the way it eats it isn't so different from the colored bird. But this isn't the most impressive thing about this fish, because the amazing colors that color it are what make it so beautiful. It is considered to be one of the largest aquarium fish as it can reach a length of up to 1.2 meters.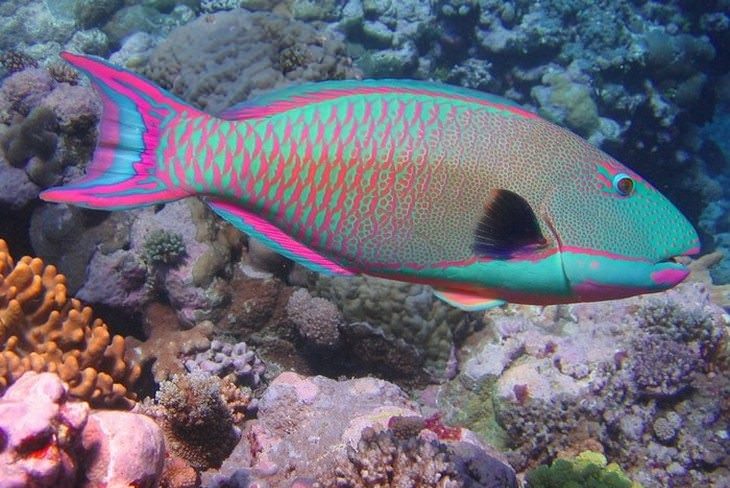 3. Emperor Angelfish
It is not by chance that this fish has been named 'Emperor of the Generation' - this type is one of the most beautiful fish in the world thanks to the amazing color contrast on its body, which is composed of brilliant blues, dark blues and whites. But these colors don't stay that way for its whole life. When the fish reaches adulthood, after about four years, the colors arranged in the rings around its body change and are replaced with strips of yellow and blue, and two back spots around its eyes. This fish is found in various parts of the world near the shores of the Indian Ocean and the quiet and the Red Sea, as in the Gulf of Aqaba.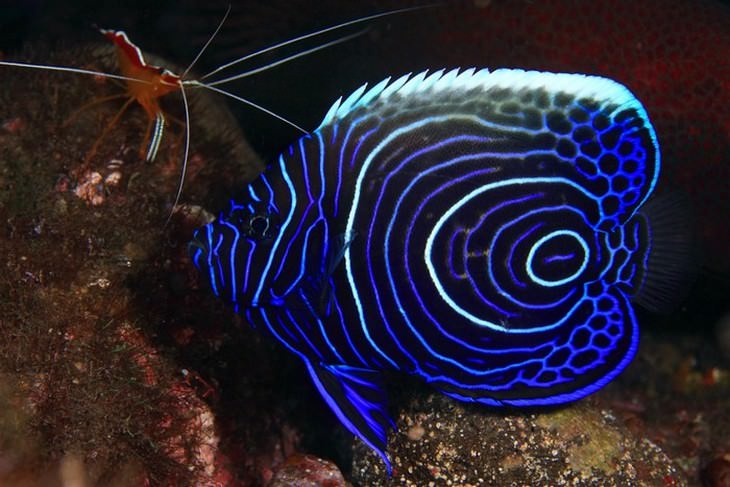 4. Picasso Triggerfish
The Picasso Triggerfish, a cousin of the Clown Triggerfish, is also present in the Gulf of Aqaba and other coral reefs along the Indian Ocean. This spectacular fish has an elliptical body shape, a large head and a particularly powerful mouth that is designed to break oysters and shells. Although fish are thought to have weak long-term memory, the Picasso and other fish belonging to the Balistidae family are intelligent fish that can remember and learn from past experiences!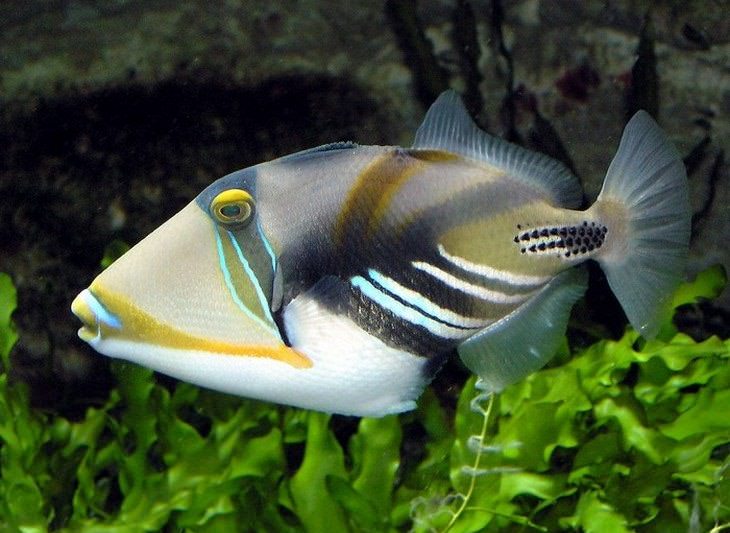 5. French Angelfish
Surprisingly, these impressive fish, with yellow scales that adorn their bodies, are edible and apparently are quite tasty, so in some countries you may find them for sale in the fish markets. These fish are found in the Western Atlantic Ocean, as well as in the Caribbean, along the coasts of Mexico and Brazil, and can grow up to 40 centimeters in length.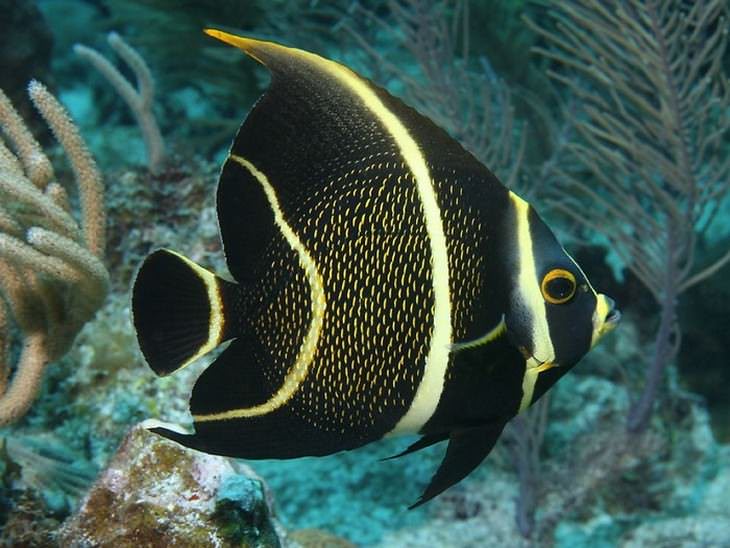 6. Clownfish
You probably recognize the Clownfish as the species that stars in the movie "Finding Nemo." Although the colors most commonly associated with this fish are orange, white and black, there are other colors of Clownfish. The small fish, which usually grows up to eight centimeters long, travels in a school which at the top of its hierarchy sits the dominant female who is responsible for breeding.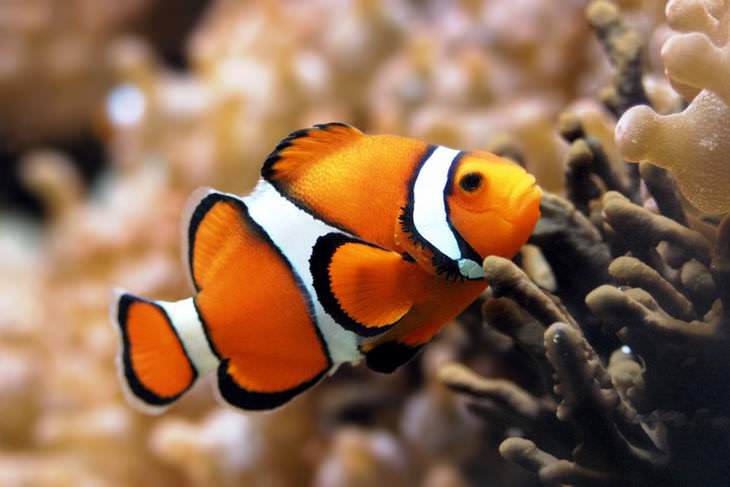 7. Zebrasoma
The Zebrasoma are best known for their complementary and harmonic colors: the hypnotic blue-purple color on their bodies and the bright yellow color at the tip of their tails make them the world's most sought-after and popular fish. However, these fish are also used as bait thanks to the strong scent they secrete, which attracts other fish. In their natural environment, they are commonly found in the coral reefs of Japan, East Africa and the large coral reef in Australia.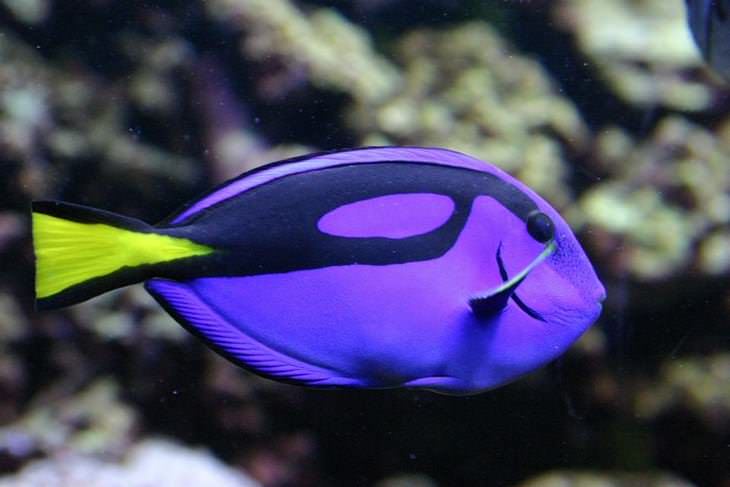 8. Banggai Cardinalfish
These tiny and unique fish, decorated with long, curly fins, can be found only in one place in the world, in their natural habitat, namely the Banggai Islands of Indonesia. Because these fish are so beautiful and rare, they have become a very sought-after variety in the commercial fish market. Because of this, and because of the very small initial number of this species, these fish are in serious danger of extinction.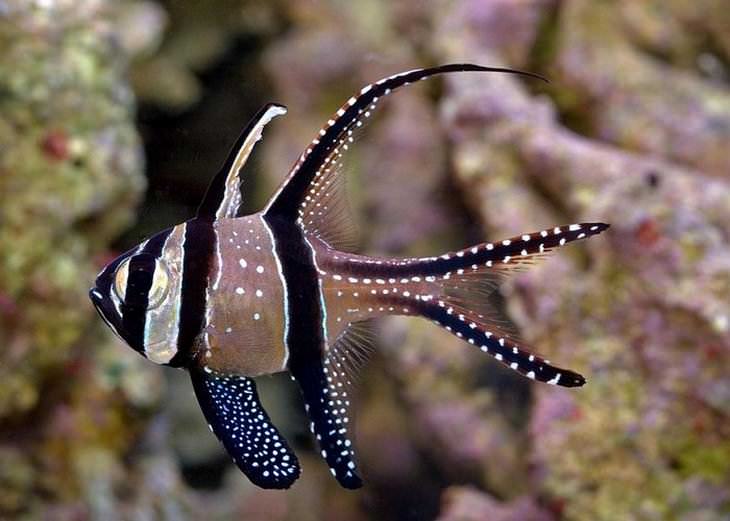 9. Blueface Angelfish
Of the Angel family, this species is the most colorful, and boasts many shades of blue and yellow, with its face, as its name suggests, colored blue. These fish are common in the waters of the Indian and Pacific Ocean, especially in the shallows, and their size is also considered to be relatively large among the nautical fish, with a length of 35 centimeters. These magnificent fish have an exceptionally long lifespan of about 10 years and are considered to be even-tempered and pleasant. Therefore, they are also popular as domestic ornamental fish.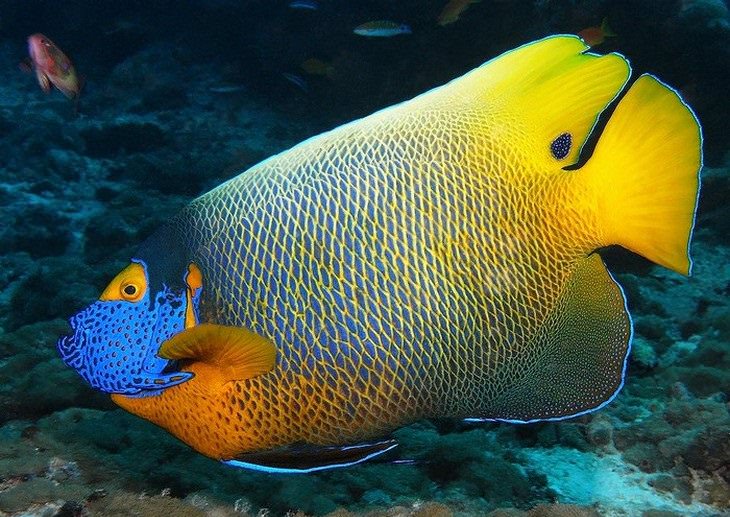 10. Moorish Idol
The Idol, with its body as thin as a CD, is common in the Indian Ocean and near Japan and South Africa. The Moorish fish received their name from the African Muslims, also known as Moors, who believed that these fish would spread happiness to everyone in their path. Their beauty has made them a sought-after species among ornamental fish enthusiasts, but because these fish are delicate and sensitive, many of them can't survive and live longer in aquarium conditions.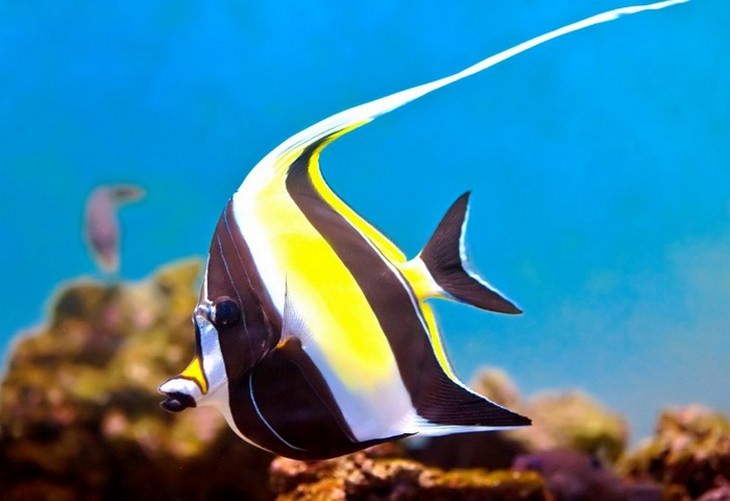 11. Pufferfish
Despite the amusing shape of these fish, Pufferfish are among the most dangerous vertebrates in the world, because their thorns are full of a deadly nerve poison called tetrodotoxin. Some species of this fish are found in the Gulf of Aqaba, where the toxicity of the fish is high and therefore they are not hunted or eaten. On the other hand, in some Asian countries like Japan, China, and Korea, this fish is considered a gourmet food, so many people consume it on a daily basis and put their lives in the hands of skilled chefs who a trained in which parts are edible and which are not.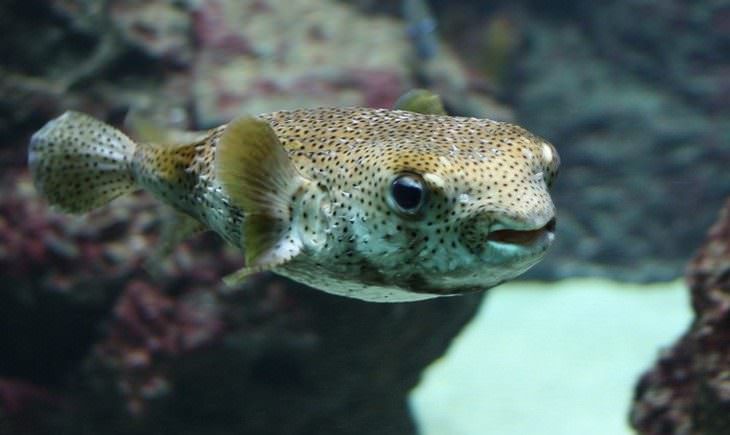 12. Candy Basslet
These small and narrow fish, decorated with orange stripes throughout their bodies and black spots on their fins, are mainly found in the Caribbean and Indonesia, but because they are considered a very desirable breed for aquariums, they are artificially grown and traded en masse to the world's ornamental fish enthusiasts, despite their expensive price tag.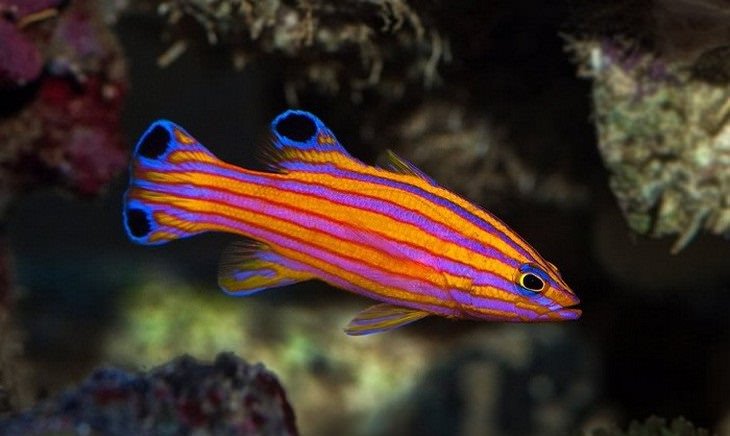 13. Wrought Iron Butterflyfish
This butterflyfish is a rare ornamental fish, with hypnotic silver scales and a bright yellow tail. The price for one can be as high as $2,000. The natural habitat of these small fish, whose maximum size can only reach up to 15 centimeters, is along the coasts of central and southern Japan, in the Western Pacific.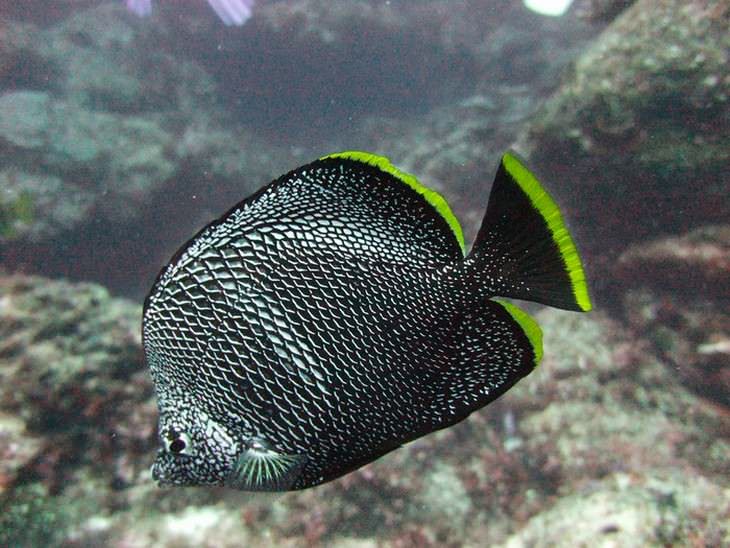 14. Sea Goldie
Decorated in bright colors such as purple, blue and green, this beautiful fish is considered one of the most impressive goldfish in the ocean, and is therefore named after "gold". The males have a pinkish-red color and a long back fin in the front, whereas the female's main color is orange with some yellow on their bottom halves. Diving enthusiasts can see this fish, which moves in large schools, in the coral reefs of the Red Sea in Aqaba, Australia, and Japan. This fish ranges between 7-15 cm in size.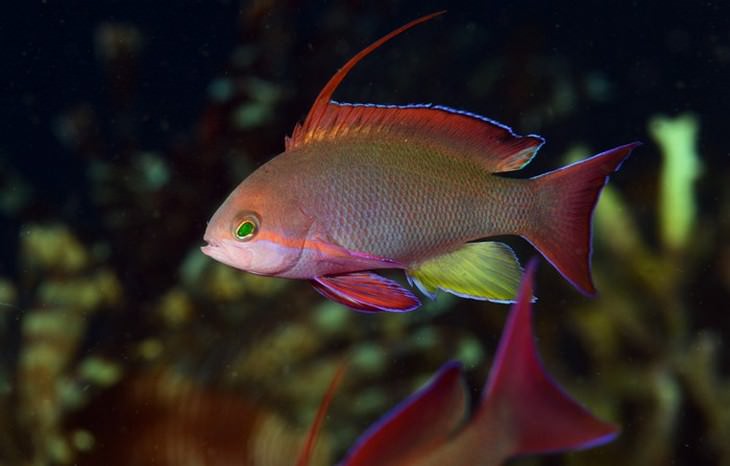 15. Dwarf Gourami
This fish is among the smallest ornamental fish you can find, with a body length of up to 5 centimeters. It was first discovered in 1822 in South Asia, near India, Pakistan and Bangladesh. This fish resides in places with stagnant water or weak currents such as lakes, streams, and brooks. Its bright scales, which look like little reflectors, exist for a reason. Because the visibility conditions in their natural habitat are not good, the fish use their scales to identify their family members.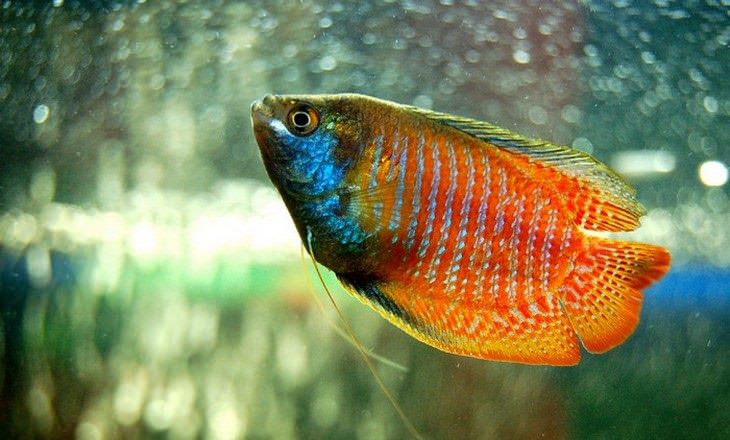 16. Discus
In Brazil's vast Amazon rivers lies this beautiful fish, which prefers to hide in thick, dense vegetation, making it hard to find. The discus fish, named after its circular shape, is considered to be a popular fish among the common commercial species of fish, thanks to its amazing body shape and color, but mainly due to its comfortable and pleasant temper. Discus fish are considered intelligent and sociable and always move in large groups of their kind. A mature fish can grow up to 25 centimeters in length.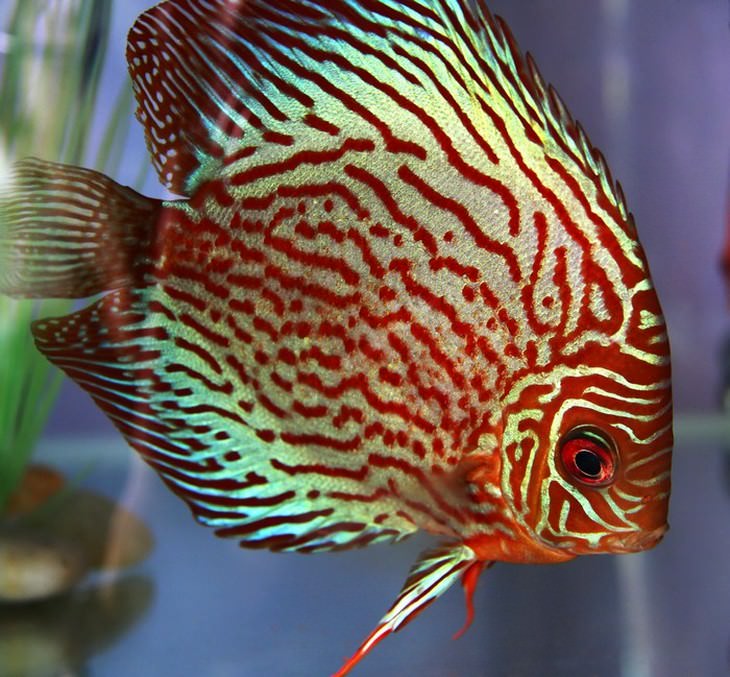 17. Lionfish
Nestled in the shadows and huts of the coral reefs, moving alone and lurking slowly and quietly to prey, the Lionfish is one of the most spectacular but daunting fish among the beautiful creatures living in the ocean. This fish is predatory and belongs to the Scorpaenidae family. Along its body, you will see a large chain of thorns, each wrapped in a colored membrane, like the rest of its body. Each thorn is poisonous and very painful to the touch, though not usually deadly. Various types of Lionfish are found in the Pacific and also in the Red Sea, and they can grow up to 50 centimeters long.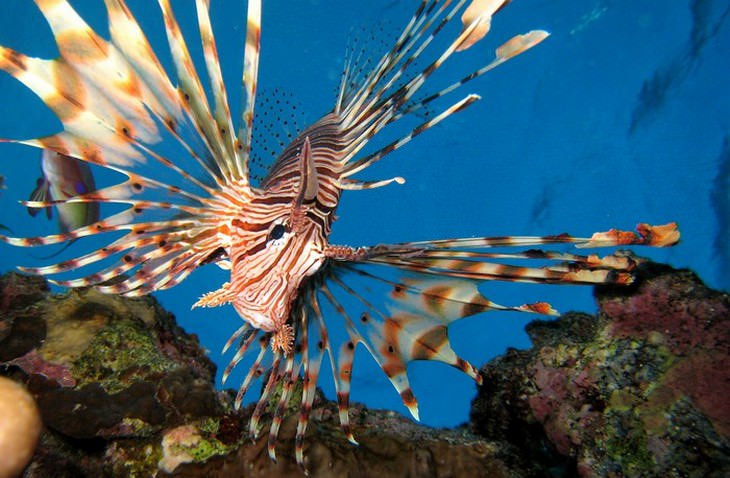 18. Mandarin fish
Mandarin fish can certainly be considered the most beautiful fish in the world. This sea creature, also known as the mandarin dragon, has a small rounded body that is very visible because of its intense and hypnotic colors. The fish was named after the mandarin, the state minister in imperial China and in Vietnam, who wore magnificent robes. It lives in the Pacific Ocean near the coral reefs of Australia and the Ryukyu Islands, and despite its slow movement, it is difficult to locate this fish in nature because it often swims close to the bottom of the ocean floor.