The next recipe is going to be the most sought-after salad among your family members and if you're asking yourself why, just make it and find out for yourself. These wonderful salad ingredients combine crisp cauliflower with roasted pine nuts and sweet dates, which together create one of the most delicious and surprising salads you've tasted to this day!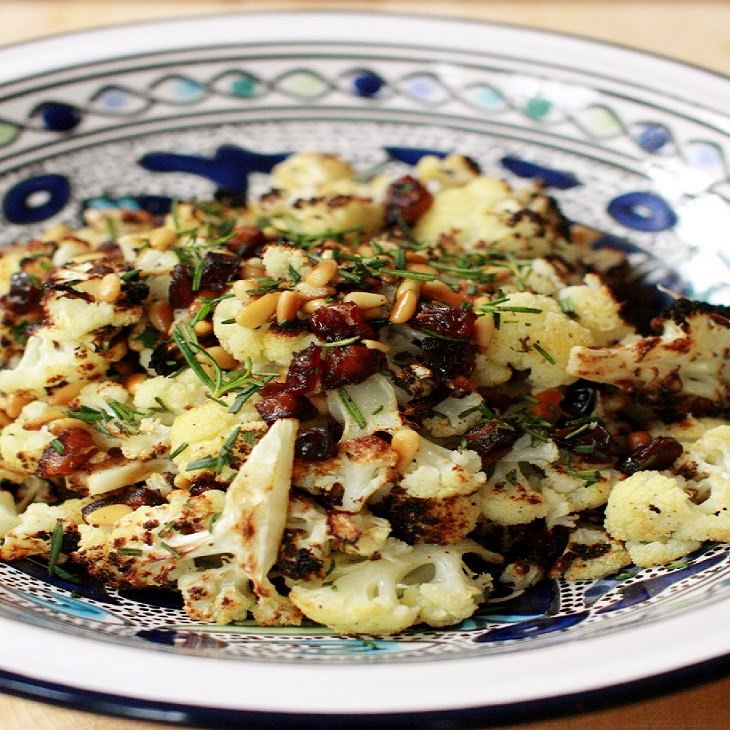 Ingredients:
1 cauliflower head (broken up into florets)

4-5 large pitted dates, diced

¼ cup + 1 tbsp. pine nuts

2 tbsp. rosemary, fresh and chopped

Garlic powder, to taste

Salt, to taste

¼ cup olive oil

2 tbsp. olive oil (for pine nuts)
Directions:
1. Heat the oven to 200 degrees and prepare a baking pan.
2. Spread the cauliflower into thin slices, as you would mushrooms, and spread evenly over the baking pan.
3. Sprinkle the cauliflower with garlic powder and salt to taste, and mix well.
4. Pour olive oil in a thin stream over the cauliflower and mix again.
5. Put in the oven for 10-12 minutes, or until the cauliflower slices are soft and lightly browned.
6. While the cauliflower is in the oven, heat a skillet over medium-high heat and pour 2 tablespoons of olive oil into it.
7. When the oil is hot, add the pine nuts and dates, and toast them for about 4 minutes or until the pine nuts are golden brown. Remove from the fire and wait while the cauliflower softens in the oven.
8. Once the cauliflower is ready, place it on a plate, sprinkle the pine nuts and dates over it, mix well, garnish with rosemary and serve hot or cold.
Roasted Chicken with Dates, Carrots, and Pistachios
Chicken is the base for some of the most popular dishes in almost every home and each has its own recipe. But, if you want to diversify a little and taste something new and original, you should try the roasted chicken recipe before you. Apart from the usual spices such as salt, olive oil, and garlic, it contains many interesting ingredients that make it a favorite, especially among children.
Time: 20 minutes
Servings: 5
Difficulty: Easy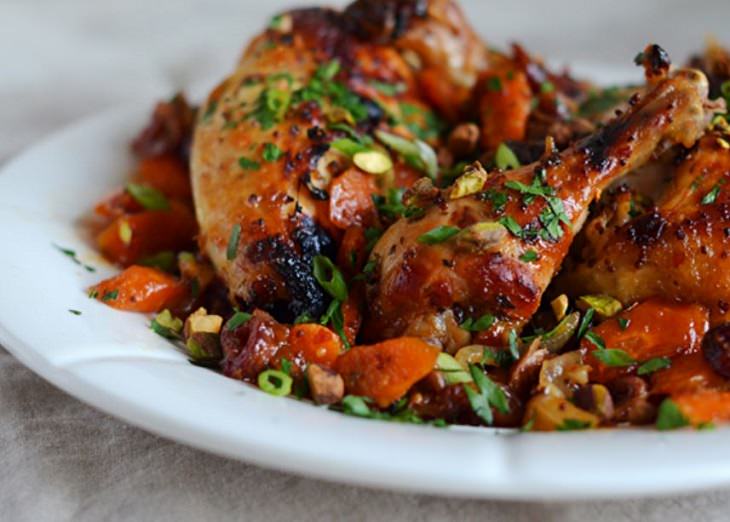 Ingredients:
1 tsp. lemon zest

3 tbs. lemon juice

1 tsp. orange zest

6 tbsp. orange juice, freshly squeezed

6 tbsp. olive oil

3 tbsp. mustard

6 tbsp. honey

½ tsp. chili

2 ½ tsp. salt

3 cloves of garlic, coarsely chopped

2 tsp. thyme leaves - 1 tsp, dry

3 ½ lbs. Chicken (thighs, legs, and breast)

3 cups carrots, cut into 1 cm slices

1 medium onion, halved and thinly sliced

1 cup dates - 1 cup, pitted and thinly sliced

12 tablespoons green onion, coarsely chopped - for garnish

½ cup pistachios, salted and chopped - for garnish
Directions:
1. For the marinade: In a medium bowl mix the lemon zest, orange zest, lemon juice, orange juice, olive oil, mustard, honey, chili, garlic, thyme, and salt.
2. In a zip lock bag place the chicken, carrots, dates, and onions. Pour the marinade into the bag and close it tightly.
3. Shake the bag so that the marinade coats all parts of the chicken, place the bag in a baking pan and let rest in the refrigerator for 6 hours or overnight. After marinating, preheat your oven to 220 degrees.
4. Remove the chicken, vegetables and the marinade from the bag, and place in a baking sheet, with the chicken facing skin side up.
5. Put in the oven and roast the chicken until golden brown and soft for about 40-45 minutes. (About halfway through, remove the pan from the oven and mix the vegetables and chicken so they don't burn).
6. At the end of the cooking, move the chicken and vegetables to a serving dish, pour some of the sauce from the pan over it, sprinkle with green onion and pistachios, and serve.
Lamb With Dates alongside Couscous and Pomegranates
The next course can be served at any festive meal, thanks to the amazing combination of soft and tender lamb meat with sweet dates. In addition, this rich dish is accompanied by couscous and fresh pomegranate seeds that elevate the dish and create a special recipe that will leave your guests speechless.
Time: 20 minutes
Servings: 7
Difficulty: Easy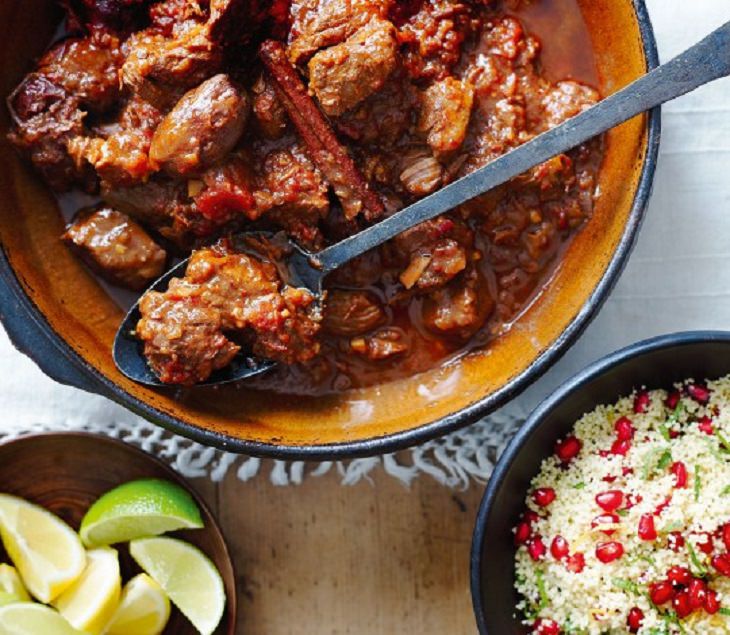 Lamb ingredients:
2 tbsp. olive oil

2 onions, diced

1 piece of ginger (about 3cm long), peeled and diced

4 cloves of garlic, crushed

1 cinnamon stick

1 tbsp. cilantro, dried and ground

1 ts. Cumin seeds

3 ½ lbs. leg of lamb (or shoulder), cubed

200g dates pitted

400g tomatoes, diced

400ml beef stock

2 lemons, cut into wedges (for serving)
Couscous ingredients:
400g couscous, prepared as instructed on the packaging

1 tbsp. olive oil

Lemon zest from 1 lemon

Lemon juice, from 1 lemon

A handful of mint leaves, thinly chopped

Pomegranate seeds, from 1 pomegranate
Directions for the lamb:
1. Pour the oil into a deep-bottom pot and place it on the stove over a medium-high flame.
2. When the oil is very hot but not smoky, add onion, ginger, and garlic into the pot and fry for about 10 minutes.
3. Add a cinnamon stick, cilantro and cumin seeds to the onion, and cook together for about 5 minutes. Then, place the lamb in the pot and cook for about 10 minutes, then add the dates, tomatoes and the beef stock.
4. Mix well, cover the pot and cook on low flame for about two and a half hours until the lamb becomes very soft.
Directions for couscous:
1. Mix the prepared couscous in a bowl with olive oil, lemon zest, lemon juice, and mint and pomegranate seeds. Place in the middle of the table and serve with lamb and lemon wedges.
Australian Date Cake
The next recipe is one of my favorites, and after you taste it you will fall in love with it. I first tasted this date cake when a friend returned from a trip to Australia and prepared the recipe he received from one of the locals. After my first taste, it became my favorite cake, and I'm sure it'll be one of yours as well!
Time: 10 minutes
Difficulty: Easy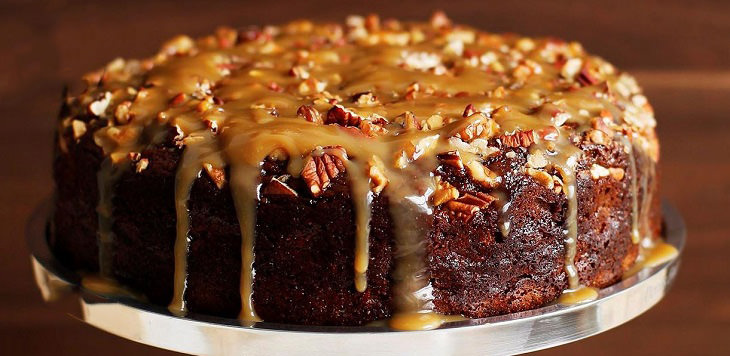 Ingredients:
1 ¾ cup (300g) dates, finely diced

1 ½ cups water, boiling

1 tsp. baking, soda

90g butter softened

1 ¼ cup brown sugar

3 eggs, whisked

1 ½ cups self-rising flour

1/3 cup (40g) walnuts

1/3 cup (40g) pecans
Directions:
1. Preheat oven to 160 ° C and line a 22cm round baking pan with baking paper.
2. Mix the dates in a bowl with the boiling water, add in baking soda and set aside for about 5 minutes.
3. Place the water and date mix into a food processor, add the butter and sugar and process until it reaches a puree consistency.
4. Stop the food processor, place in eggs and flour, and then process all ingredients together into a smooth consistent mixture.
5. Transfer the mixture to the prepared pan, and evenly spread the nuts on top. Place in the oven for about an hour until the cake is completely baked.
6. Remove the cake from the oven and let it cool for about 10 minutes.
3-Ingredient Date Snack
I don't think there's anyone who doesn't snack in between meals, and this urge for something sweet or salty almost always causes us to "sin" and eat unhealthily. Therefore, if you can't resist and need a delicious energizing snack during the day, make sure you're having one chock full healthy ingredient, like the one below!
Time: 10 minutes
Difficulty: Easy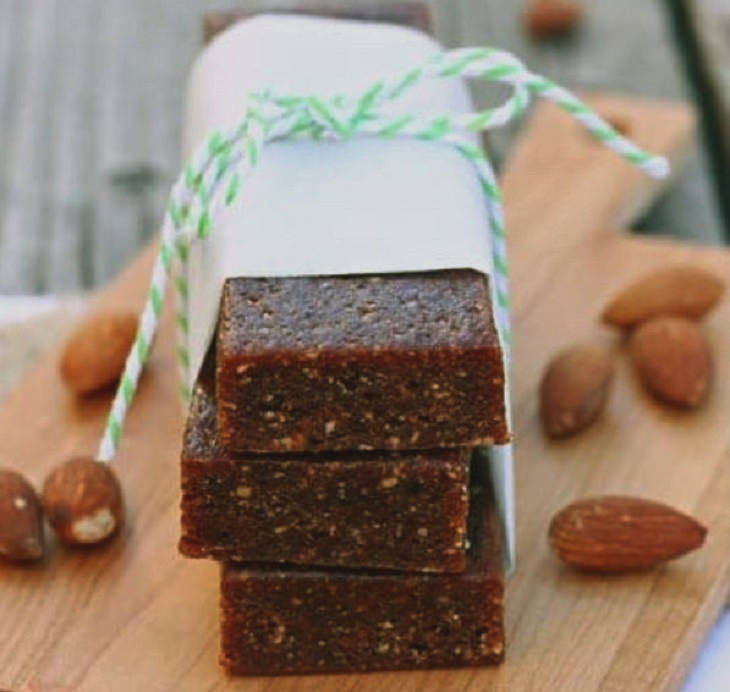 Ingredients:
1 cup almonds, walnuts, or a mix of both

1 cup dry cherries, or any other dry fruit

1 cup (12-5 pieces) dates
Directions:
1. Prepare a 8x8in baking pan and line it with baking paper.
2. Put all the ingredients into a food processor, process in light pulses until the dates are crushed. (Make sure the almonds are lightly diced and well mixed in with the dried dates and fruits).
3. Place the additional baking paper on your work surface and transfer the mixture onto it using a bowl scraper.
4. Place the baking sheet in the pan over the mixture and roll it out with a rolling pin to the size of the pan.
5. Place the baking sheet back in the pan and refrigerate for about 60 minutes.
6. Then, gently remove the top paper and cut into cubes or bars, store in a sealed box or serve right away.
image source: Wanderingspice, Onceuponachef, deliciousmagazine, foodtolove, letsdishrecipes