1. Biltmore Estate; Asheville, North Carolina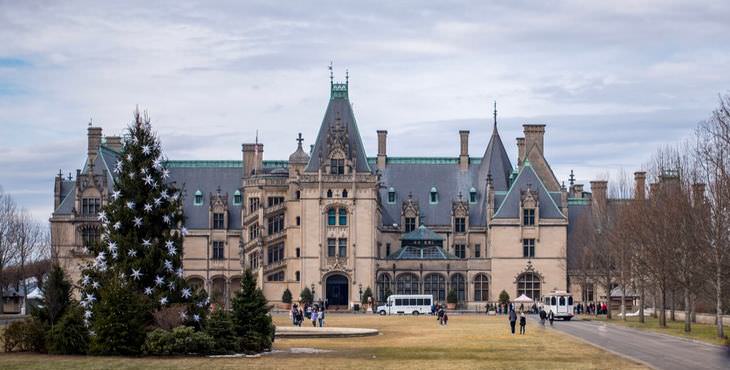 The stunning Biltmore Estate in Asheville was built by George Vanderbilt. Works began in 1889. The home still belongs to the family, though tours of the private residence, complete with multiple floors, a bachelors wing for male mayhem, expansive gardens and a winery are offered.
2. Witanhurst; London, England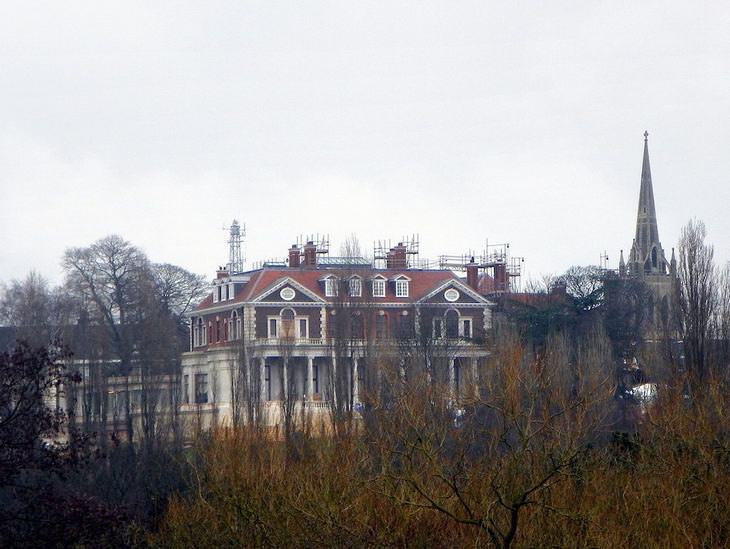 While Buckingham Palace is the largest estate in all of London, Witanhurst is the second-biggest private residence. It was previously put on the English Heritage's list of buildings at risk. The mansion has been owned by a number of prominent foreign figures, including the then-president of Syria, Bashar al-Assad, Somar al-Assad. Currently, it is owned by Russian billionaire Andrey Gurvey. The residence features 65 rooms, 25 of which are bedrooms, along with a dining room, Chinese room, billiards room and the gallery hallway.
3. Villa Leopolda; Villefranche-sur-Mer, France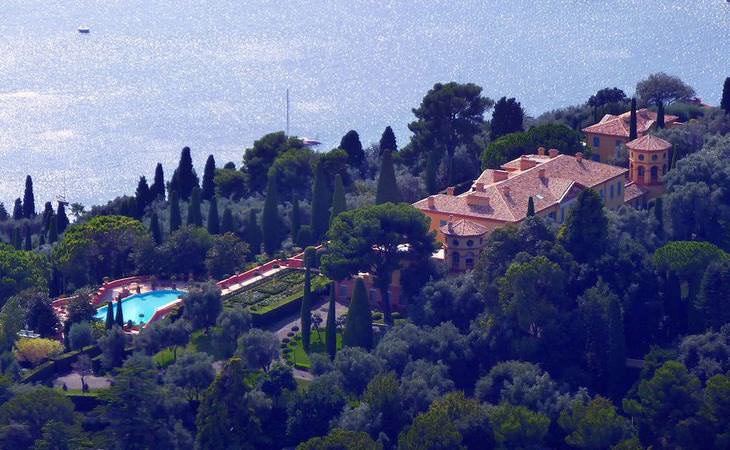 This large villa located on the French Riviera was built from 1929 to 1931 by American architect, Ogden Codman, Jr. as a gift for his mistress. Currently, the estate is owned by Lily Safra, who inherited the property after her husband's death. The beautiful home sits along the coast and features lush gardens, a greenhouse, an outdoor kitchen, a pool, and helipad.
4. Taohuayuan; Suzhou, China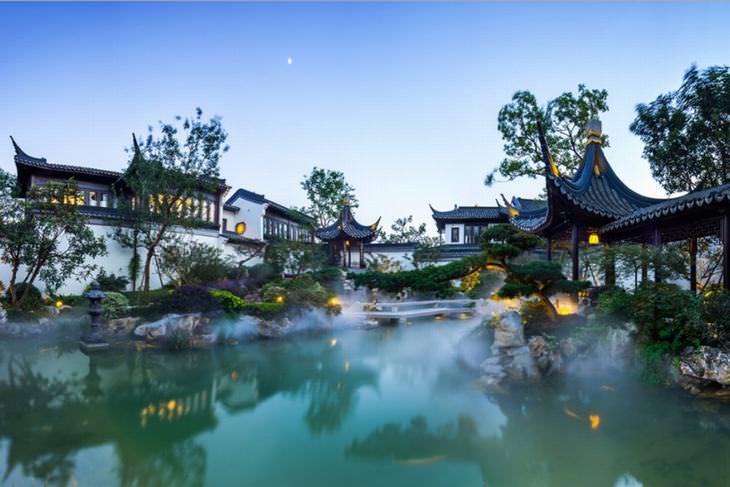 This newly built home (built in 2016) hit the market in China for an astounding $1 billion yuan ($154 million in U.S dollars), making it the most expensive home in China to date. The 32-bedroom, 32-bath home sits on a private island on the south shore of Dushu Lake.
5. Fair Field; Sagaponack, New York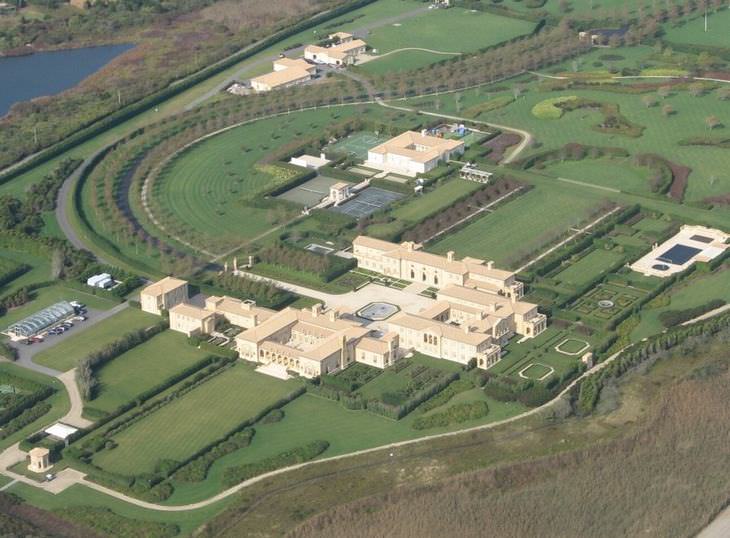 Located in the Hamptons, Fair Field was built by billionaire investor Ira Rennert. Works began in 1999. Due to the large size of the estate, Rennert didn't move into the home until 2004, due to the outcry of the neighbors, who claimed that the 29-bedroom, 39-bathroom home, complete with a power plant, three swimming pools, a synagogue, two courtyards, an orangery, a 164-seat home theater, basketball court and bowling alley would be too much for the neighborhood to handle.
6. Antilia; Mumbai, India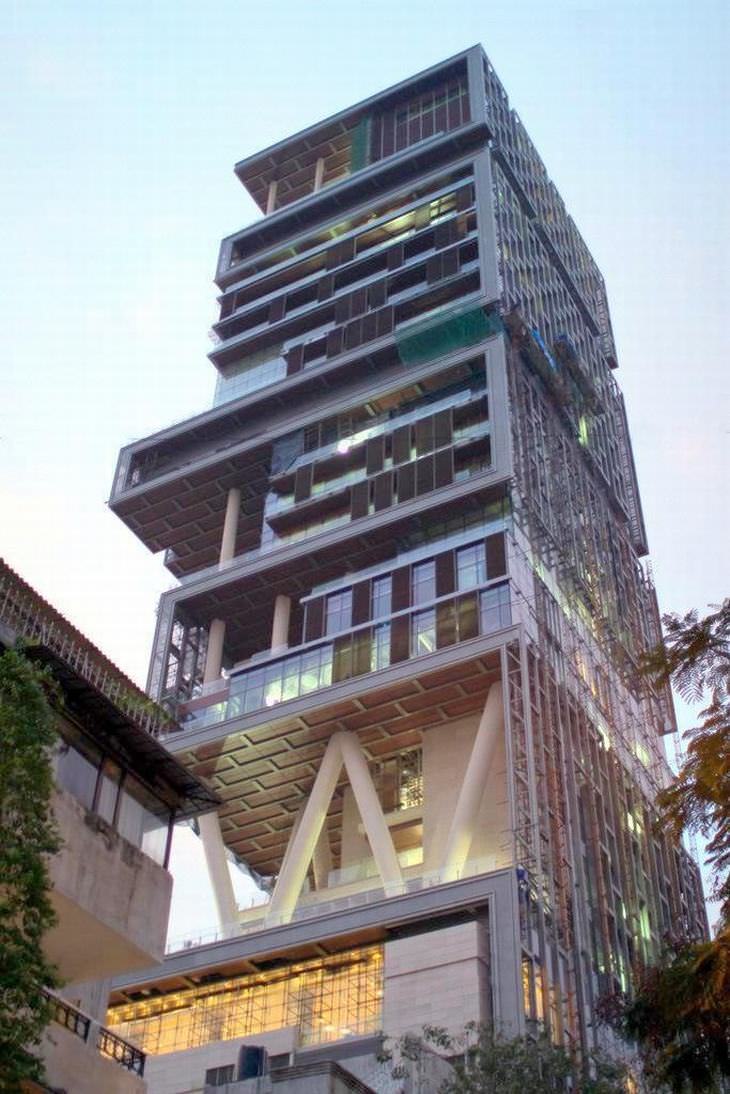 Mukesh Ambani, the chairman of Reliance Industries, owns his own skyscraper in Mumbai. He hires a staff of nearly 600 people to keep the home running 24 hours a day. The residence contains 27 stories of grand bedrooms and entertainment, and has faced harsh criticism in a nation suffering immensely from poverty and hunger.
7. Versailles; Windermere, Florida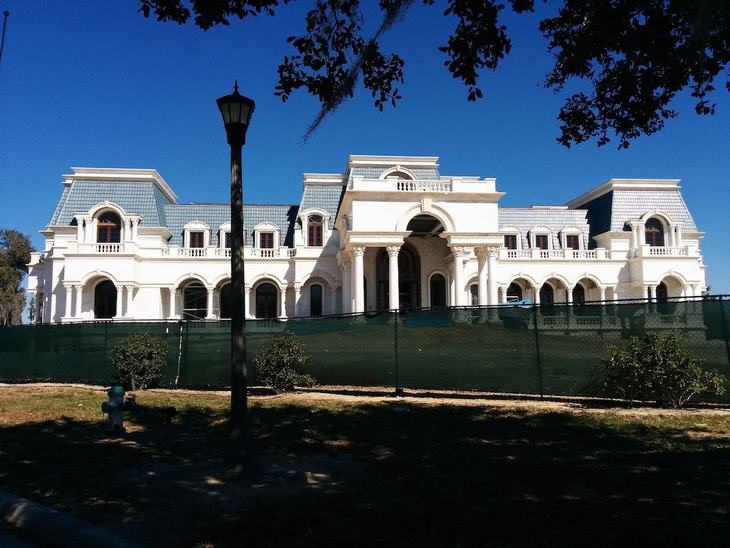 This residence is inspired by the Palace of Versailles. Construction of this 85,000 square-foot house began in 2004 and was commissioned by Westgate Resorts founder David Siegel. He faced legal trouble which stalled construction for a number of years. Nevertheless, the project is set to be complete by 2019 and is set to be the largest single-family home in the U.S. The residence will feature 11 kitchen, 14 bedrooms, 32 bathrooms, a 30-car garage, a bowling alley, an indoor roller rink, three indoor pools, two outdoor pools, a video arcade, a grand ballroom, a two-story movie theater, a fitness center with a 10,000 square-foot spa, yoga studios, a wine cellar, an exotic-fish aquarium, two tennis courts, a baseball diamond, a formal outdoor garden, and an elevator in the master bedroom closet.
8. The One; Bel-Air, California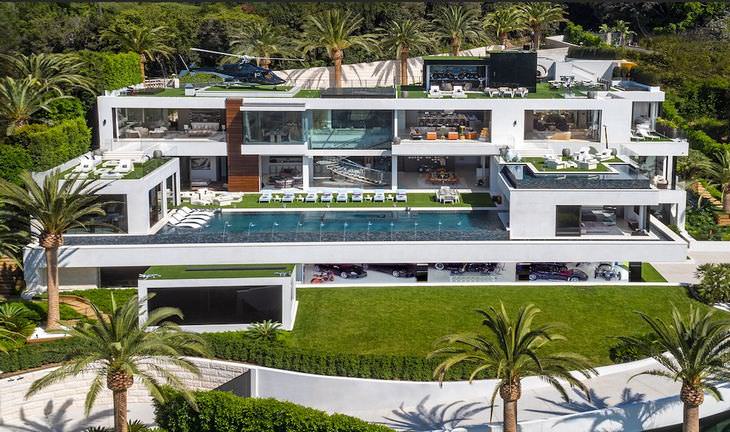 This $500 million-dollar home is set to go on sale sometime this year and will be the most expensive home in America. The residence features four infinity pools, jellyfish rooms, a nightclub, a bowling alley, a movie theater and a glass-encased library, among many other decadent features.
9. Beverly House; Beverly Hills, California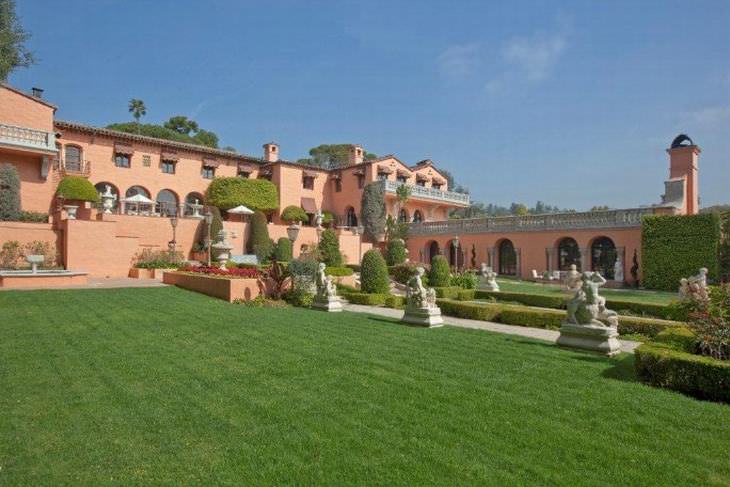 This residence was built by former newspaper magnate William Randolph Hearst. The property sits on 3.7 acres and boasts an impressive 19 bedrooms, 29 bathrooms, the longest private drive in Beverly Hills, as well as a stunning garden and elaborate fountain. When the property was available to rent in 2013, the owners asked for $600,000 per month, making it the highest-priced residential rental in Los Angeles.
10. Fleur de Lys Mansion; Los Angeles, California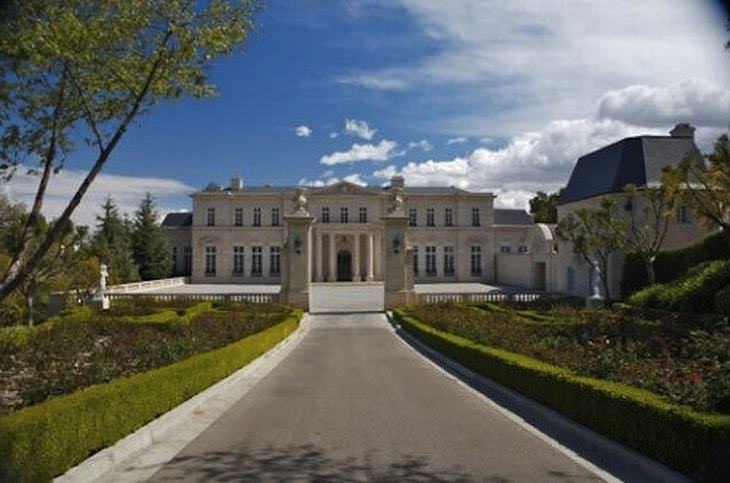 Texans David I. and Suzanne Saperstein built this estate in 2002. It was modeled after a French palace that includes '12 bedrooms, 15 bathrooms, two motor courts, a pool and spa complex, a tennis court, formal gardens, a ballroom that fits 500 guests, a two-story library, a tennis court, a music room, a commercial kitchen, a cutlery room, a staff dining room, staff offices, security center and a 3,000-square-foot wine cellar, as well as a tasting room. However, despite all of its luxury, the palace became rather difficult to sell. Still, when it eventually did in 2014, it was sold for an impressive $102 million dollars.
11. Fifteen Central Park West; New York, New York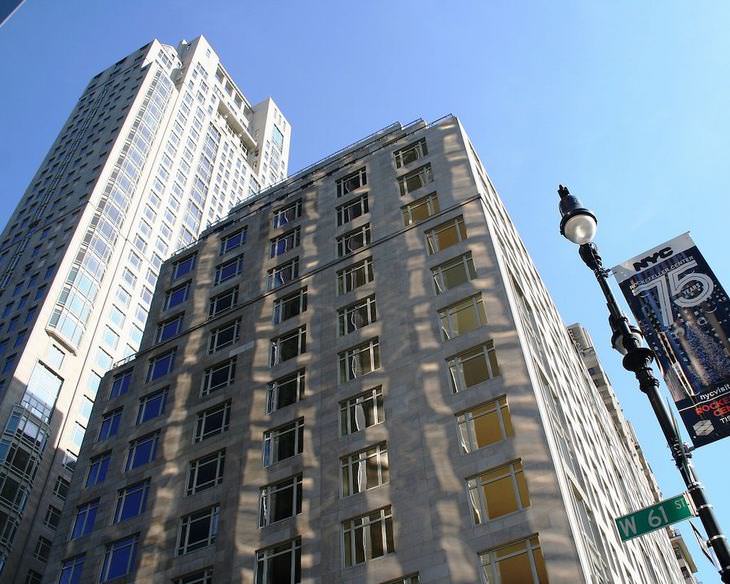 This property is considered to be the most expensive pieces of real estate in all of Manhattan. This location also hosts some of the most spacious apartments and suites too. The building includes luxurious amenities like a wine cellar and architecture steeped in history (and dollar bills). It is manned by an impressive staff too - the senior of which earns an estimated salary of $600,000 per year.
12. Oheka Castle; Huntington, New York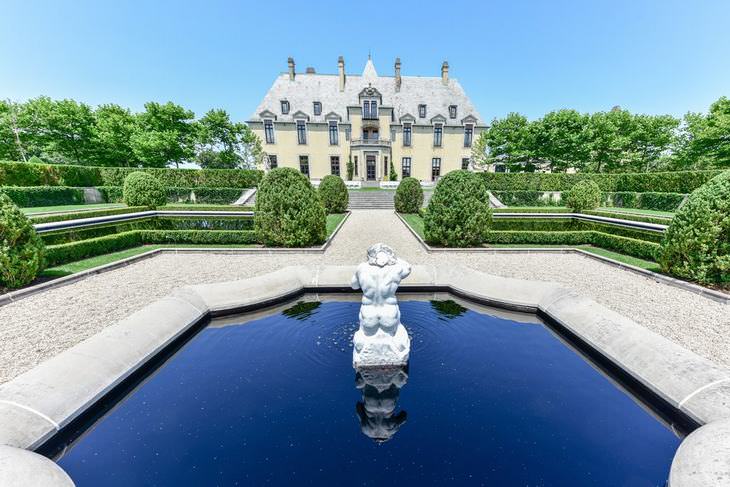 This expansive estate in Long Island was built by Otto Kahn between 1914 and 1919. It is considered to be the second largest home in the United States. It comprises of 127 rooms, at over 109,000 square feet. Today the mansion is used as a 32-room hotel and is also a popular wedding venue.
13. Mar-a-Lago; Palm Beach, Florida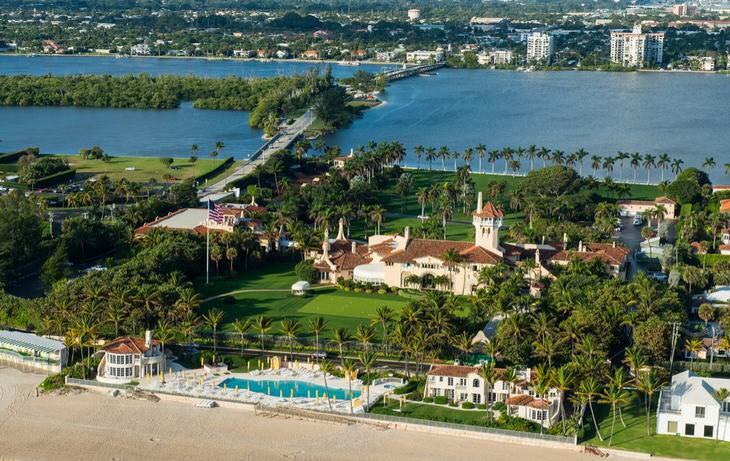 This palace in Florida is a historic landmark that was built in 1924 by cereal-company heiress Marjorie Merriweather Post, now owned by the Trump family and nicknamed the 'Winter White House.'Aside from being a winter home, the estate features a highly exclusive eponymous club, the Mar-a-Lago Club which operates as a resort and hotel for members willing to pay the pricey initiation fee.
14. The Pritzker Estate; Los Angeles, California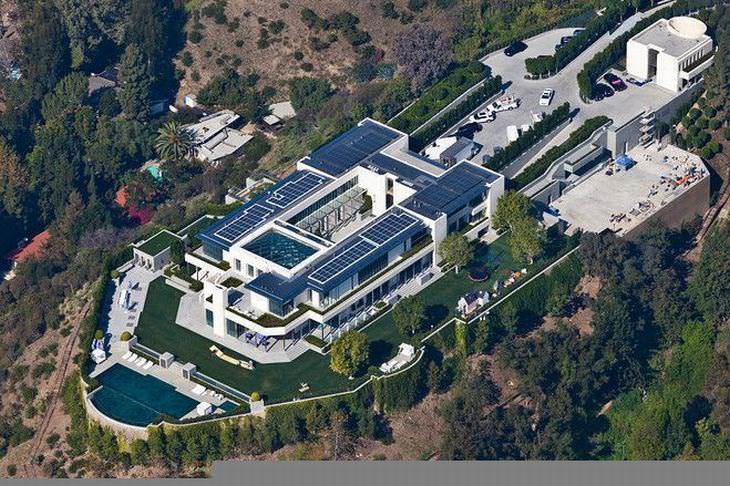 This estate is enormous and is the third largest private home in all of Los Angeles. It was built between 2005 and 2011 by billionaire and Hyatt Hotel heir Anthony Pritzker. In the home, expect to find a games room, a bowling alley, entertainment foyer with a bar, library, a fitness room, gymnasium with an attached locker room, spa, beauty salon and a restaurant-sized kitchen. Just outside, you will find the employee's housing, a courtyard, a 60-car garage and a tennis court.
15. Istana Nurul Iman; Brunei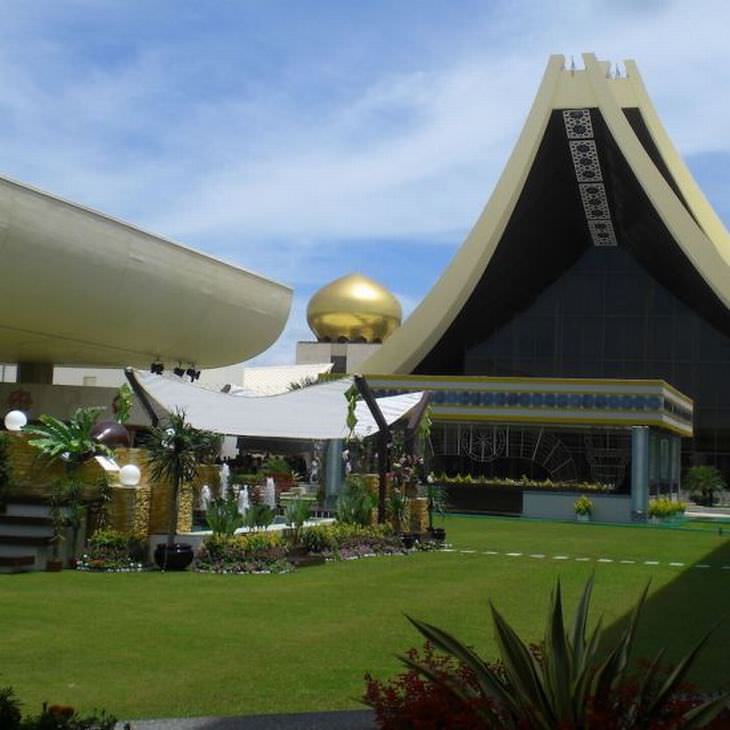 This magical kingdom serves as the official residence of the Sultan of Brunei and is also used for all the state functions of the government of Brunei. It is largely considered to be the biggest home in the entire world. The estate contains 2,152,782 sqr ft of floor space and features, 1,788 rooms, a banquet hall that can accommodate up to 5,000 guests, a mosque accommodating 1,500 people, a 110-car garage, an air-conditioned stable for 200 ponies and five swimming pools!